Great Foods of Italy: Spaghetti alle Vongole
ITA:
I grandi cibi italiani: Spaghetti alle vongole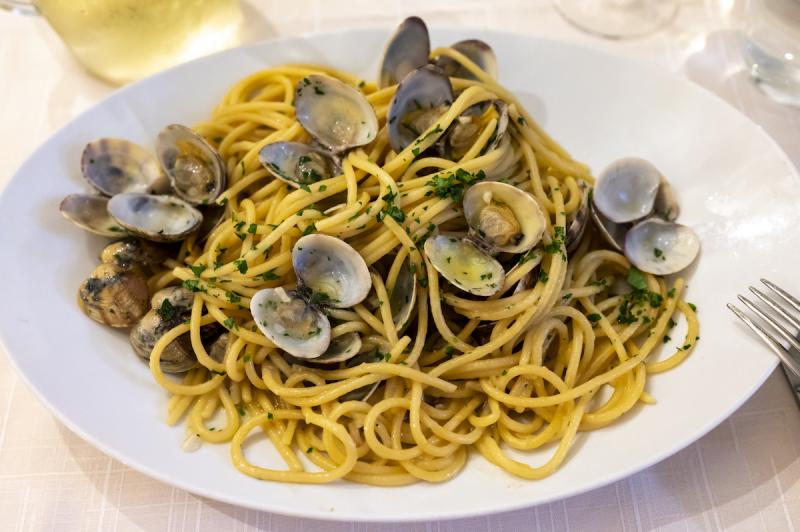 Use player to listen to Italian version

English
What's summer without the Italian summertime classic dish, spaghetti with clams? 
Spaghetti with clams is a popular dish along the entire coastline of Italy, preferably enjoyed at a sea view restaurant or beach café, alongside a glass of chilled white wine. 
Like many other seafood dishes, spaghetti all vongole can be served in two different versions, "white", or "red". The most popular version is the white one, where clams are sautéed - with their shells - with garlic, olive oil, some chili pepper, and simmered with dry white wine. Once the spaghetti are cooked, they are tossed with the sauce and fresh parsley. In the red variant, cherry tomatoes are added until they're soft, or tomato sauce is added with the garlic and olive oil. 
If you wish to prepare spaghetti with clams at home, here are a few tips to keep in mind. 
First of all, although this dish is known as "spaghetti with clams", it's also possible to use vermicelli or linguine. The pasta should preferably be high-quality or artisanal, and have a porous surface. This is because it must "retain" the clam sauce, and thus acquire a richer flavor when tossed in the pan.
The clam that should be used for this dish is the larger "vongola verace of the Mediterranean," not to be mistaken for the Filipino clam, often called verace in the markets of northern Italy; the Filipino is today the most widespread variety on the market, but it's not the best one, and, as the name implies, isn't local. 
Another important thing to keep in mind when preparing the sauce is to never "purge" the clams, which should open on their own while on the fire; otherwise, their precious, tasty internal liquid is lost. They should be washed thoroughly in water until there's no more sand on the bottom of the bowl.
Italian
Cos'è l'estate senza il classico piatto estivo italiano, gli spaghetti alle vongole?
Gli spaghetti alle vongole sono un piatto diffuso lungo l'intera costa italiana, preferibilmente gustato in un ristorante con vista mare o in un bar sulla spiaggia, accompagnato da un bicchiere di vino bianco freddo.
Come molti altri piatti di mare, gli spaghetti alle vongole possono essere serviti in due diverse versioni, "bianca" o "rossa". La variante più popolare è quella bianca, nella
This is Premium Content
Subscribe today for unlimited access to all our exclusive Italy intel and much more...
...for less than the cost of a cappuccino a week!
More Dual Language Articles...