Italian Conversations: Buying a Ticket At the Train Station
ITA:
Conversazioni in italiano: Acquistare un biglietto alla stazione ferroviaria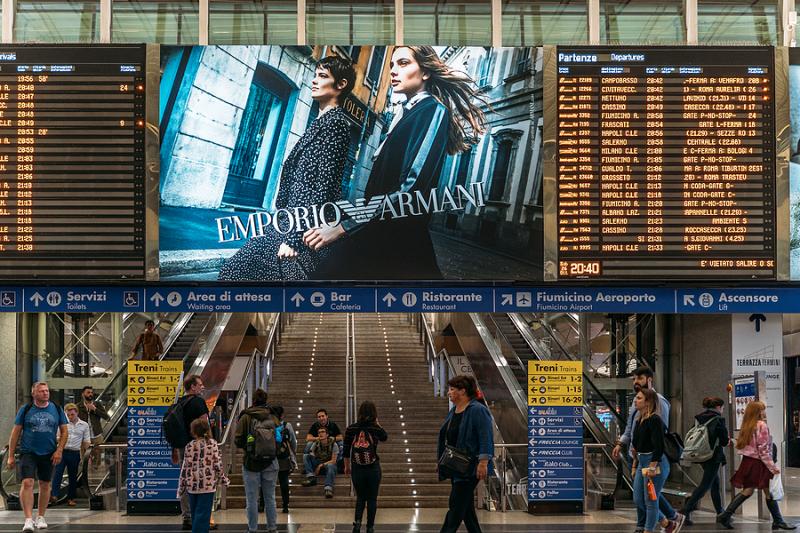 English
Tourist (A): Good morning.
Ticket clerk (B): Good morning. How can I help you?
A: I'd like a return ticket to Florence on the Frecciarossa leaving at 8:02.
B: First or second class?
A: Second, please.
B: Let me check. … I'm sorry, all seats are sold out on this train. You know, it leaves shortly, and there are many commuters who take this train given its early morning departure.
A: I understand. Are all seats occupied in first class too?
B: Yes, unfortunately it's all full.
A: What time is the next train?
B: At 9:02. There is a Frecciarossa every hour. Unless you want to take a regional train.
A: No no, it takes too long!
B: Indeed. So would you like me to book you a seat on the 9:02 train?
A: Yes, thank you.
B: What time would you like to book the return?
A: Around 6pm.
B: Let's see. There is a Frecciarossa train that leaves from Firenze Santa Maria Novella at 18:14 and arrives in Roma Termini at 19:49. Would that work?
A: Yes, it's perfect. Is there a waiting room? It's a bit cold to wait outside for an hour!
B: Sure, it's a little further down the hall, on the right.
A: Great, thanks.
B: There are also bars where you can sit indoors, and maybe have a hot cappuccino!
A: You're right, that's a really good idea! Thanks for your kindness.
B: You're welcome. You can check if the train is on time on the big board you see before accessing the platforms. Have a safe trip and enjoy your day.
A: Thank you very much. Bye.
B: Goodbye.
Italian
Turista (A): Buongiorno.
Bigliettaio (B): Buongiorno. Come posso aiutarla?
A: Vorrei un biglietto di andata e ritorno per Firenze sul Frecciarossa delle 8:02. 
B: In prima o seconda classe?
A: In seconda.
B: Controlliamo. … Mi dispiace, tutti i posti sono esauriti su questo treno. Sa, manca poco alla partenza, e sono tanti i pendolari che lo prendono dato l'orario del mattino presto.
A: Capisco. Anche in prima classe i posti sono tutti occupati?
B: Sì, purtroppo è tutto pieno.
A: A che ora è il treno successivo? 
B: Alle 9:02. C'è un Frecciarossa ogni ora. A meno che non voglia prendere un treno regionale.
A: No no, ci vuole troppo!
B: Infatti. Dunque vuole che le prenoti un posto sul treno delle 9:02?
A: Sì, grazie.
B: A che ora vorrebbe prenotare il ritorno?
A: Intorno alle 18.
B: Vediamo. C'è un treno Frecciarossa che parte da Firenze Santa Maria Novella alle 18:14 e arriva a Roma Termini alle 19:49. Le può andare bene?
A: Sì, è perfetto. C'è una sala d'attesa? Fa un po' freddo per aspettare all'aperto per un'ora!
B: Certo, è poco più avanti, sulla destra. 
A: Ottimo, grazie. 
B: Ci sono anche dei bar per stare seduta al chiuso, e magari può approfittare per prendere un cappuccino caldo!
A: Ha ragione, è proprio una buona idea! Grazie per la sua gentilezza.
B: Si figuri. Può controllare se il treno è in orario sul tabellone che trova prima di accedere ai binari. Buon viaggio e buona giornata.
A: Grazie mille. Arrivederci.
B: Arrivederci.  
More Dual Language Articles...