Italian Conversations: At the Gelato Parlor
ITA:
Conversazioni in Italiano: In Gelateria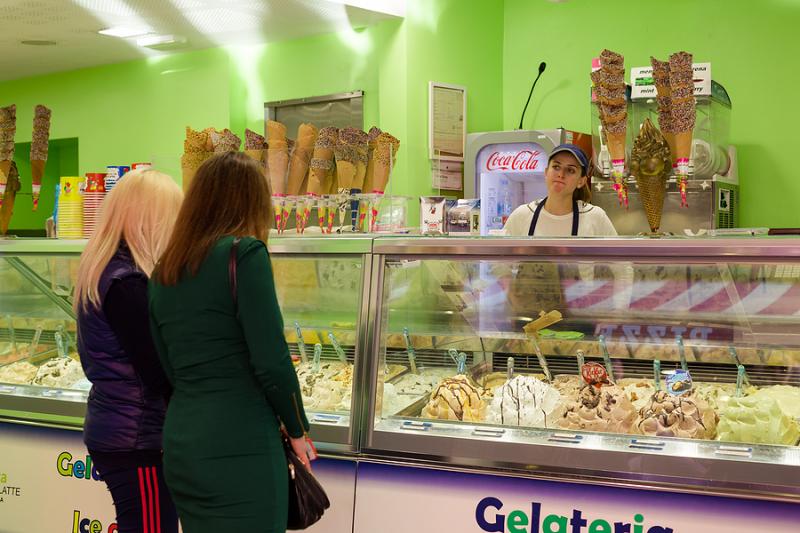 English
We begin a new program for our Dual Language series where we recreate dialogues regarding common situations in which you could find yourself while traveling in Italy. You can practice your pronunciation and learning these phrases with a friend or on your own. Have fun! 
At the gelato parlor in Rome.
Client: Good morning.
Salesperson: Good morning Miss.
C: I'd like to order a gelato. 
S: How many scoops?
C: Three.
S: Cone, wafer or cup?
C: Wafer.
S: Which flavors would you like?
C: Pistachio, bacio and coffee.
S: Great choice! … Here you go.
C: Thank you. How much is it?
S: €3. 
C: Here's the money. May I ask how far is the Trevi Fountain?
S: Oh, it's close. Ten minutes. By the time you're done enjoying your gelato, you'll be there!
C: Thanks so much! Bye.
S: Bye, have a nice day!
Italian
In gelateria a Roma. 
Cliente: Buongiorno.
Gelataio: Buongiorno signorina.
C: Vorrei ordinare un gelato.
S: Quanti gusti vuole? 
C: Tre. 
S: Cono, cialda o coppetta?
C: Cialda. 
S: Che gusti desidera?
C: Pistacchio, bacio e caffè.
S: Ottima scelta! …. Ecco a lei. 
C: Grazie. Quant'è?
S: €3. 
C: Ecco i soldi. Posso chiederle quanto dista la Fontana di Trevi?
S: Oh, è vicino. Sono 10 minuti. Il tempo di gustare il suo gelato ed è arrivata!
C: Grazie mille! Arrivederci.
S: Arrivederci, buona giornata! 
More Dual Language Articles...