Italian Conversations: At the Museum
ITA:
Conversazioni in italiano: Al museo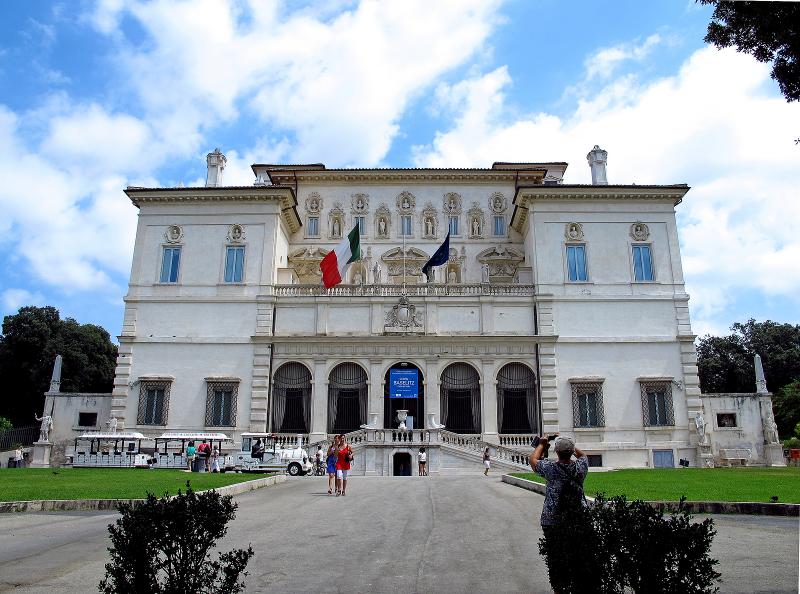 English
At the ticket office at Galleria Borghese in Rome.
Good morning. I have a reservation for today at 9:00 am for 4 people, two adults and two teens.
Good morning. Can I see the booking email?
Here it is.
Perfect, thanks. Now I'll prepare the tickets for you.
Is it possible to take a guided tour?
Yes, we do it for a minimum of 4 people, so in your case it is possible. In English?
Yes. How much does it cost?
The cost is € 200 plus € 1.50 each for the rental of the headset. Would you like to go ahead and buy it?
Just a moment, I will consult with my wife.
...
Yes, then we would like to purchase the guided tour.
Great. You will not regret it! Your guide is Elena and she's waiting for you near the entrance. She has an identification badge. The guided tour lasts about two hours. Enjoy your visit!
Thanks a lot. Bye.
Bye bye.
Italian
Presso la biglietteria di Galleria Borghese a Roma. 
Buongiorno. Ho una prenotazione per oggi alle 9:00 per 4 persone, due adulti e due ragazzi.
Buongiorno. Posso vedere la mail di prenotazione?
Eccola.
Perfetto, grazie. Ora le preparo i biglietti. 
E' possibile effettuare una visita guidata?
Sì, la effettuiamo per un minimo di 4 persone, per cui nel vostro caso è possibile. In lingua inglese?
Sì. Quanto costa? 
Il costo è di €200 più €1,50 a testa per il noleggio dell'auricolare. Desiderate acquistare?
Un attimo che mi consulto con mia moglie. 
…
Sì, allora vorremmo acquistare la visita guidata.
Bene. Non ve ne pentirete! La vostra guida si chiama Elena e vi aspetta vicino all'ingresso. Ha un tesserino di riconoscimento. La visita guidata dura circa due ore. Buona visita!
Grazie mille. Arrivederci.
Arrivederci. 
More Dual Language Articles...