Italian Conversations: Taxing a Taxi
ITA:
Conversazioni in italiano: Prendere il taxi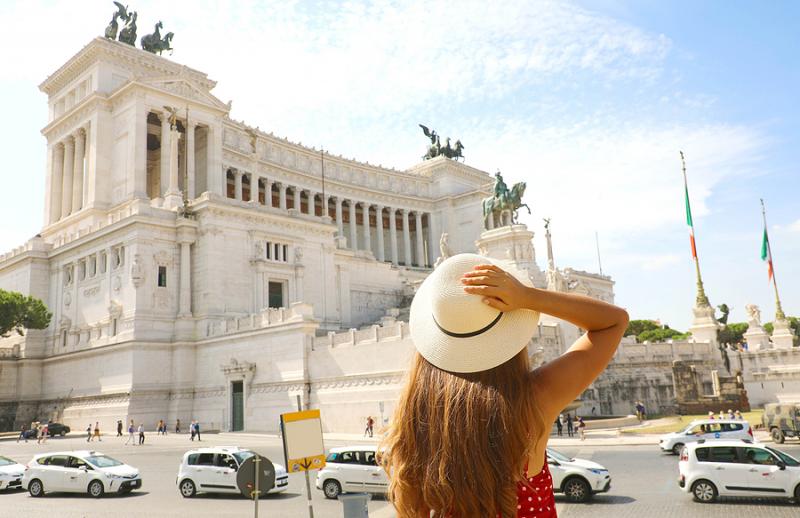 English
A tourist approaches the taxi stand at Piazza Venezia in Rome. He addresses the taxi driver sitting in the first car in the taxi line.
Good morning. Are you available?
Yes, sure. Hop in. Where can I take you?
At the J.K. Place Hotel. Do you know where it is or should I give you the address?
I sure know where it is. I don't need the address. It's not that far from here!
Yeah, I know, but I've been walking all day and my feet hurt too much! I can't take another step!
That's why there are taxis!
True! What a beautiful day!
Yes, we are having a truly beautiful fall here in Rome this year.
Do you mind if I open the window?
Not at all. Are you here on vacation?
Yes.
How long will you stay?
A week.
First time in Rome?
Yes, and I love it. There is so much to see. Historic monuments leave me breathless.
I suggest you don't miss the panoramic terrace of the Janiculum for an amazing view over the historic center of Rome.
Where is it?
In the Trastevere district.
Ah Trastevere! I haven't been there yet, but it's part of my plans.
Then I'd recommend that you go to the terrace at sunset and then stop in Trastevere for dinner.
Thanks for the advice! Can you also recommend a typical Roman trattoria?
Sure! You can try Enzo al 29. But I suggest you call ahead to reserve a table. We've arrived.
How much do I owe you?
8 euros please.
I have a 10 euro note.
No problem. Here's the change.
Keep the change. And thanks again for the advice!
You're welcome. Thank you. Have a good vacation!
Thanks. Bye.
Bye.
Italian
Una turista si avvicina al posteggio taxi di Piazza Venezia a Roma. Si rivolge al tassista seduto nella prima macchina della fila di taxi.
Buongiorno. E' libero?
Sì, certo. Salga pure. Dove la porto? 
All'hotel J.K. Place. Sa dov'è o le dò l'indirizzo?
Sì sì, so dov'è. L'indirizzo non importa. Non è tanto lontano da qui!
Eh già, lo so, ma ho camminato tutto il giorno e i piedi mi fanno troppo male! Non riesco a fare un altro passo!
Per questo ci sono i taxi!
Vero! Che giornata stupenda! 
Sì, stiamo avendo un autunno davvero bellissimo qui a Roma quest'anno. 
Le dispiace se apro il finestrino?
No, affatto. E' qui in vacanza?
Sì. 
Quanto si ferma?
Una settimana.  
Prima volta a Roma?
Sì, e mi piace moltissimo. C'è così tanto da vedere. I monumenti storici mi lasciano senza fiato.
Le consiglio di non perdersi la terrazza panoramica del Gianicolo per una vista strepitosa sul centro storico di Roma. 
Dove si trova?
Nel quartiere di Trastevere. 
Ah Trastevere! Ancora non ci sono stata, ma è parte dei miei piani. 
Allora le consiglierei di andare alla terrazza verso l'ora del tramonto e poi di fermarsi a Trastevere per cena.
Grazie per il consiglio! Mi può anche suggerire una trattoria tipica romana?
Certo! Può provare Enzo al 29. Ma le consiglio di chiamare in anticipo per prenotare il tavolo. Siamo arrivati. 
Quanto le devo? 
8 euro per favore. 
Ho una banconota da 10 euro. 
Non c'è problema. Ecco il resto.
Tenga pure il resto. E grazie ancora per i consigli!
Di niente. Grazie a lei. Buona vacanza! 
Grazie. Arrivederci. 
Arrivederci. 
More Dual Language Articles...