Italy Celebrates All-Italian U.S. Open Victory
ITA:
L'Italia festeggia la finale tutta italiana agli US Open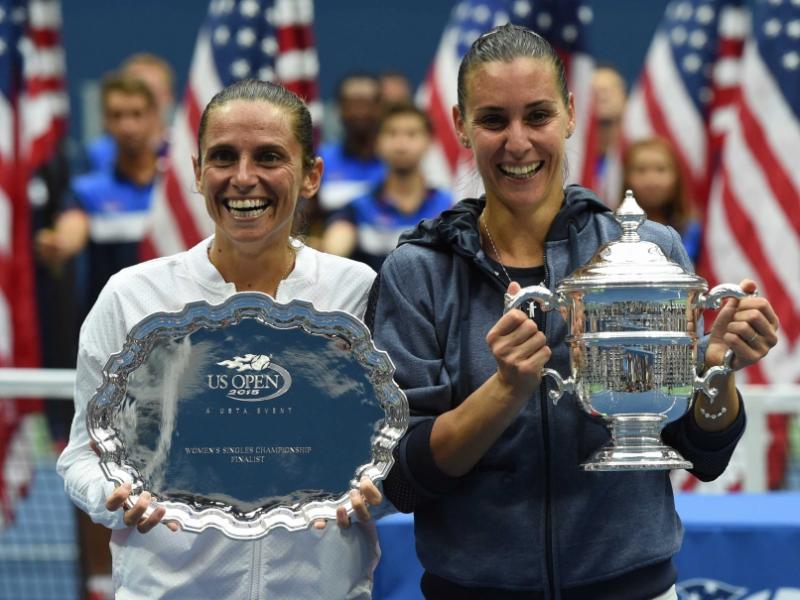 English
This year's U.S. Open marked a historic and proud moment for Italian tennis with the first all-Italian women's Grand Slam singles final in the Open era.
Flavia Pennetta went on to beat her friend Roberta Vinci 7-6, 6-2, becoming the first Italian woman to win the U.S. Open title – and then, made a surprise retirement announcement.
"This is the way I would like to say goodbye to tennis," Pennetta said. "I'm really happy. It's what all players think to want to do, going out with this kind of big trophy. I can't think to finish a better way."
At 33 years old, Pennetta has become the oldest first-time Grand Slam champion.  Her professional career began at the age of 17, when she won the French Open girls doubles with Vinci in 1999. Both from Puglia, the two players grew up in nearby towns, and began playing tennis together when they were nine years old. They trained and were roommates in Rome for years. They have won four Fed Cup titles together between 2006 and 2013.
"It's magical, you have one of your best friends with you." Pennetta said of the match.
Coached by Salvador Navarro, Pennetta was introduced to tennis by her father at age 5; he himself plays recreational tennis, as well as Pennetta's mother and older sister. Pennetta's inspiration is tennis legend Monica Seles. Pennetta will play the rest of the 2015 season before retiring.
"[We proved] miracles can happen because I beat Serena," said Vinci, who knocked the number one-ranked in women's singles tennis Serena Williams out of the U.S. Open in an expected win. "A miracle. And then two Italians reach the Grand Slam final. A miracle. An incredible moment for all Italian people."
Italian
Quest'anno gli U.S. Open hanno segnato un momento storico e di grande orgoglio per il tennis italiano con la prima finale Grand Slam tutta italiana in campo femminile nella storia degli Open.
Flavia Pennetta ha battuto l'amica Roberta Vinci 7-6, 6-2, diventando la prima donna italiana a vincere il titolo U.S. Open - e poi, ha annunciato a sorpresa il ritiro.
"Questo è il modo in cui voglio dire addio al tennis", ha detto Pennetta. "Sono molto felice. E' quello che tutti i giocatori pensano di voler fare, ritirarsi dopo la vittoria di un grande trofeo. Non riesco a pensare a un modo migliore per finire."
A 33 anni, Pennetta è la tennista che ha vinto più tardi il suo primo major. La sua carriera professionale è iniziata all'età di 17 anni quando, nel 1999, vinse gli Open di Francia proprio con Vinci. Entrambe pugliesi, le due giocatrici sono cresciute in città vicine, e hanno iniziato a giocare a  tennis insieme quando avevano nove anni. Si sono allenate e sono state compagne di stanza a Roma per anni. Tra il 2006 e il 2013, hanno vinto quattro titoli Fed Cup insieme.
"E' un'esperienza magica, avere una delle tue migliori amiche con te," Pennetta ha detto della partita di finale.
Allenata da Salvador Navarro, Pennetta ha iniziato a giocare a tennis all'età di 5 anni spinta dal padre, che gioca a tennis per diletto, così come la madre e la sorella maggiore. L'ispirazione di Pennetta è la leggenda del tennis Monica Seles. Pennetta giocherà il resto della stagione 2015 prima di ritirarsi.
"[Abbiamo dimostrato] che i miracoli possono accadere perché ho battuto Serena," ha detto Roberta Vinci, che ha sconfitto la numero uno al mondo Serena Williams nelle semifinali con una vittoria inaspettata. "Un miracolo. E poi due italiane raggiungono la finale del Grand Slam. Un miracolo. Un momento incredibile per tutti gli italiani."
More Dual Language Articles...