Italy's Traditional Regional Foods At Risk of Extinction: Fiore sardo
ITA:
Cibi tradizionali regionali italiani a rischio di estinzione: Fiore sardo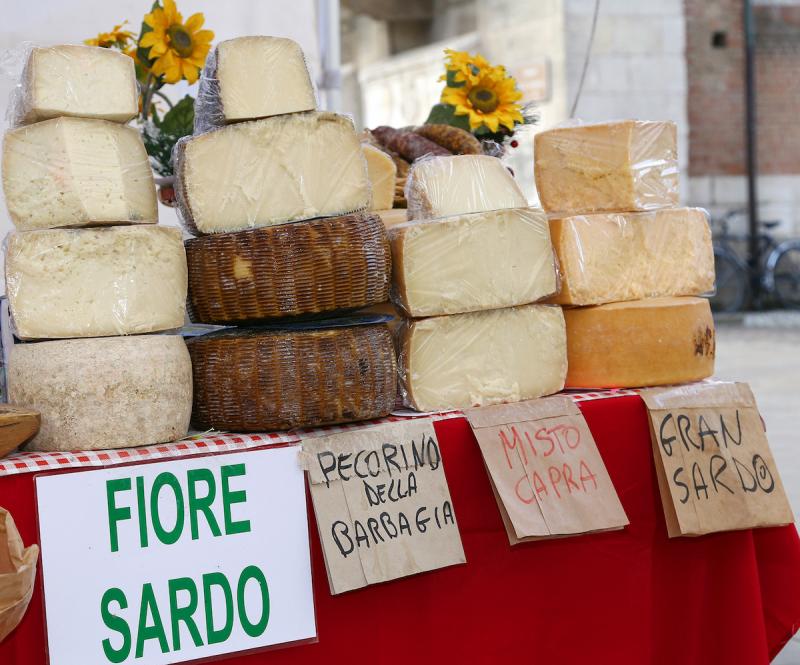 Use player to listen to Italian version

English
Slow Food presidia protect traditional products at risk of extinction, ensuring that traditional processing methods are handed down from one generation to the next and, in so doing, safeguard native breeds, local plant varieties and unique rural landscapes and ecosystems. In Italy, there are 348 presidia. Let's discover some of these unique Italian food products.  
Fiore sardo: Sardinia's signature cheese
Fiore sardo is Sardinia's signature cheese. The fiore sardo Slow Food presidium was established to protect the ancient cheese-making traditions of Sardinian shepherds, the first artisanal producers of this cheese said to date back to the Bronze age. 
It is made from the milk of Sardinian sheep, typically in the inland areas of the island, especially around Nuoro and the mountainous territory of Barbagia. 
The name 'Sardinian flower' seems to derive from the original use of the cardoon flower as rennet, although it may also be due to the fact that, in the past, molds carved out of wild pear or chestnut wood were used to make the cheese; on the bottom of these molds a flower was carved. Each producer and, in some cases, even each town was recognizable thanks to this mark. 
The traditional production technique of fiore sardo has essentially remained unchanged since the beginnings. During the initial phases, it is put next to a brazier for two weeks. Shepherds use wood fire in order to give it a slightly smoked taste. Then the cheese is transferred to a different space, where it is left  to age for at least 90 days. Finally, it is brought to the aging cellars where it is washed and rubbed with a mixture of wine vinegar, olive oil and salt and then left to age for another three months at least, during which time it is turned frequently. 
Fiore sardo is a fat cheese, with intense smells and aromas. It should be eaten as a second course, or at the end of a meal. It pairs well with Cannonau and Malvasia di Bosa, both excellent Sardinian wines.
The Slow Food Presidium was established to safeguard traditional artisanal production methods which survive only in a few small towns in the Barbagia area. The farmers cannot compete with industrial producers in terms of quantity output, but the quality of their fiore sardo is unequalled. 
Italian
I Presidi Slow Food tutelano i prodotti alimentari tradizionali a rischio di estinzione, assicurando che i metodi di lavorazione tradizionali vengano tramandati di generazione in generazione e, così facendo, salvaguardano razze autoctone, varietà locali di piante, paesaggi rurali ed ecosistemi unici. In Italia i presidi sono 250. Scopriamo alcuni di questi prodotti italiani unici.
Fiore sardo: il formaggio tipico della Sardegna
Il fiore sardo è il formaggio tipico della Sa
This is Premium Content
Subscribe today for unlimited access to all our exclusive Italy intel and much more...
...for less than the cost of a cappuccino a week!
More Dual Language Articles...