From Liguria, With Love: Trofie Pasta
ITA:
Dalla Liguria, con amore: le trofie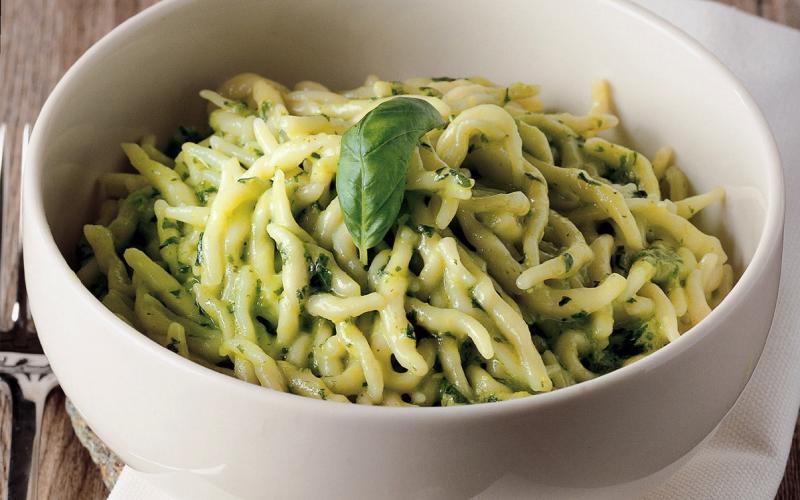 English
Trofie pasta originated on the Golfo Paradiso, a stretch of rocky coast dotted with small coves and maritime villages to the east of Genoa in Liguria. Famous all over Italy, trofie are traditionally tossed with Genoese pesto sauce.
Trofie are said to date from a long time ago, possibly from the time of the Crusades. In the past, Ligurian women used to make them by hand, with flour and water, using a sort of large wooden knitting needle on which they rolled a string of dough, which they subsequently crushed with the palm of their hand.
Today production of trofie is mostly industrial, made with specific machines.
They're rather small (3 to 4 cm) and have a thin, curled, elongated shape, thicker in the center and thinner at the tips.
The name could derive from the Genoese dialect 'strufuggia'', meaning to rub, a verb that indicates the hand movement needed to give the classic twisted shape to the dough.
In the traditional recipe, which is the most widespread, trofie are seasoned with the classic Ligurian pesto, prepared with the Genoese basil. A variation, also used for other types of pasta seasoned with pesto, includes boiled potatoes and green beans.
Despite being a specialty of the eastern Ligurian coast, trofie are celebrated throughout the region, in nearby Piedmont and known throughout Italy. Since 1985, every 15th August, a festival dedicated to trofie col pesto takes place in Sori, a village overlooking the sea on the Golfo Paradiso, east of Genoa.
Italian
Le trofie hanno avuto origine nel Golfo Paradiso, un tratto di costa rocciosa punteggiato da piccole insenature e villaggi di mare ad est di Genova in Liguria. Famose in tutta Italia, le trofie sono tradizionalmente condite con pesto alla genovese.
Si dice che le trofie risalgano a molto tempo fa, probabilmente ai tempi delle Crociate. In passato, le donne liguri erano solite prepararle a mano, con farina e acqua, usando una sorta di grosso ferro da maglia in legno sul quale arrotolavano un filamento di impasto, che successivamente schiacciavano con il palmo della mano.
Oggi la produzione di trofie è prevalentemente industriale, realizzata con macchine apposite.
Le trofie sono piuttosto piccole (3-4 cm) e di forma allungata e arricciata, più spessa al centro e più sottile sulle punte.
Il nome potrebbe derivare dal dialetto genovese 'strufuggia', che significa strofinare, un verbo che indica il movimento della mano necessario per dare la classica forma attorcigliata all'impasto.
Nella ricetta tradizionale, che è la più diffusa, le trofie sono condite con il classico pesto ligure, preparato con basilico genovese. Una variante, utilizzata anche per altri tipi di pasta condita con il pesto, include patate lesse e fagiolini.
Pur essendo una specialità della costa orientale della Liguria, le trofie sono celebrate in tutta la regione, nel vicino Piemonte e conosciute in tutta Italia. Dal 1985, ogni anno il 15 agosto, un festival dedicato alle trofie col pesto si svolge a Sori, un borgo che si affaccia sul mare del Golfo Paradiso, ad est di Genova.
More Dual Language Articles...