Never Out of Style: The Sanremo Music Festival
ITA:
Mai fuori moda: Il festival di Sanremo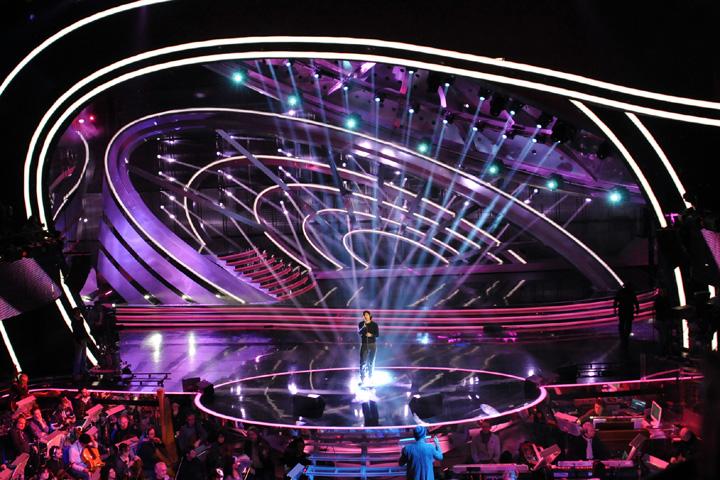 English
The month of February in Italy is normally associated with Carnival… and with the Sanremo Music Festival, Italy's most prestigious music contest.
The festival has launched the careers of Italian singers who are now famous worldwide, including Andrea Bocelli, Zucchero, Eros Ramazzotti, Laura Pausini and Massimo Ranieri.
The 66th edition of the Festival della Canzone Italiana begins February 9 and ends February 13 with the announcement of the winners. It will be broadcast live on Rai Uno (Rai International for those abroad) from the famed Ariston Theater in the Ligurian seaside town of Sanremo. Carlo Conti will emcee.
The Sanremo Music Festival is such a big media event that many TV and radio programs move their headquarters temporarily to Sanremo to be able to broadcast live from the festival. Not to mention that commercials begin to bombard the small screen, while press conferences contribute to build up the excitement.  
But how did it all begin? In the aftermath of World War II, the idea came to revitalize the economy and reputation of Sanremo through an annual music festival to be held in the city. During the summer of 1950, the administrator of the Sanremo Casino, Piero Bussetti, and the conductor of the RAI orchestra, Giulio Razzi, thus decided to launch a competition among previously unreleased songs. Officially titled "Festival della Canzone Italiana" (Festival of the Italian Song), the first edition took place at the Sanremo Casino on 29, 30 and 31 January 1951. The final was broadcast by Rete Rossa, the second most important RAI radio station at the time. There were only three participants - Nilla Pizzi, Duo Fasano and Achille Togliani – who performed 20 songs.
The Big Artists section now includes 20 established Italian artists, competing with a song each, while 8 artists perform in the Newcomers section.
Much anticipation also builds up around which guests and international artists will make an appearance on stage; this year, Laura Pausini, Eros Ramazzotti, Elisa, Renato Zero, Elton John and Ellie Goulding are expected among others.
Italian
Il mese di febbraio in Italia è normalmente associato con il Carnevale ... e con il Festival di Sanremo, la più prestigiosa gara di musica italiana.
Il festival ha lanciato le carriere di cantanti italiani che sono diventati famosi nel mondo; tra loro, Andrea Bocelli, Zucchero, Eros Ramazzotti, Laura Pausini e Massimo Ranieri.
La 66esima edizione del Festival della Canzone Italiana inizia il 9 febbraio e si conclude il 13 febbraio con l'annuncio dei vincitori. Sarà trasmessa in diretta su Rai Uno (Rai International per chi è all'estero) dal famoso Teatro Ariston nella località balneare di Sanremo in Liguria. A condurre il festival sarà Carlo Conti.
Il Festival di Sanremo è un evento mediatico talmente importante che molti programmi televisivi e radiofonici spostano temporaneamente la loro sede a Sanremo per poter trasmettere in diretta dal festival. Senza contare che la pubblicità comincia a bombardare il piccolo schermo, mentre le conferenze stampa contribuiscono ad accrescere l'emozione.
Ma come è cominciato tutto? All'indomani della seconda guerra mondiale, venne l'idea di rivitalizzare l'economia e la reputazione di Sanremo attraverso un festival annuale di musica da tenersi in città. Così, durante l'estate del 1950, l'amministratore del casinò di Sanremo, Piero Bussetti, e il direttore d'orchestra della RAI, Giulio Razzi, decisero di lanciare una competizione tra canzoni inedite. La prima edizione del festival, nominato ufficialmente "Festival della Canzone Italiana", ebbe luogo presso il casinò di Sanremo il 29, 30 e 31 gennaio 1951. Il finale fu trasmesso da Rete Rossa, la seconda più importante stazione radio RAI di allora. C'erano solo tre partecipanti - Nilla Pizzi, Duo Fasano e Achille Togliani - che si avvicendarono a cantare le 20 canzoni in gara.
La sezione "Campioni" ora include venti affermati artisti italiani, in competizione con un brano ciascuno, mentre otto artisti emergenti si esibiscono nella sezione "Nuove proposte".
Ogni anno si crea molta aspettativa anche nei confronti degli ospiti e artisti internazionali che faranno un'apparizione sul palco; quest'anno, sono attesi tra gli altri Laura Pausini, Eros Ramazzotti, Elisa, Renato Zero, Elton John ed Ellie Goulding.
More Dual Language Articles...