Pasta that Melts in your Mouth: Le Marche's Maccheroncini di Campofilone
ITA:
Pasta che si scioglie in bocca: i maccheroncini di Campofilone delle Marche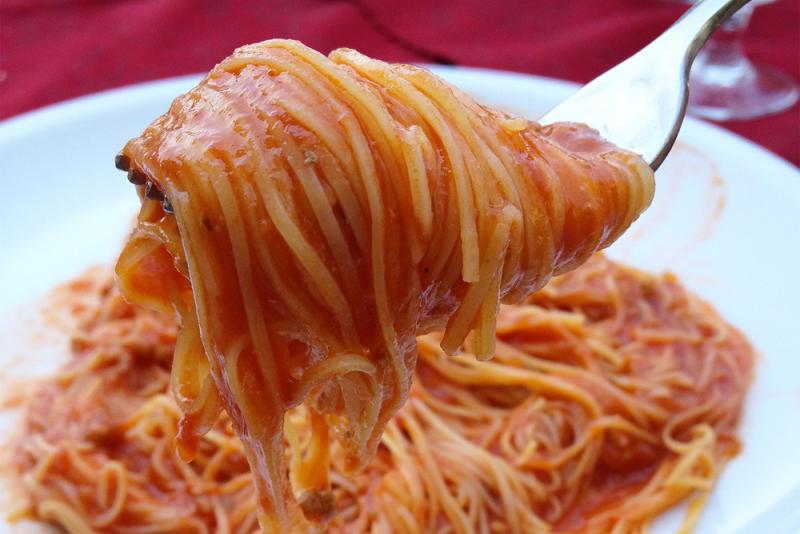 English
When we say 'maccheroncini' in Italy, we normally think of short pasta with a hole. But in the region of Le Marche, 'maccheroncini di Campofilone' actually look like angel hair pasta: they are long and thin. In fact, maccheroncini di Campofilone, which, according to tradition, go as far back as 1400, were first referred to as 'angel hair so thin it melts in the mouth."
Campofilone is a village in the province of Fermo, where this egg pasta originated.  The centuries-old recipe has been passed down from one generation to the next and today, maccheroncini di Campofilone are still made the artisanal way. The dough is prepared with quality hard wheat flour and fresh eggs, without the addition of water; it is laid in thin sheets and then cut into thin strings to dry on specific sheets of paper.
They differ considerably from other types of pasta for the thinness of the dough (0.3-0.7 mm) and the very fine cut (0.8 to 1.2 mm); besides giving maccheroncini unique organoleptic features, the thinness allows for a very quick cooking time, just one minute in hot water.
Maccheroncini di Campofilone are especially good with meat ragù, and seafood-based sauces (excellent meats and seafood abound in Le Marche).
In 2013, maccheroncini di Campofilone received the IGP Indicazione Geografica Protetta mark (PGI Protected Geographical Indication), which states that the quality of a product depends from the area where it's produced, processed, or prepared. 
Italian
Quando diciamo 'maccheroncini' in Italia, solitamente pensiamo alla pasta corta con il buco. Ma nelle Marche, i 'maccheroncini di Campofilone' assomigliano ai capelli d'angelo: sono lunghi e sottili. Infatti, i maccheroncini di Campofilone, che secondo la tradizione risalgono al 1400, sono descritti nei primi documenti che li citano come "capelli d'angelo così sottili che si sciolgono in bocca".
Campofilone è un paesino della provincia di Fermo, dove questa pasta all'uovo è nata. La ricetta secolare è stata tramandata di generazione in generazione e oggi i maccheroncini di Campofilone sono ancora fatti artigianalmente. L'impasto viene preparato con farina di grano duro di qualità e uova fresche, senza aggiunta di acqua; viene steso in sfoglie sottili e poi tagliato in fili sottili lasciati ad asciugare su appositi fogli di carta.
Si differenziano notevolmente dagli altri tipi di pasta per la sottigliezza dell'impasto (0,3-0,7 mm) e il taglio molto fine (da 0,8 a 1,2 mm); oltre a conferire ai maccheroncini caratteristiche organolettiche uniche, la sottigliezza consente un tempo di cottura molto rapido, appena un minuto in acqua bollente.
I maccheroncini di Campofilone sono particolarmente buoni con ragù di carne e sughi a base di pesce.
Nel 2013, i maccheroncini di Campofilone hanno ricevuto il marchio IGP (Indicazione Geografica Protetta), secondo cui la qualità di un prodotto dipende dall'area in cui viene prodotto, processato o preparato.
More Dual Language Articles...