Sardinia's Ancient Mamoiada Carnival
ITA:
L'antico Carnevale sardo di Mamoiada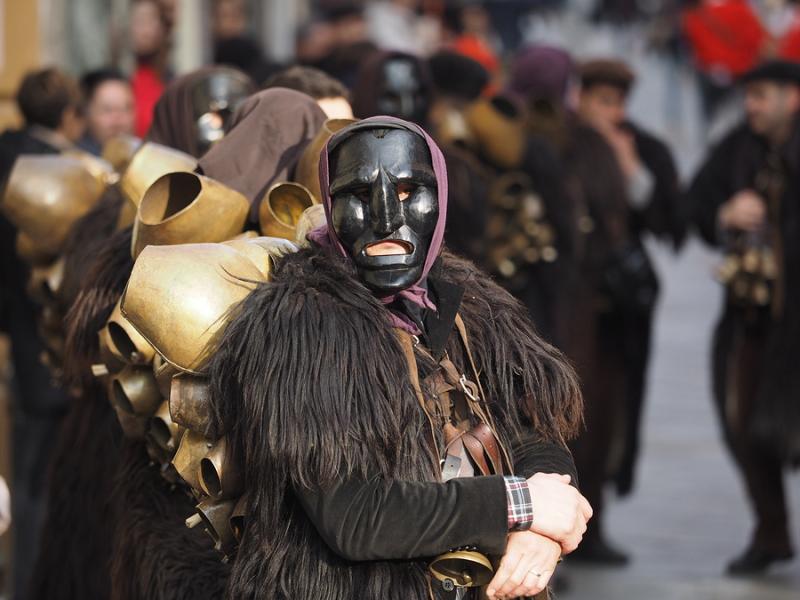 Use player to listen to Italian version
English
"There's no Carnival without mamuthones," say the people of Mamoiada, a small town in the heart of Sardinia's rugged interior.
One of the oldest folk festivals of Sardinia, the Carnival of Mamoiada is also one of the most fascinating, as it brings back to archaic traditions of the island. There are no allegorical papier-mache floats or any modern masks; the symbols are the mamuthones and issohadores.
The mamuthones are men whose faces are covered by a black mask with rough, disquieting features, dressed in dark sheepskins, with a large bundle of bells on their backs and a smaller bundle of bronze bells attached at the front.
The issohadores are men dressed in a red waistcoat, white mask, headgear, white trousers and small shawl; they escort the mamuthones.
Mamuthones and issohadores differ in attire and the way they move, but they perform together, being part of a single ceremony. Mamuthones parade in groups of 12, like the months of the year, arranged in two rows. Their solemn and rhythmic movements are something halfway between a dance and a procession meant to awaken nature and drive evil away.
Issohadores capture young women with laces as a sign of good luck for good health and fertility. In the past, they captured the landowners to wish them a bountiful year of crops and the landowners, to repay the honor received, offered wine and sweets. Today, the issohadores may perform the same gesture with local authorities.  
As the crowds join them, the dancing feast goes on for hours. Local men and women wear traditional costumes, and, while parading and dancing, they offer typical local sweets.
Italian
"Non c'è Carnevale senza mamuthones", dicono gli abitanti di Mamoiada, una piccola città nel cuore degli aspri interni della Sardegna.
Una delle più antiche feste popolari sarde, il Carnevale di Mamoiada è anche uno dei più affascinanti, in quanto riporta alle tradizioni arcaiche dell'isola. Non ci sono carri allegorici in cartapesta o maschere moderne; i simboli sono i mamuthones e gli issohadores.
I mamuthones sono uomini i cui volti sono coperti da una maschera nera dai lineamenti ruvidi un po' inquietanti, vestiti con scure pelli di pecora, con un grande mazzo di campanacci sul dorso e uno piccolo di campanelle di bronzo attaccate sul davanti.
Gli issohadores sono uomini vestiti con un corpetto rosso, una maschera bianca, un copricapo, pantaloni bianchi e un piccolo scialle; scortano i mamuthones.
I mamuthones e gli issohadores si differenziano nell'abbigliamento e nel modo in cui si muovono, ma si esibiscono insieme, in quanto sono parte di un'unica cerimonia. I mamuthones sfilano in gruppi di 12, come i mesi dell'anno, disposti in due file. I loro movimenti solenni e ritmici sono qualcosa a metà strada tra una danza e una processione che intende risvegliare la natura e allontanare il male.
Gli issohadores catturano le giovani donne con dei lacci come segno di buon auspicio per la buona salute e la fertilità. In passato, catturavano i proprietari terrieri per augurare loro un anno di raccolti abbondanti e i proprietari terrieri, per ripagare l'onore ricevuto, offrivano vino e dolciumi. Oggi gli issohadores compiono lo stesso gesto con le autorità locali.
Gli spettatori si uniscono a mamuthones e issohadores e la festa della danza dura per ore. Uomini e donne del posto indossano costumi tradizionali e, mentre sfilano e ballano, offrono dolci tipici locali.
More Dual Language Articles...