Soccer Before Soccer: Calcio Storico Fiorentino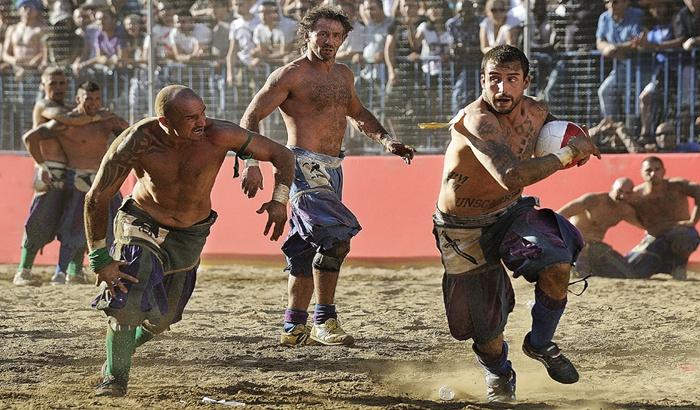 English
The Calcio Storico – historic soccer – was a popular sport in Renaissance Florence. Originating from the ancient harpastum, a ball game played in the Roman Empire, Calcio Storico was played in teams of 27, more than double compared to modern-day soccer. At the time, teams featured members of aristocratic families.
The official rules of calcio were published for the first time in 1580 by Giovanni de' Bardi, a Florentine count. Unlike soccer, players are allowed to use both hands and feet to pass and control the ball. The match is played for 50 minutes without interruption even when players are injured and taken out of the field. No substitutions are permitted. Goals (or cacce) are scored by throwing the ball over narrow slits at each end of the sand field.
Calcio Storico was (and is) much more violent than soccer: headbutting, punching, elbowing, and choking are all allowed; only sucker punches and kicks to the head are prohibited. In 1574, King Henry III of France attended a game during a visit to Italy and is quoted as saying: "Too small to be a real war and too cruel to be a game."
Today, Calcio Storico is played during the third week of June in Florence's Piazza Santa Croce. Three matches are played among four teams representing a neighborhood of the city: Santa Croce / Azzurri (Blues); Santa Maria Novella / Rossi (Reds); Santo Spirito / Bianchi (Whites); San Giovanni / Verdi (Greens).The final is played on June 24, San Giovanni, the Feast Day of the patron saint of Florence. Belligerency on the field runs high today as it did in the past.
Italian
Il Calcio Storico era uno sport molto seguito nella Firenze rinascimentale. Discendente dell'harpastum, un gioco con la palla dai tempi dell'Impero Romano, il Calcio Storico prevede squadre di 27 giocatori, più del doppio rispetto al calcio moderno. A quel tempo, i giocatori erano membri delle famiglie aristocratiche.
Le regole ufficiali del calcio furono pubblicate per la prima volta nel 1580 da Giovanni de 'Bardi, un conte fiorentino. A differenza di calcio, i giocatori possono utilizzare sia le mani che i piedi per passare e controllare il pallone. La partita dura 50 minuti senza interruzioni, anche quando i giocatori vengono feriti e portati fuori dal campo. Non sono ammesse sostituzioni. Si segna il goal (o caccia) quando la palla viene depositata nella rete in fondo al campo avversario.
Il Calcio Storico era (ed è) molto più violento del calcio: testate, pugni, sgomitate e strozzamenti sono  autorizzati; solo pugni da dietro e senza preavviso e calci alla testa sono proibiti. Nel 1574, il re Enrico III di Francia assistette ad un gioco nel corso di una visita in Italia e si dice che commentò: "troppo piccola per essere una vera guerra e troppo crudele per essere un gioco."
Oggi, il Calcio Storico è rievocato durante la terza settimana di giugno in Piazza Santa Croce a Firenze. Si giocano tre partite tra quattro squadre che rappresentano un quartiere della città: Santa Croce / Azzurri; Santa Maria Novella / Rossi; Santo Spirito / Bianchi; San Giovanni / Verdi. La finale si gioca il 24 giugno, giorno di San Giovanni, la festa del santo patrono di Firenze. Oggi come in passato, l'aggressività sul campo è molto alta.
More Dual Language Articles...