The Traditional Christmas Cookies of Southern Italy: Mostaccioli
ITA:
Mostaccioli: I tradizionali biscotti di Natale del Sud Italia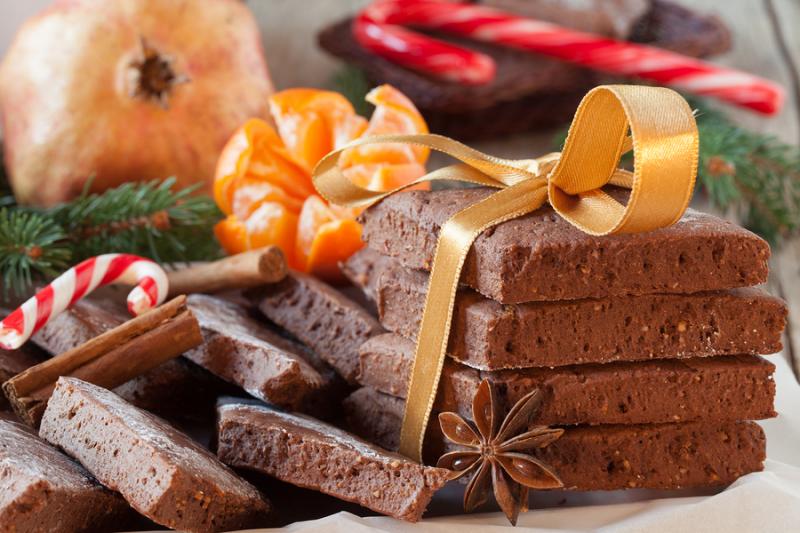 Use player to listen to Italian version
English
Mostaccioli cookies belong to the cuisine of the regions of southern Italy and are generally prepared during the Christmas period. 
Regardless of the region, they all share the same etymological origin: from the Latin 'mustaceum,' a sweet focaccia made in Roman times with flour, must, cumin, anise, fat and bay leaf. The must is used to give a stronger flavor to the cookies.
Over the course of time, the recipe has been modified according to the different regions; overall, these cookies share a soft dough of short-crust pastry, made with ingredients such as flour, cinnamon, cloves, sugar, honey and vin cotto (cooked must).
Neapolitan mostaccioli, also called mustaccioli, are a classic at Christmas time, along with struffoli. Mustaccioli are made by rolling out the dough with a rolling pin and then by cutting the dough into diamond shapes. After baking, mustaccioli are brushed with jam and covered with a chocolate glaze. For an even tastier result, add a bit of coffee to the dough.
In Calabria, mostaccioli are not typical of Christmas. Originally, they were prepared with cooked must by the mother of the bride for wedding day. Today, besides weddings, they are made to celebrate any type of event, such as graduation parties and birthdays. The must has been replaced by honey.
Sicilian mostaccioli, called mustazzoli, are baked cookies flavored with cinnamon, orange peel and clove, typical of north-western Sicily. The surface is decorated with sesame seeds that give the cookies a special aroma.
Mostaccioli also differentiate for their texture, they can be hard or soft. To make them hard, bake longer. To make them soft, add a teaspoon of baking soda to the ingredients and, if the dough seems too dry, mix in a spoonful of milk.
Italian
I mostaccioli sono biscotti che appartengono alla tradizione culinaria delle regioni del sud Italia e sono generalmente preparati durante il periodo natalizio.
Indipendentemente dalla regione, hanno tutti la stessa origine etimologica: dal latino 'mustaceum', una focaccia dolce che esisteva ai tempi dei Romani, fatta con farina, mosto, cumino, anice, grasso e alloro. Il mosto è utilizzato per dare un sapore più deciso ai biscotti.
Nel corso del tempo, la ricetta si è modificata a seconda delle diverse regioni; in generale, questi biscotti sono tutti fatti con un impasto morbido di pasta frolla, usando ingredienti come farina, cannella, chiodi di garofano, zucchero, miele e vin cotto (mosto cotto).
I mostaccioli napoletani, chiamati anche mustaccioli, sono un classico del periodo natalizio, insieme agli struffoli. Si realizzano stendendo l'impasto con un mattarello e poi tagliando tanti piccoli pezzi a forma di rombo. Dopo la cottura, i mustaccioli vengono spennellati con marmellata e ricoperti da una glassa al cioccolato. Per un risultato ancora più gustoso, si può aggiungere un po' di caffè all'impasto.
In Calabria, i mostaccioli non sono tipici del Natale. In origine, venivano preparati con mosto cotto dalla madre della sposa per il giorno del matrimonio. Oggi, oltre che per i matrimoni, vengono realizzati per celebrare qualsiasi tipo di evento, come feste di laurea e compleanni. Il mosto è stato sostituito dal miele.
I mostaccioli siciliani, chiamati mustazzoli, sono biscotti aromatizzati con cannella, buccia di arancia e chiodi di garofano, tipici della Sicilia nord-occidentale. La superficie è decorata con semi di sesamo che conferiscono ai biscotti un aroma speciale.
I mostaccioli si differenziano anche per la loro consistenza, possono essere duri o morbidi. Per renderli duri, bisogna cuocerli in forno più a lungo. Per renderli morbidi, bisognerà aggiungere un cucchiaino di bicarbonato di sodio agli ingredienti, e, se l'impasto sembra troppo secco, mescolare nell'impasto un cucchiaio di latte.
More Dual Language Articles...