Trapizzino: Rome's Street Food Craze
ITA:
Trapizzino: Lo Street Food di Tendenza a Roma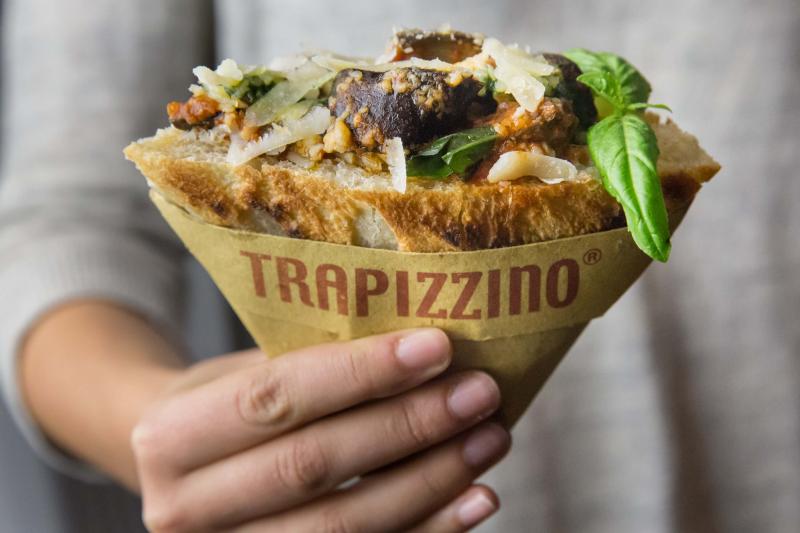 Use player to listen to Italian version
English
Street food is trendy, and Rome's Trapizzino is one of its trendiest ambassadors. Invented in 2008 in the Testaccio neighborhood of the Italian capital, the half-sandwich, half-pizza treat has been so successful that, in just a few years, it has expanded not only beyond its birth neighborhood, and national borders, it has even opened in New York and Japan – and it plans for more openings.
So what is trapizzino and why is it so successful?
Trapizzino is a play on words that comes from the union of the words tramezzino (the classic Italian triangular sandwich found in many bars) and pizza; trapizzino is half sandwich, half pizza. The dough is that of pizza, shaped in the form of a triangle, made with lievito madre (starter), soft inside, crunchy outside. Then, rather than tomato and mozzarella, it is filled with classic Roman dishes, which take hours, if not days, to make. So Trapizzino has been able to combine tradition and quality with quick delivery and convenient prices, which is probably the secret of its success.  
With time, Trapizzino has expanded its offerings beyond classic Roman recipes such as Roman-style artichokes (yum), Roman-style tripe and Roman oxtail stew; it now also offers stuffings inspired by other regional cuisines such as parmigiana di melanzane or pollo alla cacciatora. 
Italian
Il cibo di strada fa tendenza, e Trapizzino a Roma è uno dei suoi ambasciatori di maggior tendenza. Inventato nel 2008 nel quartiere Testaccio della capitale italiana, questa specialità a metà strada tra il sandwich e la pizza ha avuto un successo tale che, nel giro di pochi anni, si è ampliato non solo al di là del suo quartiere di nascita e oltre le frontiere nazionali, ma ha raggiunto persino New York e il Giappone - e sono previste ulteriori aperture.
Dunque, che cos'è il trapizzino e perché ha così successo?
Trapizzino è un gioco di parole che deriva dall'unione delle parole tramezzino (il classico panino triangolare italiano che si trova in molti bar) e pizza; il trapizzino è metà sandwich, metà pizza. L'impasto è quello della pizza, fatto a forma di triangolo, realizzato con lievito madre, morbido dentro, croccante all'esterno. Viene poi farcito, anziché con il pomodoro e la mozzarella, con classici piatti romani, che spesso richiedono ore, se non giorni, per essere preparati. Così Trapizzino è stato in grado di combinare tradizione e qualità con consegna rapida e prezzi convenienti, il che è probabilmente il segreto del suo successo.
Con il tempo, Trapizzino ha ampliato le sue offerte oltre le classiche ricette romane come i carciofi alla romana, la trippa alla romana e la coda alla vaccinara; ora offre anche farciture ispirate ad altre cucine regionali come la parmigiana di melanzane o il pollo alla cacciatora.
More Dual Language Articles...