Unusual Places in Italy: Capestrano and its Warrior Statue
ITA:
Luoghi insoliti in Italia: Capestrano e la sua statua del guerriero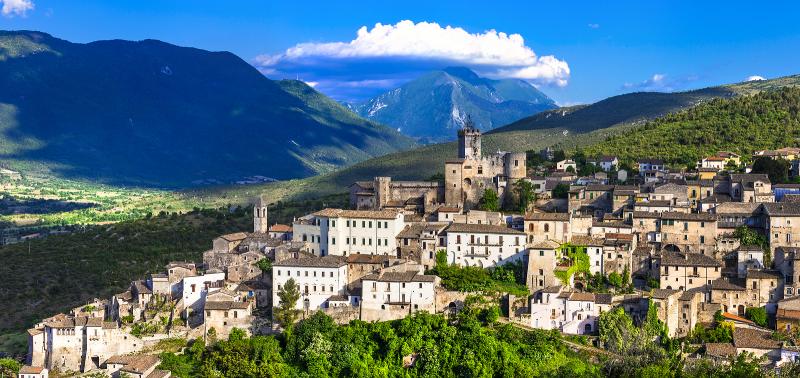 Use player to listen to Italian version

English
You may have never heard of Capestrano, yet this village in Abruzzo was home to what has become the symbol of the whole region: the Warrior of Capestrano. 
The Warrior of Capestrano is a statue found by chance in 1934 by a local farmer as he was planting a vineyard. The statue, which also goes by the name of Nevio Pompuledio, dates back to the mid-sixth century BC and represents a male figure with his arms folded over his chest, wearing a military costume and a large wide-brimmed hat.
Today the statue, symbol of the Gran Sasso National Park and emblem of Abruzzo, is preserved in the National Museum of Archeology in Chieti. A life-size reproduction of the Warrior is placed in the hall of the Piccolomini Castle in Capestrano, which belonged for some time to the Medici family, and is the main monument of the village.
The inscription on the statue reveals that Nevio Pompuledio, who lived in the 6th century BC, was one of the last kings who ruled the ancient people of Abruzzo, the Vestini, who were later conquered by the Romans. The sculpture was carved from a single block of limestone and is more than two meters high, excluding the base. It originally stood on top of his burial mound.
Subsequent excavations in the area where the warrior was found also brought to light a necropolis with some tombs and funerary objects dated between the 7th and 4th centuries BC.  This archaeological area, located just outside Capestrano, in Collelungo, is one of the most important in Abruzzo. 
In the village, the Church of S. Pietro ad Oratorium is a marvelous example of medieval architecture, built in the 8th century by a Lombard king and renovated in 1100.
 
Italian
Forse non hai mai sentito parlare di Capestrano, eppure questo borgo abruzzese è stato il luogo di ritrovamento di quello che è diventato il simbolo di tutta la regione: il Guerriero di Capestrano.
Il Guerriero di Capestrano è una statua ritrovata casualmente nel 1934 da un contadino locale mentre stava piantando un vigneto. La statua, che porta anche il nome di Nevio Pompuledio, risale alla metà del VI secolo aC e rappresenta una figura maschile con le braccia incrociate sul petto;
This is Premium Content
Subscribe today for unlimited access to all our exclusive Italy intel and much more...
...for less than the cost of a cappuccino a week!
More Dual Language Articles...