Unusual Places in Italy: The Monsters of Bomarzo
ITA:
Luoghi insoliti in Italia: I mostri di Bomarzo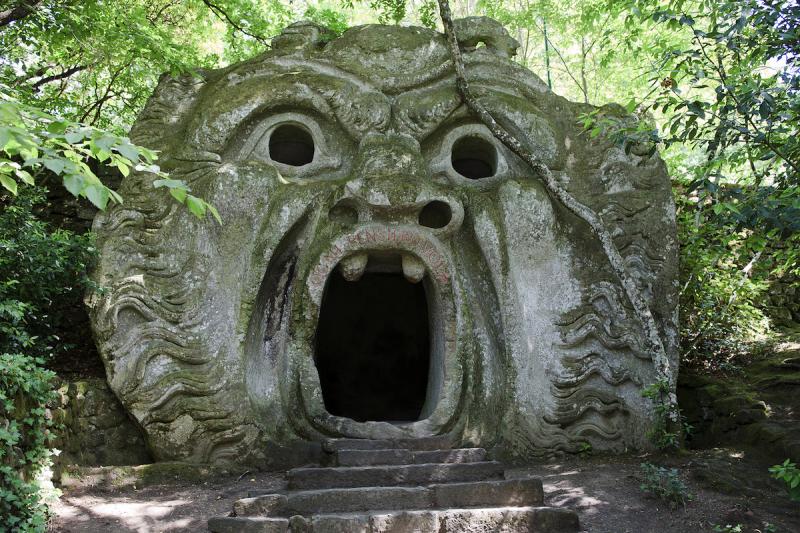 Use player to listen to Italian version

English
The Park of the Monsters, also known as the Sacred Woods of Bomarzo, is an Italian garden filled with bizarre sculptures built in 16th century, depicting mythological animals, gods and monsters.
Located about an hours and 15 minutes from Rome, the park was designed by the architect Pirro Ligorio (the man who completed St. Peter's after Michelangelo's death) and commissioned by grief-stricken prince Pier Francesco Orsini, duke of Bomarzo, whose heart was broken following the death of his wife Giulia Farnese. It was not a park meant to please, but rather to startle. 
The park, immersed in a forest of broad-leaved and conifer trees, covers an area of about three hectares. The numerous statues scattered within were made with basalt, a material found in large quantities in the area. Many of the sculptures include mysterious inscriptions. 
There are also buildings that recall the classical world, which however ignore the rules of perspective or aesthetics, in order to confuse the visitor.
Upon entering the park, the visitor is welcomed by two Sphinxes, symbolically guarding the park.
The first monster you encounter is Proteus, represented as a gigantic face with the mouth wide open. Other sculptures include two sirens, a dragon attacked by lions, two bears, a turtle and Hannibal's elephant.  
At the top of the garden is the Temple of Eternity, an octagonal building with a mixture of classical, Renaissance and Etruscan genres built as a memorial to Giulia Farnese.
But the most famous figure in the Park, which has become its symbol, is the Ogre, a large stone face with a wide open mouth, with the inscription, Every thought flies. Inside the mouth is a room carved into tuff accessed through steps; its shape causes voices and sounds to bounce off the walls, creating an echo with a frightening effect. If you're not frightened though, you may think about planning a picnic there as inside there are benches and a table.
 
Italian
Il Parco dei Mostri, noto anche come Bosco Sacro di Bomarzo, è un giardino italiano ricco di bizzarre sculture realizzate nel XVI secolo, raffiguranti animali mitologici, divinità e mostri. Situato a circa un'ora e 15 minuti da Roma, il parco fu progettato dall'architetto Pirro Ligorio (lo stesso che completò San Pietro dopo la morte di Michelangelo) e commissionato dal principe Pier Francesco Orsini, duca di Bomarzo, addolorato per la morte della moglie Giulia Farnese. Non era un parco che
This is Premium Content
Subscribe today for unlimited access to all our exclusive Italy intel and much more...
...for less than the cost of a cappuccino a week!
More Dual Language Articles...