Unusual Places in Italy: The Sanctuary of Saint Romedius
ITA:
Luoghi insoliti in Italia: il Santuario di San Romedio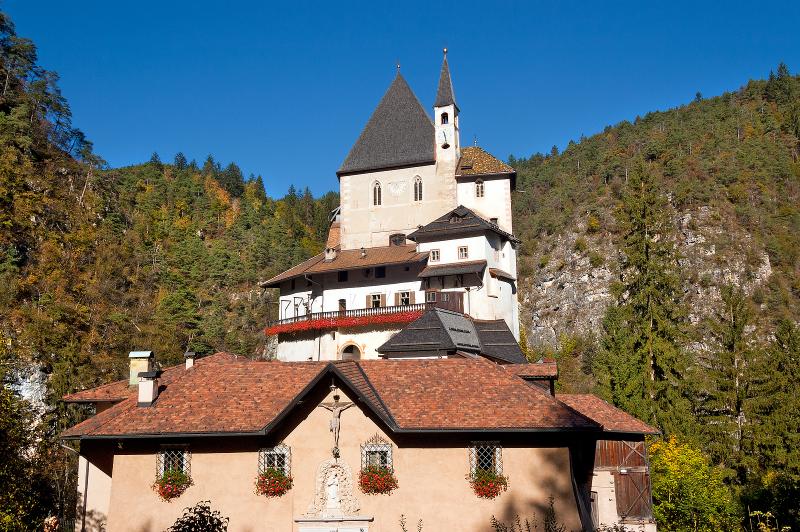 Use player to listen to Italian version

English
What strikes you first when you reach the Sanctuary of San Romedio is its spectacular position: it stands on, and in part it is one with, a 70-meter-high rocky spur at the bottom of a canyon. 
Located in Trentino's Val di Non, it is one of the main attractions of this valley located north-west of the regional capital of Trento, famous for the Melinda apples extensively grown here. 
San Romedio is also among Europe's most important Christian pilgrimage sites, with approximately 200,000 pilgrims visiting every year.
But even if you don't visit for religious purposes, you'll appreciate the beauty of the natural landscape and the peacefulness (avoid August!) of this historic sanctuary dedicated to Saint Romedius.
The Sanctuary consists of five overlaid small churches and chapels, built between the 11th and 20th centuries and connected by a steep staircase of 131 steps.
So who was Romedius? Romedius was the young heir of a rich Bavarian family; he lived between the 4th and 5th centuries. He gave up all his possessions to live as a hermit in a grotto in Val di Non. One day, as he was riding his horse to Trento to see Vigilius, the bishop of the city, Romedius and his horse were attacked by a bear. When Romedius approached the bear, he was able to tame it. The bear became Romedius' companion until the saint's death. 
Today, when you visit the Sanctuary, you may be able to see Bruno, a bear who lives in semi-captivity in a small wildlife area next to the sanctuary.
When Romedius died, his disciples carved his burial place into the rock by the grotto where he had lived, thus beginning the cult of Saint Romedius. The first church was built around the year 1000 over the tomb of the saint at the highest point of the rocky outcrop. The relics of the saint are preserved here. Four subsequent churches and chapels were built.
The best - and most spectacular - way to reach the sanctuary is on foot from Sanzeno through the panoramic trail carved into the rock of the canyon (45 minutes, 2.5 km).
Italian
La prima cosa che ti colpisce quando raggiungi il Santuario di San Romedio è la sua posizione spettacolare: sorge in cima, ed in parte è tutt'uno con, uno sperone roccioso alto 70 metri che si trova sul fondo di un canyon.
Situato nella Val di Non trentina, è una delle principali attrattive di questa valle a nord-ovest del capoluogo Trento, famosa per le mele Melinda qui coltivate estensivamente.
San Romedio è anche tra i più importanti luoghi di pellegrinaggio cristiano d
This is Premium Content
Subscribe today for unlimited access to all our exclusive Italy intel and much more...
...for less than the cost of a cappuccino a week!
More Dual Language Articles...