Wonders of Italy: Ancient Theater of Taormina
ITA:
Meraviglie d'Italia: il Teatro Antico di Taormina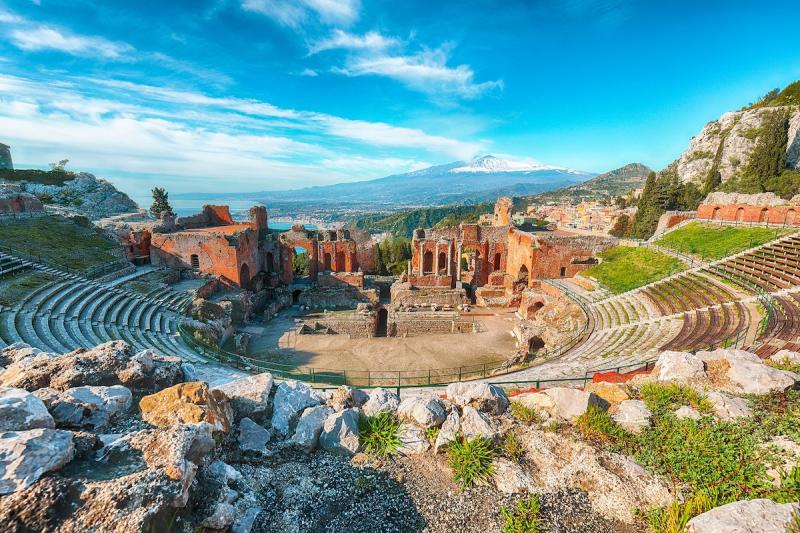 Use player to listen to Italian version

English
"Never has a theater audience had such a show before them." Thus wrote Goethe of the Greek Theater of Taormina in his famous 'Italian Journey' travelogue.  
The Ancient Theater of Taormina is the second largest of its kind in Sicily, after the Greek Theater of Syracuse.
Built in the 3rd century BC, carved out of the hard rock of Monte Tauro, it could welcome thousands of spectators. The Greeks, who occupied the Taormina area in 403 BC, built the theater, which was remodeled a century later by the Romans, who had conquered Taormina and made it a Roman colony. 
The Ancient Theater of Taormina is located on a promontory that affords a magnificent view of the Ionian coast and Mount Etna.
The Greeks erected their most important buildings and monuments in harmony with nature. Just as the light and air filtered through the columns, the natural scenery was also perfectly integrated with the architecture of the theater.
In addition, its shape allowed perfect acoustics in all sectors.
In the late Imperial era, the theater was adapted to host gladiator games and, later, with the fall of the Western Roman Empire, it fell into disuse. The marbles and the monumental columns were removed from the structure. Only in the 20th century some sections of the original structure were reinstated thanks to a major restoration work.
The Greek-Roman Theater consisted of three areas: the stage, the orchestra and the cavea.
The stage, located in front of the cavea, is where the actors played. The cavea (auditorium) consisted of a flight of steps which progressively widened towards the top; it was where the spectators seated. The orchestra was in the lowest part of the theater, where instrument players played the music that accompanied the tragedy or comedy. 
Since the 1950s, the open-air Ancient Theater of Taormina has been used in summer for various forms of entertainment ranging from theater to concerts, from opera to ballet. It can host up to 10,000 spectators. 
Italian
"Mai il pubblico di un teatro ha avuto innanzi a sé uno spettacolo simile." Così scriveva Goethe del Teatro Greco di Taormina nel suo celebre diario di viaggio 'Viaggio in Italia'.
Il Teatro Antico di Taormina è il secondo teatro del suo genere più grande in Sicilia, dopo il Teatro Greco di Siracusa.
Costruito nel III secolo aC, scavato nella dura roccia del Monte Tauro, poteva accogliere migliaia di spettatori. Furono i Greci, che avevano occupato la zona di Taormina nel
This is Premium Membership Content
Subscribe today to gain unlimited access to all of our exclusive Italy intel and much more. For less than the cost of a cappuccino per week, you'll have access to invaluable insights and resources that will enhance your Italian experience.
Join now and start exploring Italy like a local!
More Dual Language Articles...