Wonders of Italy: Basilica of Santa Croce in Lecce
ITA:
Meraviglie d'Italia: la Basilica di Santa Croce a Lecce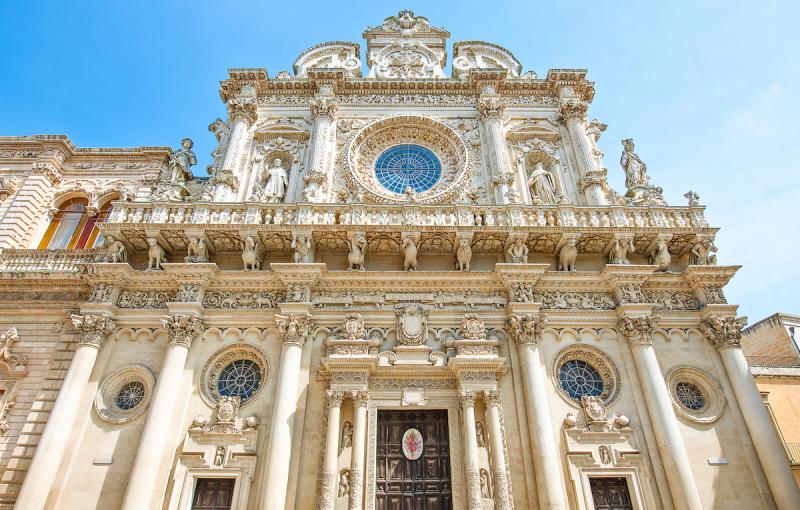 Use player to listen to Italian version

English
Considered the emblem of the highly admired 'Lecce Baroque,' the Basilica of Santa Croce is one of the most important churches in the Apulian town of Lecce. 
Construction of the Basilica began in 1549 and took more than 100 years to complete, in 1699. Santa Croce was built on the site of a monastery, at the request of the Celestine fathers.
Important local architects, including Gabriele Riccardi, Francesco Antonio Zimbalo and Cesare Penna, contributed to the construction of the church, with the help of master stonecutters and carvers, also from the Lecce area.
As typical of Baroque style, the facade is richly decorated, with six columns supporting an entablature, with animals, grotesque figures and vegetables; it also features a large rose window. 
Santa Croce symbolizes the triumph of Christianity over pagan myths and the two orders of the Basilica symbolize hell and heaven. The lower order represents the underworld where mythological figures such as sirens, harpies and dragons peek out from the capitals and pediment. The pagan world is defeated by heaven, represented by the higher order with flowers, plants, animals and angels in celebration.
Inside, the church has as many as 17 richly decorated altars.
The Basilica of Santa Croce is considered an architectural masterpiece, but the elaborate facade had many critics in the past. 
Cultural hub of Salento, Lecce is considered one of the most beautiful art cities in Southern Italy. Known as 'the Florence of the South,' Lecce has an interesting blend of ancient Roman archeological remains and exuberant, rich 17th-century Baroque decorations in churches and palaces of the historic center.
The style known as 'Lecce Baroque' developed under the Kingdom of Naples; its peculiarity is  the use of the Lecce stone, a type of calcareous stone, easily modeled and with warm tones, which give Lecce's historic center a unique light. 
Italian
Considerata l'emblema del tanto ammirato 'Barocco leccese', la Basilica di Santa Croce è una delle chiese più importanti della città pugliese di Lecce.
La costruzione della Basilica iniziò nel 1549 e ci vollero più di 100 anni per completarla; fu conclusa nel 1699. Santa Croce fu costruita sul sito di un monastero, su richiesta dei padri Celestini.
Alla costruzione della chiesa contribuirono importanti architetti locali, tra cui Gabriele Riccardi, Francesco Antonio Zimbalo
This is Premium Content
Subscribe today for unlimited access to all our exclusive Italy intel and much more...
...for less than the cost of a cappuccino a week!
More Dual Language Articles...