Wonders of Italy: Palatine Chapel of the Norman Palace in Palermo
ITA:
Meraviglie d'Italia: la Cappella Palatina nel Palazzo dei Normanni a Palermo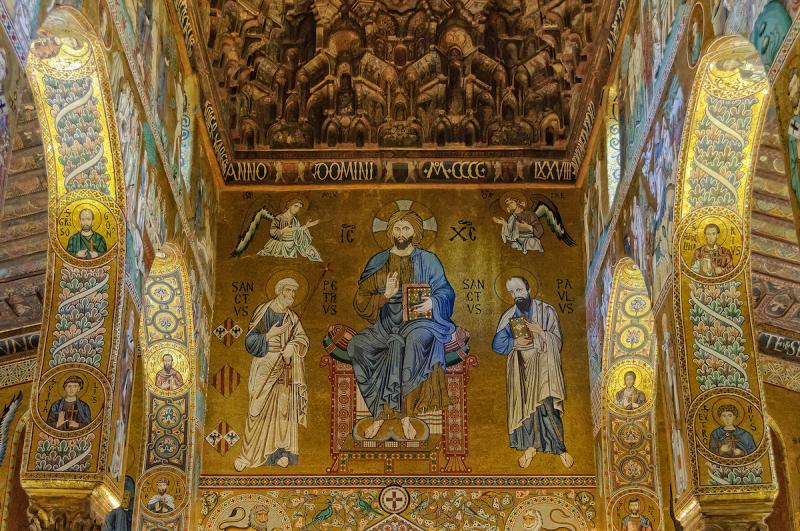 Use player to listen to Italian version

English
The Norman Palace in Palermo, the former seat of the kings of Sicily, is the oldest royal residence in Europe. Its greatest attraction is the Palatine Chapel, where every detail reveals the perfect union among different styles: Latin, Byzantine, Arab -  here's where the ancient cultures of the Mediterranean blends to reflect that 'melting pot' that was Sicily in the Middle Ages. 
The Palatine Chapel was commissioned by Roger II, King of Sicily, who wanted to highlight the prestige of his kingdom.  
The Latin features are visible in the Roman columns and in the discs of red porphyry on the walls, which had been used by Roman emperors as symbols of their power. 
The pavement, with its geometric inlays made with fine marble pieces, reveals the Arab influence, which is also masterfully expressed in the ceiling. The wood paneling was painted by Maghrebi artists. The characters depicted are the only record of of human figures painted by Islamic artists inside a place of worship. According to some scholars, they represent daily life in an Arab court, according to others they represent the islamic heaven. 
The Christian element of the chapel is expressed in the sumptuous Byzantine mosaics which decorate the wall and the apse, where the imposing figure of the Christ Pantocrator, king of the universe, prevails over all others. This symbol, which intends to associate the divine authority with the authority of the king, is a recurring theme in Byzantine art and is also found in the Cathedrals of Monreale and Cefalù in Sicily.
The Norman Palace is part of the serial Unesco site 'Arab-Norman Palermo and the Cathedral Churches of Cefalú and Monreale,' which Unesco describes as "an example of a social-cultural syncretism between Western, Islamic and Byzantine cultures on the island which gave rise to new concepts of space, structure and decoration."
Italian
Il Palazzo dei Normanni a Palermo è la più antica residenza reale d'Europa, in passato abitazione dei re di Sicilia. La sua più grande attrazione è la Cappella Palatina, dove ogni dettaglio rivela la perfetta unione tra diversi stili: latino, bizantino, arabo. E' qui che le antiche culture del Mediterraneo si fondono e riflettono quell'intreccio di lingue, culture e religioni che era la Sicilia nel Medioevo.
La Cappella Palatina fu voluta da Ruggero II, re di Sicilia, per esaltare i
This is Premium Content
Subscribe today for unlimited access to all our exclusive Italy intel and much more...
...for less than the cost of a cappuccino a week!
More Dual Language Articles...