Wonders of Italy: Riomaggiore (Cinque Terre)
ITA:
Meraviglie d'Italia: Riomaggiore (Cinque Terre)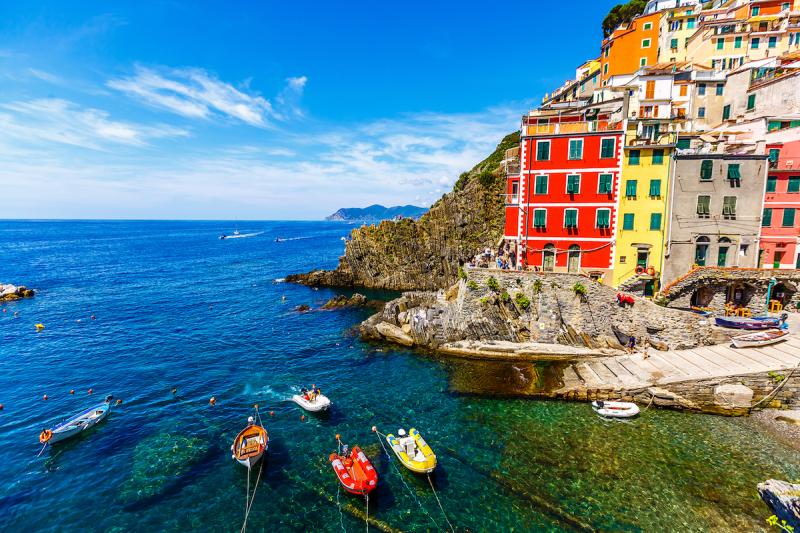 The beautiful town of Riomaggiore.
Use player to listen to Italian version

English
As the first seaside village you encounter coming from the Ligurian town of La Spezia, Riomaggiore is the eastern gateway to the world-famous, Unesco-inscribed Cinque Terre.
Founded in the 8th century by a group of Greek refugees according to legend, Riomaggiore extends from the coast of the Ligurian Sea to the Apennine mountains just behind, along two valleys. Mount Verugola's three peaks represent the town's emblem.
After the year 1000, protected by the powerful Genoa Republic, the local inhabitants began to leave their primitive settlements to move closer to the coast, forming the first nucleus of Riomaggiore, which now corresponds to the Marina district. Throughout the Middle Ages, the village was under the influence of the Republic of Genoa. 
The structure of Riomaggiore has changed little over the centuries. The houses follow the course of the stream, buried in its final part; painted with the typical pastel colors, the houses develop in height over three or four floors, linked to each other by alleys and steep stairways. The main street that goes down to the sea is via Santuario.
The highest part of the village is where the main monuments are located: the Church of San Giovanni Battista, the Oratory of Saints Rocco and Sebastiano and the Castle of Riomaggiore.
After visiting Riomaggiore, you can take a refreshing dip in the azure sea. The beach, made of large stones, is to the left of the small harbor. Locals spread their towels on the large breakwater rocks that protect the coast. 
The Riomaggiore area is also great to explore on foot as there are several hiking trails, the most famous of all being the Via dell'Amore, which connects Riomaggiore with Manarola (however, the trail is often closed due to landslides). You can also reach Manarola via the Via Beccara, the ancient path that connected the two villages; and you can take a long and panoramic trail to Portovenere. 
 
Italian
Primo borgo marinaro che si incontra provenendo dalla cittadina ligure di La Spezia, Riomaggiore è la porta orientale delle Cinque Terre, famose in tutto il mondo e sito patrimonio dell'umanità Unesco.
Fondata, secondo la leggenda, nell'VIII secolo da un gruppo di profughi greci, Riomaggiore si estende dalla costa del Mar Ligure fino ai monti appenninici appena retrostanti, lungo due valli. Le tre cime del Monte Verugola rappresentano lo stemma del paese.
Dopo l'anno 1000,
This is Premium Content
Subscribe today for unlimited access to all our exclusive Italy intel and much more...
...for less than the cost of a cappuccino a week!
More Dual Language Articles...