[The Corsi family.]
"Italy first captures your attention, and then captures your heart," says Dawn Mattera, who has traveled to Italy numerous times to search for both her Italian relatives and her boyfriend's. Getting to know their families and make new friends in the towns their ancestors had emigrated from have made their lives, Dawn says, "richer and happier." And not only that: wanting to be able to communicate with relatives who didn't speak English, in 2003 Dawn spent a few months in Florence to learn Italian, which she's now been teaching in the U.S. for more than a decade. She was also inspired to write a book about the Italian lifestyle, "La Bella Figura: Italian Secrets of Being Happy, Healthy and Hot!".
Below, Dawn shares with ITALY Magazine readers her thoughts and experiences, as well as a few tips, on traveling to Italy to research one's heritage. 
What prompted you to begin your search to trace your Italian roots? 
There are several reasons.  For one, it's a way to honor my family by remembering who they were and to keep those memories alive for future generations.  Another reason is to recognize that I am who I am today because of my ancestors.  I also want my siblings and their children to understand the sacrifices that our grandparents made to follow the American Dream.  We love visiting Italy, and having family and friends there make the experiences more meaningful.
Please describe the process. Did you already know your ancestral town? If not, how did you find it? Who or what was your first resource when you started your search for your ancestral town and Italian relatives?
For me, the process was relatively (no pun intended!) easy because my Uncle Johnny stayed in touch with our family on the island of Ischia. My first trip there was with him and my father.  I have now been there 21 times since 2001, and we have a great relationship with our family and friends who live all over Italy.
For my boyfriend (Bob), his family was a bit more complicated to find because no one in the U.S. had any contact with relatives in Italy.  Through Ancestry.com, I was able to see that Francesco Corsi (Bob's great-grandfather) came to America, and that he was from San Michele.  But, do you know how many 'San Michele' there are in Italy?  A lot!  We asked several cousins for clues.  One gave us a black-and-white picture of the Corsi family tomb in Italy…and, it identified that it was in San Michele in Teverina (Lazio region).  Success!
Next, we planned our next trip to Italy, including a long weekend in San Michele.  We just booked a hotel (actually a room in a castle!!) and a car, and hoped for the best.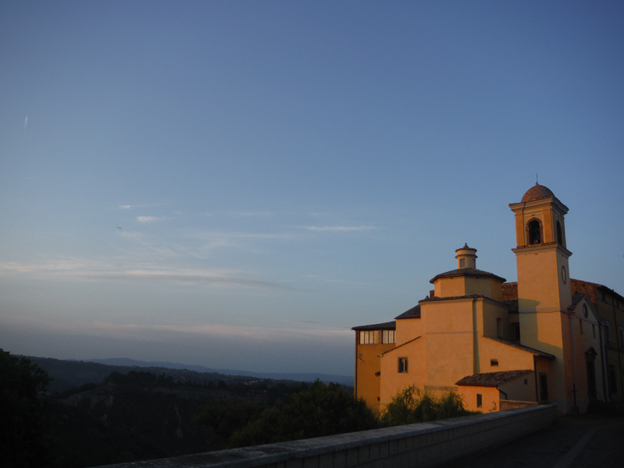 [San Michele at dusk.]
I checked the Italian White Pages for any Corsi's in that area; there were only a few.  Upon arrival in Italy, the owner of the castle called them, but each one said that they did not know any relatives from the United States.  I'll come back to this later (see question 3).
The next day, we went to the town hall to get the birth certificates for Bob's grandfather and great grandfather. The lovely clerk (Marilena) not only made copies for us, she offered to take us to the original Corsi home. As fate would have it, Marilena is related to us through marriage!  She also invited us to the town's outdoor mass and feast that she and her husband (Fabio) host annually. We met so many of the beautiful residents of San Michele.
Our last day in San Michele, we went to the cemetery to clean up the family tomb and place flowers in the vases.  While there, a man asked us who we were and how we were connected to the Corsi's.  After explaining, he announced that we are indeed related!  As a note, this distant cousin was one of the people we called from the Pagine Bianche, and said that he had no American relatives! During our visit to San Michele this past May, we spent an evening with our newfound family in their home.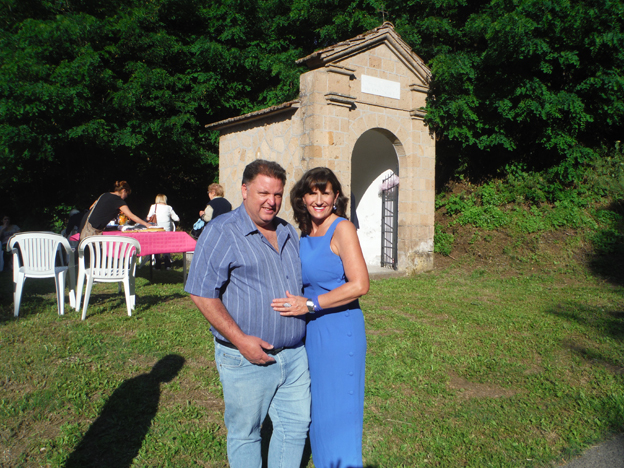 [Dawn and Bob at San Michele's little church.]
What were the obstacles, if any, during the process of finding your relatives and then getting in touch?
The first obstacle was finding out which San Michele was correct.  By asking every cousin that we knew, we were able to discover it.
Another obstacle was finding the original Corsi home.  For one thing, the street name changed after World War II.  When Bob's father was stationed in Italy during the late 1950s, he tried to find the house with the original address.  That street no longer existed.  The reason we were able to find the house was the grandfather's birth certificate: the neighborhood name was written in as the place of birth, and the town hall clerk (Marilena) knew exactly where it was.
When we showed up in San Michele, we just drove around and asked people if they knew the Corsi's.  No one did.  But, we didn't give up or just stay in our room.  We frequented the local coffee shops, went to the huge town party (yes, we were invited!), and talked to everyone we met. 
For both me on Ischia and my boyfriend in San Michele, there were a few people who were skeptical about us at first.  Some of them thought we were there to take back the land that our grandparents left behind.  Once they found out that we were truly just there to discover our heritage, we were welcomed with open arms.
One obstacle that many people may have - especially in smaller towns - is the language.  However, many of the younger people speak some English.  At the same time, I believe that it's important to at least know some basic Italian.  Don't let that stop you, though!  One of our friends showed up in his ancestors' town with old photos.  Between hand gestures and internet translators, they were able to communicate.  (As a note, I speak Italian, but didn't start until I was 40!)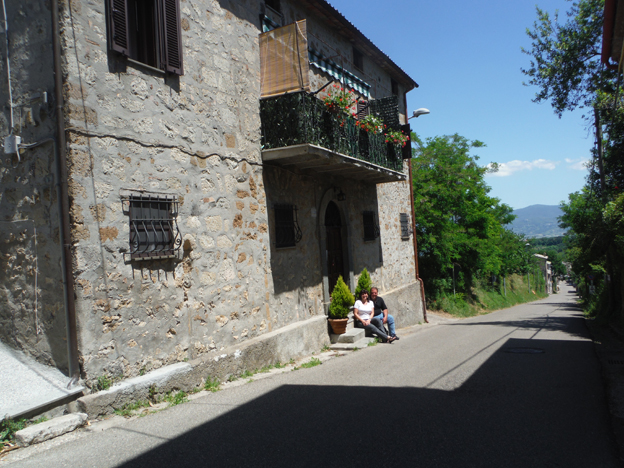 [Bob and Dawn at the Corsi home in San Michele.]
Please describe the moment when you first met your Italian relatives. How did you feel?
My boyfriend had always dreamed of meeting his Italian ancestors but didn't know how to proceed.  Further, he knew that not speaking the language would be a barrier.  Bob says that he never would have found his Italian relatives if not for me.  (Awwww…he's so sweet!)  I have the interest and drive to do the research, and knowing the language helps immensely.  
When we were finally going to meet them, he was excited and also anxious: he didn't know how they would feel about us.  However, as we met more and more relatives, we were overwhelmed with the love and generosity they showed us.  We are so proud to know that we come from such kind, warm and extraordinary people.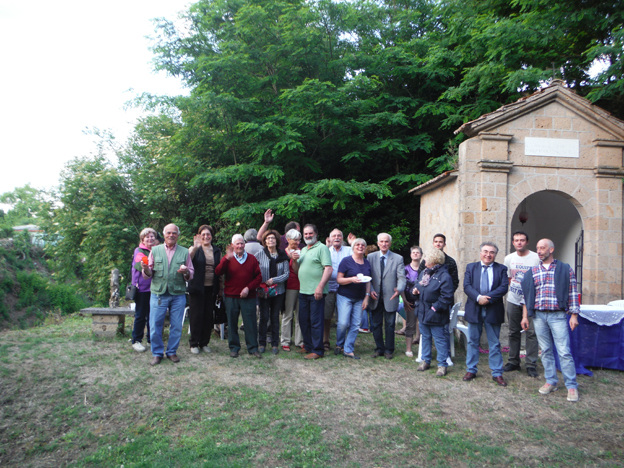 ['Festa' in San Michele.]
Please describe how you felt the first time you walked the streets of your ancestral town.
Walking through the streets of our ancestors' town, we were grateful to have this dream finally come true.  Seeing the "FC" (for Francesco Corsi) in the wrought iron balcony, and picking cherries from trees he planted, we felt connected to the past.  It was also humbling: realizing that our grandparents gave up seeing that breathtaking view to sail across the ocean for a better future.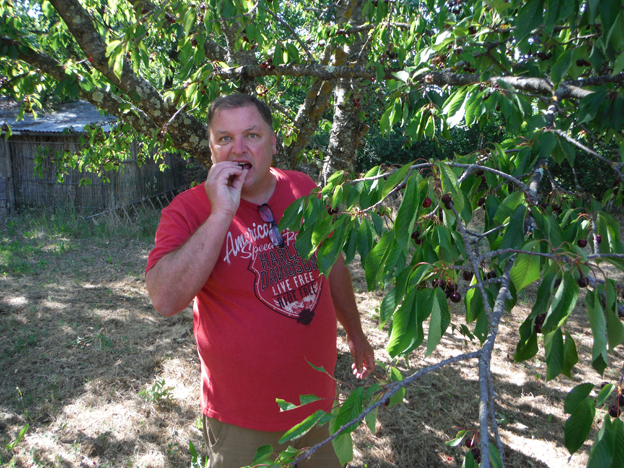 [Bob eating cherries from his great-great-grandfather's tree.]
Any fun anecdotes about meeting your Italian relatives?
- Both Bob and his cousin in San Michele are mechanics
- Both Bob and his cousin's son ride Harley Davidsons
- Our Italian relatives always apologized for not serving fancy foods...and, it was always fantastic and better than any restaurant!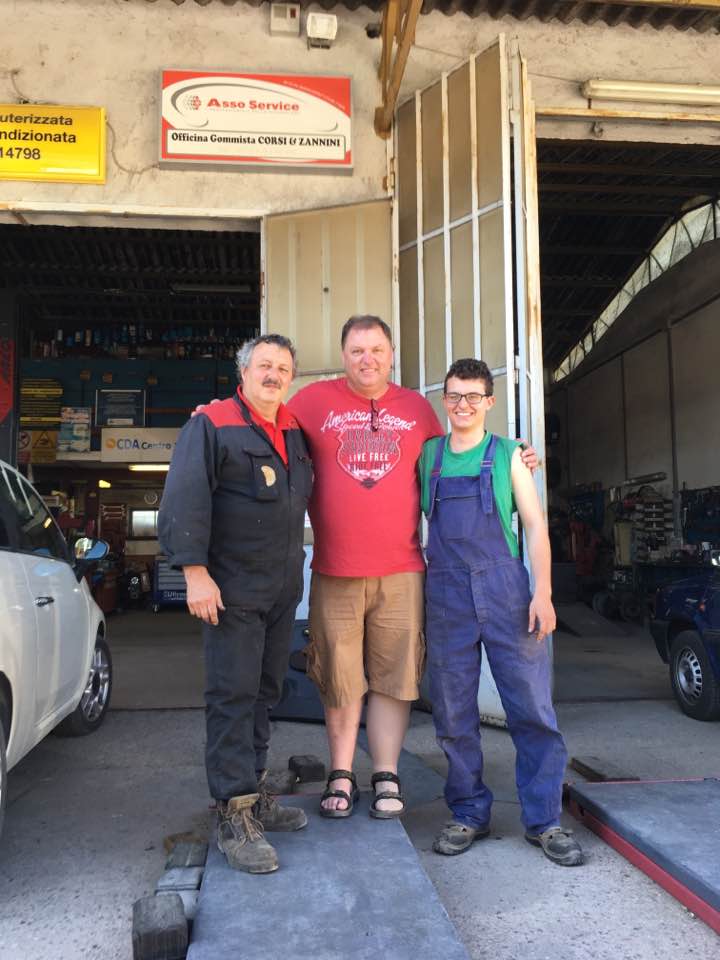 [Corsi mechanics!]
Did you discover any amazing story during the process of searching for your Italian relatives?
Through the years, the American family talked about the Corsi house in Italy, and it gained mythical proportions: it was a castle with marble floors, etc.  Well, not quite.  It was the biggest house on the street, but certainly not a castle, and no moat or dragons!
We were able to go inside the original Corsi home (the one before the "castle"). The ceiling was a remarkable dome-like construction made from brick. Taking that trade with them, the Corsi family made their living in the USA as brick-layers, building numerous houses and commercial structures.
As we drove around San Michele and the surrounding area, we were surprised at how much it reminded us of where we live: the trees, the roads, and even the climate.  It made sense, though: our ancestors would be attracted to an area (Rhode Island) that reminded them of home.
We were able to meet and talk with a few people who actually remembered the Corsi family when they still lived in San Michele.  This is noteworthy since they immigrated to the United States in 1912.
Ultimately, what has the experience of reconnecting to your Italian roots meant to you?  
Meeting my Italian family sparked a desire to become fluent in Italian. That led to classes at home and actually living in Florence, Italy, for a few months to attend a language school.  From there, everything snowballed---or, would that be meatballed?  I became active in Italian-American groups, hosting events and teaching the language.  I even wrote a book, "La Bella Figura—Italian Secrets of Being Happy, Healthy and Hot," and I've just started writing a second one, also with an Italian flair.
As our American friends and family saw our photos and heard the tales of our Italian travels, they started to come with us.  Sharing something you love with people that you love makes the journey more meaningful and memorable.  What started as genealogical research has spread far beyond our little corner of the Boot.  Like dropping a pebble into a pond, the ripple effect has inspired the lives of others who love Italy. (Truly, we say all that with grateful humility.)
The whole process has been an amazing adventure, and continues to be.  We embarked on this journey not knowing what to expect.  We have gained more than we ever could have imagined. We have discovered a hidden treasure in Italy: our "new" family and friends.  Our lives are richer because of the experiences we've had and will continue to have.
I can sum it up with this thought: Italy first captures your attention, and then captures your heart!
Dawn's tips for people researching their Italian heritage:
- Learn Italian!!!  Not just the language, but the culture as well
- Use online genealogical sources (such as ancestry.com)
- Look up families in Italy via the White Pages (Pagine Bianche)
- Realize that Italian family members may think you are trying to reclaim property. Don't let that discourage you. Once they realize you simply want to tap into the roots of your family tree, they will relax and embrace you.
- Names of streets may have changed since your family lived there, especially after WW2.
- If you are even thinking about someday pursuing dual citizenship, get certified copies of birth certificates while in the home towns.
Thank you, Dawn, for sharing your story in such a vivid and engaging way. 
All photos courtesy of Dawn Mattera.