For our series 'Back to Your Italian Roots,' where we share stories of readers who have traveled to Italy to reconnect with relatives and visit their ancestral towns, we talk today to Laura Battaglini, whose father emigrated from Pacentro, Abruzzo, to Detroit.
Laura Battaglini grew up hearing her father Pasquale's stories about his hometown of Pacentro, about his childhood spent amid the mountains of Abruzzo in central Italy.
"My father always had stories to tell us about his childhood," Laura recalls. "He would tell us how he rang the bell at the old church that he worked at as an altar boy, how he would listen intently to his grandma as she peeled potatoes, one of their only food sources, and sang opera music, and how he fantasized about life as he ran through that small village. They were like childhood storybooks to me."
Laura grew up in Detroit, where her father Pasquale had emigrated, the only one of his family who decided to stay in the U.S., as he felt there would be more opportunities for his children. "The Second World War (which he lived through) had permanently left scars on his mind of poverty, starvation, and a feeling of hopelessness," Laura said. "He provided for us as best as he could. We grew up poor, but we were rich with happiness."
Ever since hearing stories about Pacentro, Laura had a strong desire to visit. Her wish came true in 2017, when she finally traveled to Abruzzo along with her brother Joe and son Leonardo, after both her parents had passed away.
For Laura, the trip to Italy meant understanding her father "for all that he was" and helped her feel his presence again.
Laura, who or what was your first resource when you started your search for your Italian relatives? 
I've stayed in touch with my Italian relatives since childhood, so I always knew they lived in Pacentro. I was able to connect with them all on Facebook after my father passed away, and make plans to come and visit. Before social media, we only were able to stay in touch through letters and phone calls. 
What were the obstacles, if any, during the process of finding your relatives and then getting in touch?
I was able to connect with most of my family, and extended family via Facebook, but most of them do not speak English, making it hard to communicate back and forth.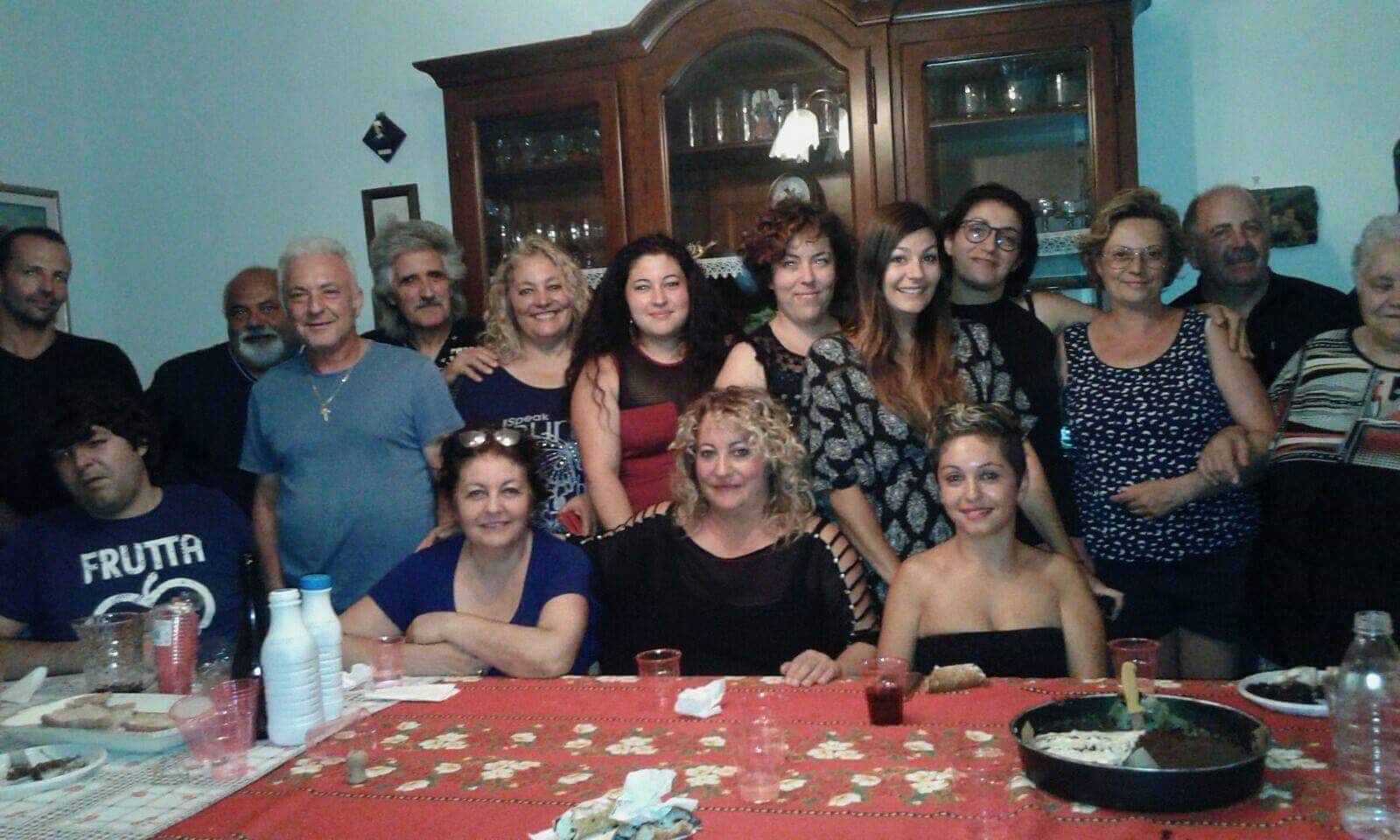 [Laura with her Italian family in Pacentro, Abruzzo.]
Please describe the moment when you first met your Italian relatives. How did you feel?
It was a surreal moment when I saw them all standing together in front of a restaurant in a discreet location in the mountains for the first time. I had waited for that day since I was a child, and I will never forget looking at each and every one of their faces and remembering them all from pictures that were sent to us. It felt like I already knew each and every one of them. They are the most kind and giving people I have ever met. 
Please describe how you felt the first time you walked the streets of your ancestral town.
I could feel I was walking where my father once stood. I remembered some of the street names he told us about in Pacentro, and seeing the names on the signs for the first time. It was like I was viewing his small town through his eyes, and taking in all the memories he once had and shared with us. They showed me every place my dad had ever spoken to us about, and I felt like I was walking in his shoes, just as I would do as a child. I felt like I finally understood my father for all that he was, and hearing stories about him from my cousins and Zia Concetta made me feel his presence once again.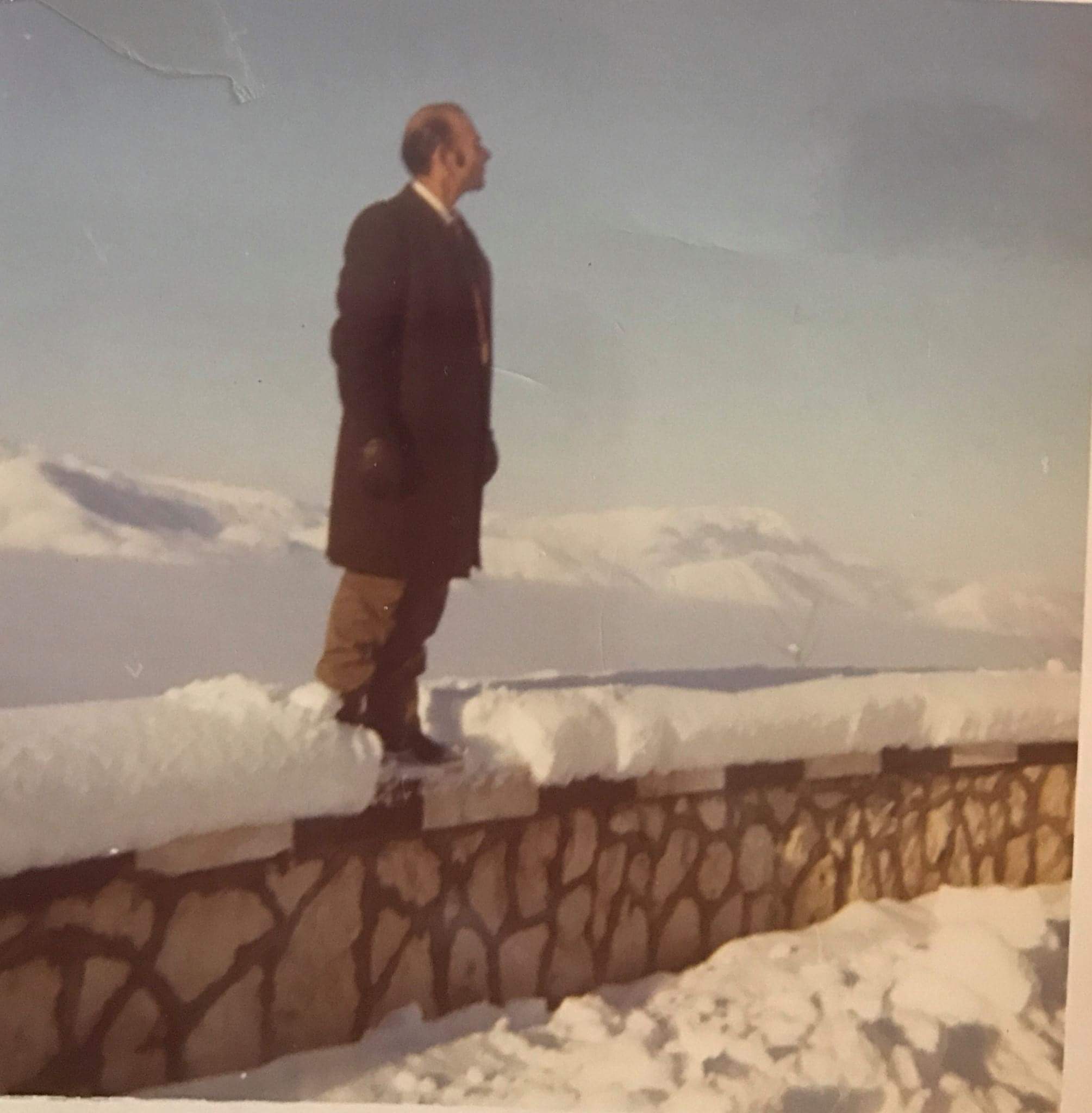 [Pasquale Battaglini standing on a wall in Pacentro, date unknown.]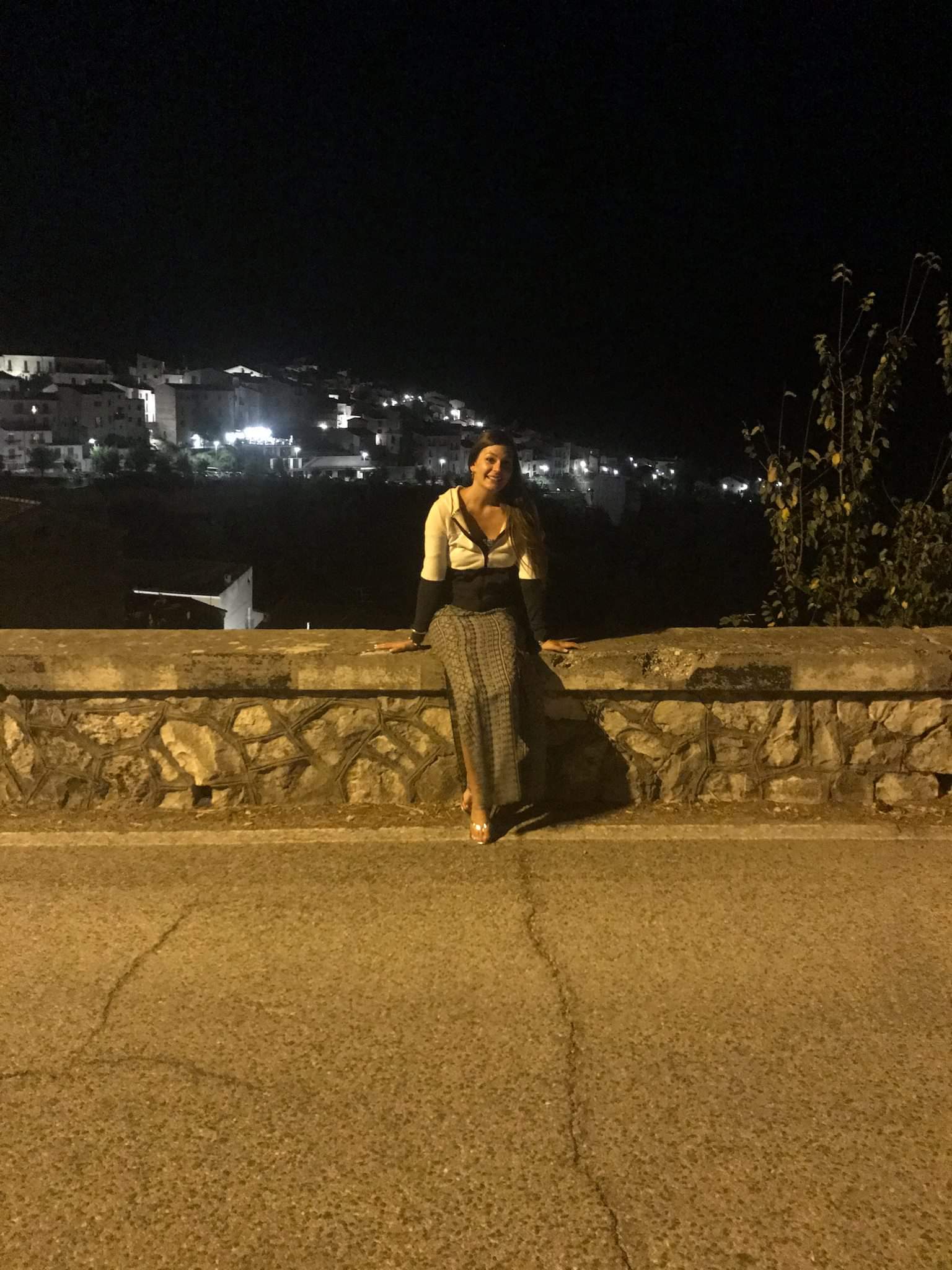 [Laura Battaglini sitting on that same wall in 2017.]
Any fun anecdotes about meeting your Italian relatives?
My cousins and my Zia had so many stories to tell me about my father - he was a real comedian. We swapped stories the whole time about my father and his brothers. It was fun to learn how we were all raised the same way, even though we lived in completely different countries! Our fathers were all so much alike, and all taught us about the same things  - classical music, art, politics, and expanding your mind. 
Did you discover any amazing story during the process of searching for your Italian relatives?
The stories I was intrigued to hear about the most when I visited my relatives were about how Pacentro was invaded by the Nazis during World War II. My father and his brothers lived through it all, and their father was sent off to war in Ethiopia. Their mother tragically died when my father was only 8 (in 1939), so him and his two brothers, and cousins, were raised by their grandmother and grandfather. It was fascinating to learn what she had to do for them all to survive during that time, as there was not much food at all to go around, clothes were scarce, and Nazis surrounded them. 
Ultimately, what has the experience of reconnecting to your Italian roots meant to you?  
Nothing can ever take away my experiences I gained going on that trip. For me, it made me feel whole again. I understand even my own self better, and it is a bit like magic being able to see where my roots lie. Going to Pacentro, even if it's ever only once in my life, has forever changed who I am, and I will never forget it.
Thank you, Laura, for sharing your beautiful story. 
For more ancestry travel stories, click here.