'Back to Your Italian Roots' Series: An Entire Community Becomes Family
[Janet Nelson with the mayor of Valdieri.]
It takes courage to leave the small mountain town where you were born and grew up to sail across the ocean and into the unknown, says Janet Nelson speaking of her Italian grandparents, who left Andonno, a tiny village amid the mountains of Piedmont, northern Italy, to emigrate to the Oklahoma Indian Territory. Despite the numerous obstacles she encountered in trying to locate her Italian relatives, Janet persisted and thus found an extended Italian 'family,' the people of Andonno and nearby Valdieri, who welcomed her as one of her own. Here's Janet's story.
What prompted you to begin your search to trace your Italian roots?
My desire to locate relatives in Italy grew to an obsession after my husband and I found members of his family during a vacation in Sweden.
Please describe the process. Did you already know your ancestral town? If not, how did you find it? Who or what was your first resource when you started your search for your ancestral town and Italian relatives (a relative, an office, an online service, etc.)?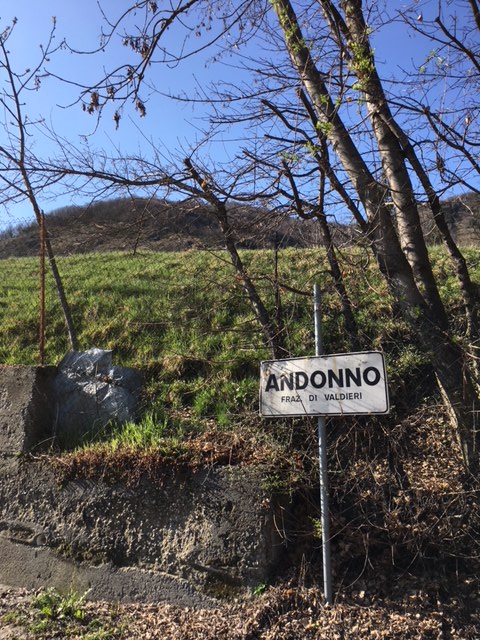 [Photo: The Andonno sign entering town.]
The only information that I had was that my grandparents came from Andonno, near Cuneo, Italy. I knew that my grandmother came to America with her infant daughter, my aunt, who had been born in France, and soon after arrival married my grandfather in the Oklahoma Territory. Her name was Anna Blua Franco, which sounded French.  Was she even Italian?
I began searching online for help and started by putting my family name in search engines. That was far too broad and not successful. Then I found that Facebook has genealogy groups for regions and towns, and I joined everyone that I thought might be of help. I first found Southern European, then Northern Italian, and finally I found one in the town of Valdieri, located near Andonno. After almost a year of asking for information and help, and feeling hopeless, I posted copies of the only 2 photos of my grandparents that I have and asked if anyone had knowledge of these people. A young man answered my plea and said he works in Valdieri and lives in Andonno and would help me find my family records.  What a blessing. We corresponded for months (he in Italian and me in English - thank goodness for Google Translate) and he put together my family tree. I knew then that I had to meet Marco, my only hope of learning more about my family and to find any living relatives.
A surprise occurred on the Friday before our plane left for Italy. I got a call from a man in Virginia who introduced himself as my cousin and said that Marco in Andonno had shared my contact information and because of researching my family tree could see that we were related. What an emotional roller coaster ride. I now have found two cousins in the USA that I had never known about.
What were the obstacles, if any, during the process of finding your relatives and then getting in touch?
No matter what I tried, I was unable to find any useful information except arrival dates on the Ellis Island records. That is when I enlisted the help of a genealogist at our local public library.  She also found brick walls wherever she looked. Andonno, a remote town in the mountains between Italy and France, has no digital records.
The biggest stumbling blocks, even now as I continue to look for Italian relatives, is that families named children after the saints.  In my Rosso family we have brothers named Pete Frank and Frank Pete; every family has a Bernardo, Mary,  Madeline, Margaret, James and John.  Names are very confusing and frequently lead to a wrong lineage.
Please describe the moment when you first met your Italian relatives, and how you felt walking the streets of your ancestral town.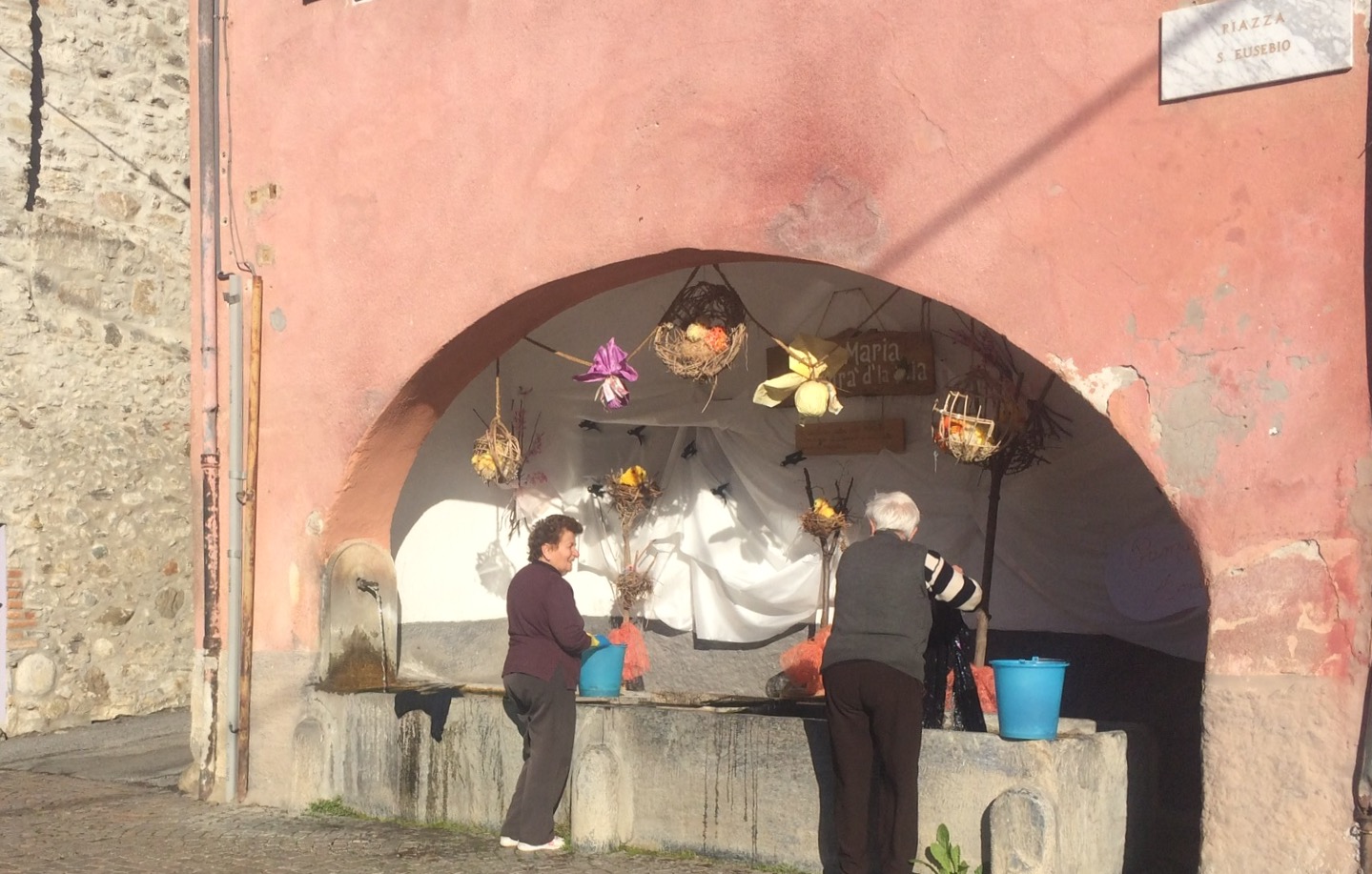 [Photo: Two women getting water and washing clothes at the water source in Andonno.]
We made the trip to Italy in March 2017 and it still makes me feel quite emotional when I think back to that wonderful experience.  Marco must have told the entire town that we were coming. Because we do not speak the same language, it was hugs and welcoming smiles that greeted us. Then Marco and his fiancé took us to their home, poured wine, and showed us an updated family tree.
We walked the narrow streets, greeted friendly people, looked at the "house" where my grandfather was raised, and I felt that I was truly walking in the footsteps of my Italian family.  When walking down one narrow street, our son was struck by a fresco on the side of a building. The old Nonna looked like my deceased Italian mother, his grandmother.  We knew we were seeing family all around us. In visiting with the locals we found that many men left this area in the early 1900s as the local mines closed. Most who left never returned and contact was lost.
Any fun anecdotes about meeting your Italian relatives?
Since Andonno is a small mountain town I found that there was almost no English spoken.  But we could communicate using a translation app on our phones and from my limited Spanish, which is often similar to Italian I could follow the themes of the conversations.
Did you discover any amazing story during the process of searching for your Italian relatives?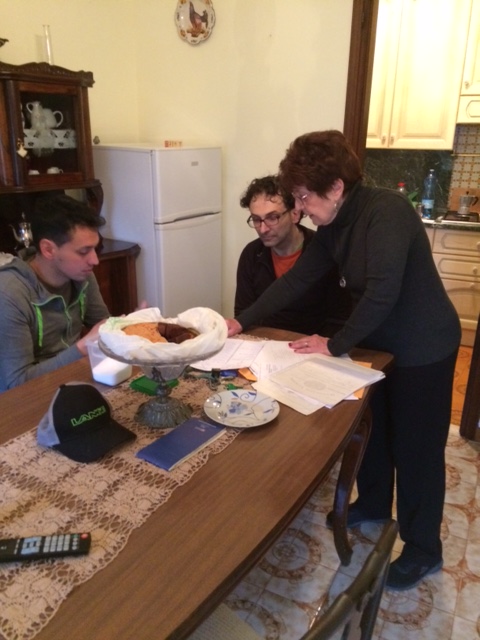 [Photo: Marco at his home in Andonno explaining Janet's Rosso family tree.]
My biggest surprise is that my Italian family name, Rosso, is the surname of the majority of the population of Andonno and my grandmother's maiden name of Blua suggests that she was from a town a few miles from Andonno.  It was explained that after her first husband died, she came to Oklahoma to marry my grandfather, Martino Rosso, because they probably knew one another growing up in Italy.
I also was surprised to discover that my great grandfather had two families.  My grandfather was the last child of the first wife, and it was from a second marriage that my newly found American cousins descended.
Ultimately, what has the experience of reconnecting to your Italian roots meant to you? 
Finding my Italian roots has helped me understand my lifelong attraction to all things Italian, their classical music, art, my love of the mountains, and my love of Italian food and wine. I also now have a better understanding of the courage it took to leave a small, rural mountain life, not speaking the language, and setting off across the ocean to the unknown Oklahoma Indian Territory.
I plan to return to Andonno.  I was not able to accomplish my goal of finding a living blood relative in Andonno.   What I found was a town that welcomed me and my family,  warmly shared their culture, and embraced us as their own.  I did find my heritage and an entire community that became my family.  I stay in touch with several "family members" via Facebook and was able to meet my new American cousins earlier this year.  Andree was born in France and John and his wife were both born in Andonno.  When we met one another the excitement for all three of us was amazing.  We each thought we had lost contact with any Italian relatives.
It was an amazing experience to walk where my family was born as my grandparents both died before I was born. I am so grateful for our experience.
Thank you, Janet, for sharing your story with ITALY Magazine readers!
Photos courtesy of Janet Nelson.
Location:
You may also be interested in...