MAXXI moda mostra
Bellissima, the word that indicates female beauty in Italian, and the title of the black and white movie with the Italian maestra, Anna Magnani. It is this movie that inspired the title of the latest exhibition at the Maxxi.
Bellissima: Italy and High Fashion 1945-1968 (December 2, 2014 – May 3, 2015), stages a selection of 80 outfits by designers that define the very identity of Italian fashion. The backdrop for this decadent display is Rome, and it's stars, wearing spectacular creations that lit up the grand balls and foyers of the theatres, in the city of cinema and Hollywood divas of the Via Veneto and the Dolce Vita. The exhibition traces 1945-1968, a time of extraordinary creativity in  theatre, fashion and photography. Designers like Bulgari, Valentino, Roberto Capucci, Fernanda Gattinoni, Fendi, Renato Balestra, Emilio Pucci, and many more, were making important contributions to the image of Italy around the world.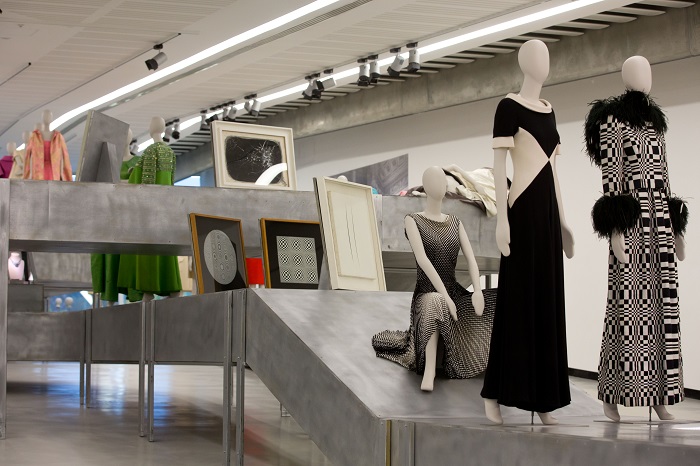 The Maxxi beautifully recreates the alluring atmosphere of Italian high fashion, by bringing these outfits to life on La Rosa mannequins, whilst TV screens play legendary black and white movies, with clips of fashion shows in Rome, Florence and Milan. And, of course, the movie Bellissima, with Anna Magnani. 
Memorabilia, magazine cuttings, and hand written thank you letters from the British Embassy in Rome to the fashion houses, for invites to the fashion shows, are on display beside dazzling Bulgari diamonds. Bulgari gold make up powder compacts, to be exact.
Bags by Gucci, and shoes by those which have promoted Italy's fine craftsmanship around the world, Coppola e Toppo, Ferragamo, and Fragiacomo are dotted in between designer dresses. 
The exhibition is neither overwhelmingly vast (alla the Victoria & Albert museum's Italian  fashion epic of 2013) nor is it too bite size. It's a perfect 1 or 2 hour maze of drool worthy  gowns, with dresses manageably divided into categories 'Arty', 'Exotic', 'Black & White'. And, then, 'Daytime', 'Evening', 'Cocktail dress'. Those were the days when prim and proper, and best foot forward, mattered, and dresses were tailored and worn with   mystery and decorum.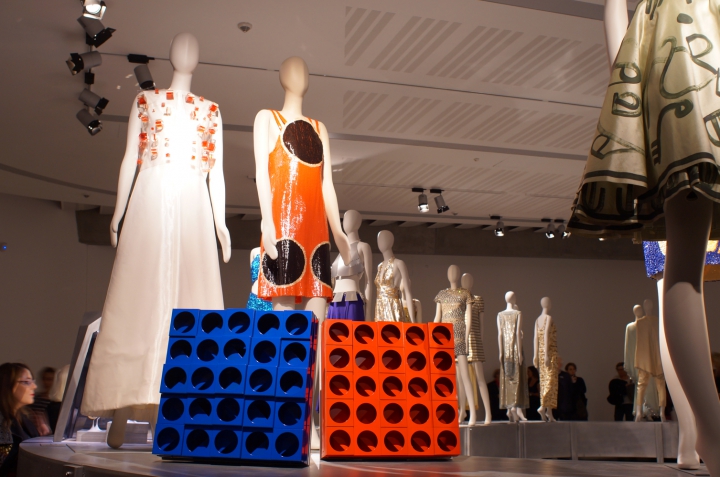 Dresses on display
Marcella De Marchis Rossellini
Marcella, costume and set designer, whose wardrobe boasted a bellissima evening dress, made by Emilio Schuberth in 1951. Adorned with painted silk and satin decorations and  velvet emriodered details.
Micol, Zoe and Giovanna Fontana 
On display is a dress, termed 'the little priest', because it's design was inspired by cardinals robes, made by the Fontana Sisters, in 1955, for Ava Gardner.  They were the 'mothers of Italian fashion', Micol, Zoe and Giovanna. The three internationally renowned names before Valentino, Armani and Versace. They were the founders of modern Italian fashion, who, in 1943, after the liberation of Rome from Fascism, the sisters moved into a building in Via Veneto and started their own atelier. They made dressed for Audrey Hepburn , and Anita Ekberg in La Dolce Vita with Marcello Mastroianni.
Valentino
These delicious items of clothing and accessories are shown alongside important works of art,  thanks to the collaboration of the Galleria Nazionale d'Arte Moderna. Plastic red roses by artist Alberto Burri, 1961, perfectly compliments the red appliqued roses on a red Valentino dress. The exhibited dresses demonstrate the birth of Valentino.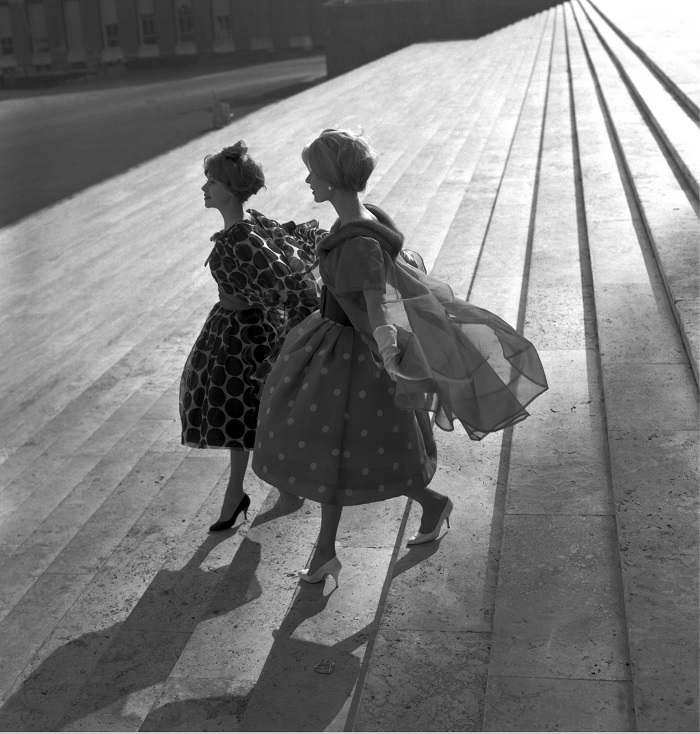 Roperto Capucci
Sixties geometric red, black and white plastic mini dresses by Roberto Capucci are juxtaposed with Paolo Scheggi's red and blue 1969 cubes. There are two years difference between the dress being made and the art work. It works brilliantly.
Made in Italy designs tailored to be 'pronto' for the red carpet!
A memo from the curators
Maria Luisa Frisa, who, with Stefano Tonchi and Anna Mattirolo curated the exhibition, explains that this is not an exhibition about an outdated era, because the pieces are timeless.
"Let me be clear that this is not a historical exhibition. It talks about an Italian period of great importance, but reread with the filter of today," 
Tonchi, co curator and editor-in-chief of W Magazine, is known for being a fashion editor who, in his 30 year career, acts like an art curator, describing his mission as "breaking down barriers" between subjects. He tells us that the designs in this exhibition ''are the missing pieces in the jigsaw of how Twentieth century fashion happened''.
Giovanna Melandri, Maxxi Museum Director, was excited to bring fashion into the realm of art. ''There was a modernity in this period because of the fertile interaction between art and fashion.''
 Digital threads
Three photographers provide the photographic thread of the exhibition. Pasquale De Antonis, Federico Garolla and Ugo Mulas. Antonis created a dialogue between high fashion and classical   ancient Rome, choosing the ruins of the Roman Empire to stage his glamorous 1950's fashion shoots, symbolic, of this post-war time when art and fashion in Italy were being re-built from the ruins.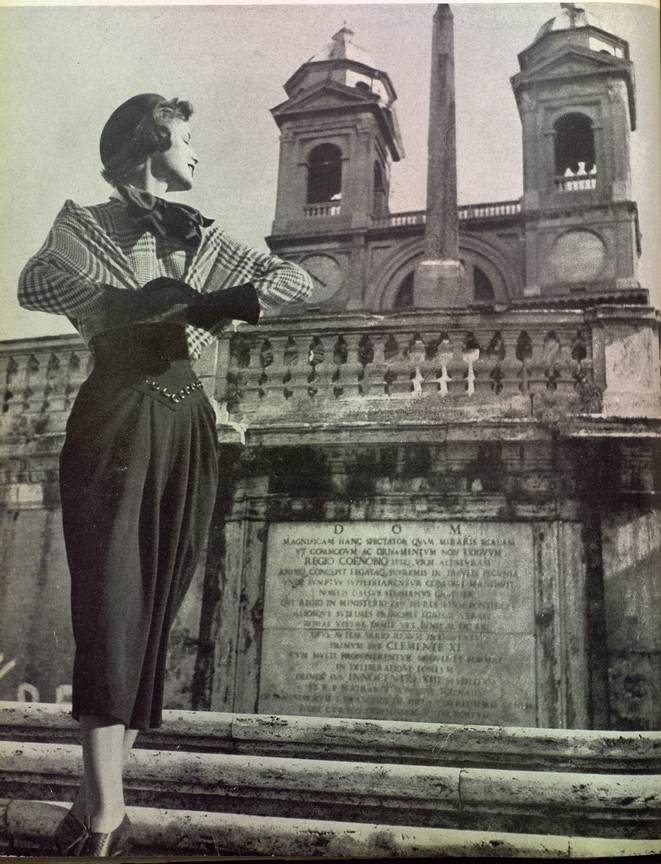 The Book
The Bellissima book published by Electa completes and adds to the exhibition project: 464 pages and over 500 images, available both in Italian and in English, documents ladies of style like Marella Agnelli, Gioia Marchi Falck, Consuelo Crespi, Irene Brin and Palma Bucarelli; Milan and the Scala, Biki and Maria Callas, Germana Marucelli; high society Venice and the Naples of men's tailoring and the gala events in its palazzi; Florence and the fashion events held at Palazzo Pitti; and, of course, Rome, the Dolce Vita and Hollywood on the Tiber.
Designers in the exhibition
Maria Antonelli, Renato Balestra, Rocco Barocco, Delia Biagiotti Soldaini, Biki, Aurora Battilocchi, Sorelle Botti, Brunettini, Bulgari, Roberto Capucci, Caraceni, Carosa - Giovanna Caracciolo Ginetti, Clemente Cartoni, Cavallera, Clara Centinaro, Coppola e Toppo, Gigliola Curiel, Alberto Dal Cò, Patrick De Barentzen, Enzo, Alberto Fabiani, Fendi, Fercioni, Salvatore Ferragamo, Sorelle Fontana, Federico Forquet, Fragiacomo, Irene Galitzine, Gallia e Peter, Fernanda Gattinoni, Gucci, Cesare Guidi, Heinz Riva, Pino Lancetti, André Laug, Laudadio, Lucarelli, Luciani, Germana Marucelli, Mila Schön, Mingolini-Gugenheim, Ognibene-Zendman, Pirovano, Emilio Pucci, Lorenzo Riva, Roberta di Camerino, Sanlorenzo, Fausto Sarli, Emilio Schuberth, Simonetta, Tiziani, Valentino, Jole Veneziani, Frida Giannini, Karl Lagerfeld, Rosita Missoni, Jonathan Newhouse, Mirella Petteni Haggiag, Pierpaolo Piccioli, Miuccia Prada, Laudomia Pucci, Stefano Ricci, Franca Sozzani, Beatrice Trussardi, Silvia Venturini Fendi, Donatella Versace, Anna Wintour, Anna Zegna.
The exhibition book, is priced at 48 euros, a special exhibition discounted price. Perfect to  browse whilst having a post fashion exhibition bubbly at the Maxxi bar.
It would definitely be a worthwhile trip to the Maxxi for this exhibit. A tram stop away from the Spanish steps, more or less. That, or the clicking of a pair of Ferragamo red heels together, three times.
Bellissima: 1945-1968  MAXXI, via Guido Reni 4, Rome
December 2, 2014 – May 3, 2015  TicketS: 11 Euros (8 Euros for students)
Bookings: 0632810
Main partner Bulgari, the most famous Italian jewellery house in the world and a symbol of style and creativity for the past 130 years, displays its key pieces Bulgari key pieces in the company of other milestones of Italian style.
In collaboration with Altaroma | technical partner La Rosa, and with thanks to Mediaset, Rai Cinema, Cinecittà Istituto Luce
Opening hours: Mon closed. Tuesday-Sunday 11.00-7.00pm (Saturday open late until 10.00pm)