Rick Zullo is one of those guys that took the plunge, gave up everything he had in the USA and left for a new life in Rome. Well, besides that, he also happened to meet his wife on the second night in the Eternal City during a sabbatical. Rick's blog, Rick's Rome, isn't seeking to be an 'Eat, Pray, Love' copycat, but rather give a real insight on living as an expat in the capital of Italy. For work, he teaches English to locals and continues to be a success with his popular blog. We love reading Rick's posts for his sense of humor and eternal optimism; he also has a number of handy guides, like this free restaurant guide, which he wrote with help from some famous food bloggers. Rick won our coveted 2013 Best Living in Italy Blog Award, which makes his blog one to watch! 
Rick, where are you from originally?
I was born in Chicago, but spent most of my adult life in Florida before moving to Rome. Many Europeans come to Rome/Italy for the weather. I think they're crazy; it's much too cold here in the winter! But a small price to pay for the lifestyle, in my opinion.
What made you choose Rome as your home base?
Well, I guess it's a bit of a cliché, but I met a girl here and decided to stay. It worked out pretty good, though—we're married now and have a one year-old daughter who already speaks better Italian than me.
Can you tell us about the area where you live?
I live in the San Giovanni area, which is just outside the Aurelian Wall. So technically not in the center, but well connected by the Metro A Line and various buses. It's nice because I'm separated from the tourist commotion, but if I want to, I can walk to the Coliseum in about 20 minutes.
What do you love about Rome?
I love that some of the best museums in the city are churches in my own neighborhood. I love the riverside in the summer, which eventually fades into the ottobrata romana—the famous Roman Octobers when the weather is perfect. I love the porchetta at La Antica Norcineria. I love watching the colony of stray cats in Largo Argentina. I love the insanity of the soccer stadium during a big game. I love the trendy wine bars in Trastevere—but I also love the simple neighborhood bar right below my apartment where they know exactly how I like my coffee. Most of all, I love the energy created by the coexistence of the ancient and the modern. I love walking into a 14th century palazzo that's been decorated in a very contemporary way; or walking into a building with a modern façade and seeing the embedded remains of ancient Roman columns along one of the walls. The entire history of Western civilization is alive at once in Rome. That's what I love the most.
Is there anything that drives you crazy?
Oh, well, there's the usual stuff pertaining to the inefficiencies: transportation strikes, unpredictable business hours, and the fact that my electric bill arrives in my mailbox already three days past due. You get used to it, and honestly, 99% of the time it doesn't bother me much anymore. But when you first encounter these things, it can be very frustrating.
In your blog you mention teaching English to Italians, what is that like, what do you love about it?
The best thing about teaching English is that you get to know a lot of locals personally. One of the biggest challenges for expats is to meet people outside of the expat community, and teaching provides a sort of shortcut to that. Also, I love languages in general, and by teaching a language, you get to know your native tongue better, as well as improving your understanding of Italian.
What would you tell anyone looking to move their life to Rome?
As I mentioned above, just be ready for the chaos—in fact, learn to embrace it. Nothing happens as you expect it to, but sometimes things turn out even better than you expected. Regarding work, don't assume that you'll show up and find a job. Either have the job already lined up, or be prepared to create your own job. Or else teaching English is always an option—about the only "sure thing" as far as finding work.
Can you describe some local dishes?
I love all the primi piatti that Rome is famous for: carbonara, cacio e pepe, amatriciana, etc. These are pasta dishes with heavier sauces, often flavored with some type of pork fat, such as guanciale or pancetta. I still haven't acquired a taste for the "quinto quarto;" second courses that feature various frattaglie (innards) and scarti (scraps) such as coda alla vaccinara (stewed oxtail), trippa (tripe), animelle e muscoletti (a mixture of nerves and other odd nasty bits), fagioli con le cotiche (beans and pork rinds), pajata (made from suckling lamb's intestines).
When and why did you start your blog?
I started my blog in October of 2012. I wanted it to be a resource for both expats and visitors in Rome, to help them navigate some of the more challenging aspects of life in the Eternal City. Not just the practical advice and sightseeing, but also a good measure of "daily life," and the things that a foreigner might find puzzling about Italian culture.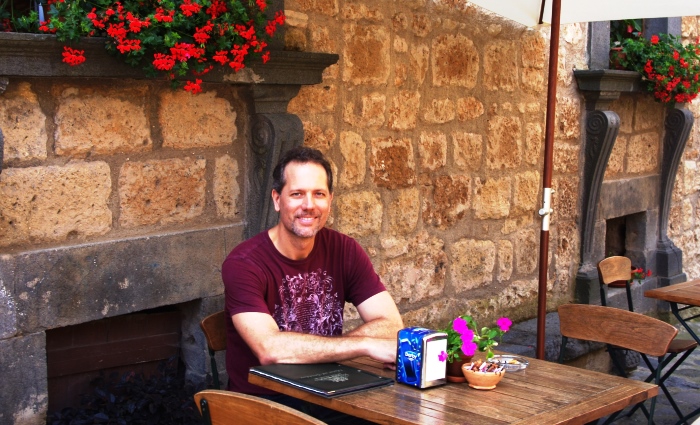 Who follows your blog? Tell us about your readers.
I guess for an accurate answer I would refer to my Google and Facebook stats, which tell me that about 48% are from the U.S., 21% are from Italy, and about 8% from Great Britain. Of the Italy readers, my hunch is that half of them are English-speaking expats. One thing that we all have in common is a passion for discussing Italy and Italian culture. I get lots of great feedback in my comments from both Italians and foreigners that have expanded my own knowledge tremendously.
What do you blog about?
Looking back on the beginnings of my blog, I probably did just about everything "wrong" according to conventional wisdom. Instead of writing about popular topics such as restaurant reviews or museum tips, etc., I wrote about whatever happened to be on my mind, whether it was the popularity of the bidet in Italy, or the blurry line between religion and superstition. Some of these posts were largely ignored, as expected. But some really generated a lot of surprising interest and discussion among my readers. So I've mostly stuck with the idea of writing for my own amusement rather than following common sense. In some weird way, I think that my counterintuitive approach is responsible for the "success" of my blog, such that it is.
If a tourist has only one day in Rome, what should they see?
Wow, that's a tough one. Believe it or not, I'd say skip the Vatican museums, because that alone would take up the entire day. You should still see St. Peter's, tough. Likewise, go see the Coliseum from the outside, but don't do the whole tour for the same reason as above. Check out the neighborhoods and stick your head into any random church. You might even stumble upon a painting by Annibale Carracci or his infamous rival, Caravaggio. Don't miss the Pantheon, the best preserved building from ancient Rome. If you want to play it safe, sign up for one of the walking tours. If you (tragically) had only one day, at least a good guide would make sure that you saw the highlights. Not only "saw" them, but actually understood what you were looking at. Guidebooks are great for reference, but I think it's a mistake to rely on them exclusively. I see too many people shuffling around Rome, gaze cast downward, studying the pictures in the book instead of looking up to appreciate where they are.
All your blog posts are interesting, but can you recommend one or two especially for ITALY Magazine readers?
Everyone likes a love story, right? For reasons that baffle me, some of my most popular posts are about the dating scene in Italy. Like this one: http://rickzullo.com/the-italian-dating-scene/. And while I'm not food blogger, I have some friends who are, and they generously contributed their restaurant suggestions for this post: http://rickzullo.com/best-restaurants-in-italy/.
Thank you for talking to ITALY Magazine, Rick. Happy blogging.
Grazie a voi! Il piacere è tutto mio!
Check out Rick's Blog, tweet him, or follow his adventures on Facebook.