Rome's Testaccio quartiere (or neighborhood) is easily overlooked, and not only by tourists. Though I have lived in Rome for years, I usually skim past it riding the number 3 bus on my way to Trastevere where my favorite restaurants and bars can be found and where an eclectic nightlife is always certain. But I recently discovered that my preference for Trastevere over Testaccio is founded on little better than a habit. As Kenny, the founder and guide for Eating Italy Food Tours, led me and a small group through Testaccio, he illumined more than just the long-time culinary traditions of his favorite Roman neighborhood.
The food history of Testaccio extends a surprising 2205 years back to the Roman Republic when an Emporium was built along the banks of the Tiber river. The Emporium stored the tons of foodstuffs that were shipped from the provinces to Rome's port, to feed her great population. Testaccio's importance to the movement of food during the Imperial years was made visual at Monte Testaccio, a hill located on Via di Monte Testaccio. Analogous to modern day landfills, Monte Testaccio is where the Ancients neatly disposed of the unusable or broken ceramic amorphae that contained the food, wine, and condiments, like oil and garum, shipped into the city.
Ex-Slaughterhouse - Testaccio - Rome
In the late 1800s Testaccio had become home to much of Rome's working class and the city's only slaughterhouse. Now converted into the MACRO museum, the ex-slaughterhouse at the end of Via Galvani appeared placid in the bristling spring sunlight, throwing into relief the black metal hooks where the skinned carcasses once hung.
Because the slaughterhouse workers received such poor wages they were also paid in offal, cast-off cow parts like tail and stomach lining, also known as the quinto quarto or fifth quarter. The slaughterhouse workers' wives then took these seemingly untasty parts and invented tasty recipes, such as coda alla vaccinara, that are still served in trattorie around Rome today.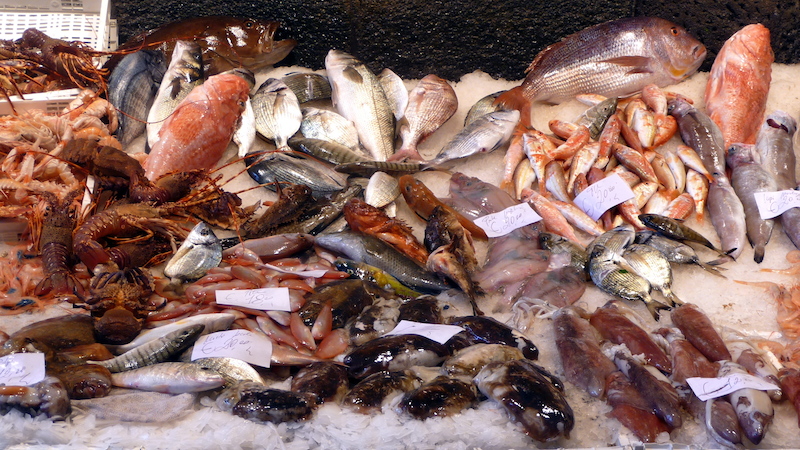 The culinary history of Testaccio was only part of the food tour that began in the Testaccio market held everyday but Sunday in the piazza of the same name. For years I've heard about the market but never gone, relying heavily on the produce, meat, and fish sold in my own quartiere as fresh and abundant ingredients for dinner. Yet as Kenny colorfully described the old market and how it existed before the structure, how the vendors were often part of a multigenerational tradition that put their family in the exact same stall since it opened, I found myself wishing I could manage a trip there every morning.
Food tastings were interspersed between cultural tidbits. First we tried a delicious ball of mozzarella di bufala, sold at Lina and Enzo's corner prosciutteria in the market. Then there was hand cut prosciutto, salami, and a young pecornio cheese with truffles at Volpetti on Via Marmorata. Tiramisu, gelato, and pastas like cacio e pepe, carbonara, and amatriciana followed. Living in Italy for five years, I had already eaten these foods more than once, both inside and outside Rome. But most everything was steamed in new information, highlighting the traditions that make Italian food some of the best in the world.
While we gathered in Giolitti, a gelateria on Via Amerigo Vespucci, I learned that a startling 75 to 80% of the gelato served throughout Rome is imitation. Instead of using fresh milk and ingredients, many gelaterie rely on a powdered mix. One way to determine if you're about to eat the real thing is to check the coloring; if the pistachio gelato is electric neon green instead of a dull brownish green, then it's artificial. I've put this test into practice more times than once, especially now that the weather is getting warmer, jump starting gelatoseason.
Testaccio is also called the Cuore di Roma, or the heart of Rome. Because Romans take their eating very seriously, with abundant enjoyment and a fair amount of respect for what they put in their mouths, Testaccio must have gotten its nickname for a culinary reason. There's a heart of food beating here, if one knows where to look for it.
***
For more info: www.eatingitalyfoodtours.com