Inhale the aroma of Strega, the golden elixir made in Campagna, and you'll be transported to the raucous spice bazaars of Istanbul.  A classic Italian liqueur, popular in cocktails and as an after-dinner digestivo, Strega liqueur can be a cook's secret weapon. It's like having a well-stocked spice rack and fragrant herb garden in one bottle.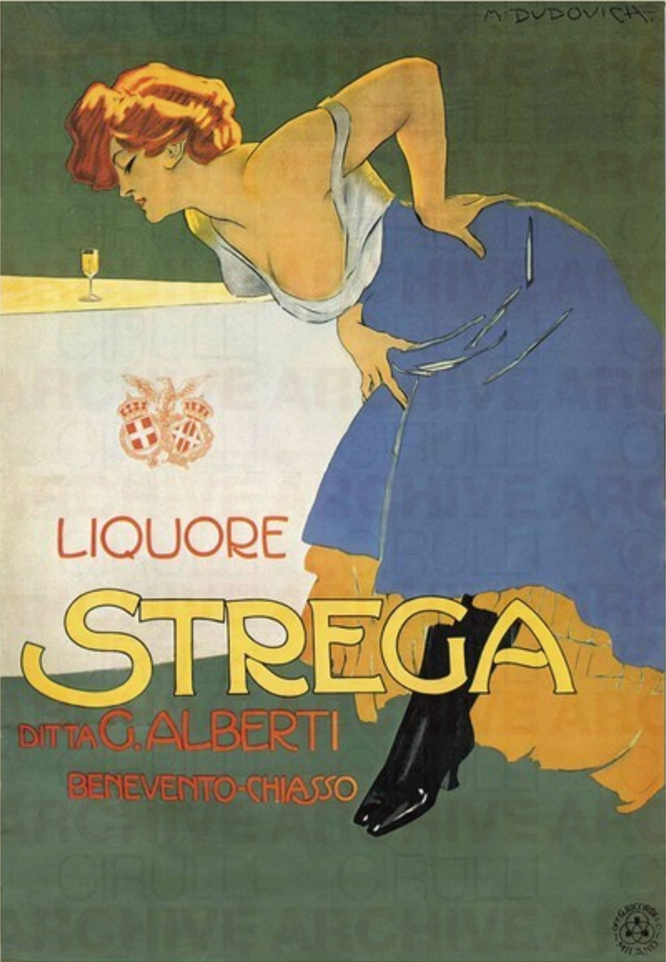 I've long loved Strega's beguiling flavor in cocktails and as an after-dinner digestive. It appears in my book, Dolci - Italy's Sweets, in several classic Italian desserts. But here's a surprise:  Strega is also spectacular in savory dishes!
Made with more than 70 aromatic spices and herbs infused into a base distillate, this 100% natural mixture -- with no artificial colors or flavors -- is aged in ash barrels to meld and mellow the flavors. The mix of exotic spices and herbs include the worlds three most prized spices: saffron, which gives Strega its distinctive glistening yellow tint, vanilla and cardamom. Some of the ingredients come right from Italy: lavender, irises, orange and lemon peel as well as amazingly aromatic juniper from the Italian Alps and rare wild mint from the south.  The rest are gathered from around the world: myrrh from Ethiopia, star anise from China, cinnamon from Ceylon, bitter orange peel from the Caribbean island of Curaçao.
This aromatic mix of herbs and spices is masterfully combined in perfect proportion, creating an explosion of flavors and lending a gourmet touch to appetizers, pasta, chicken, fish as well as countless desserts.  Use it in recipes calling for wine or as a marinade for chicken or fish.  It's great on almost anything on the grill. 
And of course, Strega adds a refined touch to so many desserts:  splash on fruit salad, add into pudding, cake mixes, pie crust and pie fillings.  You likely have a bottle of Strega languishing in your liquor cabinet already -- so move it into the pantry!  Here are just a few of the many wonderful ways to enjoy it out of the glass.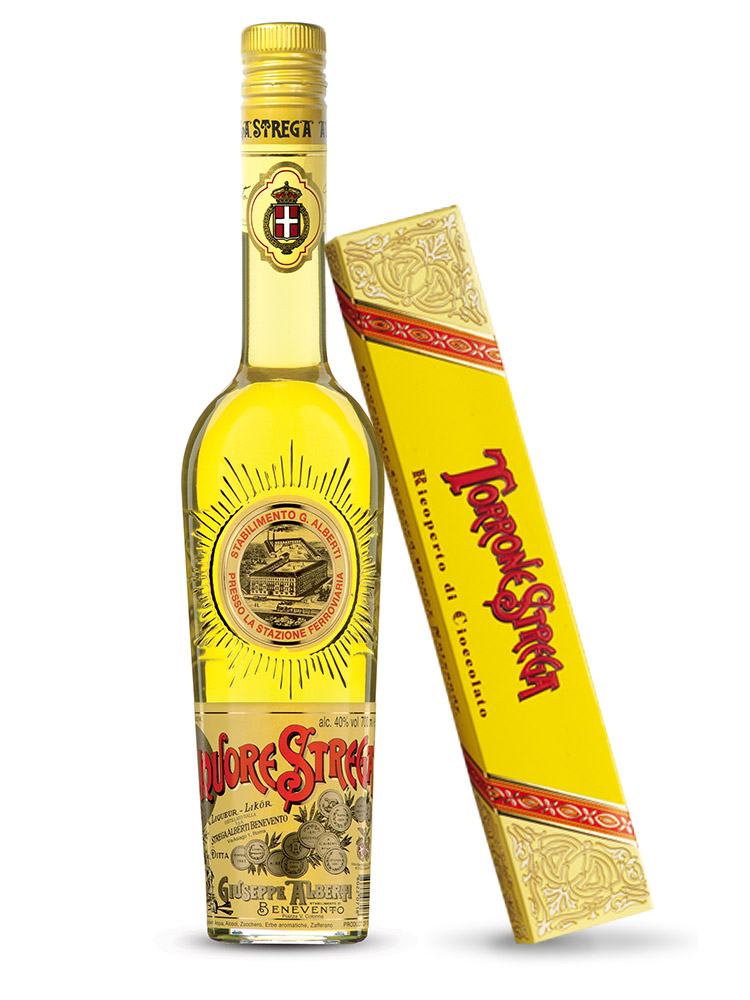 A bit of history:
Strega, meaning witch in Italian, was created in 1860 by wine merchant, Giuseppe Alberti, and his spice merchant father, Carmine Alberti, in the town of Benevento, "City of Witches" where according to legend, the world's witches would gather annually to dance under the town's huge walnut tree.
[Arches and alleyways in the historic center of Benevento]
Pasta Shish Kebob with Peaches and Scallops
Serves 4
Prep time: 5 minutes
Cooking time:  10 minutes
From: Pasta Modern-New & Inspired Recipes from Italy by Francine Segan (Stewart, Tabori & Chang)
Pasta, scallops, sweet peaches and red onion grilled on a stick---Italy's delightful answer to shish kebob.  A wonderfully new way to serve pasta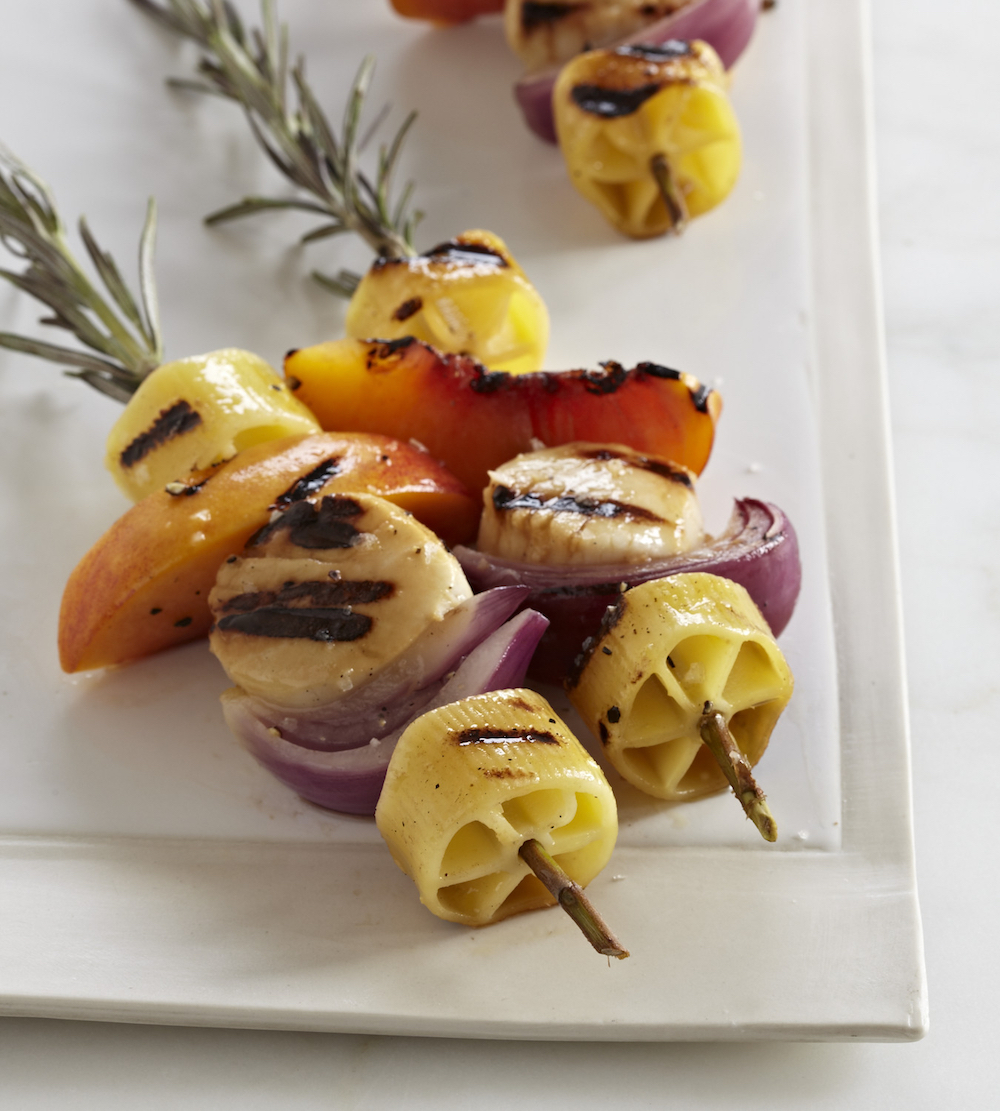 8 short rosemary branches or wooden skewers
2 tablespoons olive oil
2 tablespoons Strega liqueur
1 garlic clove, finely minced
8 large scallops
1 peach, cut into 8 slices
1/2 small red onion, cut into bite-sized pieces
Fresh or dried chili pepper, to taste
16 wheel –shaped "route" pasta
Salt
Soak the branches or skewers in water for 1 hour to prevent charring.
Preheat the broiler or grill. (If using the broiler, coat a baking sheet with a little olive oil.)
In a bowl, combine the oil, Strega liqueur, garlic, scallops, peaches, onion and chili pepper.
Meanwhile, cook the pasta in boiling salted water until al dente. Drain and toss into the bowl with the other ingredients.  Thread a pasta wheel, peach slice, scallop, onion piece, and a second pasta wheel onto each branch or skewer. Season the skewers with salt and grill or broil, turning 1/2 turn every minute or so, until the scallops are done, about 3 minutes.
Enjoying this article? Also read "A Beginner's Guide to Italy's After Dinner Drinks."
Chicken with Artichokes
Serves 6
From: Shakespeare's Kitchen by Francine Segan (Random House)
Prep time: 5 minutes
Cooking time:  45 minutes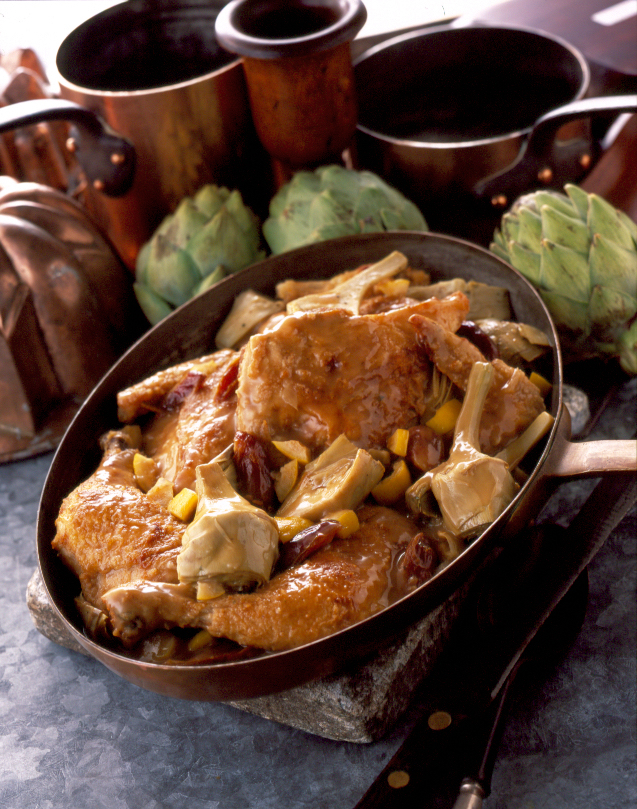 3 tablespoons olive oil
1 chicken, cut into 8 pieces (about 4 pounds)
1/2 cup all-purpose flour
1/42 cup chicken stock
1/4 cup Strega liqueur
1 lemon, unpeeled, diced 
6 dates, chopped
1 tablespoon brown sugar
1 teaspoon salt
5 to 6 artichoke bottoms, cleaned, par-boiled
Heat the oil in a large sauté pan over medium-high heat. Dredge the chicken pieces in the flour and brown the chicken on all sides. Remove the chicken from the pan and add the stock, Strega liqueur, lemon, dates, brown sugar, and salt. Bring to a boil and then add the chicken and artichokes. Reduce to medium heat, cover, and simmer for 30 minutes. Turn over the chicken, and cook for 15 minutes, or until the chicken is fork tender.
Dita degli Apostoli--Ricotta Crepes of Puglia
From: Dolci-Italy's Sweets by Francine Segan (Stewart, Tabori & Chang)
Serves 6
Prep time: 5 minutes
Cooking time: 10 minutes
 "Apostle's Fingers"-- weird name, delicious dessert.  If you like cannoli, you'll love these.  They're made with the same sort of filling, but served in crepes instead.  Flourless, light and very aromatic.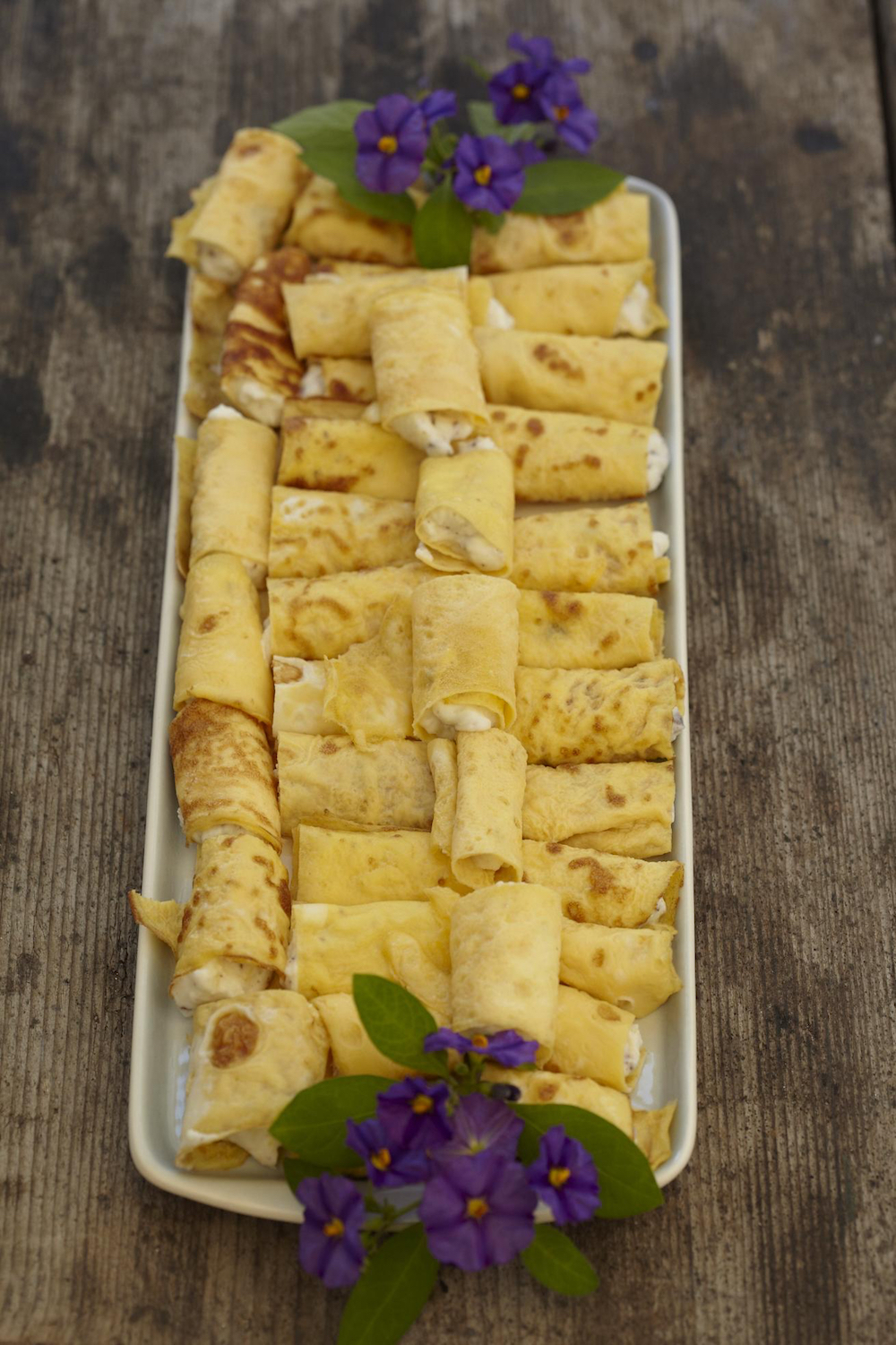 4 large eggs
1/4 cup whole milk
3 tablespoons Strega liqueur
Salt
Butter for the pan
12 ounces, about 1 1/2 cup, best quality fresh whole milk ricotta
1/2 cup granulated sugar
1 1/2 ounce darks chocolate, grated on cheese grater
Confectioners' sugar
For the crepes: In a bowl, beat the eggs, milk, 2 tablespoons of Strega liqueur and pinch of salt, using a whisk or electric handheld mixer, until well combined. Allow to rest for at least 1/2 hour.
Lightly butter a 12-inch, or larger, non-stick frying pan and heat over medium heat. Pour some of the batter into the center of the pan and swirl the pan to spread the batter evenly. Cook on one side just until dry and gently turn over and cook the other side. Repeat with the remaining batter, lightly buttering the pan with each crepe. You should get about three 12-inch crepes. Allow to cool to room temperature.
For the filling: Press the ricotta and sugar through a fine mesh strainer. Put the mixture, along with the chocolate and remaining 1 tablespoon of liqueur into a bowl and using a fork, mix until well combined. Refrigerate the mixture for an hour or two so it thickens and to combine the flavors.
To assemble: Slice the crepes so you have 4 long sections and 2 smaller end sections. Cut the 4 longer sections in half. You'll get about 10 to 12 sections per crepe, depending on how big a frying pan you used. Put a heaping tablespoon or two of the filling onto each section, spread evenly, and roll into a small cigar shape  ("fingers") Repeat. Refrigerate for at least 1/2 hour, until cold and firm, before serving. Serve topped with a light sprinkle of confectioners' sugar.
Chocolate Nut & Fruit Salad
Macedonia con cioccolato e frutta secca
Serves 10-12
From
Dolci: Italy's Sweets by Francine Segan (Stewart, Tabori & Chang)
A terrific no-cook, no-fuss dessert that's very popular with home cooks in Italy, but not very well known in the United States.
Mix your favorite dried fruits, with nuts, chopped chocolate, and any candy you have on hand.  Add some orange juice and a splash of Strega liqueur and pass the spoons.
It's a little like a deconstructed fruit cake---only scrumptious and striking ---especially if you include colorful dried fruit like strawberries, cherries, and apricots.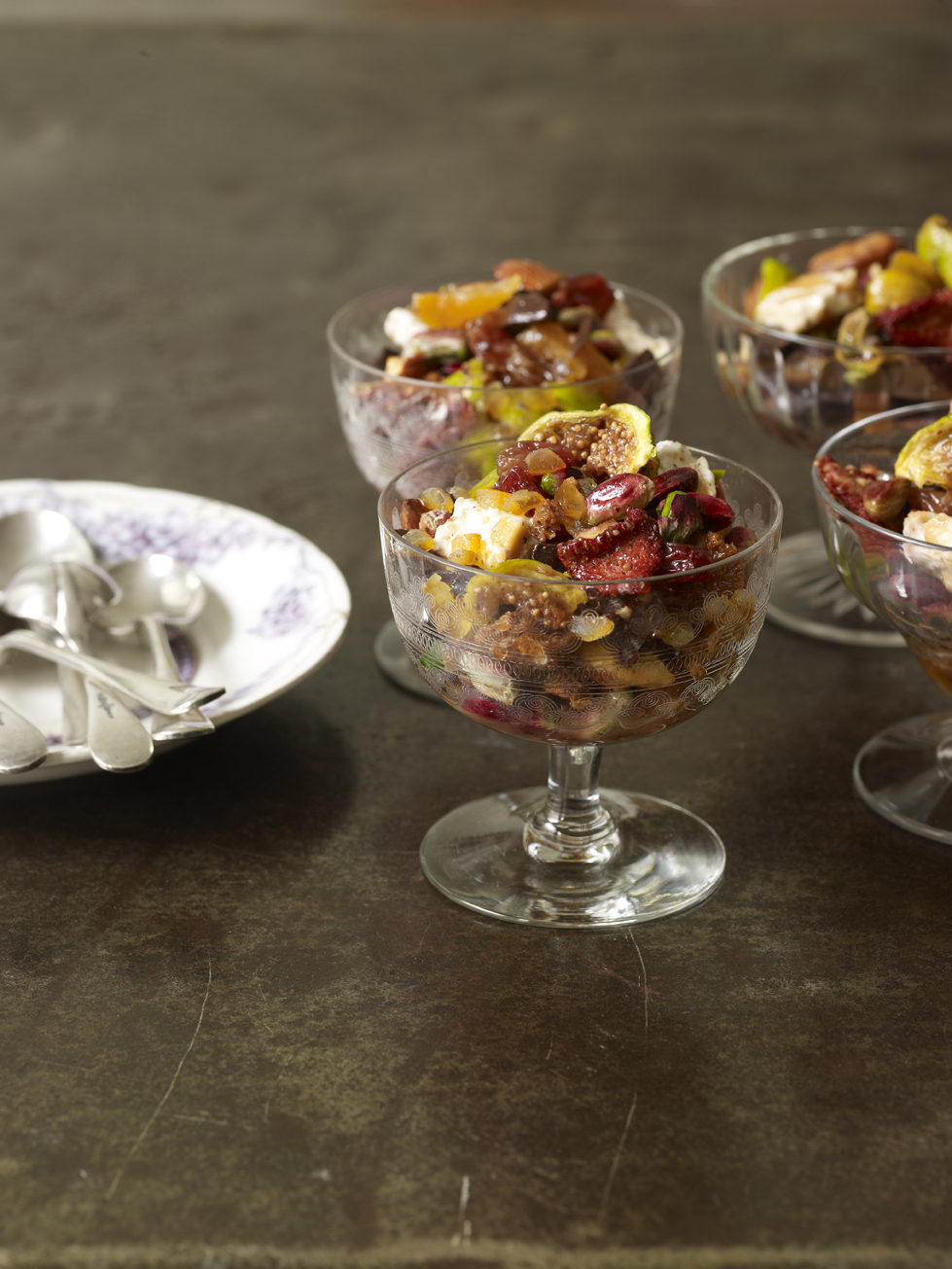 2 handfuls assorted dried fruit, chopped 
2 handfuls assorted chopped nuts
1 handful soft torrone, Italian nougat candy, or assorted leftover candy bars, chopped
1 handful dark or milk chocolate, chopped
10 amaretti (crisp almond cookies) or other cookies, coarsely chopped
A little candied orange peel, minced, optional
Freshly squeezed orange juice
Italian liqueur such as Strega
Mascarpone cheese or whipped cream
In a resealable plastic bag or plastic container with a lid, combine the dried fruit, nuts, torrone, dark and milk chocolates, amaretti, and candied orange peel, if using.  Seal and set aside in a cool, dry place for up to 3 months.
One hour before serving, add enough orange juice to moisten the fruit mixture. Just before serving add liqueur to taste.  Serve in wine glasses, topped with a dollop of mascarpone cheese or whipped cream.