If you think Tuscany is all about rolling hills and cypress trees then think again.
Starting in Carrara in the west, and stretching right across to Garfagnana in the east, the Apuan alps are one of the region's best kept secrets. Home to some of Italy's wildest and most unspoilt countryside, this diverse ecosystem sees typically Mediterranean plants like olives and vineyards co-exist with beech woods, marshes, gorges and craggy waterfalls.This is an expansive, densely forested terrain, scattered with ruins, historic towns and agriturismi, most of which remain, blissfully, under the radar of mass tourism. As the temperatures cool, and the leaves begin to turn brown, now is the ideal time to visit.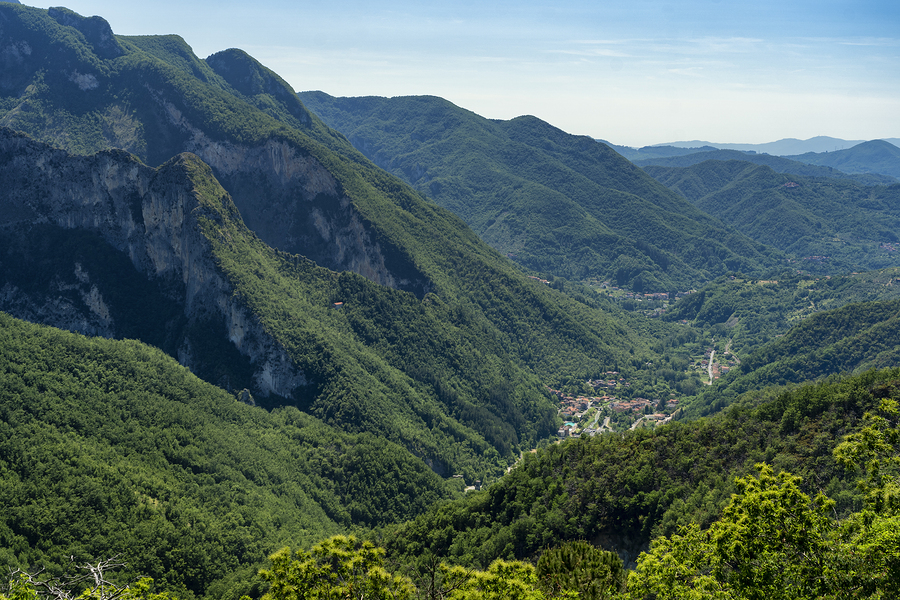 The best place to start an Apuan excursion is the western area, known as Lunigiana. Taking its name from the particular beauty of the moon when framed against the unique mountain peaks, this large parkland is well-regarded by locals for its verdant valleys and picturesque borghi. Pontremoli, at the Lunigiana's northernmost point, and easily accessible by public transport, is one of the largest towns. Founded in 1000 BC, its centre still exhibits a pleasing jumble of architectural styles, from medieval chapels to an impressive baroque cathedral. The biggest cultural draw, though, is the local archaeology museum which houses the so-called 'stele statues'. These burial stones, some of which date to the 3rd millennium BC, are among the oldest in Italy, and have been the subject of considerable interest for academics. Thanks to the latest renovation, though, which includes revised and simplified annotations, the collection has finally been made digestible for amateur enthusiasts too.  
Yet for all its historic attractions the real draw of Pontremoli is its surrounding nature. The town conveniently intersects with the pilgrimage route of the Via Francigina meaning that despite being relatively far from the usual tourist trails the paths are generally well-maintained and signposted. From Pontremoli one can also hike to some smaller and even more picturesque places like Filatiera or Villafranca, though some of the slopes can be unforgiving to say the least. Those of a more adventurous disposition might do well to visit the Stretti di Giaredo, a canyon just 3km from the town. Beyond its awe-inspiring multi-coloured rock formations, the cliffs around here boast a network of deep caves that are just crying out to be explored. Several companies offer natural tours of the area, though many travellers elect to head upstream on their own (in which case a hardhat is a must).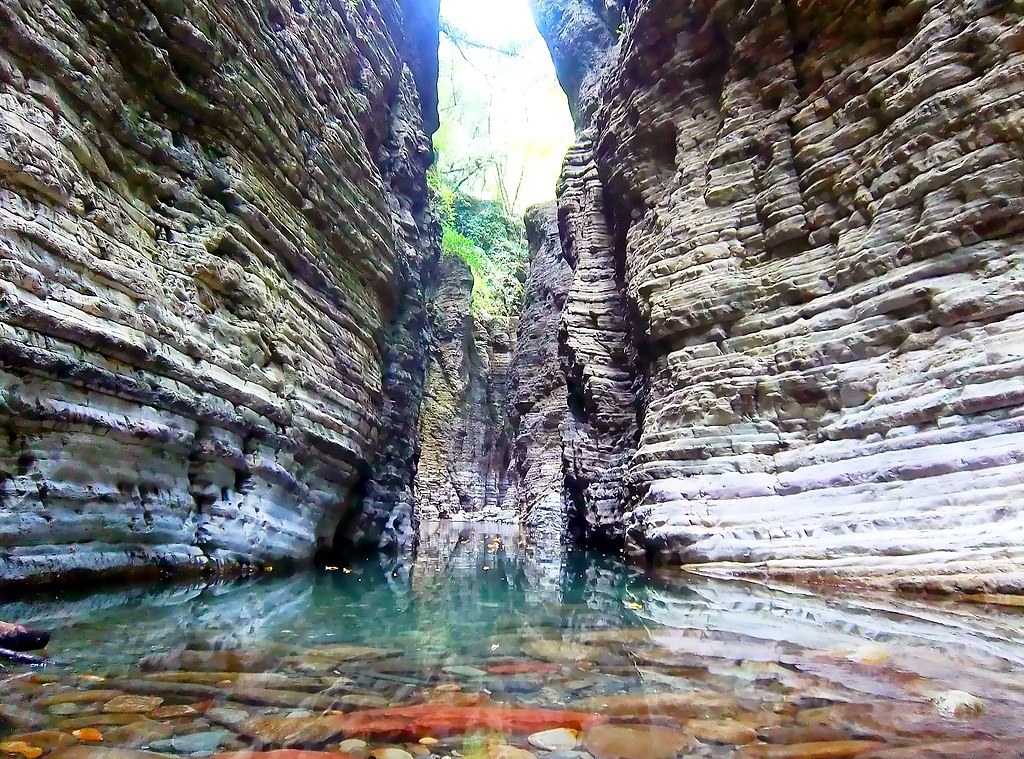 [Associazione di Turismo Responsabile Farfalle in Cammino, photo via wikimedia creative commons]
Whether you're travelling by car or on foot, one of the first things you'll notice about the Lunigiana is its abundance of semi-dilapidated castles. This was once a hotly contested territory. Occupied by French and Spanish forces for several hundred years, it also played an important role in the brutal and protracted war between the Guelph and Ghibellines. There are said to have been as many as 160 fortresses in the vicinity during the middle ages, and 30 of them remain to this day. The most important include the Castello Malaspina, near Carrara, the Castello di Castiglione del Terziere, and the Fortezza della Verrucola, which is now home to a printing museum.The Bastia, with its curved towers, and ovular roof, is particularly esoteric and, while a little off the beaten track, well-worth seeking out as an example of a gentler and more aesthetically pleasing work of military engineering.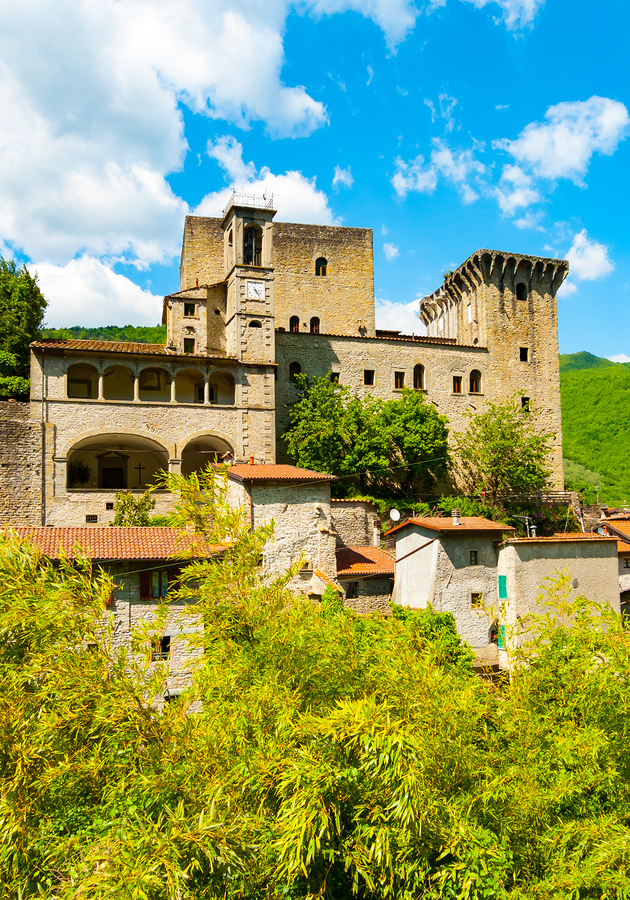 [Vertical view of Castello della Verrucola in Fivizzano, Massa e Carrara, Tuscany, Italy]
The Lunigiana is home to countless tiny villages, many of which, sadly, have seen their populations obliterated in the past few decades.  There was heavy fighting in this area during WWII and several communities were virtually extinguished by Nazi forces during the liberation. Vinca, for example, which lost over 170 civilians, was one of the worst hit. Its war memorial, which depicts a woman holding a child over her shoulder, is worth visiting if only to reflect on the terrible proximity of that bloody past. Thankfully, other places have managed to resist. Licciana Nardi has a reputation as being one of the most welcoming villages in the area and, in addition to its partisan history, is known for its warm hospitality and surprisingly raucous summer parties. 
Cuisine will play an important role in the success of any Italian adventure and Lunigiana is unlikely to disappoint on this front. Thanks to its geography, on the boundary of Tuscany and Liguria, the area is well-positioned to take elements from each of these culinary traditions. Most of the towns, for example, offer great pecorino, sausages and salumi to match those on offer in Lucca or Florence. The proximity to Genoa, though, means that the breads and focaccia are well-above the standards of what might be expected in either of those cities.The ample supplies of truffles and porcini in the forests provide the perfect accompaniment for local game while specialities such as torta alle erbette pack a distinctive herbaceous punch. Two of the dishes that are most revered among locals is Marocca di Casola, a local bread made with chestnut flour (see below) and maialino alle castagne (suckling pig with chestnuts). Traditionally served in October and November, alongside a bottle or two of vino novello, this is the quintessential, and arguably most delicious, centrepiece of an Apuan autumn table.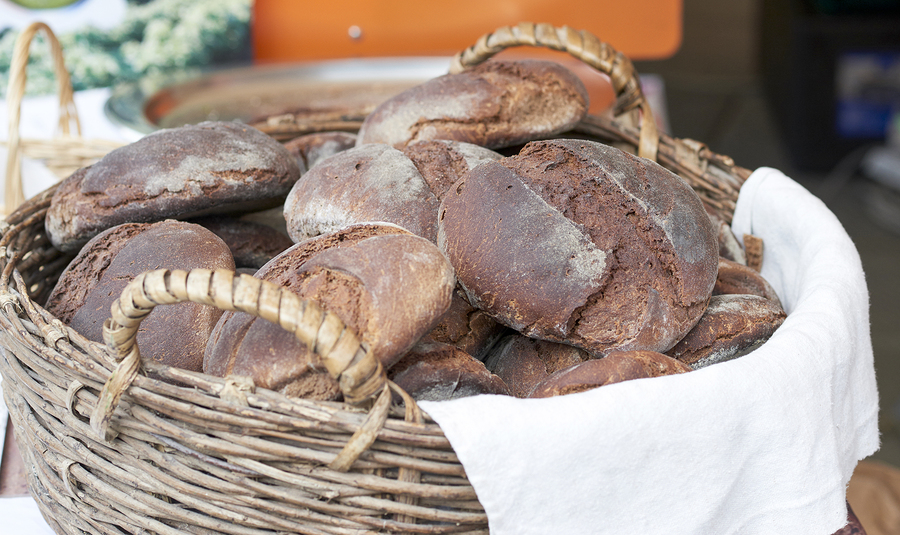 There's no particular limit as to how long one should plan to stay in Lunigiana. A 48-hour trip could well be enough for those looking for a quick and refreshing escape from the claustrophobia that city life can sometimes bring with it. To really enjoy the Apuans though, it's worth sticking around to appreciate the territory in a slower, more consolidated manner. This is a land that rewards patience. It's a place to return to, to do little else but appreciate the earth, get some air and exercise, and enjoy the passing of time in the company of friends and loved ones. More than a holiday destination, visiting the Lunigiana is an opportunity to engage in a different kind of life, to learn to slow down and reconnect with a kind of nature that is sadly so elusive in our modern age. Whatever the constraints on your trip, that's surely something to be respected. 
There's a lot going on in Lunigiana this autumn but like many small places most people find out about events by billboards and word of mouth. A very limited list of some of the more popular activities is available on the Facebook page Eventi in Lunigiana (Italian only).