Getting lost in an area of Italy that is often overlooked and remains unspoiled from mass tourism is one of the experiences you won't soon forget. Lovely Le Marche, has a way of wiggling itself into your brain as a place where time almost feels secondary in the gorgeous region between the Adriatic coast and the Apennine Mountains. There is so much to say about this terrotory that I couldn't limit this feature to just one article, this is part one of a two part series focusing on the Montefeltro area of the region. 
A diverse and wild terrain, in this area of Italy you will find an abundance of nature — in spring the green is as far as the eye can see, landscape dotted with charming hills towns around winding roads. The surrounding hills and mountains are those of Sasso Simone-Simoncello, Carpegna, Catria, Mount Nerone and Alpe della Luna, which feel nothing short of a certain abandonment, imagine twisting trees and — at least while I was there, a mysterious fog that remained trapped between crevices.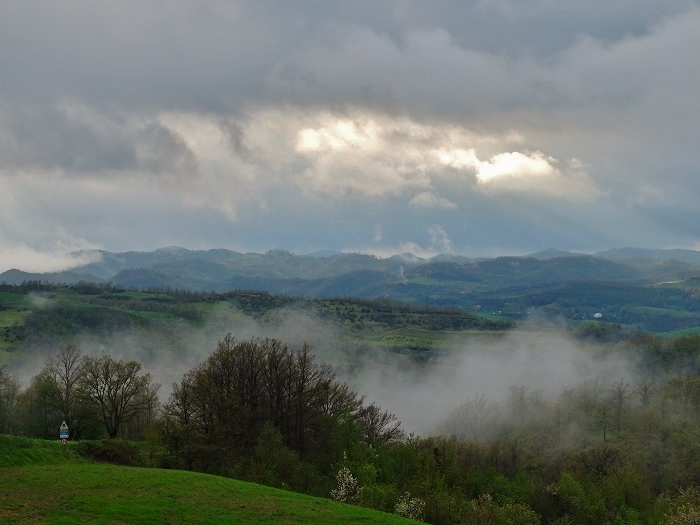 In the areas of Montefeltro, you will rarely find a crowded town center but instead find plenty of truffles. Thanks to Laura and the kind team of Marche Holiday I was immersed in 'truffleland' for a  few days visiting areas that I probably wouldn't have thought aboout visiting otherwise. Since this is an area of Italy where you most definitely need a car, we moved around in some very unique and sexy vintage rides, including this Metallic sand Bentley SIII (1963). I can admit that this was an experience like no other, we were the talk of the town as we parked these pretty rides all around Montefeltro. Luckily for those who are a little gun-shy to get behind the wheel of these beautiful vehicles, they also offer drivers and tours.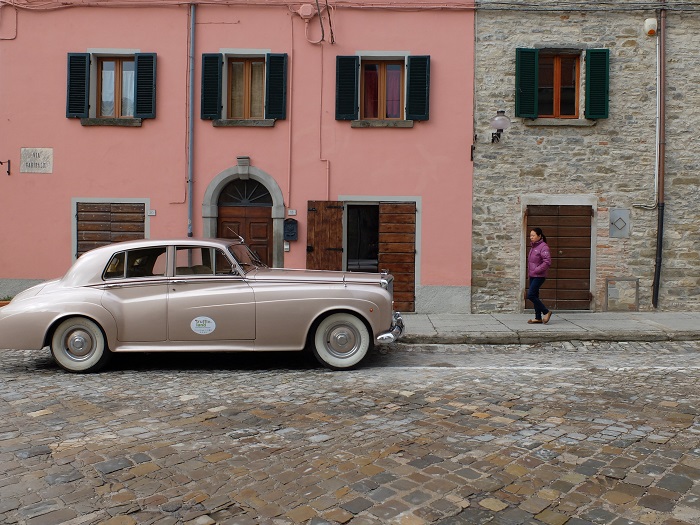 The small towns that dot the Marche landscape are all magical in their own right, we first stopped to visit the ancient city of Cagli, a town and comune in the province of Pesaro and Urbino, founded at the end of the 12th century. It was once one of the 6th century strongholds of the Byzantine Pentapolis and was an important spot  along the Via Flaminia, one of the oldest and most important Roman roads in Europe.
Besides the important Church of San Francesco, from which the town was rebuilt around following a devastating fire, one of the main sites that you can hardly miss is the 'Rocca Torrione'. Built in 1481, this fortress was designed for Duke Federico III da Montefeltro by Francesco di Giorgio Martini. Inside you can get quite a view of the surrounding area and explore the contemporary art exhibits from important artists from all over the world who have designed works specifically to fit this unique space. In Italy I am noticing more of this use of ancient space to revive a livelier discussion of an urban art variety. By incorporating these artists, it makes us examine how we think of these monuments nd the space surrounding us, that before might have been limited to dusty guidebooks.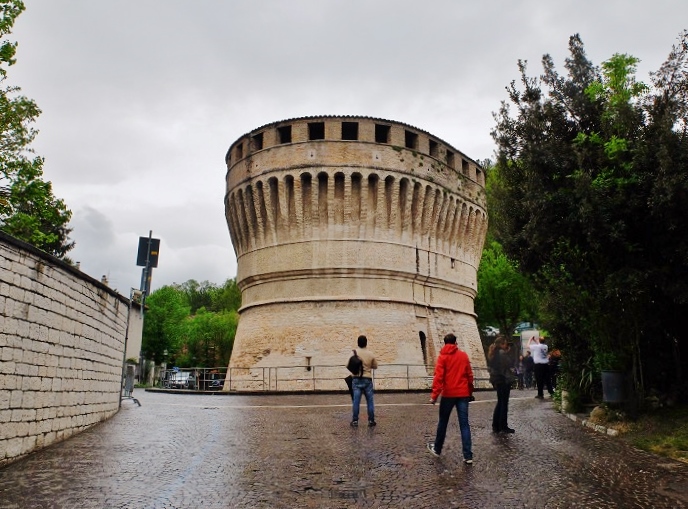 Another 'wow' moment came from visiting the beautiful municipale theater of Cagli, opened in 1878 and designed by Giovanni Santini. This 19th century gem has been completely restored and behests an air from another era, the balconies (the second set dedicated to the famous men of Caglia) and box seats reminscent of a civilized era of fervent theater goers.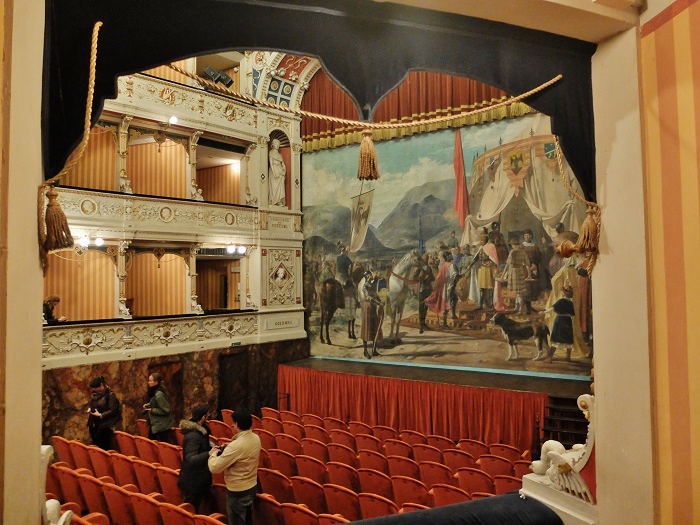 We based largely from the small town of Aqualagna, with a population of 4,000, located close to the magnificent Furlo river gorge. Here there are several well-known truffle fairs where over two-thirds of the entire domestic product is traded, since the area is rich in tuber greatness (with nine different varieties).
The most important fair featuring its rarer white truffle in October and November while in the summer they also celebrate black truffles during the 'ferragosto' holidays, on both August 14-15th. We embarked on a truffle hunt in Acqualagna with our new friend Giorgio, who along with his trusty dog chicca, also used truffle magnetic fields, which he claims most people have the capacity to do without ever knowing they could. I tried myself but sadly the metal sticks weren't budging much, but I chalked it off to beginner error.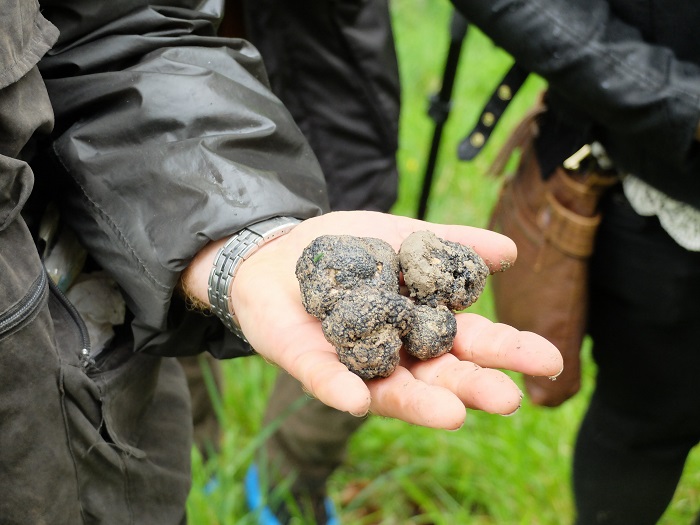 Other fun activities in this region include a visit to a craft brewery, which is a wonderful activity for those who want a break from wine and want to experience some of the best brews that Italy has to offer. The craft brewery business has been exploding in popularity all over the country. We visited the beautifully situated Tenuta Collesi, which started as a small artisan production base in the area of Apecchio (also coined 'the beer town') but has grown exponentially as people started to take a closer look at what they were producing. Now highly requested around Europe, they make their beer from barley and hops grown and processed locally, combine with the exceptional water of the nearby Mount Nerone.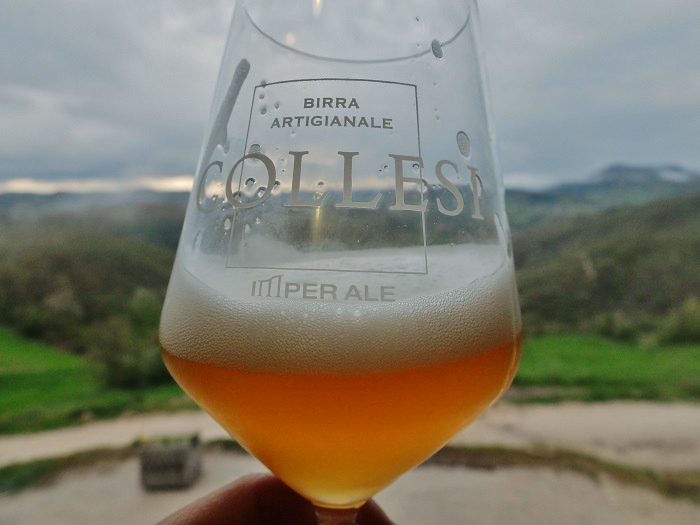 It would hardly be a holiday in Le Marche without talking about the food, and like many other areas of Italy, every corner here has their own specialities. Some of the most famous foods you will find here include 'casciotto di Urbino' (ewe's milk cheese), talamello cheese, and the lovely Cantiano bread.
Cured meats also make a comfortable home here, the most famous is without a doubt 'prosciutto di carpegna' . We tried a smorgasbord of specialties from the traditional Antica Macelleria Sorcinell located in the historical center of Acqualagna. A characteristic old-butcher's hangout, with marble-slab counter tops and hanging prosciutto legs, you can spot old tools from the 1950's proudly displayed in the shop. The kind of place you hope to find when seeking that authentic escape you often don't get in larger Italian towns.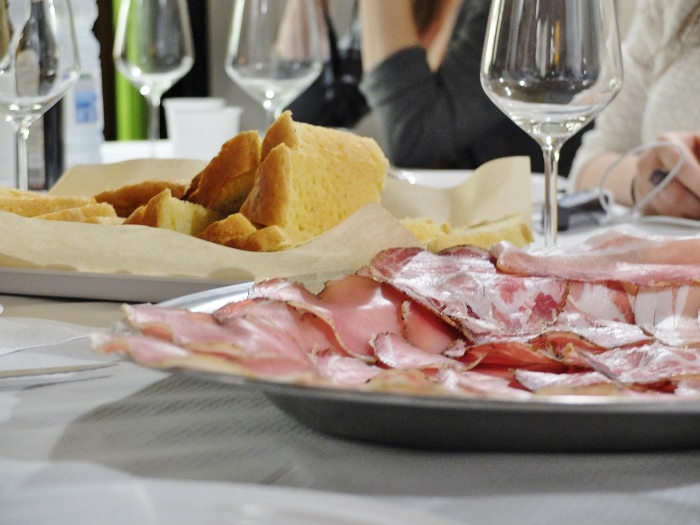 In part two of this ongoing series exploring Le Marche, I will be focusing on the wonders of Montefeltro, Marche we will delve into the towns of Piobbico, Urbino, Mercatello sul Metauro, and Sant'Angelo in Vado. 
We have to thank the team of Marche Holiday who organized this press trip to discover off-the-beaten-path areas of Le Marche and for hosting us in their beautiful holiday villas in the area surrounding Acqualagna. The perfect escape for those who are looking for a slower, more authentic experience in a fascinating area of Italy.