My relationship with Rome was admittedly rocky on my last few visits. I failed to marvel at its archaeological and artistic wonders anymore, overwhelmed instead by the chaos — crowds, car traffic, noise and dirt.  
On a recent visit, however, I got to experience a different way of seeing and "feeling" the city, thanks to the intel of Isabella Calidonna, an art historian and certified guide. While it's not surprising that a Rome resident would have such a profession, Isabella is also a national track and field coach and personal trainer for the Italian National Olympic Committee. She's combined these areas of expertise to create experiences that leave even the Rome-weary feeling renewed and energized.
Having been to Rome several times and already knowing the city well, I was curious about what Isabella's "Hidden Rome" tour would entail, and what sights could really be new to me. But Isabella's tours come with a twist beyond the now-ubiquitous promise to take you off the beaten track: "Hidden Rome" (and some other options) are usually offered as a running or power walking tour. (I opted for walking this time, but I'm definitely trying the running version next time!)
"I want to show visitors a different Rome, while practicing gentle exercise," Isabella told me as we were walking towards Piazza Navona at 8am, after she picked me up at Sofitel Rome Villa Borghese hotel. "It's not about racing or hard training, but rather about well-being. My tours start early in the morning, when the city is still empty." (And, crucially in summertime, cooler). 
She joked the most common reaction she gets is a series of "wows" on the part of her clients, especially when she gets to such famous (read: overcrowded) places as the Trevi Fountain early in the morning to find it empty —  now that's an unusual sight.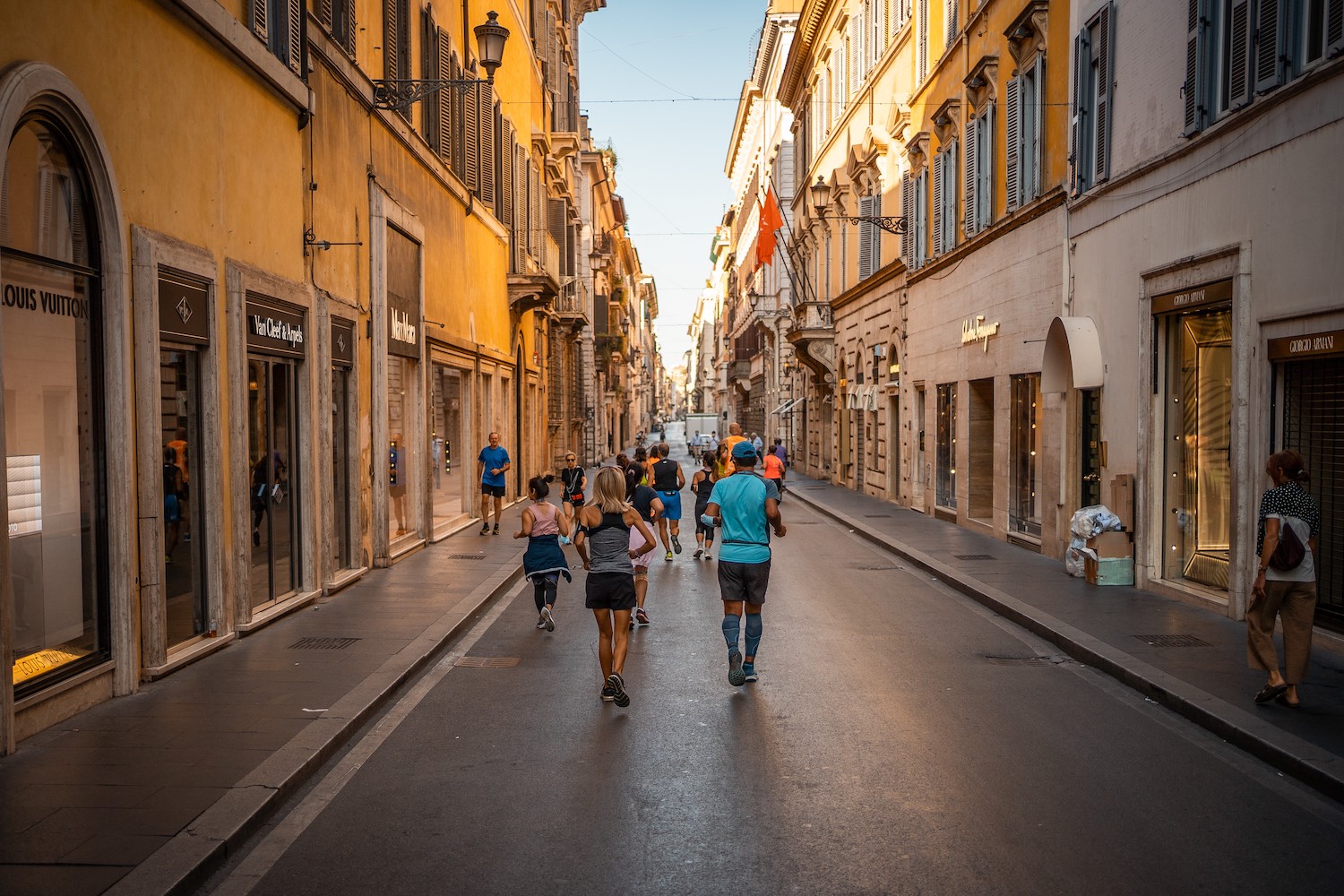 Originally from Calabria, Isabella moved to Rome nine years ago to start a new life and put her degrees in Cultural Heritage Conservation and Art History to good use. Her vast knowledge of and passion for Rome's history, architecture and archeology most definitely shows. I was impressed with all her fun anecdotes as well as truly hidden spots she showed me during our two-hour tour. 
"When I first moved to Rome," Isabella recalls, "I'd use the public transport, get to a rione and devote myself to exploring it. That's how I learned about so many unusual and unique aspects of the city." 
In 2016, she founded ArcheoRunning, combining her passion for sports and running with art and history. She also decided to become certified as running coach and personal trainer. 
The Hidden Rome tour involved a lot of walking with frequent stops. Though we remained in the central area of Rome, we took many of the side, smaller streets, which were quiet and nearly empty, giving me a chance to be more in tune with the city, something that had escaped me on previous trips, which tended to revolve around the main sights.
Still, you get constant glimpses of Rome's most famous icons — but with insider spots and details taking more precedence. Instantly-recognizable Piazza Navona is the main meeting point for the tour, for example, but on the way there, we took a detour to see the remains of the Acquedotto Vergine (Aqua Virgo), one of the 11 main aqueducts of ancient Rome, and the only one that has remained in continuous operation to this day. It feeds the monumental fountains of the Baroque city, including the Trevi Fountain. The Acqua Vergine is said to provide some of the purest drinking water in Rome. 
We also stopped to see the surviving side colonnade of the Temple of Hadrian, built to honor emperor Hadrian after his death. What struck me most here, besides the 15-meter-high columns, was the fact that you can observe how the ancient city was located ten meters below where it stands today.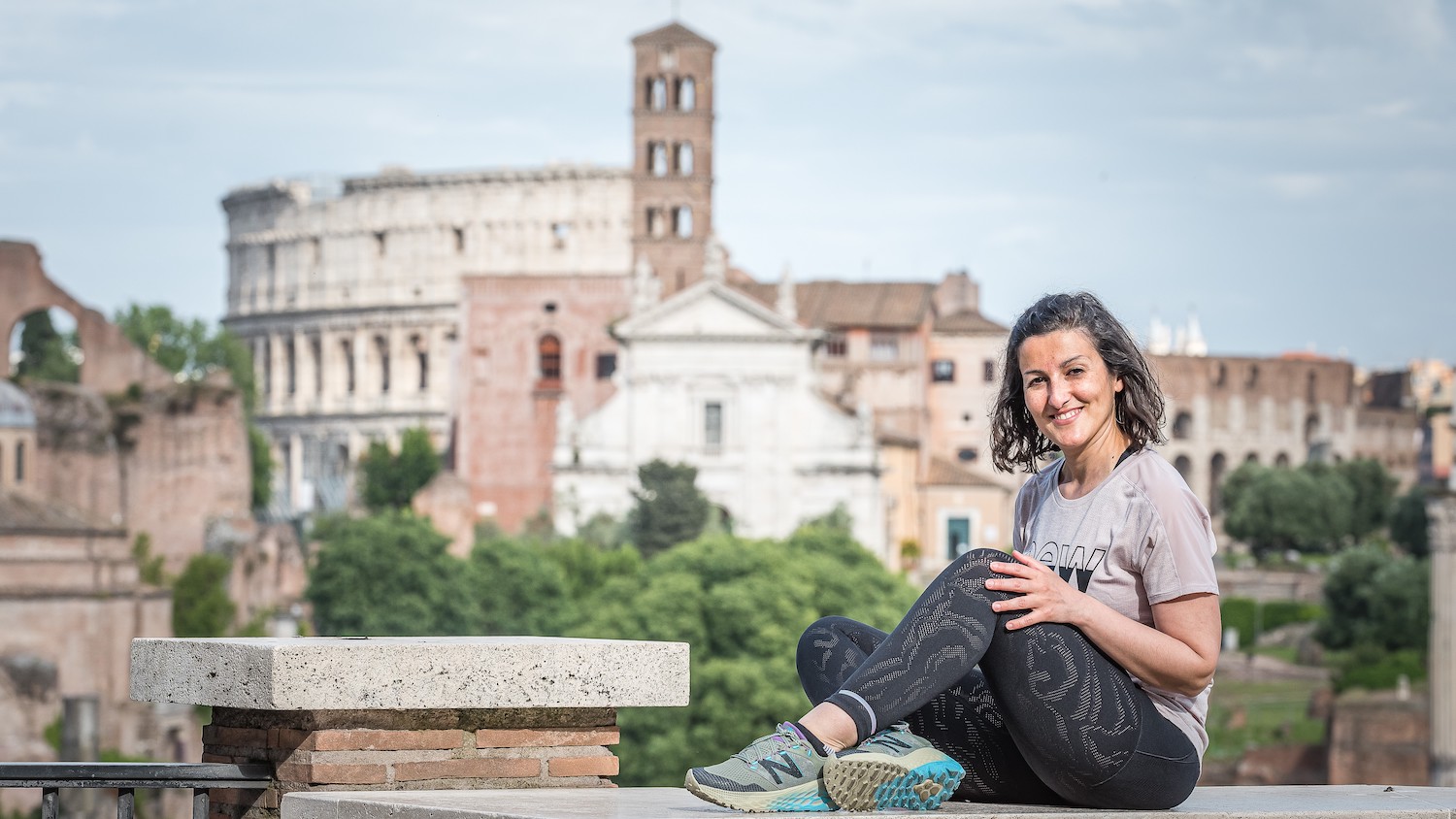 Once we reached Piazza Navona, Isabella gave me an overview of the history of the piazza. It was built on the site of the ancient Stadium of Domitian, commissioned around  80 CE by the Emperor Titus Flavius Domitianus as a gift to the people of Rome to be used for athletic contests. In fact, the piazza retraces the shape of an ancient Roman stadium (I had never noticed it before!). It was thanks to the powerful Pamphili family, who owned a palace there, that we have Piazza Navona as we see it today, a magnificent example of Baroque Roman architecture and art. 
Other favorite highlights included: 
Vicolo di San Trifone, Rome's narrowest street;
Arco degli Acetari, an inner courtyard reminiscent of medieval Rome (to me, it was incredible to think that people actually live there, in pastel-colored little buildings overlooking the serene and impossibly picturesque cobblestone square);  
Passetto del Biscione, a 2,000-year-old covered passage (!) which, in ancient times, connected the Pompeo Theater's auditorium with the outside. Incidentally, Passetto del Biscione is only a few meters from the popular Campo de' Fiori and Isabella also has suggestions on places to try some of the local food. 
In the running version of the tour, Isabella provides runners with a radio and headset so they can follow her narrative while moving. There are frequent stops just as we did in the walking tour. It really is a mindful way to experience the city as Isabella makes sure you notice all sorts of sensory details, from the light that is always changing to the noises of the city waking up, and more.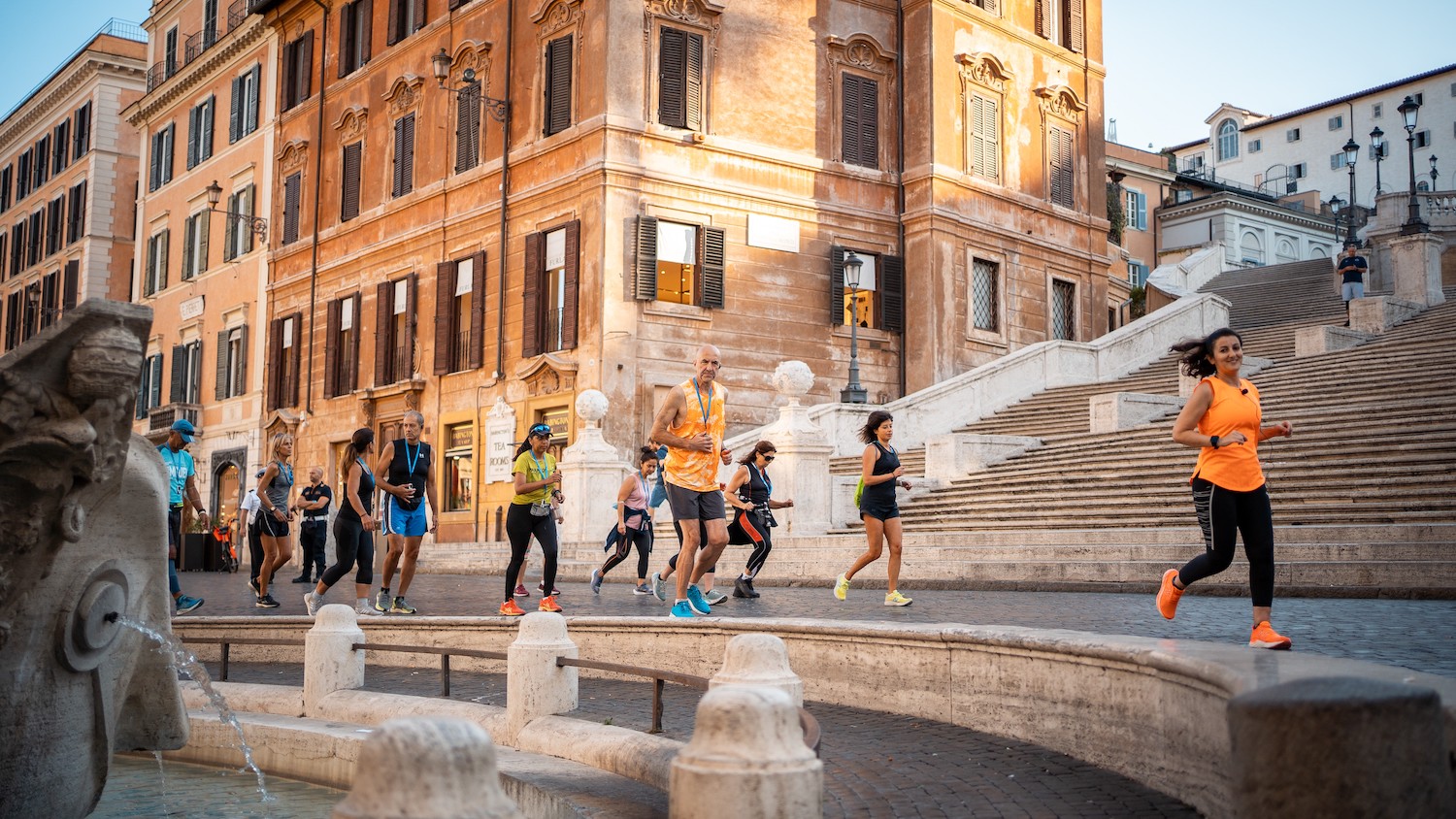 Isabella works independently and in collaboration with several Rome hotels, including the Sofitel Rome Villa Borghese, where I was a guest. 
Located on a quiet street in the center of Rome, near the Borghese gardens and Villa Medici, Sofitel Rome Villa Borghese is within walking distance of the city's main attractions, including Trinità dei Monti and Piazza di Spagna, a 15-minute walk.  
Inside a former 19th-century Roman palazzo, the five-star hotel was recently redesigned in a contemporary style featuring light, bright tones and frescoed ceilings. Fine dining is available at the rooftop restaurant Settimo, where you will also enjoy a rich breakfast with a view. 
The hotel has 78 rooms including seven suites with walk-in showers.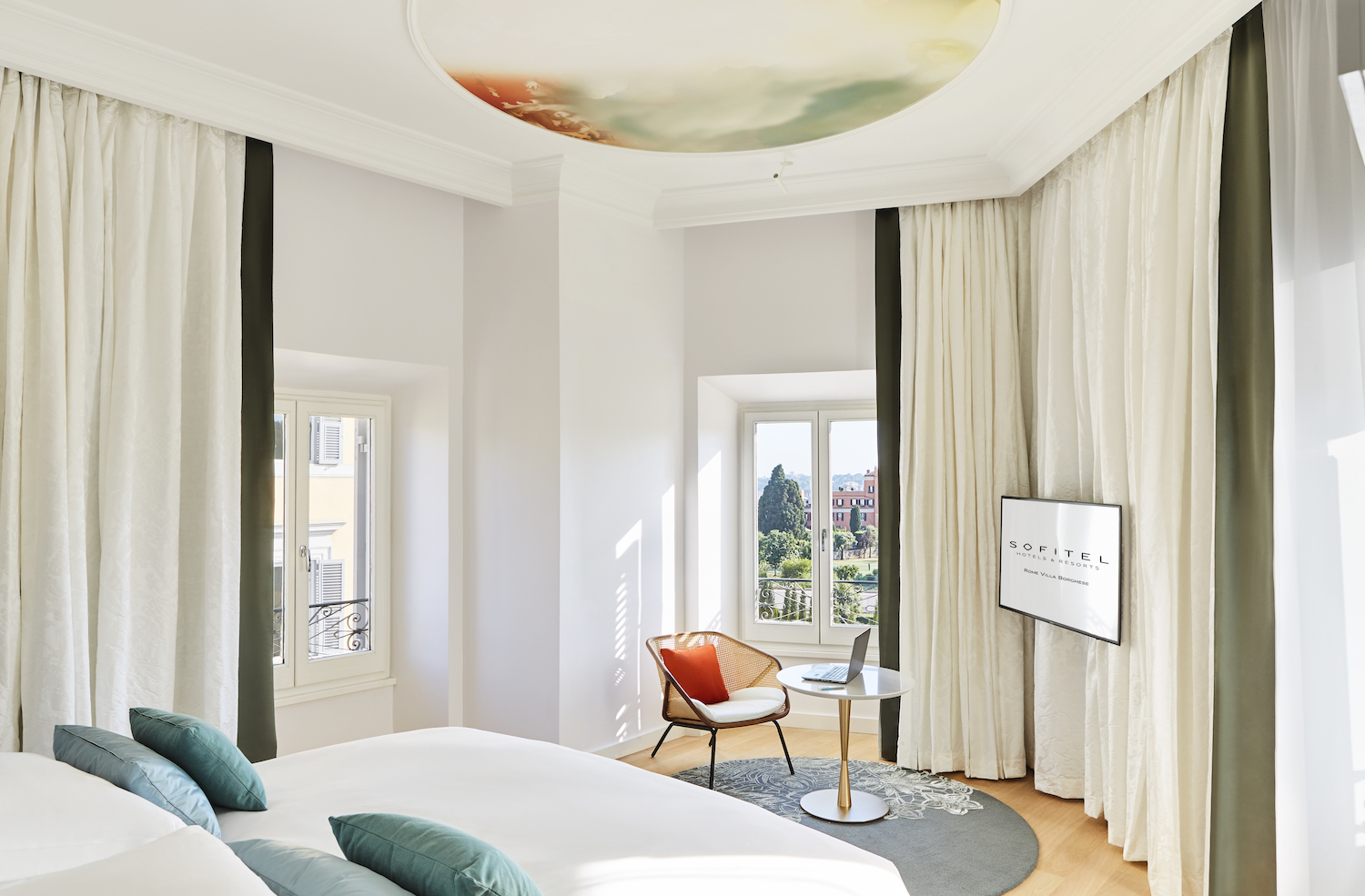 The hotel organizes a series of activities in collaboration with local guides, including the ArcheoRunning tours, yoga sessions, and food tours. 
For more information about Isabella Calidonna's ArcheoRunning tours, visit her website and follow her on Instagram.
For more information about Sofitel Rome Villa Borghese Rome and to book a room, visit the website.  
All photos except hotel room courtesy of ArcheoRunning.