After two months of lockdown, Italians seem more eager than ever to spend time outside, preferably in nature. Here are eight Italian gardens that have recently reopened where to take a relaxing walk, and where social distancing is easy to maintain. 
Lake Maggiore - Parco Pallavicino
Parco Pallavicino comprises 18 hectares of park on Stresa's lakeside promenade. The garden is part of Villa Pallavicino and includes a farm with 50 species of mammals and birds, making it an ideal outing with children. The Flower Garden is also a highlight of the visit, especially in summer when many species are in bloom. The trees are also remarkable, some hundreds of years old. 
Advance online booking is mandatory now with Covid restrictions, as well as wearing a mask throughout the visit and maintaining a distance of at least one meter from other visitors. 
https://www.isoleborromee.it/en/parco-pallavicino/
Merano - Trauttmansdorff Gardens
Empress Elizabeth of Austria – Sissi – loved the Gardens of Trauttmansdorff Castle in Merano so much they are now often referred to as 'Sissi's Gardens'.
Set in a natural amphitheater, these botanical gardens, the most famous and visited in South Tyrol, cover 12 hectares, with 80 dedicated displays of local, Mediterranean and exotic plants from around the world, organized by region of origin. Especially notable are: Forests of the World, Sun Gardens (Mediterranean plants), Terraced and Water-Based Gardens, and Landscapes of South Tyrol.
With breathtaking views over the surrounding mountains, visitors can stroll along 6 kilometers of paths, interspersed with staircases, pavilions, waterfalls and suspended lookout points. Temporary installations scattered around the entire area of the park focus on the theme of biodiversity.
The park comprises Trauttmansdorff Castle, also worth a visit. 
You may purchase your ticket online. Opening times are available on the Trauttmansdorff gardens' website. https://www.trauttmansdorff.it/en
Lake Como - Villa Carlotta
A colorful display of flowers, an elegant house by the lake, a stunning backdrop of mountains: Villa Carlotta is one of Lake Como's must-see attractions. The villa was built for the Milanese marquis Giorgio Clerici in 1690, who also commissioned the design of a splendid Italian-style garden, with staircases, fountains and sculptures. The property extends over 17 acres in Tremezzo, facing the Bellagio peninsula. Among the most fascinating areas in the botanical garden are the citrus tunnel, the rose gardens, the azalea collection, the flowerbed of tropical plants and the small rhododendron forest.
To facilitate the visit, Villa Carlotta has set up a new reception area, to guarantee further distancing. Three different one-way itineraries have been set up, ranging from 20 to 90 minutes. 
Tickets must be purchased online. https://www.villacarlotta.it/
Lake Como - Villa Monastero
Villa Monastero is located in Varenna, on the shores of Lake Como facing Bellagio (connected by ferry), on the Lecco branch of the lake. Originally, it was a Cistercian female monastery founded at the end of the 12th century; it became a private residence in the 17th century, and was later renovated and decorated in an eclectic style, especially between 1897 and 1909, by its last owner, the German Walter Kees. Today it houses a convention center and the International School of Physics Enrico Fermi, frequented by as many as 34 Nobel prize winners.
The Villa is surrounded by a spectacular Botanical Garden, which extends for two kilometers from Varenna to Fiumelatte, and features many botanical species, both indigenous and exotic. The mild climate of the lake allows species from all over the world to grow.
Single visitors and families don't need to reserve in advance, but groups do. More information is available on the villa's website. https://www.villamonastero.eu/index.php/en/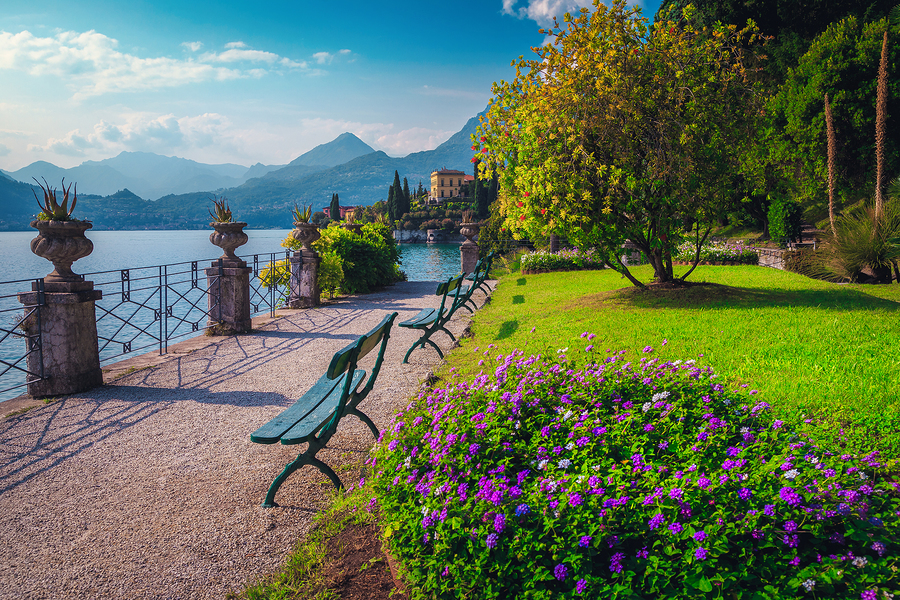 Verona - Giardino Giusti
So close to Verona's historic center, yet so peaceful: the 16th-century Giusti Garden has been popular since the times of the Grand Tour, as it was, and still is, considered one of the finest examples of an Italian garden. 
The garden welcomes visitors with its meadows dotted with flowers, lush vegetation, gentle flow of water from fountains and the singing of birds. Walk among 16th-century trees and statues, get lost in the labyrinth and reach the belvedere, where you can enjoy one of the most famous views of Verona.
Advance reservation is not necessary except for groups. Every Saturday at 4 pm a guided visit is available. https://giardinogiusti.com/?lan=en
Parma - Labirinto della Masone
The Masone Labyrinth, in Fontanellato near Parma, is the largest existing labyrinth made entirely of bamboo plants: there are about 200,000, from 30 centimeters to 15 meters high, belonging to 20 different species. 
It is a cultural park developed by Franco Maria Ricci, a designer and editor, and includes Ricci's art collection, which he gathered during the course of 50 years.
A new path has been devised, which progresses in stages - "similar to degrees of knowledge or initiation" - to tell visitors the history of the maze and of his creator.
A visit to the labyrinth is especially entertaining for children, making it an ideal family outing. 
Advance online reservation is mandatory in order to guarantee a limited number of visitors at the same time. Discounted rates available until the end of June 2020. 
https://www.labirintodifrancomariaricci.it/en/labirinto-masone/home-en/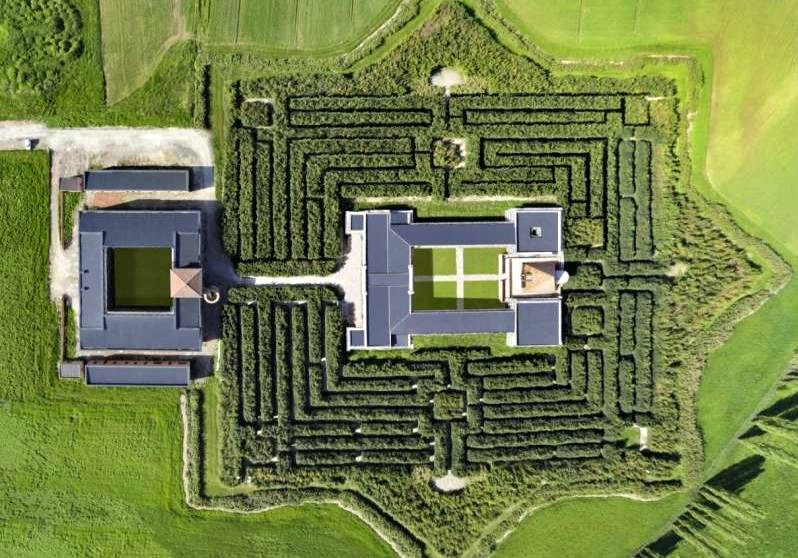 Siena - Parco Sculture del Chianti
Inaugurated in 2004, when it was inserted by National Geographic in the list of the 10 most beautiful sculpture parks in the world, the Parco Sculture del Chianti is located in Pievasciata, a few kilometers north of Siena. 
Thirty colorful sculptures spread over 13 hectares of woods, once occupied by a wild boar farm, are perfectly integrated with the surrounding landscape. The park is the idea of Piero and Rosalba Giadrossi, both art lovers who selected works by artists from all over the world that would blend with the trees, the sounds, the colors and the light surrounding them. Each artist visited the woods and made a site-specific proposal for their chosen spot.
Advance reservation is requested only for groups. https://www.chiantisculpturepark.it/en/home/
Rome - Giardino di Ninfa
About 80 km south of Rome, the Garden of Ninfa is located in Cisterna di Latina, near the walled hill town of Sermoneta, and can be visited as a day trip from the Italian capital.
The Giardino di Ninfa is a 'Natural Monument' of the Lazio region, and The New York Times has described it as the most beautiful and romantic garden in the world. It was a must-see stop on the Grand Tour of Italy, and has been a favorite destination of foreign artists and writers.
The Garden of Ninfa take its name from a classical Roman temple dedicated to the Nymphs, located on a small lake in the park. It covers an area of 8 hectares, crossed by a small river forming ponds and streams, and houses more than 1,300 plants, along with about 100 species of birds.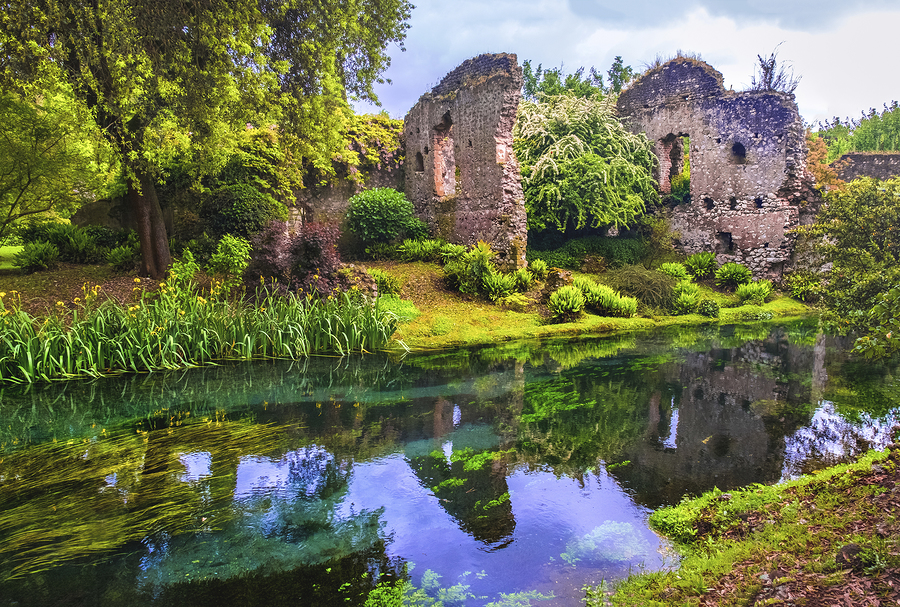 While the park was normally open for guided group visits, due to the Covid crisis, it is now only possible to visit individually and with family members/friends by reserving your ticket online selecting your preferred time in order to control the number of visitors. It takes about an hour to visit the garden. 
More information on the Giardino di Ninfa website. https://giardinodininfa.eu/en/.