Expert Tips For Trouble-Free Travel to Italy
Friday, April 13, 2018 - 09:22
By: Melissa Thomas, Retired FBI Agent in Rome, Salus Security Services in Country PoC
Italy. The mere mention of it evokes "oohs" and "ahs." Friends, family, even people you don't know, begin commenting about "la dolce vita" the food, wine, beauty, culture and its never boring population.  All these positive references sometimes take us off our guard.  While soaking up all the beauty Italy has to offer, we tend to forget we still have to pay attention to what is going on around us.
The first time I traveled to Italy, I had a feeling of overwhelming excitement and anticipation of finally seeing Rome, Florence, Venice and the Amalfi Coast. I was traveling with friends and everything was perfectly arranged: flights, transportation, hotels and tours. What I didn't plan on was my flight being cancelled, not being able to connect with my friends, and having to scramble to arrive at another airport to catch a non-direct flight to Rome. I finally arrived in Rome many hours later than expected. From sheer exhaustion, and thanks to not having a back-up plan for transportation, I said "sure" to the first person who asked me if I needed a taxi. Lesson number one was very quickly learned as I paid double the flat rate of what a legal taxi would have cost. Now I know, and tell everyone, to use only white taxis when traveling throughout Italy. They're all licensed, have their rates posted, and their meters are visible. While it might seem nice to take a sleek Mercedes into town from the airport, unless you've made prior arrangements and were notified in advance of the price with a car service, that fancy ride will always cost you.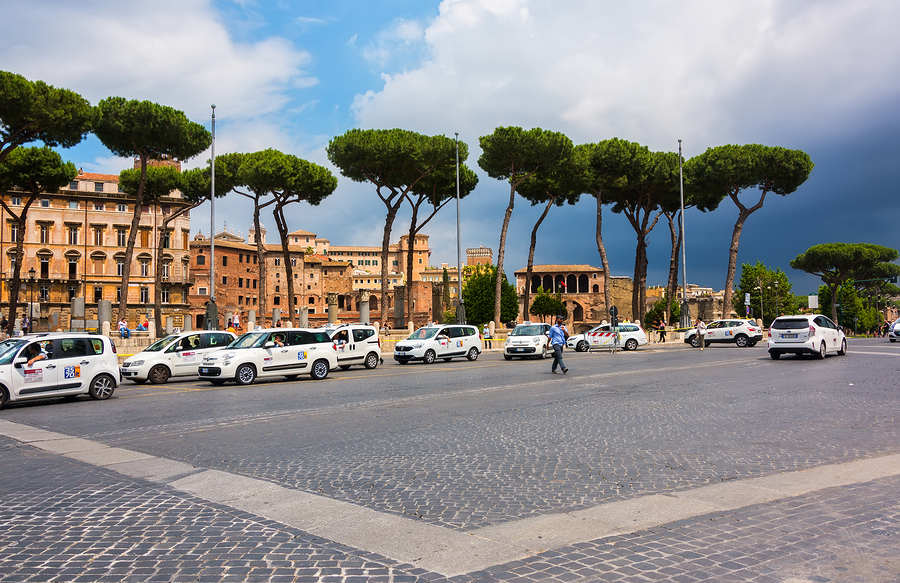 There's always the train. The train service in Italy is quite efficient and convenient, as long as there isn't a transportation strike. The routes are expansive enough to get you anywhere you want to go. If you do decide to travel by train throughout the country, keep your luggage within sight, preferably on the shelf above your seat. Many a traveler has been distraught discovering they have none of their belongings at their final destination. 
Also, whether you're using public transportation or walking on the street, keep your valuables close and leave your expensive jewelry at home. Carry a bag or backpack with zippers, not snaps, and if carrying a backpack, carry it in front of you instead of on your back. If that's not feasible, make sure the outer pocket doesn't contain money or your identification. I personally prefer cross-body bags and store money and identification documents separately. Pick-pockets are very skilled and work very quickly. This is how I learned lesson number two. I used to carry a normal, snap-close purse until discovering my entire wallet was swiped from my bag after riding on the metro. I lost all my money and my identification. Luckily, I had made copies of my credit cards and ID and was able to replace them within a few days.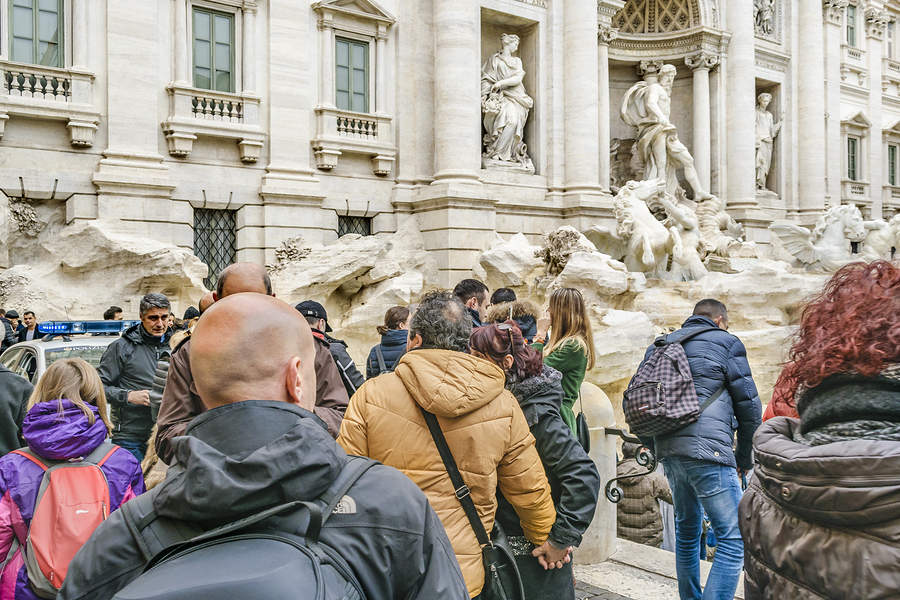 As a Salus in-country Point of Contact, I'm often asked about money and whether or not it's safe to use the ATMs. The short answer is "yes, they're safe". However, it's always safer to use an ATM directly outside of one of the national banks.  Even better, use the inside lobby machines. Independent cash machines are too risky and often charge higher transaction fees. It's a good practice to cover the keypad when entering your pin. This sounds simple and logical, but many don't do it and the risk of your card being cloned is higher if you don't conceal your pin. 
Anytime of year you'll find tourists in Italy. Tourists love to take photos of the beautiful scenery, monuments, and even the occasional "gladiator" they meet on the streets. Unless you don't mind paying for it, don't take a photo with any one of the many human street statues. Although, there aren't any signs warning or advertising this, it is a usual practice for individuals in costume to smile for you and then demand payment. The same goes for the many rose sellers who wander from piazza to piazza and restaurant to restaurant. They're quite persistent and "no" doesn't mean "no" to them. I've found ignoring them is the best practice and usually prods them to move along.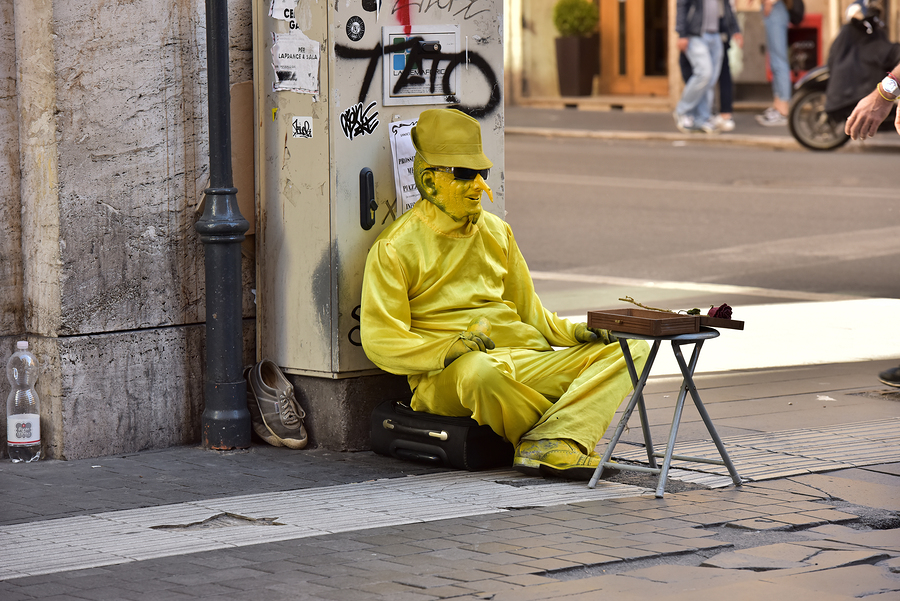 Demonstrations, whether they're political, social or labor related, are quite common in Italy. Law enforcement groups are well prepared to maintain crowd control and do their best to keep the protesters organized and moving along the planned route. Usually in advance, the public is made aware of demonstrations and are provided with information about any street closures or detours. Ocassionally, demonstrations can become more active and even violent. Observe demonstrations from afar or stay away from the area if you see one in progress. 
Throughout the year Italy has a high influx of study abroad students.  For some students, there can be a high learning curve when living in a new country.  Typically, the learning curve has to do with alcohol and nightlife. In Italy, the legal drinking age is 18. American students who aren't used to alcohol tend to over indulge when far from home. Our advice to students when they first arrive is to always travel with a buddy or in groups and never leave any one in their group alone. Most conflicts students encounter occur when they are separated from friends. When students are under the influence of alcohol they are vulnerable to robbery, rape, or other violent crimes.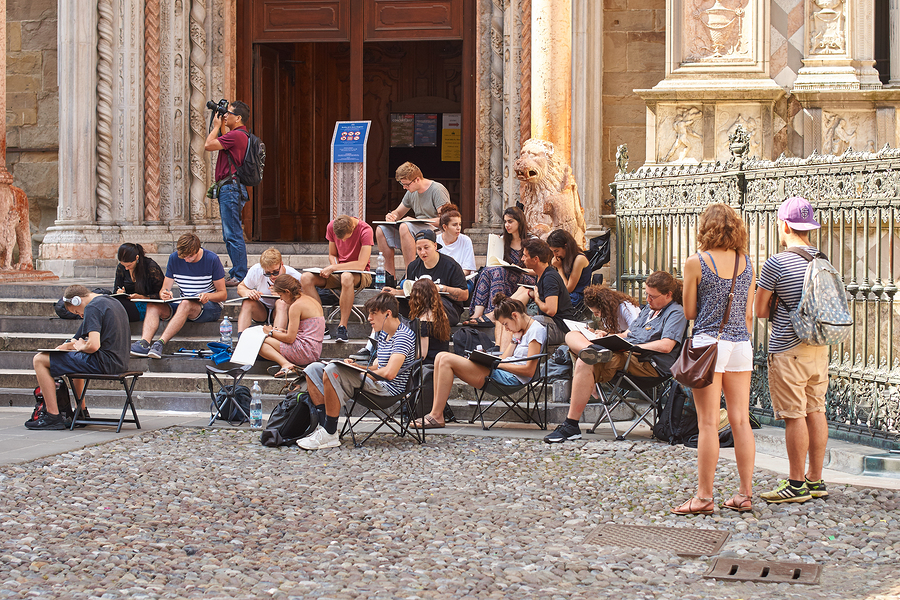 While Salus Security Services originally was created to provide peace of mind to study abroad students and their families, we've expanded and are now serving US tourists and business travelers. With our expert guidance before and during a trip the majority of our clients have safe, enjoyable and incident free travel. Those who have needed our assistance, have been grateful for the timely support we are able to provide them on the ground. Let Salus assist you during your next trip abroad. 
We asked what sets them apart something very important to keep in mind is the fact that other companies provide travelers with an 800 number to call if they run into trouble. The person answering the phone may not even live in the country where the tourist has traveled. During their years at the FBI Salus points of contact build up extensive contacts with local law enforcement and government officials in the countries which they work......they're on the ground in Italy and they speak the language of the country. 
Topic:
Location:
You may also be interested in...