Nestled between the more popular Puglia and Campania regions, Basilicata, in the south of Italy, has remained mostly off the tourist radar. For no good reason, since here you can easily delight in all those great things Italy is known for: history, art, nature, seaside, food, hospitality.
Here are five good reasons to consider Basilicata your next Italian destination.   
EXPERIENCE A TIMELESS LANDSCAPE IN MATERA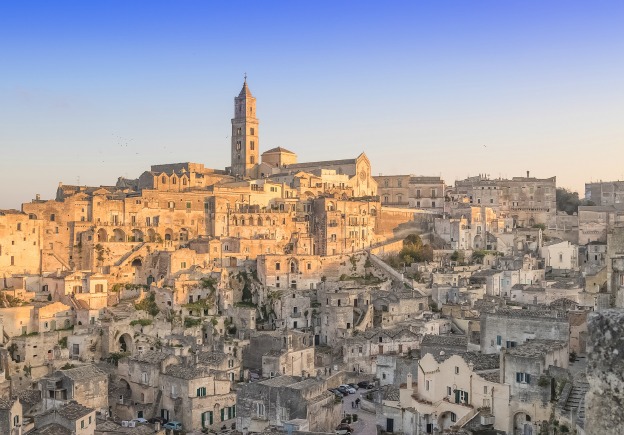 Matera is Basilicata's star attraction. Known as "la Città Sotterranea" (the Subterranean City), Matera is famous for its historical center called "Sassi" (former cave dwellings), which were inscribed into UNESCO's World Heritage list in 1993. The dense network of caves, dug out of the rock by shepherds to shelter their family and livestock, are thought to be among the first ever human settlements in what is now Italy. This unique timeless urban landscape has often been used to evoke biblical scenes in films and TV.
Another attraction in Matera is the diverse collection of buildings related to the Christian faith, including a large number of rupestrian churches carved from the soft volcanic rock of the region.
TAKE A DIP IN CRYSTAL CLEAR SEA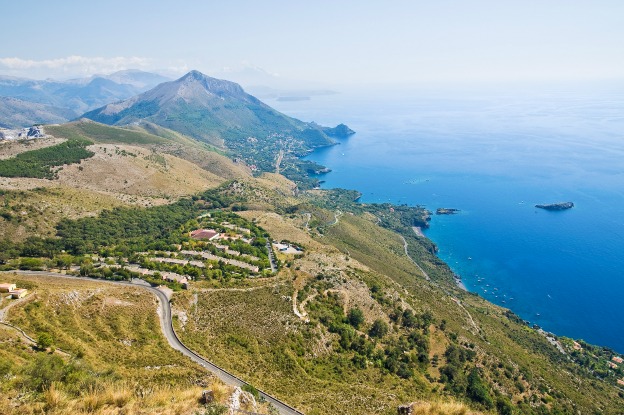 While Basilicata is mostly a mountainous region (the most mountainous of Italy for that matter), it is touched by the Ionian sea on the east coast and Tyrrhenian on the west.
On the Tyrrhenian side, the short (roughly 20 miles) Gulf of Policastro features steep promontories alternating with small beaches washed by a crystal-clear sea. Beautiful Maratea is the must-see jewel of the gulf, and is also the location of the gigantic Christ the Redeemer (Cristo Redentore) statue that rises from Mount San Biagio.
A 30-minute drive from Matera, the Ionic coast, with wide beaches surrounded by pinewoods and eucalyptus trees, is flat and less dramatic, but includes interesting historical sites related to the periods of Greek occupation. Don't miss Metaponto, once a rich outpost of Magna Grecia, founded in the 7th century BC and the hometown of Pitagora, and Policoro, which was once a Greek colony going by the name of Heraclea.
HIKERS AND NATURE LOVERS, REJOICE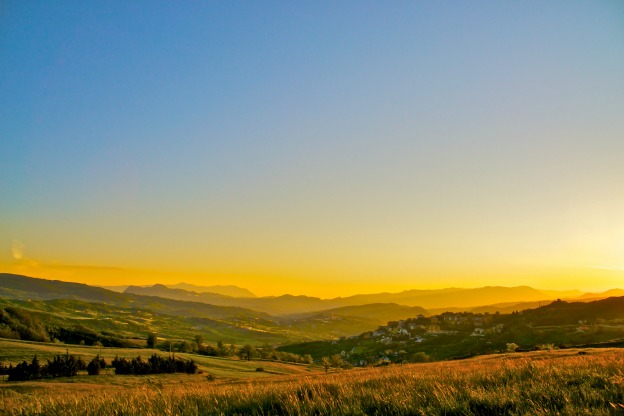 As mentioned above, for the most part, Basilicata is occupied by mountains, covered with woods and forests. The region shares with Calabria the Parco Nazionale del Pollino, one of Italy's largest national parks, covering an area of almost 2,000 square kilometers. It is named for the Massiccio del Pollino, a massif of the southern Apennines that reaches a height of 2,248m, offering spectacular views over pine forests, plains, limestone slopes, all the way to the Tyrrhenian and Ionian seas. Take advantage of organized hiking excursions to learn about the park's rare flora and fauna, which include the cuirassed pine (the park's symbol), the roe deer and the golden eagle.
In the province of Potenza, the only other major town in Basilicata, are the spectacular Monticchio Lakes, with the Lake Grande and Lake Piccolo filling the two craters of the now extinct Mount Vulture (1326m), surrounded by thick and lush vegetation.
VILLAGE CHARM GALORE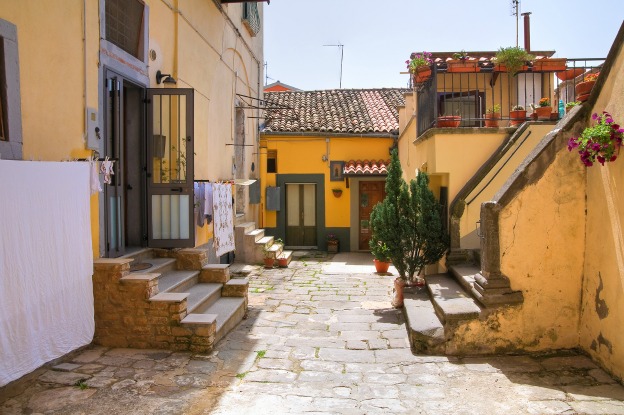 The mountains of Basilicata are dotted with charming borghi. The two mountaintop villages of Castelmezzano and Pietrapertosa, surrounded by the Lucanian Dolomites at an elevation of 985m and 1088m respectively, are Basilicata's highest villages in breathtaking, gravity-defying positions.   
In the northernmost reaches of the region, on the far side of Monte Vulture, stands the hill-town of Melfi, the Normans' first capital in the south of Italy, which they conquered in 1041. Even though it has been damaged several times by earthquakes, it has managed to preserve an attractive historic center complete with an impressive Norman castle.
25km east is Venosa, in a landscape of green rolling hills and farmland. At some point, it became the largest colony in the Roman world, known as Venusia. It was the birthplace of the poet Quintus Horatius Flaccus, which you most likely know by the name of Horace. You could even visit his house in the historic center, which features a reconstruction of his living quarters.
MANGIA (OR, EAT)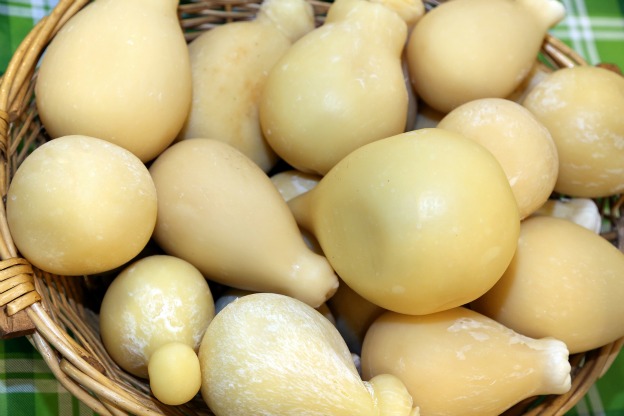 Olives, flavorful vegetables and legumes, including Sarconi beans and Senise peppers, are extensively cultivated in Basilicata, which boast rich agricultural traditions.
Wheat is also an important crop, used to make pasta and bread. Lagane is a typical pasta dish dating to the Roman period, made with chickpeas, soft bread, walnuts and beans.
Garlic, olive oil and peperoncino are staples in the regional soups, pastas and sausages.
Soups are popular, with two classic being minestra maritata, made with meat and vegetables, and Acquasale, made with hot water, bread, onions, tomatoes, garlic, oil and salt.
Cheeses are mostly made with sheep's milk, as sheep are common throughout  central and southern Italy. Try Pecorino di Filiano, Canestrato di Moliterno DOP, Caciocavallo Podolico, Butirro, Manteca and Cacioricotta.
As for seafood, anchovies, tuna, sardines and salt cod are popular here as in other southern regions. Meat lovers should try Lucanica and Soppressata (pork sausages), and Pezzenta, which combines pork, lamb and veal meat.  
Even those with a sweet tooth will not be disappointed, thanks to mostacciolo, a popular dessert made with vincotto (cooked wine), honey, almonds and flour; and cuccia, a pastry made with cooked wheat, similar to the Neapolitan pastiera.
The most common wines are Aglianico and Aleatico.