[Rick Steves tour guide and travel expert Sarah Murdoch.]
"You don't need as much as you think you do," says tour guide Sarah Murdoch, who's been preaching about the art of packing light for years. With 19 years of travel experience - as a tour guide and guidebook writer and researcher for travel guru Rick Steves - and an average of three to five months a year spent on the road, mostly in Italy and Europe, Sarah has accrued a great deal of expertise on the most effective ways to pack. She's had to considering she's often gone for weeks at a time - usually with just a backpack and a day bag (during our interview, Sarah showed me the backpack she's traveling with on this three-and-a-half-week trip; I liked it so much I had to ask what it was: Cotopaxi Allpa 35L - while her day bag is Tom Bihn Cafe bag). 
Sarah loves teaching travel and has been lecturing for years on how to travel light and in style, something that is especially important in Italy, the country of 'la bella figura' - where it's all about making a good impression.  
To catch some of her packing wisdom, we spoke to Sarah this week, as she was leading a tour in Catania, Sicily (she's also co-authored a 2019 Rick Steves guidebook on Sicily, together with Rick Steves and local Sicilian Alfio Di Mauro - a project she worked on for seven years). Read on for her practical tips.  
Sarah, you recently tweeted about being able to make a tight connection at JFK airport after your first flight was delayed, having to run, in the dark (!) from one terminal to the other, only because you were carrying a 15-pound backpack and a purse. You wrote that it would have been impossible with a rolling bag. Tell us about the advantages of a backpack over a rolling suitcase or carry-on.
When you carry a backpack, you're forced to think about weight. You have to really think, do I need that extra dress?, or, do I need that extra pair of shoes? So, typically, it forces you to pack light. With a rolling bag, you don't care as much, but the reality is, you need to care because you still have to lift it to place it in overhead bins, you have to take it on and off the train, and, especially in Italy where there are cobblestone streets, it's not easy to get around with a rolling bag.
I try to convince people to travel with a backpack even if they think they're too old for it or haven't traveled with one for years. When I started working for Rick Steves, we traveled with backpacks and stayed in hostels with our groups, so we come from a tradition of backpacking. Rick Steves himself, up to the last time I traveled with him, was still using a backpack. People don't need as much as they think they do.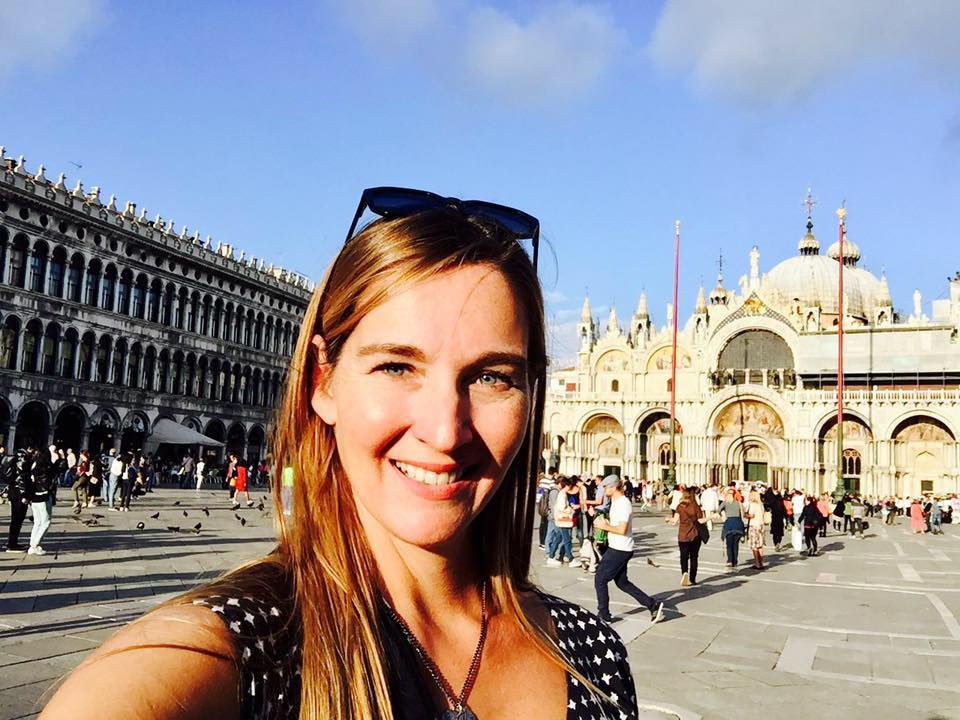 [Sarah Murdoch is a tour guide and a guidebook writer and researcher for Rick Steves. Photo credit: Adventures with Sarah Facebook page.]
So, what are then the real travel essentials? Let's start with clothing. How do you pack light and not look sloppy? How do you select what to bring?
My whole concept of packing light is a bit different because I really focus on weight rather than what you bring.
To select, I start with the color scheme, or I'll find a piece of clothing or jewelry or a scarf that I really like. Scarves are important here in Italy, so I'll often choose a scarf I really like and then I'll choose clothes that match it. If all of your clothes match one scarf, they're going to match each other too, and even if they don't, you can wear the scar to tie it up together.
For colors, I usually start with blacks, whites and greys, which makes it easier. That doesn't mean you only have to bring those colors. This year for example, I went with a light color scheme: different shades of white and beige. It looked really good, clean and fresh, and you don't look like a tacky tourist. I've always tried to figure out how we can look good and feel good about ourselves when we travel.
Beyond that, I also bring jewelry with me because I'm in Italy a lot and here you should accessorize. I collect jewelry from places I visit. The necklace I'm wearing now comes from Mount Etna. I buy things that have an interesting story. People will often comment on them, and if I have a story to tell, it's a great way to start a conversation.
One of my clients said there was one thing missing from my packing list for Sicily though: stretchy pants… for when you eat all the pasta and cannoli!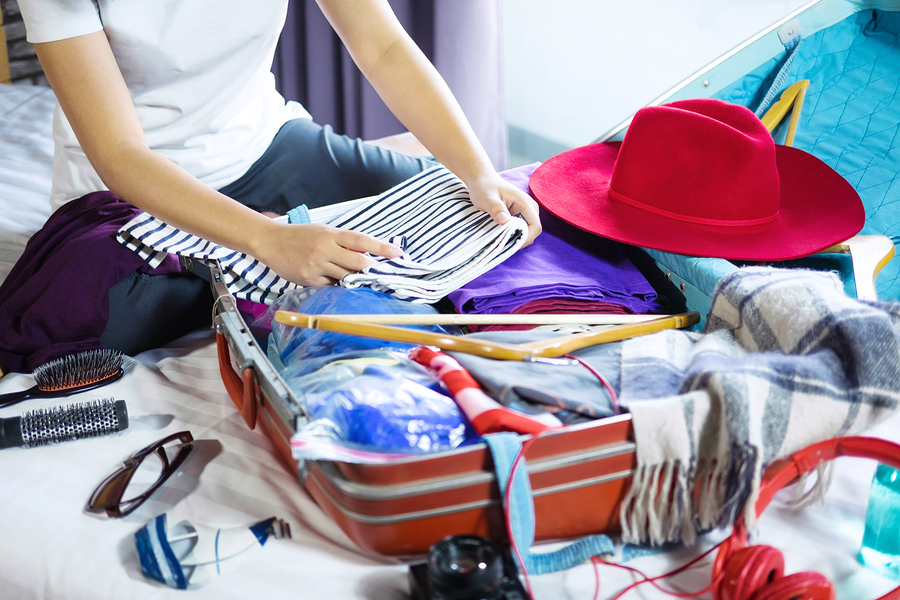 [You don't want your bag to look like that.]
Do you do laundry while you travel?
Absolutely. But I'm on day 10 here in Sicily, and  I have enough clothes that I don't need to yet. That's because I bring items that are really light. This dress I have on weighs less than a t-shirt. I pick what to bring based on fabrics - this dress I'm wearing is made of very thin cotton and doesn't wrinkle easily – and on the amount of space it takes; this way, I can pack twice as many clothes as people normally can.  
What about shoes? They're heavy and take up space, but you often want shoes that are comfortable as well as shoes that are nice enough to wear at night.  
Indeed the heaviest items are shoes and toiletries. People often ask me on my blog how I select shoes. I do searches by weight. From there, you can select other criteria, such as shoes for people who have special needs.
I have three pairs of shoes with me right now. Typically I bring a pair of nice-looking sandals, comfortable but stylish; a pair of slip-on shoes that are very comfortable; and, since it's summer time and I'm in Sicily, I brought flip flops with me. I found a pair that has wedge heels, so you can almost make them look like a nice pair of shoes, but I can also swim in them. I was swimming in Favignana a couple of days ago, and I'm so glad I brought them because I couldn't have gone into the water without shoes. Here in Italy the beaches are often rocky. So you think of shoes you can use in multiple ways.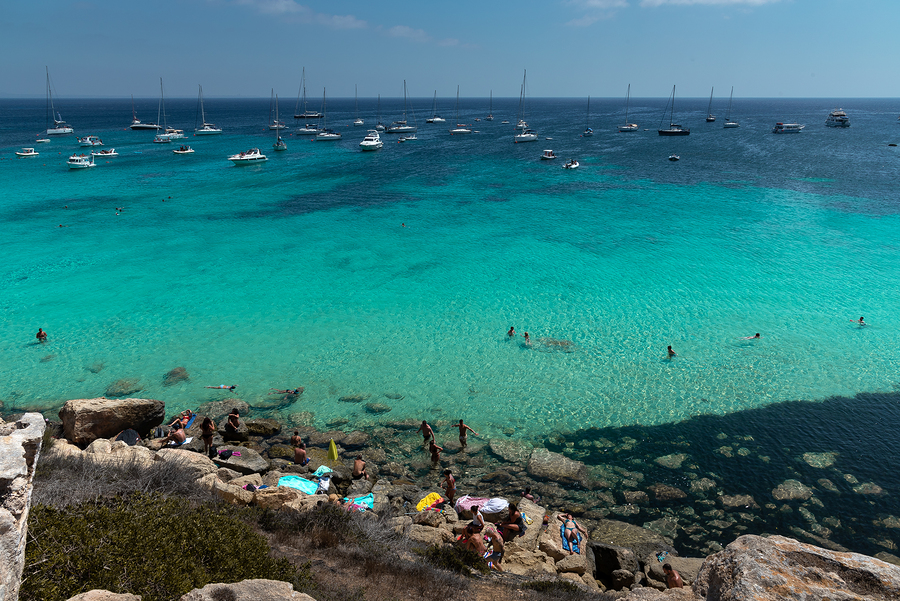 [Rocky Cala Azzurra beach in Favignana, Sicily.]
You mentioned toiletries as being some of the heaviest items. How do you select what to bring?
In Italy you can get everything, so you don't need to bring all of your toiletries with you. It's actually fun to go to a good old farmacia and shop for stuff you can't find in the U.S. You only need to bring the things that you can't replicate somewhere else.
Toiletries and shoes are places where people could easily lose a lot of weight if they think creatively.
What about electronics? This is now a major must-have for everybody and we have so many devices. How do you make a selection?
You have to think about what you really need. So many of these electronics can do the same thing. I tell people to not bring a big camera anymore. It doesn't make any sense in the age of good digital cameras and phones. All my Instagram photos, the photos on my blog and even those in the Sicily guidebook were taken with my iPhone. If it's good enough to be in print, it's good enough for your photos. You can take great shots with a good phone nowadays.
I've brought an iPad before and I enjoyed that. You can use it for a lot of different things. But, do you really need it?
I bring my laptop only because I'm a writer and I need to work on my blog or pieces that I want to pitch. If you don't need it for work, a good quality phone will do everything now.
What do you find are the items that people tend to bring that are generally useless?
People bring hairdryers. You don't need hairdryers if you're staying in a hotel. The most useless thing anybody brings is a converter. That's a thing from the past. iPhone and electronics now have a converter built into it.
Then they bring too many toiletries, and too many books. Why add that weight if you can read on a tablet or on a phone?
In general, people regret bringing too much; they often don't wear all the things that they brought. If you're smart about how you pack, you can bring clothes that look good anytime. For instance, this simple black dress I have on is fine for any time of the day.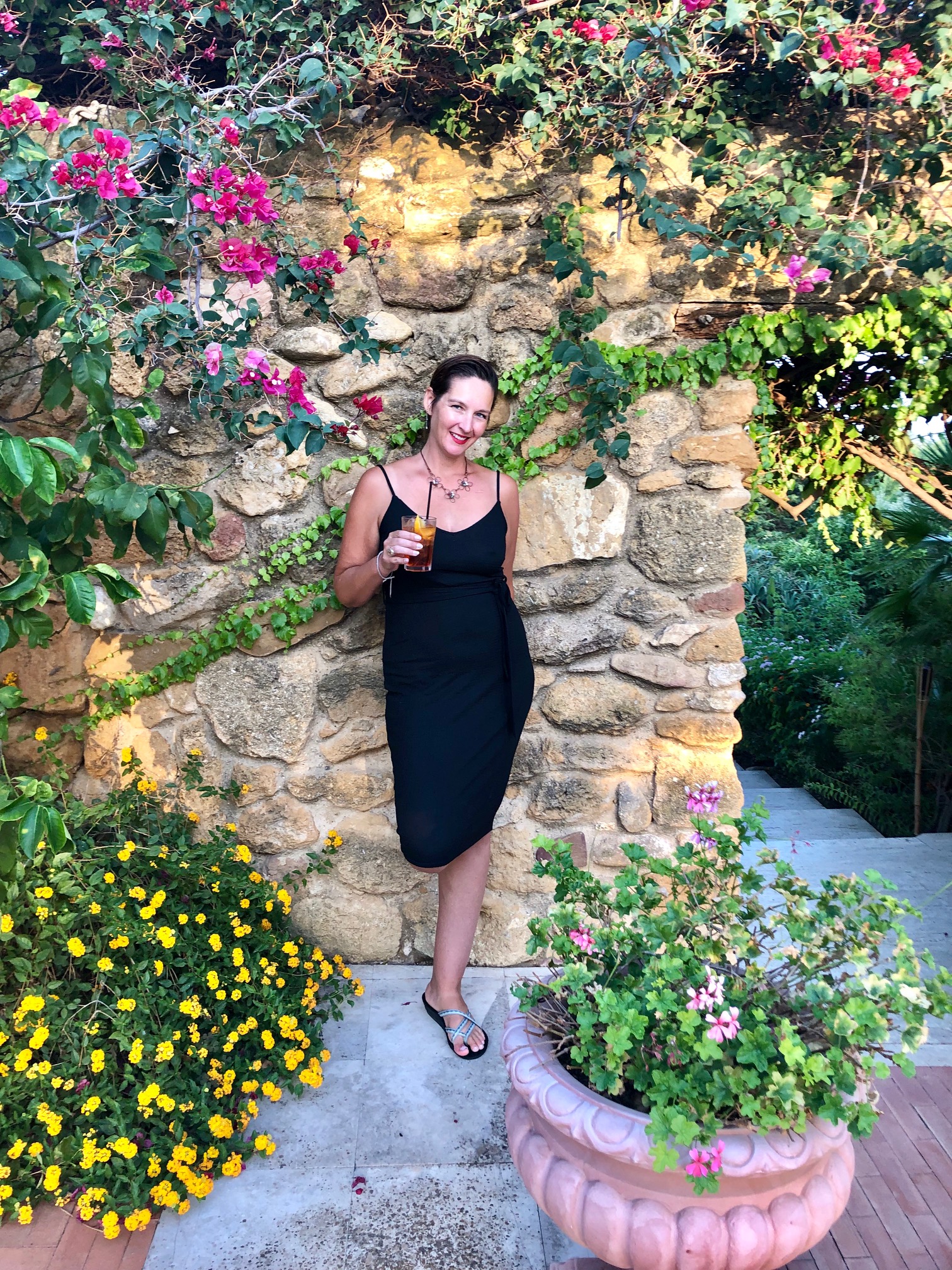 [Sarah in Sicily. She co-authored a Rick Steves 2019 guidebook about the region.]
Do you use things like money belts or fanny packs? Are you concerned with pickpockets when you're traveling in Italian cities?
I'm not, but that's because I'm six foot two and I've been traveling for 25 years, so I can pick a pickpocket out of a crowd like that. I'm a tour guide and my job is to be able to see the dangers. But I absolutely always suggest that travelers do invest in a money belt where you can place your passport, credit card and all your important documents. It's peace of mind. I now it's uncomfortable and makes you look fat, but I always tell people, it's like an instant diet: you go home, take it off, and you've lost 10 pounds. Feel better about yourself!
I have my money belt attached to the inside of my day bag, so they can't steal it. And my day bag, I don't carry it on my shoulder, I carry it across my chest and I casually rest my arm on top of it. Backpacks as day bags are easy to pickpocket, and as for purses, imagine walking down Spaccanapoli and someone on a scooter snatches it. If you wear it across your body, it's less easy. The people that have been pickpocketed on my tours have been careless, such as carrying wallets in back pockets.
If you're at the Vatican Museums with 20,000 people, there are so many easy targets, and if you're the person with the bag across your chest and you're aware of who's around you, that's all it takes.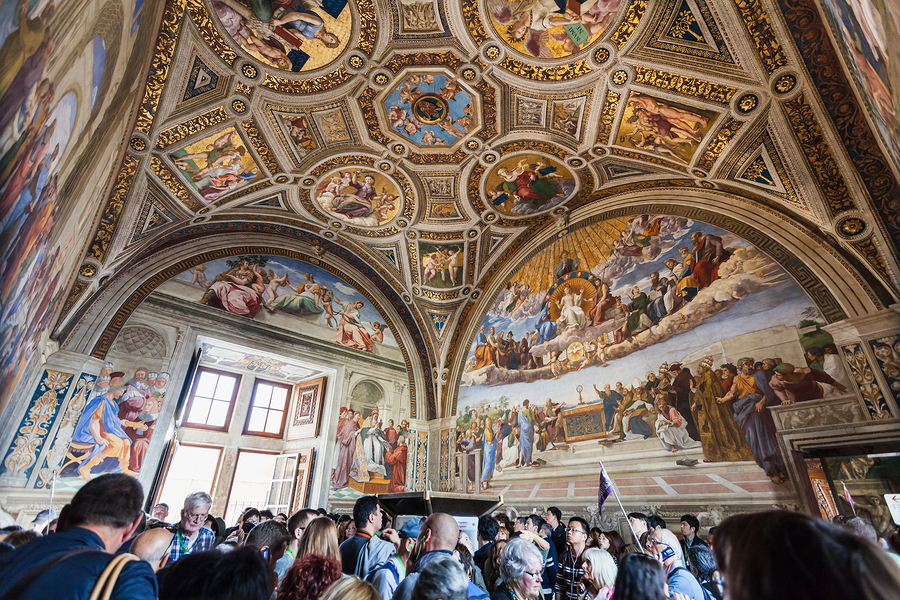 [Crowds inside Vatican Museums in Rome.]
Any packing tip specific for travel to Italy?
I would definitely suggest that people dress a little bit nicer than the way they dress at home. Italians in general dress a lot more formally every day. Even if it's jeans - they wear Armani jeans, or they'll wear stilettos with the jeans! Italian women look gorgeous because they put on multiple layers. The way you put your outfit together makes it interesting. That's a cool opportunity because you want to think about, how can I be in the Dolomites in the morning and on the beach in Catania in the afternoon: it's easy, you wear layers. In the U.S., we're not taught how to accessorize and how to layer clothing.
So my suggestion for people who want to travel more Italian style is, think in terms of layers: a sleeveless shirt, a light shirt, a light scarf and a necklace. Those are things that don't weigh anything, but small details like that make a world of difference, especially in a country where la bella figura is such an important concept. The way you present yourself in Italy determines how you're going to be treated. If you're sloppy, you show a lack of self-respect. If you present yourself a bit more elegantly, it's showing respect to the people around you. That's not a concept in American culture.
Thank you, Sarah, for sharing your precious packing tips. We can all use them!
Check out Sarah's blog at Adventures with Sarah, where you can also keep up to date with her latest tours and dispatches from the road. Here's a good travel gear list by Sarah.
Interview has been edited for clarity and length.