In our series focusing on famous Italian families, Carol King looks at one of Italy's most notorious: the Borgias.
The Borgia family of the Renaissance went down in history because it produced two popes but also because of its power, ambition, influence, and reputation for decadence and corruption. The family's story has provided inspiration for numerous fictional adaptations in novels, TV, films, computer games and even manga comics.
Why are they famous?
Originally from Spain, the Borgia family came to prominence in Italy thanks to its first pope, Callistus III, who elevated his nephew Rodrigo to a cardinal. Rodrigo went on to become Pope Alexander VI and with the help of his family navigated the murky world of Italian and European politics with aplomb. As pope, Rodrigo showed considerable diplomatic skill and exhibited courage when faced with a French invasion of Italy. The feats and tactics of Rodrigo and his offspring have been portrayed by 19th century historians onwards as those of a ruthless family capable of murder, bribery, incest and poisoning. However, in recent years, historians have begun to revise their opinions of the dynasty, asserting that contemporary rivals spread malicious rumours and propaganda against the family, which have entered the popular consciousness as fact. In some cases, it is unlikely the truth will ever be known.
Who's who?
Alfonso Borgia
Born Alfons de Borja y Cabanilles in Valencia in Spain, Alfonso Borgia (1378-1458) was elected to the papacy in 1455, taking the name Pope Callistus III. He soon looked to advancing his family's position and in 1456, made two of his nephews cardinals, one of them being Rodrigo Borgia, who later became a pope. Alfonso's nepotism did not end there: he bestowed the governorship of the Castle of Sant'Angelo and the title of Duke of Spoleto on a third nephew. Much of Alfonso's papacy was given over in attempting to organise Christian Europe's resistance against the Turks, who had captured Constantinople. Alfonso is also remembered for ordering church bells to ring at noon to remind the faithful to pray for the crusaders' welfare and ordering the revision of the trial of Joan of Arc, who had been burned at the stake for heresy. He declared the French heroine posthumously innocent and a martyr, opening the way for her to become a saint centuries later.
Rodrigo Borgia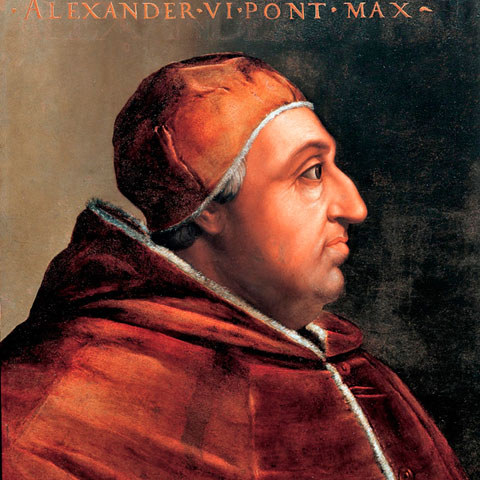 Born in Spain, Rodrigo Borgia (1431–1503) studied law in Bologna. The advent of his uncle Alfonso as pope boded well for the young Rodrigo, who was quickly made a cardinal. Despite being a man of the cloth, he had longstanding affairs with two women, Vanozza Catanei and then Giulia Farnese, both of whom had children by him and had marriages of convenience. Rodrigo's relationship with Farnese caused especial scandal because he installed her in a palace adjacent to the Vatican to ensure his clandestine visits to her were conducted with ease. Rodrigo also used his influence to make Farnese's brother Alessandro a cardinal. As well as the children he sired with Catanei and Farnese, he had four others by different women.
Rodrigo lavished attention on his four children by Catanei. He advanced their positions in society via marriage, and gave them land and titles. Rodrigo presided over the papacy at a time when he had to juggle the ambitions of France and Spain, as well as those of barons and kings within Italy when the fiefdoms of Milan, Naples, Venice, Florence, Ferrara and Sienna were rivals. Rodrigo has been viewed as a despot because of his attempts to increase the power of the Papal States and crush that of the feudal nobility. A patron of the arts, he commissioned works by leading artists of the day including Raphael and Michelangelo. A canny administrator with a love of extravagant ceremony, Rodrigo became one of the wealthiest men of his time, yet he was also denounced for papal abuses and suspected of simony – selling ecclesiastical benefices for money. He died at the Vatican and his body decomposed so fast that some suspected he had been poisoned, possibly by his son Cesare, although historians have suggested the most likely cause of death was malaria.
Cesare Borgia
The eldest son of Rodrigo Borgia and Vanozza Catanei, Cesare Borgia (1475-1507) was destined for a life in the Church despite his own reluctance. His father made him a bishop when he was only 15 years old, and three years later, he became a cardinal. Despite Cesare's career in the Church, he fathered 11 illegitimate children. He is regarded as the most debauched, feared and murderous Borgia, because of suggestions that he murdered his brother Giovanni, ordered the assassinations of his sister's second husband Alfonso of Aragon and her lover, had an affair with his sister and even poisoned his father.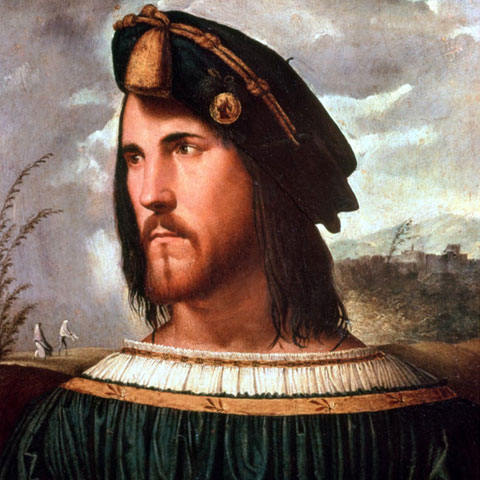 After Giovanni died in 1498, Cesare became the first man ever to resign a cardinalate to take up the military career he wanted. A year later, he married Charlotte d'Albrêt and the couple had a daughter. The propitious marriage led the French king, Louis XII, into alliance with the pope, who appointed Cesare commander of the papal armies. Cesare began a series of campaigns to carve out a state in Italy, taking Romagna, Marche, Pesaro, Rimini, Faenza, Piombino and Capua. However, Cesare's plan to capture Tuscany was thwarted when Rodrigo died in 1503. With his father and benefactor gone, Cesare's fortunes changed. The new pope, Pius III, died after only days in office and his successor, Giuliano della Rovere became Pope Julius II. An enemy of the Borgias, Della Rovere saw that Cesare failed at every turn. In 1504, Rovere had Cesare arrested and sent into exile in Spain, returning his territory to the papacy. Resourceful and determined, Cesare escaped from prison only to die in a skirmish in Spain in 1507.
Giovanni Borgia
The second child of Rodrigo Borgia and Vanozza Catanei, Giovanni, or Juan, Borgia (c. 1476-1497) married Maria Enriquez de Luna, the niece of Spain's King Ferdinand and Queen Isabella, thus ensuring that the Borgias were connected to a powerful royal family. Giovanni and Maria had two children, but he saw little of them because his father summoned him back to Rome to command the papal forces. Giovanni's glory was short lived because he was assassinated in 1497 and his corpse thrown into the River Tiber. Some have suggested that Giovanni died at the hand of brother Cesare so that Cesare could realise his military ambitions, and after Rodrigo's death, Maria and her aunt tried to press murder charges against Cesare. Others have posited that Giovanni was murdered by his younger brother Gioffre because he was having an affair with Gioffre's wife. Other possible assassins include the Orsini family because of a vendetta. However, there are no known witnesses and no one knows who murdered Giovanni.
Lucrezia Borgia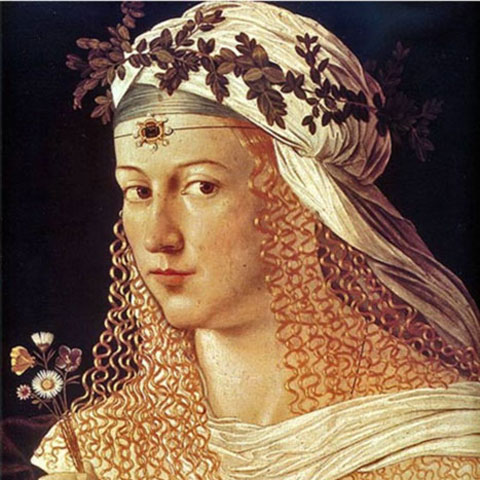 The only daughter of Rodrigo Borgia and Vanozza Catanei, Lucrezia Borgia (1480-1519) was entrusted to Rodrigo's cousin, Adriana Orsini, to receive her education. Lucrezia's role in early life was as a pawn in the marriage stakes to further her family's ambitions – in 1491, she was promised in marriage to two fiancés at the same time. Two years later, she married Giovanni Sforza, nephew of the Duke of Milan.
In 1498, Giovanni, the so-called "Roman infant", was born and some have suggested he was the result of her illicit relationship with one of her father's servants, Pedro 'Perotto' Calderon. Poor Calderon did not survive to tell his story because he was murdered, possibly on Cesare's orders. Giovanni is most likely to have been Cesare's son and there is no proof Lucrezia was his mother despite the rumours.
Despite the scandal, Lucrezia was soon back on the market as a potential bride. As political alliances shifted, the pope had his daughter's marriage to Giovanni Sforza annulled and Lucrezia was married to Alfonso of Aragon, son of King Alfonso II of Naples. The couple had a son, Rodrigo, who died aged 12. Lucrezia's husband Alfonso was murdered in 1500, possibly on Cesare's orders because by that time the Borgias were allies of France against Naples.
Lucrezia's father arranged a third marriage for her, to Alfonso d'Este, Duke of Ferrara, in 1502. They went on to have eight children. As Duchess of Ferrara, she was known for her culture and as a patron of the arts.
Lucrezia was not a faithful wife: she had affairs with the poet Pietro Bembo and her brother-in-law Francesco II Gonzaga, Marquess of Mantua. She died after giving birth to her eighth child by her husband.
Gioffre Borgia
Gioffre, or Jofré, Borgia (1481-1518) was the youngest son of Rodrigo Borgia and Vanozza Catanei. The baby of the family, he was also regarded as its weakest. At the age of 11, he was married to 16-year-old Sancia of Aragon as part of a political move by his father. Rodrigo received a large dowry in return for papal recognition of Sancia's father's claim to the throne of Naples. The marriage was unhappy and Sancia had affairs with Gioffre's brothers, Giovanni and Cesare. The couple had no children. After Rodrigo's death, Gioffre moved to his estates in southern Italy. Sancia died in 1506 and Gioffre remarried. He and his wife Maria de Mila had four children.
Francesco Borgia
The grandson of Pope Alexander VI Rodrigo Borgia, Francesco Borgia (1510-1572) stands in stark contrast to his ancestors because of his piety. From an early age, he wanted to become a monk, but duty called and in 1528, his family sent him to the court of Charles V, Holy Roman Emperor. Born in Valencia, Spain, Francesco inherited the title of Duke of Gandia in 1543. Three years later, after his wife Eleanor died, he renounced his titles in favour of his eldest son to become a Jesuit priest and was ordained in 1551. Francesco was active in the Society of Jesus, helping to found what is now the Gregorian University in Rome and was elected as the Society's Superior General in 1565. A humble man, Francesco resisted being made a cardinal, preferring to spend his time founding missions in the New World, restoring sacred music, and attending to the poor and the sick. Widely regarded as a saint in his lifetime, Francesco was beatified in 1624 and canonised in 1670.