Raphael's place in the world
Imagine today a young boy who loses both his parents before the age of twelve being able to achieve the huge volume of work that Raphael managed to accomplish before the age of 37.
Raphael Sanzio da Urbino was born in 1483 in Urbino which at that time was part of the Papal States. He was a contemporary of the great Leonardo da Vinci and Michelangelo, and though far younger than both he claimed his place in the High Renaissance, with his outstanding talent, his passion and his ambitious nature. Michelangelo lived for forty four years after Raphael's death and Leonardo only died one year before him. This gives some perspective of the times Raphael was born into. The two Grand masters of the Renaissance were already highly respected and working on commissions, and then this very young man with wonderful manners and a fresh talent, who was in favour with the Pope was given huge and important commissions. It is no wonder that there was some resentment from Michelangelo. Raphael came into the limelight at the peak of the High Renaissance and was extremely popular with the public and in great demand.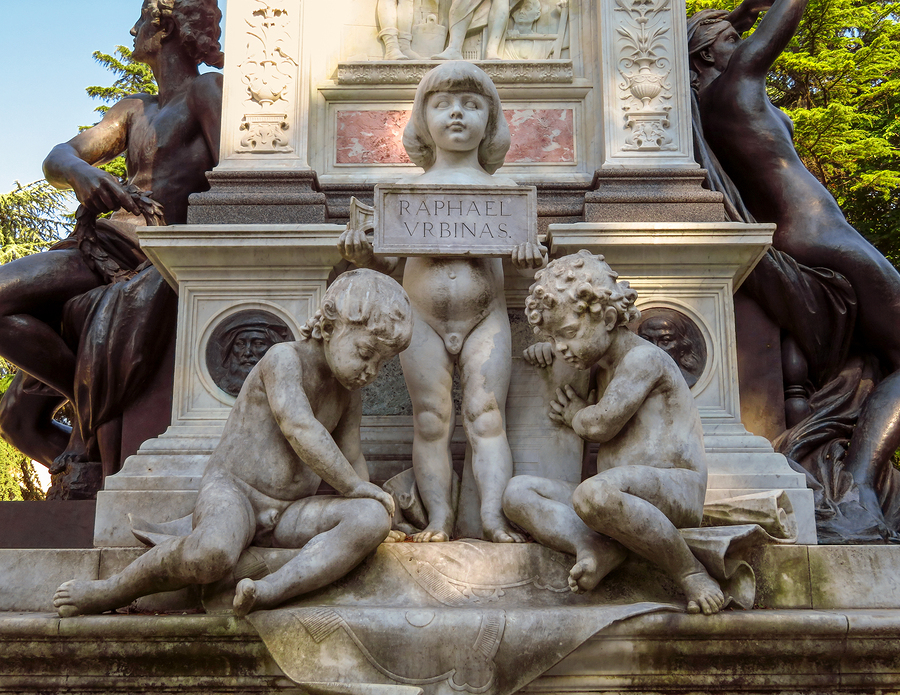 [Elements of the monument of the Raphael in his birthplace Urbino city Italy]
His father Giovanni Santi was court painter to the Duke of Urbino and this where Raphael developed skills and manners, from the court surroundings. His father saw talent in his son and according to Vasari he was sent to Pietro Perugino to learn more skill. It is likely that this was the case as his work reflects Perugino's style of soft clear light emanating from the paintings. Sadly his mother died when he was eight years old and his father died three years later. His formal guardian was his uncle, Bartolomeo, a priest. It seems Raphael managed his father's workshop from an early age and it was a large and busy productive workshop, but Florence was calling him. In 1504 in Florence he painted a series of Madonnas and the Baronici altarpiece at Saint Nicholas of Tolentino, Città di Castello along with other church pieces, Mond Crucifixion circa 1503 and Brera Wedding of the Virgin, 1504.
Settling in Rome
His work did not go unnoticed. In 1508 he received an invitation from the Pope to come to Rome and Pope Julius II offered him the commission to fresco the Pope's private library in the Vatican. The apartments have become known as the Raphael rooms and are stunning. They were completed by 1524. The frescoes in the Stanza della Segnatura include the 'School of Athens', the 'Parnassus',  the 'Cardinal Virtues', and 'Sistine Madonna' (1513 ) After Julius death in 1513 the Medici Pope Leo x continued to give him commissions. He painted the 'Triumph of Galatea' for the wealthy Agostino Chigi banker and Papal Treasurer.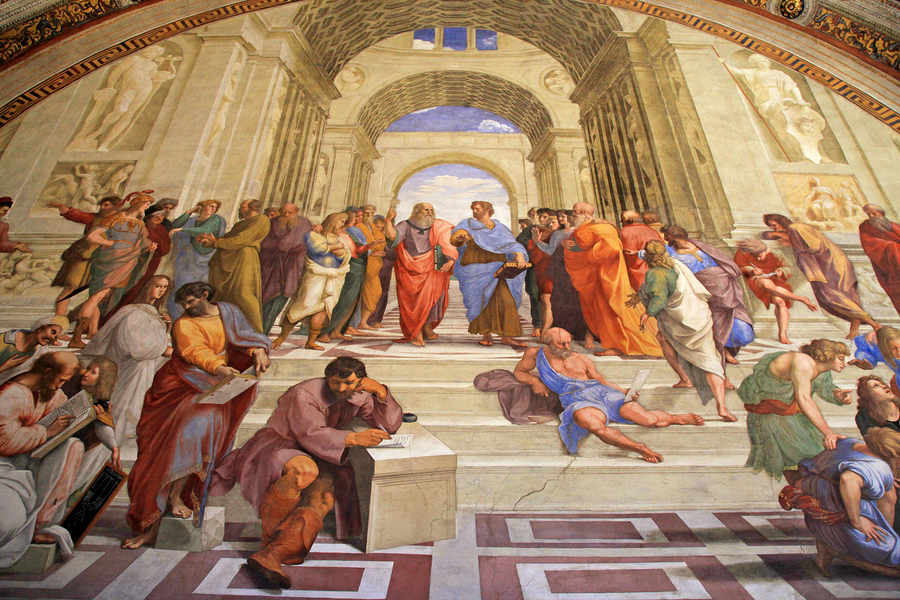 [The fresco of the 16th century in one of the rooms of Raphael (Stanze di Raffaello) in the Vatican Museum.]
The Pope called him 'the prince of painters'. At the end of 1508 Raphael moved to Rome for the rest of his life. He settled in the Borgo and lived in fine style in a palace, Palazzo Caprini designed by Bramante. 
Raphael, with the help of Bramante (who he probably knew from his childhood), secretly went to see the ceilings in the Sistine chapel which was the commission that Michelangelo was working on. After seeing Michelangelo's work on the Sistine Chapel ceilings he was impressed and influenced and developed his art style, much to the chagrin of Michelangelo. Michelangelo is quoted as saying 'everything he knew about art he got from me'. There was rivalry between Raphael and Michelangelo. Michelangelo was not fond of Leonardo but less so of Raphael, his smooth manners and his young ambitious character were such a contrast to Michelangelo's.
Meanwhile Raphael was popular, accepted everywhere with his impeccable manners, and he was a favourite with the women. He was never married but was engaged to Maria Bibbiena the niece of Medici Cardinal Bibbiena. He was unenthusiastic about this and Maria died young and unmarried. The love of his life was Margherita Luti daughter of a baker (Fornano) and speculation has been made that the Painting 'La Fornarina' is actually a portrait of Margherita Luti. His life was continually busy. His workshop had pupils and assistants who helped with the production of many works and the most outstanding of these artists was Guilio Romano and Gianfrancesco Penni.
Incredibly productive in his short time and outstandingly talented, he was extremely influential in his lifetime, though outside of Rome he was known mostly for collaborative printmaking. Print maker Marcantonio Raimondi collaborated with Raphael to produce engravings from Raphael's designs. Famous prints being 'Lucretia ''the Judgment of Paris' and 'The Massacre of the Innocents '.
[The Judgment of Paris]
Rising Fame
In 1515 he was given powers of 'Prefect over Antiquities' (those artefacts unearthed within the city and proximity) a subject which fascinated him. During the High renaissance he painted many portraits, Pope Leo and Pope Julius amongst them. He painted for King Frances of France. The Raphael cartoons for the tapestries in the Sistine Chapel can be seen at the V+A, these depict the lives of Saint Paul and Peter. Cartoons are pricked with a pin and then pounced with soot or chalk to leave a guide on the surface. Raphael's drawings were precise.  Pope Leo X also chose Raphael to work with Donato Bramante. After Bramante's death in 1514 Raphael was named architect of new St Peters, yet only a few drawings of these designs have survived. Raphael also painted on wood and canvas using linseed or walnut oils with a rich palette and metallic powdered gold in the grand manner of the High Renaissance which was a highly idealised depiction of forms represented and he achieved sprezzatura, creating a certain nonchalance making the work look effortless. He was influenced by Leonardo da Vinci's use of sfumato ,subtlety to the flesh. He was also one of the last artists using metal point. 
Legacy and death
An Italian Painter and architect of High Renaissance must be his description but he was more than this. Raphael was the first to use female models not only 'garzoni' which were all male models that were used for the female form up till then. He was an ideal balanced painter embodying clarity of form and ease of composition, obeying all the rules as opposed to Michelangelo 'eccentric genius', unbalanced, though brilliant. Mannerism and later Baroque style took art in a direction totally opposed to Raphael's qualities yet today his work has found new interest time and again. He held many titles besides 'Prefect over Antiquities' and 'Architect of New St Peter's' He was also made 'Groom of the Chamber of the Pope', and 'Knight of the Papal 'Order of the Golden Spur'.
Raphael died very young at age 37 in April 1520, from a mysterious illness though Vasari had said it was from an overdose of sex! He had been given the wrong treatment. He was ill for fifteen days and received his last rites putting all his affairs in order including providing funds for his mistress's care. He was buried in the Pantheon according to his wishes and large crowds attended his funeral which was a grand affair. He left a large volume of works and left the studio contents to Giulio Romano and Penni. 
Raphael was admired by his contemporaries and Pietro Bembo wrote the inscription on his marble sarcophagus which translated says:
'Here lies that famous Raphael by whom Nature feared to be conquered while he lived and when he was dying feared herself to die.'
A wonderful exhibition of 186 drawings was held at the Ashmolean in Oxford recently.
The works of the Trinity, Leonardo, Michelangelo and Raphael can be seen at the National Gallery, London. 
Five hundred years on and Raphael's drawing 'Head of a Muse' broke the record in 2009 at Christie's auction selling for over 29 million British Pounds reminding us how great a treasure he is to this day.