'Opera must make people weep, shudder and die through singing.'
Thus wrote the Sicilian-born composer Vincenzo Bellini. Stephen Swann looks at the life and work of a composer whose melodies still delight opera-goers the world over.
I was 15 years old the first time I heard the music of Bellini. A mate of mine's father was seriously into classical music and one evening I happened to be round my friend's home when I heard this heart-rending melody coming from a room nearby. I can recall being allowed to listen to it more closely. 'It's Maria Callas singing a number from an opera by an obscure Italian composer called Bellini,' said my friend's dad. 'The opera is called La Sonnambula, and it means 'The Sleepwalker'. Well, I cycled home trying like hell to remember that melody, and something like it was still running through my brain as I dropped off to sleep that night. It was the first time in weeks I hadn't gone to sleep singing I Wanna Hold Your Hand in my head. Only Vincenzo Bellini can do this.
Bellini was born in the baroque city of Catania in Eastern Sicily on 3rd November 1801. He was given piano lessons by his father, a musician, and began studying composition with his grandfather when six years old. Within a few years, the young Bellini's sacred pieces were being performed in the churches of Catania, and his songs and instrumental works were being heard in the salons of the local aristocracy.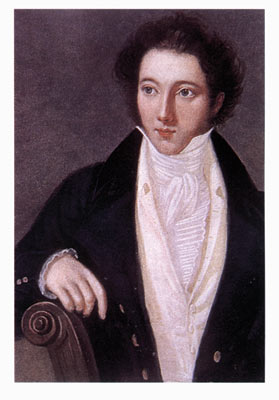 At 18, Bellini went to Naples to the conservatory there, under the director Nicola Zingarelli. In 1825 his opera Adelson e Salvini was produced at the conservatory and its success resulted in commissions from the Teatro San Carlo in Naples and from La Scala, Milan. It was at the Teatro San Carlo, in Naples, that his opera Il Pirata launched his career, in 1827.
At this stage, Bellini's influences were the teaching of Zingarelli and the songs of his native Sicily and Naples. In fact, Zingarelli concentrated on giving his pupil a grounding in the works of Vivaldi, Haydn and Mozart, and took great pains not to let him hear the music of the most successful operatic composer of the day, Rossini. In the event, Bellini did not hear one of Rossini's operas until 1824, by which time his style had been formed - Rossini's easy-going note-spinning would probably have led Bellini into the realms of pastiche! In later years, Verdi was to refer to Bellini's 'long, long melodies, such as no one has ever written before', and, indeed, it is this melodic style which influenced later Italian opera in the 19th century from Verdi through to the Puccini of La Boheme.
In addition, the success of Il Pirata owed a great deal to the fine text that the librettist Felice Romani had written, and it was he who would supply the texts for a further six of Bellini's operas, including La Sonnambula, Norma, (both for Milan, 1831) and Beatrice di Tenda (Venice, 1833). And it was the words and music of these operas taken together that inspired Wagner to write: 'Bellini's music comes from the heart and it is intimately bound up with the text.' Indeed, the composer was little concerned with the musical delineation of character, but rather the mood of each scene is what influences the music, whilst the text is precisely and expressively declaimed. This expressive quality is not restricted to the elegiac and Bellini could, when necessary, introduce passages of real force, as anyone who has heard Norma, for instance, will be aware.
By the time he was 30, Bellini's genius had been recognised beyond Italy, and he had an almost popstar following amongst the opera-going public. When he visited London in 1833, he was feted by an aristocracy that had overdosed on several of his operas that had been put on at the King's Theatre. Later that same year he moved on to Paris where he was to write his last opera, I Puritani, and where he was to spend what remained of his short life.
I Puritani received its first performance on 24th January 1835 in Paris and the Journal des Debats reported: 'The young composer was engulfed with applause, received with bravos, and greeted by waving handkerchiefs from every part of the hall. We have never seen an audience at the 'Italiens' so aroused.' It is from his time in Paris that we have descriptions of the composer. Heinrich Heine wrote of the 32-year-old Bellini: 'His figure was tall, slender. He moved with grace, I would even say with coyness; and he was always elegant to the point of affectation. His face was regular, rosy, and rather long: his hair curly, a pale blond, almost gold; a high, noble forehead; straight nose; pale blue eyes; well-shaped mouth; round chin.' Popstar looks indeed, except Heine ends his description: 'In short, he seemed a sigh in dancing-pumps.' From Ferdinand von Hiller, a friend of Bellini's in Paris, we have a description of the composer's method of composition: 'When, seated at the piano, he began to sing his poet's verses, turning and changing them in a hundred ways...'
With the ending of the opera season of 1835, Bellini retired to the country where a gastric ailment, which had affected him before, recurred. At first, it seemed as though it was only a case of dysentery, then it was feared that it might be cholera. He died on 23rd September of an acute inflammation of the large intestine, complicated by an abscess of the liver. Rossini took charge of organising an autopsy and also arranged the funeral. A Lachrymosa, based on the last act finale of I Puritani, was sung by Bellini's favourite tenor, Rubini, at the service which was held at the Invalides. Le Moniteur reported: 'The profound melancholy that Bellini instilled in that aria - Rubini's voice filled with tears... a shudder of grief ran through the spirit of all present.'
Bellini's death, two months short of his 34th birthday, sparked off the creation of a myth. The young genius' Sicilian childhood, his many affairs, his good looks, charm and aura of melancholy, all contributed. As for his music, it fell from grace towards the end of the 19th century, largely because the art of singing 'bel canto' declined. This Italian style of singing, which lays great emphasis on beauty, evenness of tone and smooth phrasing, had to wait until singers like Callas, Sutherland and Pavarotti emerged in the 1950s and 60s before the operas were heard again with any regularity. Today, the operas of Bellini are performed throughout the world. 'Opera must make people weep, shudder and die through singing...' Bellini once told a friend. Well, anyone who has heard a great performance of Norma or I Puritani will know just what he meant by that.
There's no doubt about it, Bellini's melodies can, if you let them, really hit the spot. If you've never heard them you really should give them a go - you'll probably weep and maybe even shudder, but so far history does not have any record of anyone dying as a result of listening to those 'long, long melodies...'.
Norma: the greatest singers' opera?
Norma works its magic through simple means. The opera's finest passages of vocal writing leave the singer very exposed - indeed, the voice is often supported by only three or four chords, the melodies being long and emerging quite slowly and naturally from recitative. Norma, in fact, is regarded by many as the absolute pinnacle of bel canto writing. It is music that demands a top-notch cast to pull it off, but if it gets such a cast, Norma is one of the greatest and most moving operatic experiences to be had. And that last act is to die for!
There is no better introduction to Bellini's music than Maria Callas singing Casta Diva!