Easter lunch in Italy is a celebration of the colors, scents and flavors of the new season, spring. While there are common dishes and ingredients, from north to south, such as lamb, boiled eggs,  savory pies, chocolate eggs and colomba, each Italian region has its own typical dishes or variations on Easter classics.
Each region would need its own dedicated articles for the richness and variety of the Easter lunch; here, we have selected one typical dish for each of Italy's 20 regions (some neighboring regions sometimes shares the same dish). 
Crescia di Pasqua, Aosta Valley
Crescia is a focaccia filled with a rich mixture of aged cheeses, eggs, extra virgin olive oil and abundant black pepper, eaten alongside cured meats. The egg whites are whipped to give the crescia a softer texture.
Brasato al Barolo, Piedmont
Brasato al Barolo is a Piedmontese dish prepared for all special occasions, and therefore a classic on Easter. It is a stew cooked for a long time in the great Piedmontese wine, Barolo. The cooking must last several hours, so that the meat can soften and be infused with the flavors and aromas of the wine.
Polpettine pasquali, Trentino-Alto Adige
This northern Italian region does not have a typical Easter dish, but rather a rich lunch based on local dishes eaten year round, such as canederli, strangolapreti, stewed rabbit and strudel for dessert.
Easter usually coincides with the harvest of the white asparagus from Zambana, near the regional capital of Trento, which is often used in spring recipes, and prepared in a variety of ways, from risotto to side dishes; a classic variation is asparagus, eggs and speck, and may be served at Easter.
Easter meatballs may also feature on the region's Easter menus; they are made with minced lamb pulp, rosemary, shallot and parsley, wrapped in a pork net, browned in hot oil and then baked or left to cook in the sauce. 
Gubana, Friuli Venezia Giulia
In the north-eastern region of Friuli Venezia Giulia, the Easter meal ends with Gubana, a cake shaped like a snail, filled with walnuts, pine nuts, raisins, sugar and grappa.
Fugassa, Veneto
Veneto features lots of risotto, prepared with seasonal wild herbs, such as bruscandoli (wild hops), carletti (nettle), green asparagus and castraúre, small artichokes found in the northern lagoon of Venice, a Slow Food presidium. Eggs also feature heavily in Easter menus (as everywhere in Italy), often hard boiled next to the white asparagus from Bassano del Grappa. 
To end the Easter meal, Veneto people eat fugassa, a leavened cake enriched with candied fruit, almond glaze and large grains of sugar.
Torta pasqualina, Liguria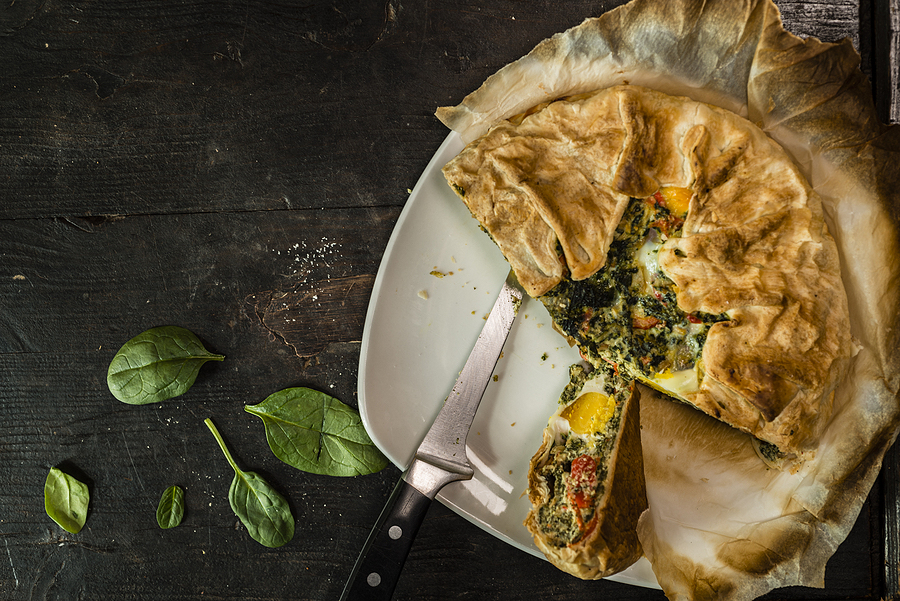 Torta Pasqualina is a quiche filled with whole eggs, cheese and artichokes or beet greens. It can be eaten as an appetizer or to accompany the main course. Now popular throughout Italy, the Torta Pasqualina is prepared in different versions in other regions.
In the past, eggs and cheese, essential ingredients of the Pasqualina, were consumed only on special occasions. As Italian cooking is seasonal, other ingredients, such as herbs, new onions, marjoram, once present in every Ligurian vegetable garden, may be added to the torta pasqualina.
Colomba pasquale, Lombardy
The Colomba pasquale (Easter dove) is Italy's most famous Easter dessert, enjoyed throughout Italy and even abroad. It was invented in Milan in the 1930s by Dino Villani, an advertiser for the Milanese company Motta, who came up with the idea of using the same machinery used for the production of Christmas panettone to prepare a similar dough at Easter. The recipe was a success and now Colomba, a cake made with flour, water, milk, yeast, butter, candied fruit, garnished with almonds and sugar glaze, is now part of the national cuisine.
Lasagne, Emilia-Romagna 
Now prepared year round and not just during festivities as was common in the past, lasagne are often the first course of choice at Easter. The classic Bolognese recipe calls for layers spinach dough, ragù and bechamel, creating a soft ensemble that melts in the mouth with each bite.
Rabbit may feature as a second course, as, in the past, it was easier to find than lamb.
Pan di Ramerino, Tuscany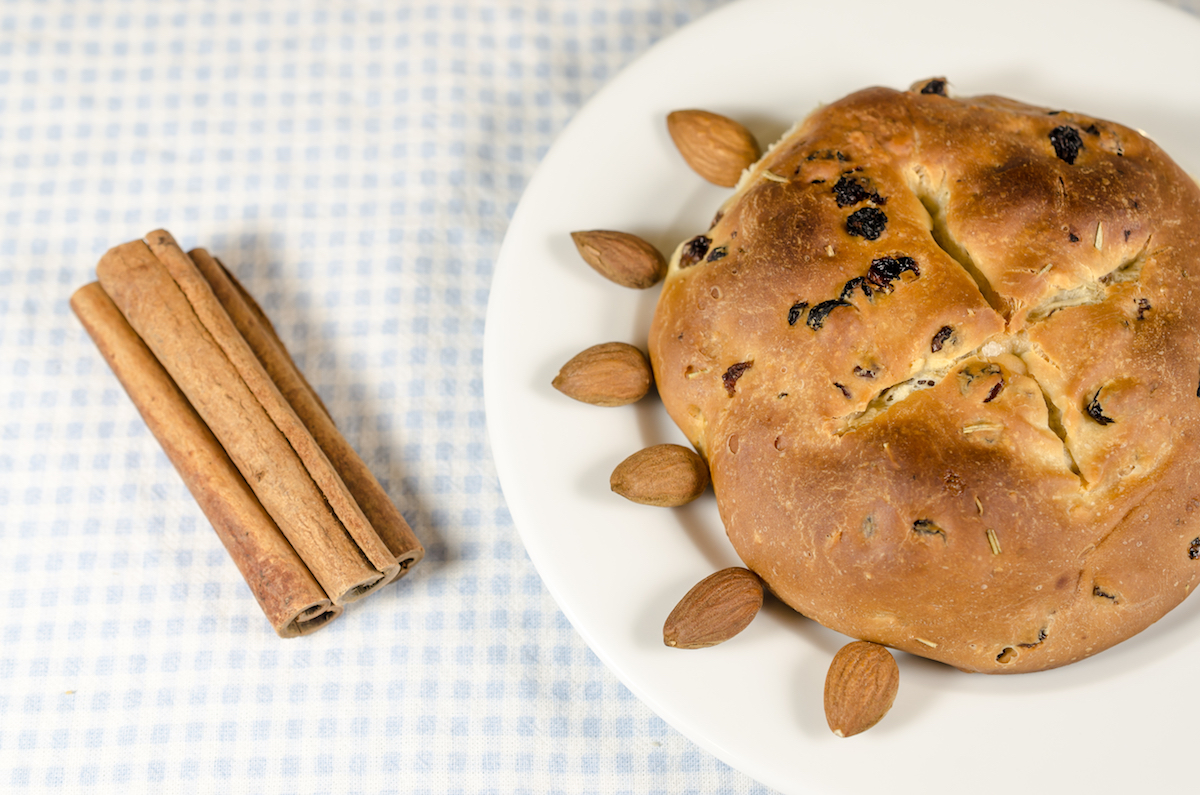 The perfect ending to the Easter lunch in Tuscany is the Pan di Ramerino, a dessert once traditionally prepared in Florence for Holy Thursday. Ramerino means rosemary, one of the main ingredients of these soft sandwiches of medieval origin. The crust of the bread was marked by a cross, both as a religious symbol and because it helped the bread to rise better.
The typical Easter menu in Tuscany features boiled eggs blessed during midnight mass the night before, cold cuts, chicken liver croutons, pici or fettuccine with rabbit sauce, roast lamb or roast pork loin and vegetable flans.
Torta al formaggio, Marche & Umbria
The torta al formaggio (cheese cake) is an Easter specialty from Umbria, and it is also common in the Marche region, where it is known as crescia. As the name suggests, it is a pie made with different kinds of cheeses, such as pecorino, parmigiano, gruyere and possibly others. The shape recalls the Christmas panettone. This savory pie is eaten with meats, cheeses and hard-boiled eggs.
Agnello cacio e ove, Abruzzo & Molise
Lamb with cheese and eggs is a typical dish of the Abruzzo hills and neighboring Molise (Abruzzi e Molise used to be one region). Of ancient origins, agnello cacio e ove has been handed down to this day and found not just in households, but also in the local trattorias. The lamb morsels are flavored with a pecorino and egg cream, strictly local. Because it features eggs and lamb, it may be considered the dish that best symbolizes Easter.
Abbacchio a scottadito, Lazio
As we've already seen, the main dish of the Easter tradition throughout Italy is lamb, albeit prepared in different ways. In Lazio, a classic is abbacchio a scottadito, lamb chops which, after being marinated, are cooked on the grill. According to tradition, they must be served very hot (hence the word 'scottadito', finger burn).
Casatiello, Campania
The casatiello is a classic savory bread originating from Naples. Eggs are placed on top of the bread, covered by strips of dough; the filling can vary, from cold cuts and cheeses to anything that people have in the fridge. Casatiello is usually prepared on Good Friday, left to rise overnight, baked the following day, and eaten on Holy Saturday and Easter Monday. 
Falaone, Basilicata
The Falaone is an exquisite saccottino (little pocket) whose main ingredient is ricotta. This tender fresh cheese is often at the center of many Easter desserts in southern Italy, think the classic Neapolitan pastiera or sweet Salento pitta.
And as many southern Italian desserts, it is rich. The pastry is prepared with flour, eggs, milk, lard and yeast. The ricotta is mixed with eggs, mint and sugar. The pastry is stuffed with the mixture obtained from ricotta and closed in a saccottino. This is brushed with egg yolk and sprinkled with granulated sugar, then baked.
Scarcella, Puglia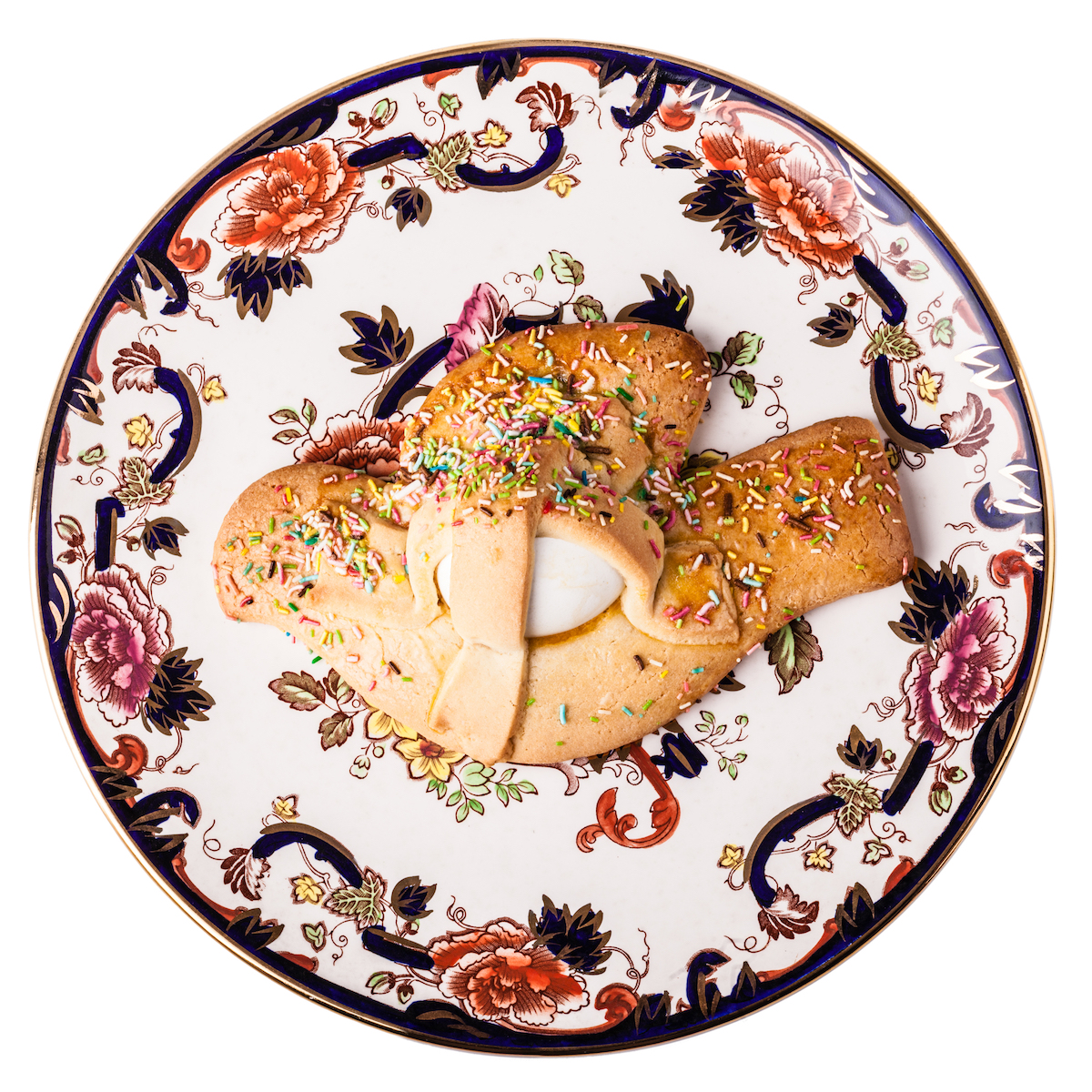 Scarcella pugliese has a distinctive shortcrust pastry made with eggs, flour, milk and oil. Traditionally shaped as a wheel, it can be decorated in different ways: with icing, hard-boiled eggs or chocolate eggs.
Cuzzupa, Calabria
Cuzzupa is a cake typically eaten at the end of Lent and considered a good omen. The Calabrian cuzzupa is made with a dough similar to shortcrust pastry and is decorated on the surface with eggs, a symbol of rebirth and resurrection, and colored sugars.
The cuzzupa is traditionally prepared also outside the Easter period, when the mother-in-law prepares it for the future son-in-law; in this case, it has the shape of a heart, with the surface decorated with seven eggs, a good omen for the newborn couple.
Agnello, Sicily
Easter is big in Sicily and there are many typical dishes prepared for this festivity. Although in recent decades the use of lamb meat has been controversial, it is still rather popular on Sicilian menus. Lamb is prepared in different ways depending on the area: in Palermo it is roasted and served with potatoes; in Ragusa it is served alongside by scaccia, an Easter bread of Spanish origins, while in Trapani it is cooked with mint. Lamb is also common in the form of cutlets, breaded and fried in a lot of oil.
Panada, Sardinia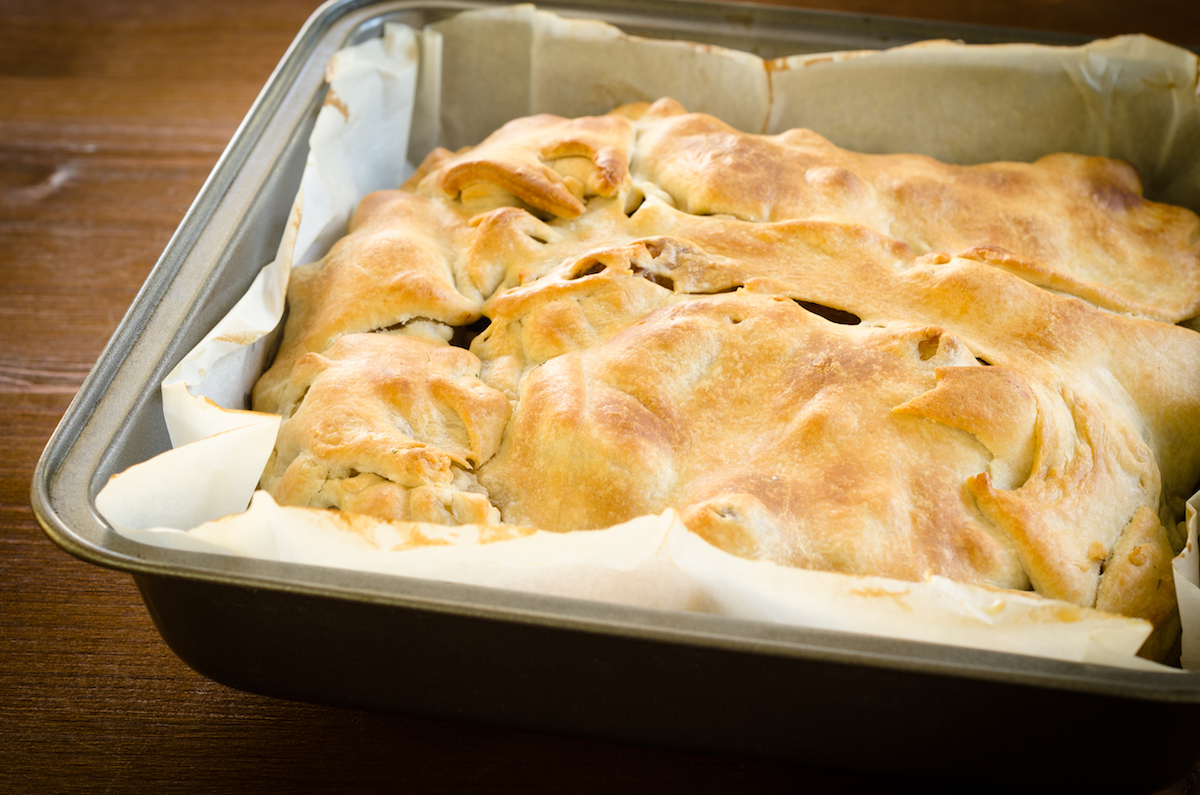 Shaped like a basket, panada is dough stuffed with lamb, potatoes and dried tomatoes.
The term panada, or ball in Sardinian dialect, indicates precisely the type of dough that must be obtained: round, smooth and firm.
There are several variations of panada: you can use pork or eel (as the fishermen used to do) and you can replace the potatoes with peas; there is also a vegetarian version which involves the use of fresh broad beans instead of meat and oil instead of lard.