"A chent'annos!"
That was the first Sardinian saying I learned as my travel companions and I raised a toast to our first night in Sardinia, the magical Italian island that's also a Blue Zone — one of only five regions in the world where people live longer than average. 
"A chent'annos" wishes people a long, healthy, happy life. The saying seems to work in Sardinia, home to a high concentration of centenarians — approximately 33 for every 100,000 residents — who not only surpass the 100-year threshold, but do so in style, remaining uncannily active and alert.
I'd traveled to Sardinia as a guest at "Mente Corpo Anima," a six-day women's-only yoga and wellness retreat for mind, body and soul that promised to give me the tools for a healthier connection to my inner self, and, as a consequence, to the outer world, while simultaneously immersing me in Sardinian culture.
The base for the retreat was Hotel Su Gologone, a four-star resort lined with lush Mediterranean vegetation, set in the heart of the Barbagia, Sardinia's wild and mountainous interior that was once a refuge for bandits. To this day, there's still an aura of adventure and independence that pervades the air.
Rethinking "wellness"


Mente Corpo Anima was put together by three women originally from New York: Nicole Bono, the event organizer; Ellen McQueen, yoga teacher, who would be leading the morning and evening yoga sessions; and Stefanie Raccuglia, a licensed professional counselor and dance and movement therapist who would be leading the mind-body workshops. 
Knowing all too well the negative effects of an overworked, overstressed lifestyle, the trio picked Sardinia as the ideal location for the retreat for the very same reasons the island is a Blue Zone. The island lifestyle speaks for itself: the dominant diet is healthy, with very few, if any, processed foods; outdoor activity is common; strong support networks are provided by families and the local community; and most people seem to have a sense of purpose and quiet contentment, "even if the purpose is as simple as preparing the food, or harvesting the garden, or tending to the sheep," said Stefanie. 
Sardinians indeed have a lot to teach in this realm. One moment that still stands out in my memory is a pasta making lesson with Franca, a woman from the nearby town of Oliena. With the same self-assurance I noted in many Sardinian women throughout my stay, Franca patiently showed us how to work the dough to make malloreddus, or Sardinian gnocchetti, and culurgiones, stuffed pasta filled with potatoes and mint. We later enjoyed them during a long, lazy, guilt-free lunch in one of the many outdoor spaces that dot Su Gologone. Nicole summed it up nicely: "The word 'wellness' is about so much more than yoga and green juice. Here in the Barbagia of Sardinia there are women living to 120 years old — and what are they eating? Pasta! What are they drinking? Wine."
Over the next few days, we would work on taking those lessons to heart: taking time to just be and feel, to open our senses, to enjoy the present moment in good company, and give our overly rational minds a rest.
We got a head start on this the very first night, as a cheery Sardinian, Massimo, the hotel's sommelier, proudly guided us through a wine tasting of Sardinia's quintessential white and red grapes — Vermentino and Cannonau. (Incidentally, Cannonau is said to have two to three times the levels of flavonoids than other wines; flavonoids are known to reduce cancers and heart disease, and Sardinians drink a little wine every day.) As we nibbled on the island's signature breads, pane carasau and pane guttiau, and chatted amiably in the sunset light, there it was: a sense of simple gratitude.
Finding balance on "island time"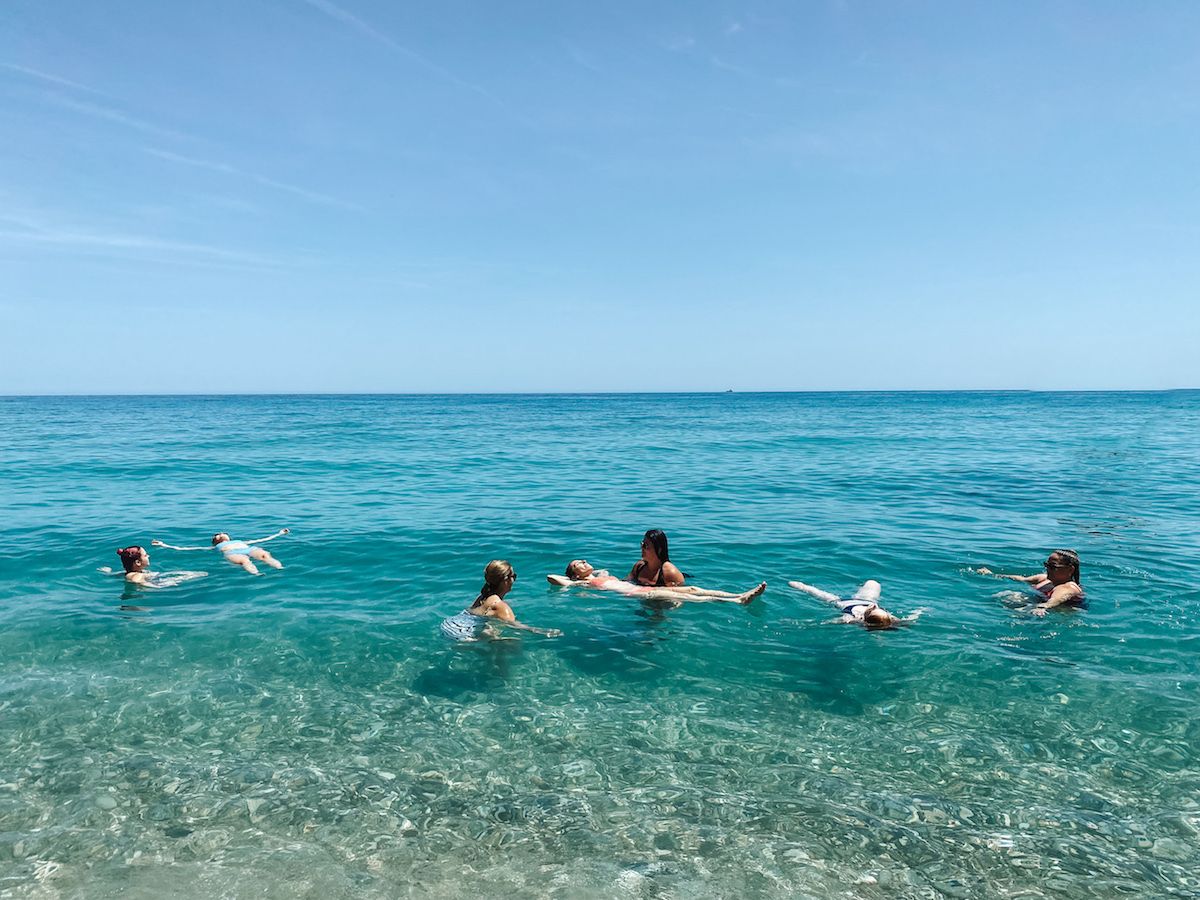 Unlike a traditional yoga-heavy retreat, Mente Corpo Anima was devised with a holistic approach, which is what attracted me to it in the first place. After all, the concept of well-being encompasses not just our physical body, but also our mental health and emotional grounding. To experience the mind-body-soul connection at its best, we would focus on opening the chakras, energy points located along the spine which, when blocked, are said to affect physical and energetic health. When energy flows freely through our chakras, however, we're said to be at our best, most balanced selves. Ellen, our excellent yoga teacher, had prepared each practice to include asanas that were meant to move energy through the body.   
"We don't want participants to seek a week of escape from their life just to dive right back into their stress and habits that make them feel bad about themselves," Ellen told me. "We hope the women who join us arrive with an open mind to absorb the experiences and teachings that are designed to be brought back home. What you learn and enjoy during the week with us is something to hold onto forever."
The morning and evening yoga sessions, the places we visited, the activities we performed, even some of the meals, had all been studied to be in sync with the specific chakra we'd be paying attention to each day.
As a writer who'd been lacking inspiration lately, I was particularly intrigued to work on the sacral chakra, which, when blocked, makes it difficult to express emotions and creativity. Its element is water, so where better to unlock it than the crystalline sea in Sardinia? On the "sacral chakra day" we headed to Cala Luna, in the Gulf of Orosei, one of the most scenic beaches on the eastern coast of Sardinia, particularly famous for its natural caves that offer shelter from the sun in the hottest months.
We hiked down to the beach through the island's macchia, or Mediterranean scrub, formed by aromatic trees and plants, such as holm oaks, olive trees, sage, rosemary, thyme, that carpet the Sardinian land and perfume the air everywhere you go. 
Perhaps not surprisingly, the workshop session turned out to be a bit of a strain for me: We were to be held by someone else in the water and practice "yielding," a state of active rest primed for receptivity to reinvigorate inspiration. As awkward as I felt while doing it, later in the day, when we held our yoga session in one of the cove's caves, I was relaxed, ready to be playful during practice, and loosened further up as we took fun photos dancing and shaking our hips.
The Sardinian secret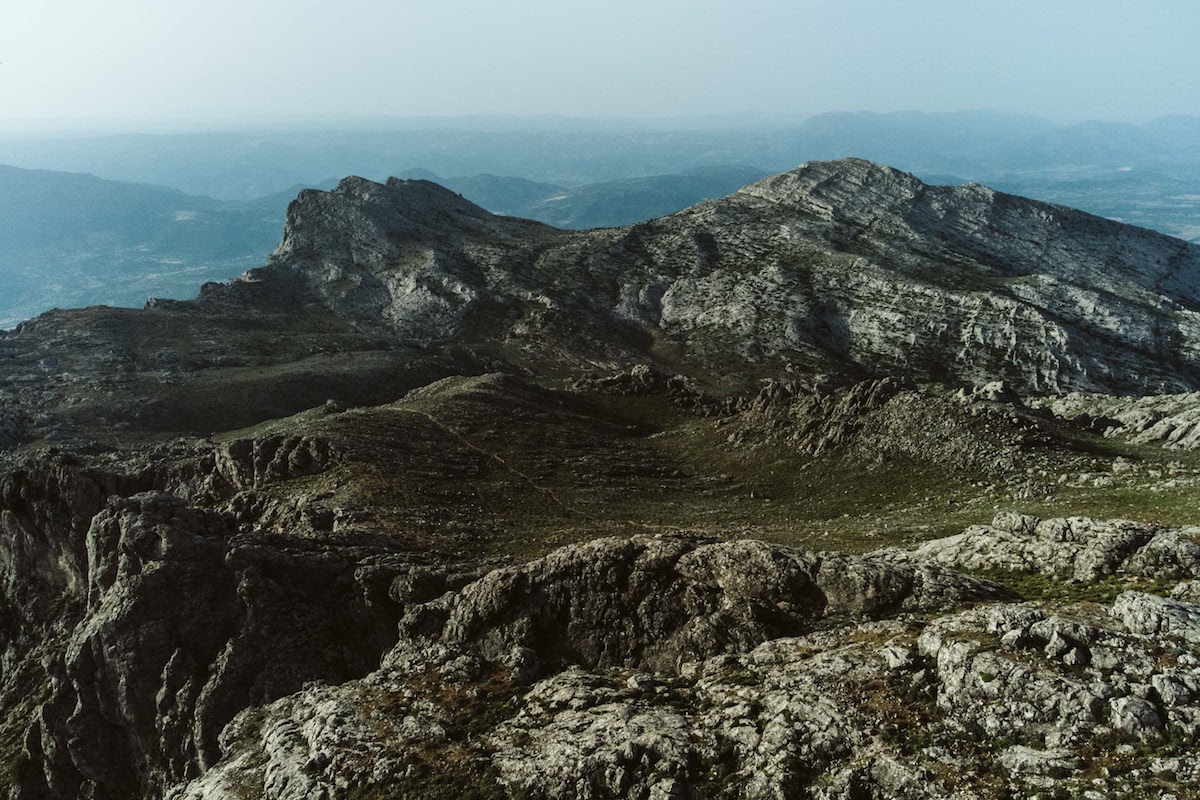 That same mix of playfulness and calm may be part of what accounts for Sardinians' longevity, but their connection to the land is surely a crucial factor, too. While most people associate Sardinia with beaches and sparkling sea, the island has a strong pastoral culture, which must be experienced to fully understand the spirit of the island. The "shepherd's lifestyle" helps keep people healthy, working and walking as they do amid the steep, mountainous landscape of Sardinia's interior.
It was this spirit that guided us as we headed to the Supramonte mountains, Sardinia's second highest range, formed by white limestone rock. Gianni, our Sardinian guide, first took us to Tiscali, a village built by the Nuragic Civilization during the Bronze Age, on the top of mount Tiscali. The village is invisible until you get inside a large cavity with dwellings of unknown origin (the building technique is different from that of other Nuragic sites). 
After an adventurous van ride on a dirt road in the forest, we arrived at a hidden place somewhere amid the mountains that we'd never have found by ourselves, where Tonino, a reserved shepherd, had been preparing a generous lunch for us. While the pig, or porceddu, was roasting, Tonino kept bringing trays and trays of pecorino and other cheeses he had made, tomatoes that needed little more than a modest pinch of salt, cured meats and sausages, endless amounts of pane guttiau, and, of course, Cannonau wine. That's how we spent that early afternoon and it's one of the fondest memories I have of my trip to Sardinia: out in the wild, eating and laughing with a group of women who had learned, Sardinia-style, that the simple things are the best things. To that, we cheered to each other, "a chent'annos!"  

Booking is now open for Mente Corpo Anima 2023, which will run from June 4 to 10.