Andrea Antonioni takes a light-hearted look at how to enjoy a day on a busy Italian beach at a Stabilimento Balneare (a sort of beach club with umbrellas and deck chairs to rent).
Italy is famous for its beach resorts which are scattered all along the coasts of the peninsula. But what's it like spending a whole day on a sandy beach by, say, the Adriatic Sea? 'Relaxing!' I can hear you cry.
Yes, but only if you know the strict rules of behaviour governing this very special environment.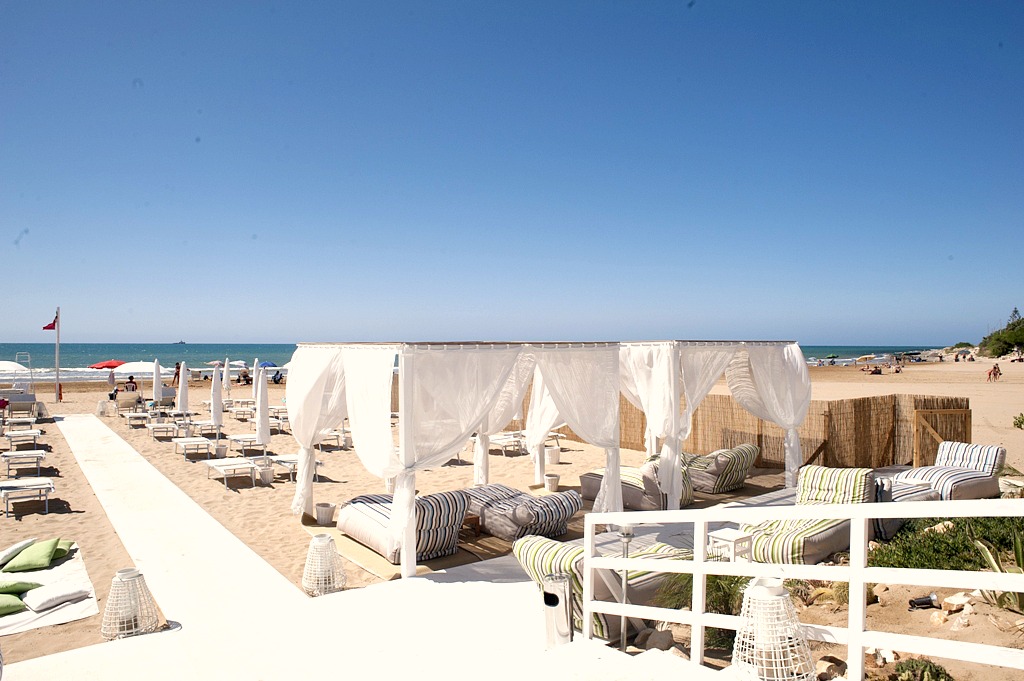 Getting Established
Nice as it may sound, you can't just drive up to the beach and dive in. First of all you'll have to get rid of the car. This is normally achieved by leaving it on the 'other' side of the railway line that runs north to south parallel to the Adriatic coast.
Next, you've got to decide what to take with you on the 15 to 30 minute walk which still separates you from the coveted sand. Just before resolving to turn back and drive home due to the stress of having to dodge pedestrians and cars, you miraculously arrive at the entrance of one of the bagni (private beaches) where you will immediately be approached by the bagnino (beach attendant), asking 'lettino o sedia?' (sun bed or deck chair ) and 'con cabina?' (with changing room). Remember that if you are in a Stabilimento Balneare you are obliged to rent at least an umbrella and chairs – you can't just put a towel down and lie on it, except on the wet bit where the waves are lapping. (It's actually quite reasonable, for only 15 euros two people can happily stretch out on two lettini under a beach umbrella all day long.)
Before you've had a chance to take in all the different options, the bagnino has already opened an ombrellone (beach umbrella) in the seventh row. No point in telling him that you want to be at the front so you can enjoy the view of the sea – the first six rows have been booked since January. When, at mid-morning, you point out to him that nobody has shown up to use the ombrelloni in front of you, he will still refuse to sublet them to you as the other clients could still arrive and might feel insulted at the sight of somebody else relaxing on their own special spot.
Do not on any account move your beach bed more than few inches away from its original position as you will risk a telling off by the omni-present bagnino. Also playing ballgames is strictly forbidden.
Apart from these rules, Italian beach amenities on the Riviera Romagnola are of a very high standard with hot and cold showers and free floating toys for children. Those who feel energetic enough can join in the free fitness or Latin American dance classes held by handsome bagnini.
The latest beach fashions is of course using the e-mail service under the umbrellas which, by the way, are supplied with clothes hooks, a drinks shelf and a clip-on ash-tray, while pathways criss-cross the sand up to the waterline to make sure that you do not get sand on your shoes.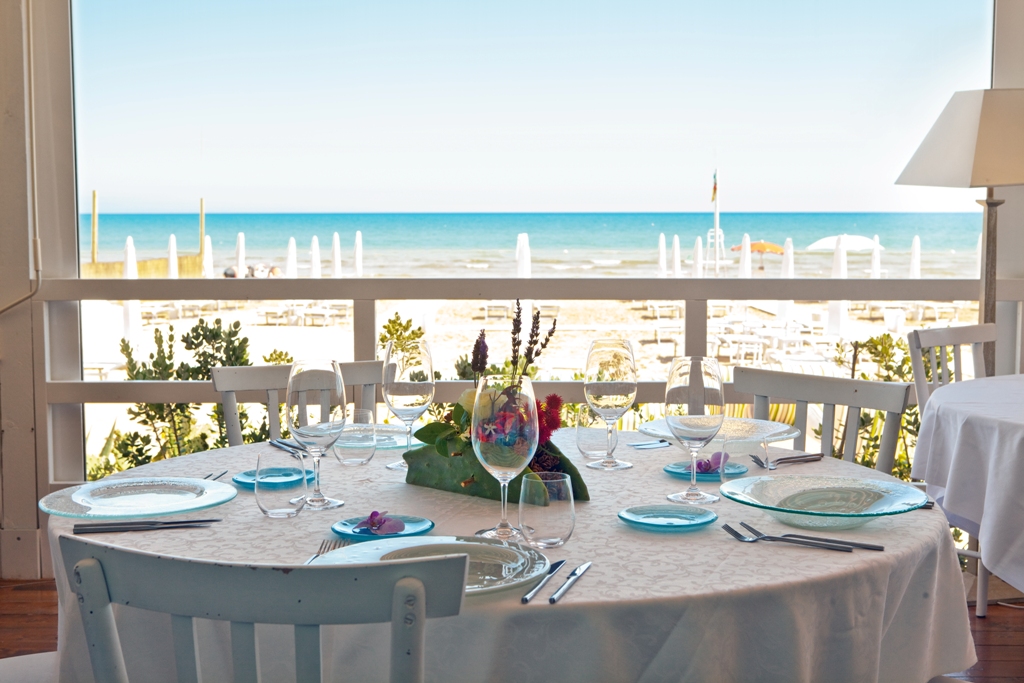 Timing is Everything
If you arrive at midday, you'll find the beach deserted except for some old people who have been told by their doctors that the sun is good for their rheumatism. The average Italian leaves the beach shortly after twelve o'clock to go to lunch. Since the sun is deemed to be dangerous in the early hours of the afternoon, the bagnino's realm will be populated again only much later, towards five o'clock. Another reason for this is that you can't swim on a full stomach and Italian digestion of even a small sandwich takes at least three hours. If this is not respected you will ominously be warned of risking immediate death from cramp caused by bathing in cold water (despite the fact that the average summer sea temperature is about 28 degrees Celsius).
When the beach eventually livens up after five, Italians will be busy with their favourite pastime: talking about food. This continues while sauntering along in the shallow water and even when you swim out past a group of Italians, they'll still be exchanging recipes for that night's dinner.
The Rest of the Day
Armed with the latest copy of their favourite magazine and a colourful pareo (exotic scarf or sarong) which looks very stylish knotted over your swimming costume and which you can buy from any of the beach salesmen passing your sun bed every few minutes, you can pleasantly doze through the day. There is also the odd Italian, shouting 'cocco, cocco bello', selling small chunks of coconut for rather a lot of money.
Finally at the end of an exhausting day at the beach, you're ready to show off your newly-acquired tan by joining the Italians for the passeggiata (evening walk) and having a lovely ice cream in one of the cafes along the promenade.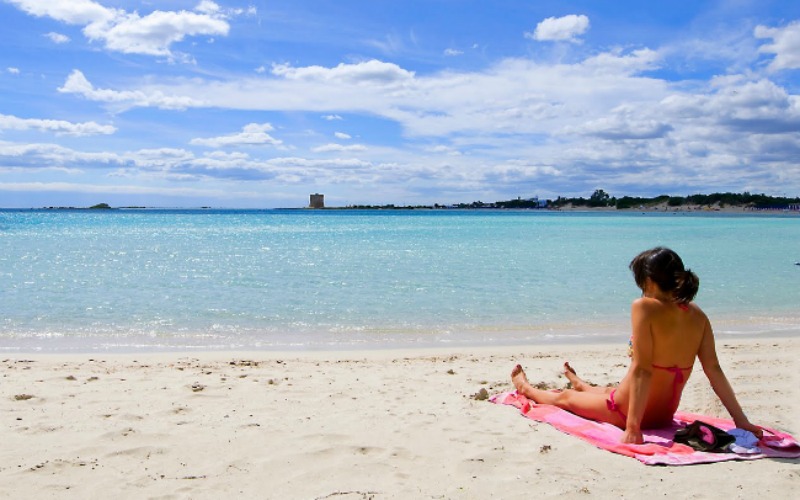 So after all, scherzi a parte (all jokes aside), your day at a Stabilimento Balneare on the Adriatic Riviera can offer a great day by the beach without the need to bring an umbrella, worrying about leaving your belongings unsupervised on the beach, and with the option of enjoying services like wi-fi, bars, hot showers, etc. However, if you prefer a free unspoiled sandy beach to the busy beach destinations, Italy has plenty of options for you, just take a look at the list of Italy's Top Ten Italian Beaches. Pack the umbrella, a bottle of water and a "panino" and enjoy freedom!