If you want to find a street sign which truly symbolises Italy, you don't have to look very far. In virtually every town and village you will see a bright blue sign with a large white T in the middle. This, of course, tells you that the shop is a tabacchi, licensed to sell tobacco, but also, curiously, salt and revenue stamps ('Sali'  and 'valori  bollati'), words which also appear on the sign. There is usually a number too, and that tells you how many tabacchi there are in the town.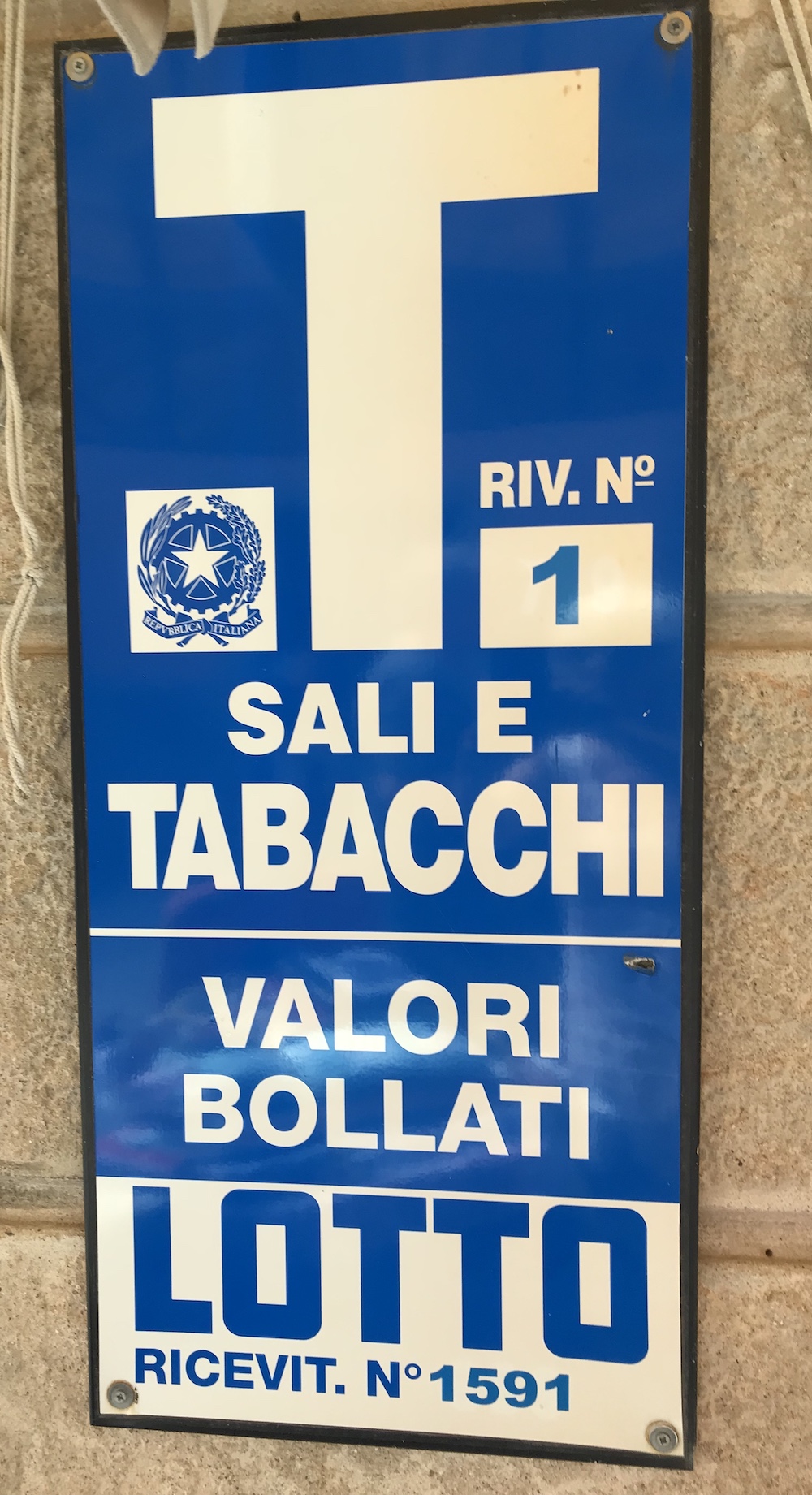 There was once a salt tax in Italy, and it was only repealed in 1976, but the signs have never changed. In the past the people of Florence were angry that the salt tax was controlled by the nearby rival town of Pisa, and to this day Florentines have no salt in their bread because they didn't want to pay the salt tax.
The revenue stamps are another Italian curiosity. If you need an official document in Italy a fee has to be paid. To do this you buy a stamp ('marca di bollo') to present to the Municipio (town hall) to obtain your document - a marriage licence perhaps, or a form to renew a passport. 
The familiar blue signs are fast becoming collectors' items as tabacchi close down, but fortunately there are still many to admire on the streets.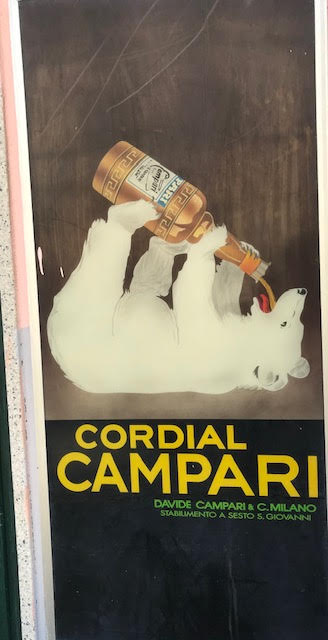 Old posters and enamel signs provide colour and decoration on streets, even though sometimes the product no longer exists.
Certainly you can still buy Campari, but the point of this old advert using the fantasy of a polar bear on its back enjoying a drink seems a bit weird. Maybe it's just because it's eye-catching, which is the whole point of advertising.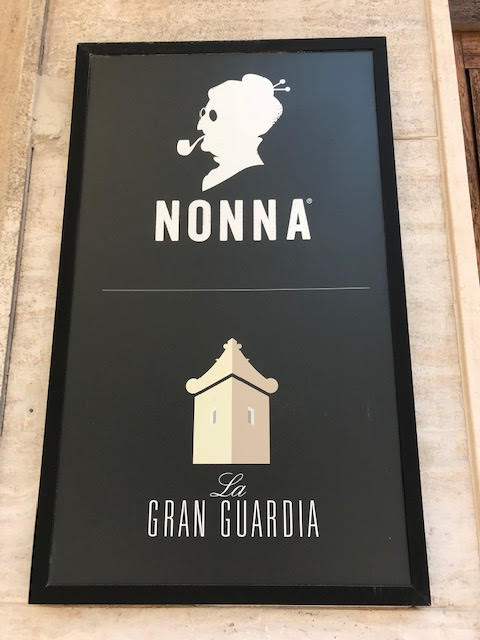 Equally, this curious sign with nonna (grandma) smoking a pipe seems rather odd, especially when you discover that it's actually advertising a gelateria. I've tried to find out more about the symbolism here, but so far without success. All I know is that the ice creams are sold on the island of Elba.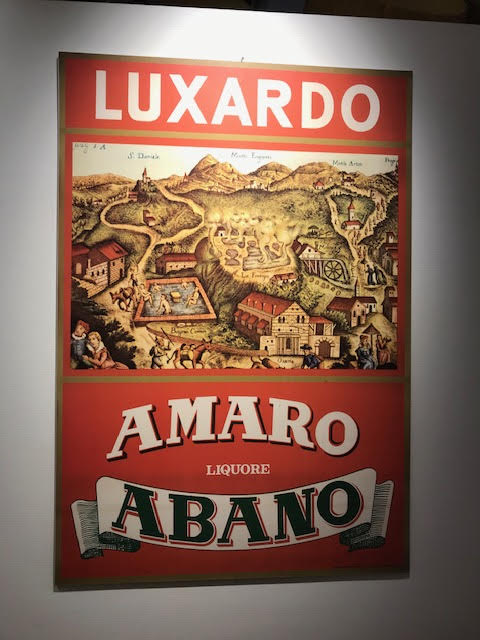 In the Veneto where all the cherry trees grow, there's a delicious liqueur called Luxardo, made from cherries, obviously. It's drunk on its own as a digestivo, or poured over ice cream, or you can buy whole cherries in jars floating in rich dark red alcohol. Such signs are common where Luxardo can be found, often outside the shops where it is sold, or next to directions to find the distillery and its shop, in Torreglia.
Immediately recognisable on this poster designed in 1932 is the winged lion, symbol of Venice, with his paw resting on the page of the holy book which says 'Pax tibi Marce, evangelista meus' ('peace to you, Mark, my evangelist'). The poster is advertising a Venetian cake like a panettone, made by a baker called Colussi. So far I haven't discovered whether the bakery still exists.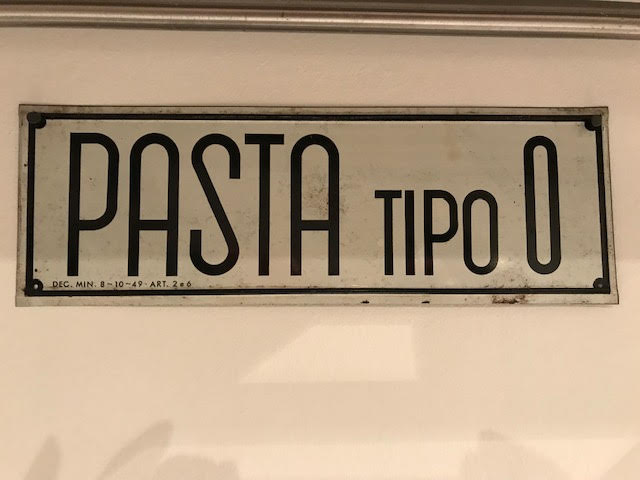 But not all signs are to promote branded goods. Some, equally charming, are to give information. Take this pasta sign for instance, from an old grocer's shop. There are several different types of flour ranging from 00 for the most refined to 3, which is a rough flour containing the most bran. In Italy 00 is mostly used for pasta, and 0 more often for pizza. Signs such as this would be used when flour and pasta were sold by weight, unpackaged.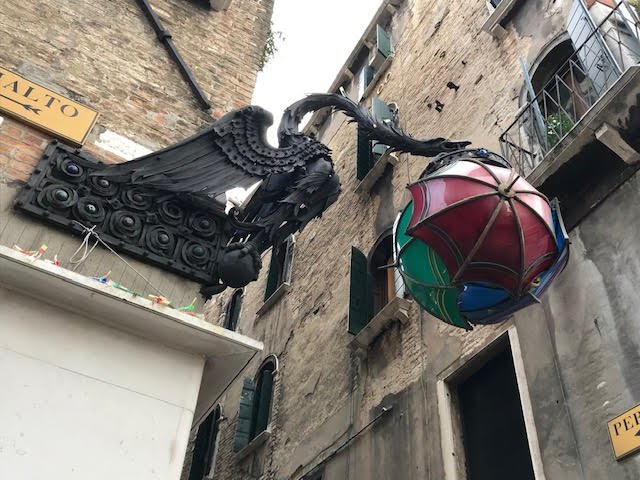 I'm sure most people don't notice it, but if you look up, hanging in the air on the corner of one of the main thoroughfares in Venice is this lovely metal sign representing three coloured glass umbrellas joined together to make a lamp, held in the beak of a bedraggled-looking bird. An umbrella shop, long since closed, once stood here. It must have been a rather up-market establishment given its position near the Rialto Bridge, and the fact that probably the sign was specially made for the shop. I like to think of affluent tourists doing their Grand Tour in the early years of the 20th century shopping here, and completing their purchases with a pair of hand made gloves from the shop which still exists a little further along the Calle.
Finally, we turn to the era when visiting spa towns was at its height. Until quite recently, Italian workers were entitled to a week's free holiday/cure at a thermal establishment once a year. Following the daily mud treatment and massage, the final part of the prescription was to spend time in a thermal pool. This sign is a reminder to female bathers that they had to wear a 'cuffia', a swimming cap, to ensure that hair was kept out of the water. The same EU regulation still applies in many spa hotels today, although the signs look rather more up to date.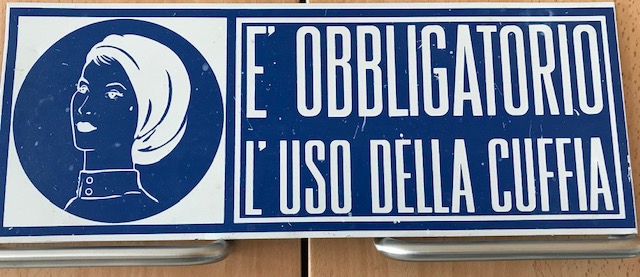 As time goes by these attractive signs and posters are disappearing. In the digital age we see electronic advertisements which blink and change colour, but completely lack the character of the street jewellery of the past. Next time you're out shopping, look around you. There are treasures to be found at every corner!