'No other country has the fusion between style and fashion''. Beppe Modenese
From Barilla to Benetton, Martini to Missoni, a brand 'Made in Italy' makes it immediately desirable. Whether it be wine, bags, or even the mopeds that we are used to seeing zip around Italy. Maintaining the Italian designs and craftsmanship in today's market of globalisation, is one major multi tasking mission.
Made In Italy bloomed with the 80's boom. In the mid-80s, many companies began operating in Lombardy, Veneto and Emilia Romagna, with the branding 'made in Italy'. Designers became celebrities in their own right and names sich as Armani made Bloomberg's ranking of the world's richest people, as the the fifth Italian wealthiest man.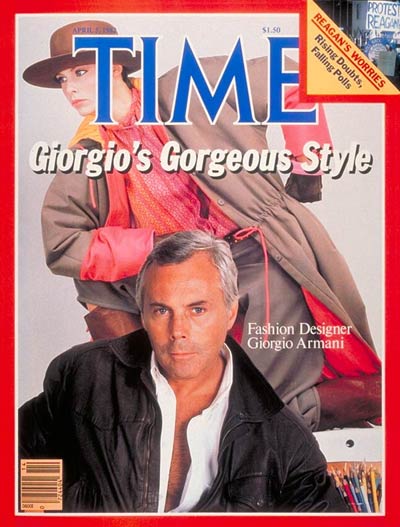 A continuation of that boom is still seen in Milan and all over the world. The aggressive billboard marketing campaigns of the 80's provided the perfect business structure for high-end brands to extend their lines to the masses, and that mode remains today, as it set the precedent for marketing.
The 80's enthusiasm for business, dictated tailored designs. The new role of women 'as manager' and power dressing meant that designers like Missoni, were able to deconstruct the jacket and make wearable day wear women's business suits. Missoni, along with Versace, were the futuristic designers of the day.
Italian designers like Armani made fashion more accessible. Fashion was no longer class based. Designers began to brand jeans and bottles of perfume, blurring the margins between fashion and class. What was once a class divider, became accessible to the masses. In this manner socialism and fashion made a deal. By wearing a pair of Armani Jeans or, buying a Trussadi wallet, or, today, a Dolce and Gabanna lipstick, you can buy into the Made in Italy lifestyle.
The 80's were experimental, industrial and modern, because Italian designers created the phenomenon of fashion as a cultural phenomenon. Max Mara was the first Italian designer to open a shop with their name above the door.
But where did Made in Italy begin?
Made in Italy developed thanks to the emergence of a new entrepreneurial class, post war, which you can see in a new exhibit at the MAXXI museum in Rome until May 3rd. The flourishing of stylists and designers. Think of Elizabeth Taylor, draped in Bulgari diamonds and the wider use of well-tailored Italian suits. It was all about decadence, decorum and elegance. Florence became the new Paris, and Alta Moda was in the fast lane beside the French Haute Couture.
In a way, Made In Italy was nothing new. Italians have mastered culture, arts and manufacturing for thousands of years. Companies in Italy today, are based on an artistic history and ancient craft that has its roots in the Renaissance workshops, beautiful museums and a widespread aesthetic culture.
Some modern examples of 'Made In Italy' include Missoni for Target, if some of you guys can remember Missoni designed accessories for Target, which sold out within three hours. Last year in Australia, the new Missoni collection went on sale in Melbourne, only to crash the site just minutes after the discounts were announced.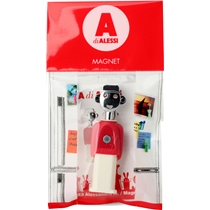 Alessi magnets, marketed at 4 euros. Brands recognise that we want 'Made in Italy', but a bitesized version to match a different market. What Alessi has managed to do is change the perception of basic, everyday options with their creative design element. 
Domestic design is still wanting the spirit of 'bellezza'. It would be accurate to say that Italian fashion changed everyday objects. Which means you can have your cake and eat it, with a tazza of Italian espresso.
'