The vineyards around the Etna foothills are blessed with a unique microclimate. They are at the same time some of the southernmost vineyards in Italy and some of the highest up in altitude. Although in Aosta some vineyards are as high up as 1300m, there are few other places that match the 800m-1000m of Etna. If those two facts alone were not enough, they also happen to enjoy access to the richest volcanic soil in all of Europe. With Etna being an active volcano, it regularly rains ash, seeding the soil with its magic stuff. Oh, and did I mention that they are also some of the oldest vines you can find - with some vineyards even boasting pre-phylloxera vines.
However, all of the above is not what makes the Etna foothills the most interesting wine area of Italy. It is all of the above added to the work of an amazing group of wineries that have taken it upon themselves to produce incredible wines based on the local grape varietals of Nerello Mascalese and Nerello Cappuccio (for the reds) and Carricante (for white wine).
The Etna DOC Wine Area
Passopisciaro Winery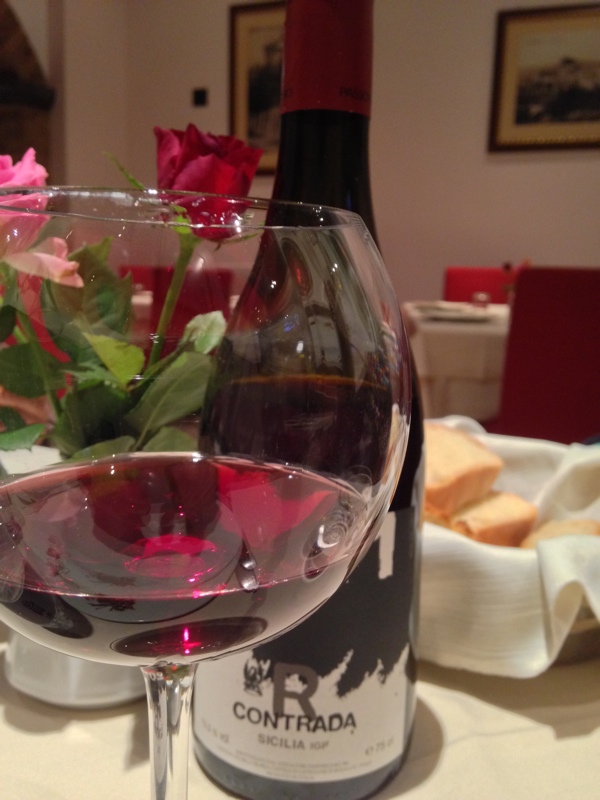 We toured the area a couple of weeks ago and got to try an excellent Nerello Mascalese from a winery called Passopisciaro - the name of the winery inherited from one of the many small villages dotting the area. Nerello Mascalese is very different from what you would expect from Sicilian reds. It is lighter, more complex, with a higher level of acidity. This means it is both a more challenging grape to work with, but, when done well, it can truly impress.
Dinner at Veneziano in Randazzo
The earthy nuances of the wine worked perfectly with the menu of local delicacies we had at the restaurant Veneziano, close to the village of Randazzo. We started out with grilled local mushrooms (funghi di ferla), followed by an amazing mushroom soup and a pasta with seasonal local greens called sparacogna. This tiny, bitter wild asparagus are something quite unique to the area and are only available in spring.
There is much more to say about the wines from this area of Italy and we will be sure to revisit the subject - in the meantime, keep a watch out for Nerello Mascalese from Etna and try it out.