[Photo: The main house of La Grande Quercia B&B.]
For our series about home ownership, where we share true stories of people who have gone through the process of buying property in Italy, today we're featuring the story of Russell and Sergio, the owners of La Grande Quercia Bed & Breakfast in Caprafico, in the hilly countryside of Abruzzo. 
Russell, who is originally from London, and Sergio, who is from Roseto degli Abruzzi, a seaside town about 25 minutes from the B&B, met in 2002 in London while both working in the city. Russell had a demanding job in finance at the time and felt he needed a lifestyle change.
They're quite not sure how the idea of running a B&B in Italy originated, and living in Italy still poses some challenges, especially for Russell, who has just celebrated the 10th anniversary of his move; but they both find great satisfaction in welcoming people from all over the world to their peaceful little corner of Abruzzo. Their guests often become friends and return to the B&B time and again.
Russell and Sergio have also set up a service to help interested guests research their family history and meet their long-lost relatives.
The process of purchasing and renovating was often challenging, as they recount in the interview below. Read on for helpful insights into what the process of buying a B&B entails.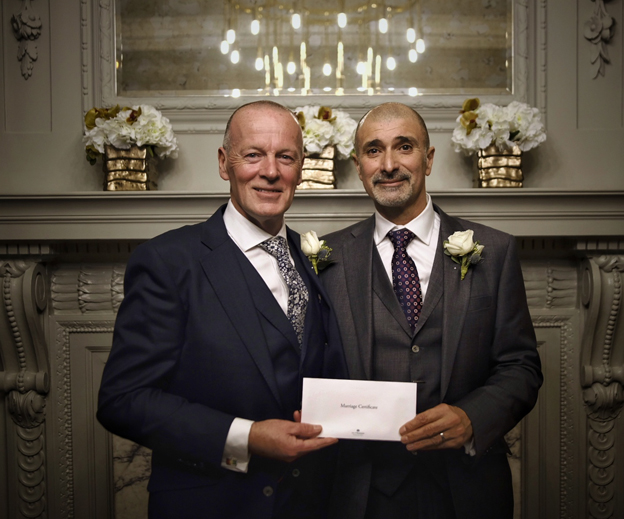 [Russell and Sergio on their wedding day in London last December.]
- Why did you decide to buy a B&B business in Italy and why did you choose the Abruzzo region specifically? 
It's a question we are often asked and it's not an easy one to answer! I had been working in finance in the City of London for many years and had become disillusioned with the rat race, in spite of all the trappings of a successful career. I was in need of a complete change in lifestyle, but how we came to the idea that running a B&B in Italy would be where we would end up, is still a bit of a mystery! As odd as it may seem, our first choice wasn't Abruzzo at all, but Tuscany and we looked at several properties in Northern Tuscany, on the border with Liguria, but couldn't find anything suitable within the price range we were looking.
- How did you get started looking for a property?
As with most people these days, Internet searches are the first port of call, as it was back in 2005, when we would browse endlessly for what we might think would be a suitable property for our crazy pipe-dream. The search engines back in the day were not nearly as sophisticated as they are now and it was not so easy to target specific areas of interest. I clearly recall spotting what I thought was a lovely looking property in Tuscany, but when I clicked the link was amazed to see that it was not only in Abruzzo, but the province of Teramo and just a short distance from where Sergio was born and his family lived. We asked a friend who lived nearby to take a look and she reported back telling us she thought the place was lovely and in good condition, so we arranged to view it on our next trip out to Italy. The rest is history!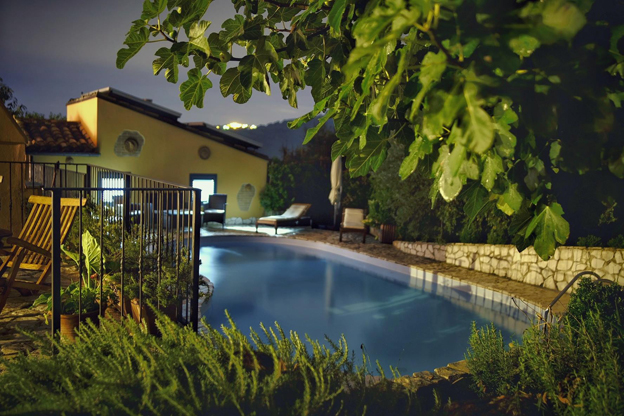 [The pool by night at La Grande Quercia B&B.]
- What were the main difficulties during the research and then the purchasing phase?
As with many things in Italy, nothing is ever "black or white" and this in our experience is more true than ever when it comes to purchasing a property. Of course every estate agent's priority (be they in Italy or elsewhere) is to sell the property they are marketing and they focus totally on the positives, but when they don't know the answers to important questions, they are very often economical with the truth, which can be very dangerous for a prospective buyer. This is particularly the case with the hundreds of barely habitable or inhabitable ruins that are marketed at rock bottom prices all over Abruzzo and beyond. Basic things like water and electricity supplies for an old ruin can seem like a minor issue when an estate agent tells you that these can easily be re-connected, but rarely do they go on to explain how this can be achieved and at what extra cost, which can be very significant.
- What was your experience like with Italian real estate agents?
In fairness the purchase of our house went quite smoothly and quickly, but something people often don't realise is how many agents (registered and otherwise) are trying to sell the property to get their hands on the hefty 6% agents fee (paid 50/50 by buyer and seller). We didn't find out until we were quite a way down the line with our purchase that our "estate agent" was only an introducer and the registered agent was someone else in Le Marche, which we found very unsettling. Always make sure the agent who is selling the property is professionally registered (the registration number should be clearly displayed on their website), as you may find you are buying through a sub agent who doesn't have the legal status nor mandate to sell and moreover it makes any legal comeback, should anything go awry, extremely difficult if not impossible.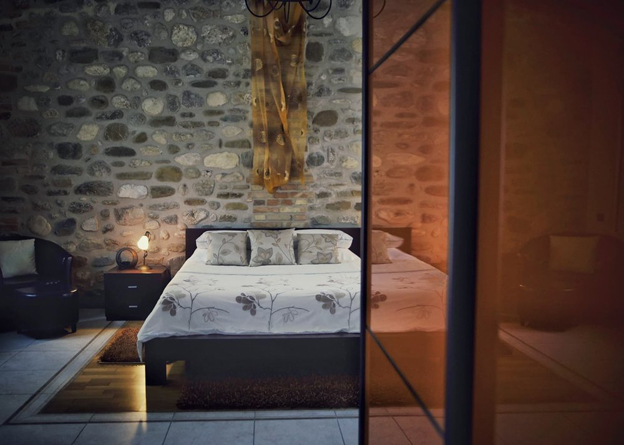 [La Bella Vista suite, independent from the main house.]
- What were the main difficulties during the renovation process?
I think we could write a book in answer to this question! Whilst half the house had been partly restored, it still needed a lot of work, plus we wanted to put in a swimming pool. All I can say is that we were both naive and very unlucky. We had to sack our first builder due to unreliability and poor workmanship, the first plumber lasted a week and was sacked but refused to return our deposit and the second plumber only finished 50% of the job and then disappeared never to be seen again. The electrician was ok though.
In hindsight, if we were ever to do this again (which I hasten to add we most definitely wouldn't!), we'd employ a professional project manager, recommended by others who have used his or her services. We did consider this at the outset but the cost of the service was estimated at around 15% plus IVA of the project estimate, which amounted to tens of thousands of Euro and was too much for our budget we felt. Sadly, with the problems we had in the renovation that took almost 3 years instead of 12 months, it would have been a lot cheaper and saved years of our lives to have engaged someone to manage the whole process, rather than organising tradesmen ourselves. It was like trying to herd cats.
- Have you made friends where you live now? Overall, what was the transition like?
As Sergio is from this area, we already had a network of Italian friends here, but over the past 10 years we have made many more, including guests of our B&B who have visited us time and again from all over the world, with some having purchased a property in Abruzzo, either as a holiday home or to set up a business, often a rival B&B or holiday rental! The transition for me wasn't easy and still isn't at times, as I still struggle to comprehend why some things are not changed to make life simpler for everyone. Unfortunately the default solution is often to find a way to "get round the system" rather than change it. It is a very defeatist attitude that is not in my nature.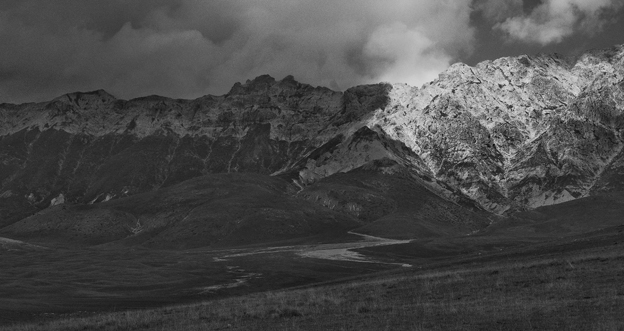 [Campo Imperatore, which, as Russell explained, is often referred to as Italy's "Little Tibet" due to its' altitude at over 1,500 metres.]
- What are your tips for someone interested in doing something similar?
Many of the guests who have stayed with us have used our B&B as a base to explore the possibility of doing what we've done and naturally they ask us lots of questions about our experience and if we have any advice. There are 2 main things we suggest to everyone:
1) Do not rush into buying somewhere because you have fallen in love with a view of the mountains or the sea and
2) Seriously consider renting a property for at least 12 months first, so you can experience all seasons in Abruzzo (which can be extreme), to get to know the region and more importantly to discover if the lifestyle will suit. Spending 2 or 3 weeks here in the summer months on holiday, is a very different experience to living here full time, which surprisingly many people don't think will be the case.
- You offer an ancestry travel service for your guests. How did the idea originate, and what does your service entail? 
During our first year of running, our B&B we had a family visit us from Philadelphia and prior to their arrival they emailed us, explaining their family connection with Abruzzo and asked if we knew of anyone who could help with researching their family history. We had no idea where to start, but we wanted to help and so started the search for them ourselves. Their story is the first one we published on our website and from there we received more requests from people seeking our assistance. As this was more often than not combined with a request to stay at our B&B, we were more than happy to oblige, but as much as we enjoy doing this, it is hugely time consuming and takes an awful lot of patience. 
The more researches we did, the more familiar we became with the resources available both online and through the local comune and the Archivio di Stato in Teramo. Additionally, we  kept experiencing some very strange coincidences that often guided us in the right direction, which made us feel we were destined to do this for people.
For descendants whose grandparents or great-great-grandparents had emigrated to the USA, Canada, Australia and beyond, 100 or more years ago, their dream is always to meet long lost relatives and to visit the town or village from where they came, the church where family marriages took place, the family home and so on. Our aim is to make those dreams come true and fortunately we manage to do this time after time.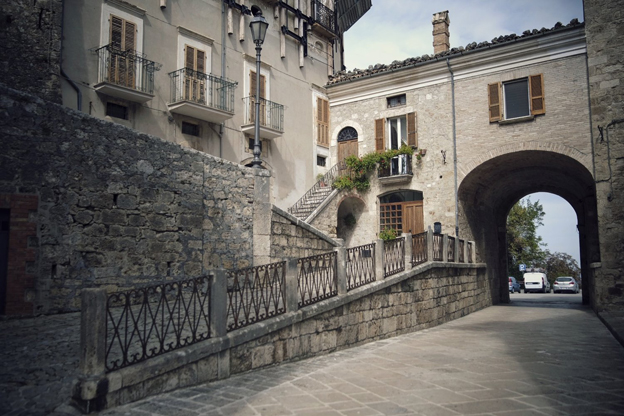 [Civitella del Tronto, home to one of largest fortresses in Europe.]
Often we are provided with only minimal information, but if we have a name, a year and town of birth, it is normally enough for us to locate original birth records. That's not as easy as it sounds though, as the transcription of this information at the port of entry was often incorrect, with misspellings of names and places commonplace. However, once we get a positive match on a birth record, this will help us find marriage records, birth records for siblings and ancestors going back many generations. The oldest records we have found for these ancestors dated back to 1772. 
From these records we can establish the exact place of birth and a lot of other details. Armed with this information we will then often visit the local comune for more information and spend some time in the town or village to see if the family name still exists in the area and if this can lead us to living relatives. Much to our delight and the delight of our guests, it often does! The best moments for us are when we are able to introduce our guests to their long lost relatives. It is very moving and profoundly life changing for them.
If you'd like to learn more about La Grande Quercia B&B, or book a stay with Russell and Sergio, check the website https://www.lagrandequercia-abruzzo.com/.
Photos credit: Michael Griffiths Photography.