Panettone, tall and dome shaped, this soft, not-too-sweet yeast cake with a fruity tang of raisins and candied oranges is the quintessential Italian Christmas dessert. Panettone making follows an extraordinarily elaborate and time-consuming process—taking over 40 hours. It's kneaded and left to rise several times before baking, with flour, eggs, butter, sugar, and candied fruit added in stages.  At last, once each cake has been allowed to rise in its own little panettone paper container, it's baked, cooled, wrapped in plastic, packed up by hand, and sent on its way.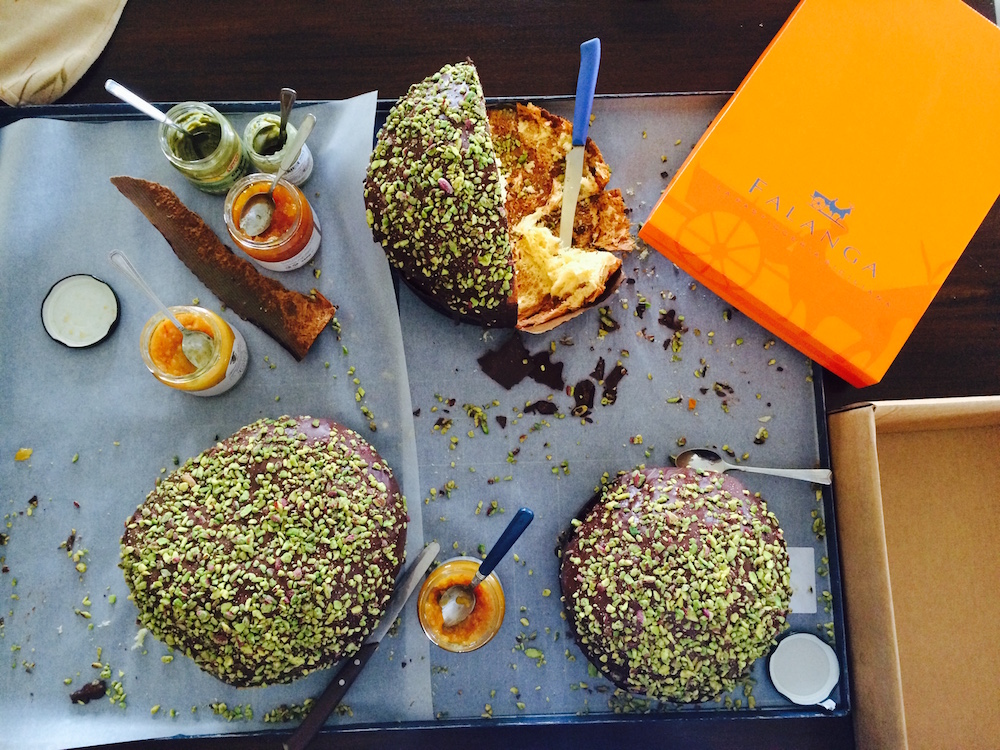 [Panettone with chocolate pistachio]
Delicious served plain accompanied by a glass of sparkling wine like Prosecco Superiore CV or dressed up with pistachio and almond cream or mascarpone cheese whipped with your favorite sweet liqueur. One easy variation, a sort of instant rum baba, is to soak panettone in spiked syrup, made by dissolving 3 cups of sugar in 1 1/2 cups boiling water until dissolved, then adding ¼ to ½ cup rum to taste.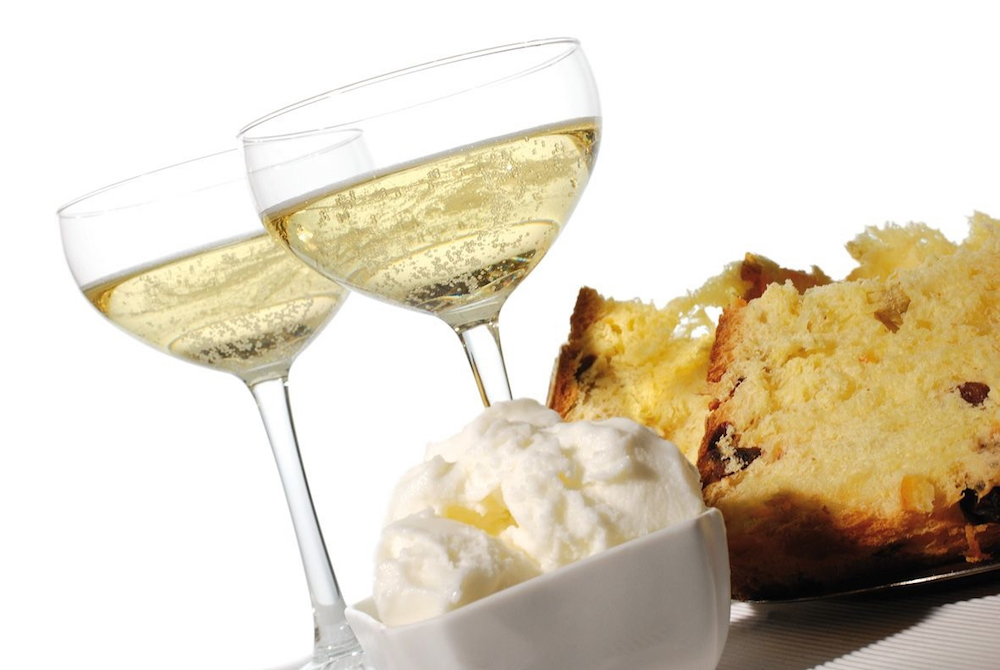 [Asti spumante served together with panettone]
Panettone has spawned many legends. The most popular concerns a young Milanese nobleman, a member of the Atellini family, who fell in love with the daughter of a baker named Toni. To impress the girl's father, the young man disguised himself as a baker's assistant and invented a new, fruitcake-like bread. People came to the bakery in droves to purchase the magnificent new creation dubbed Pan de Toni--"Tony's bread." A variation of the legend has Toni saving the day by inventing the bread as a quick replacement for a dessert that had burned while being prepared for a Christmas feast held by the Duke of Milan, Ludovico Sforza. 
After the holiday, leftovers can be served in many ways:
-1- Panettone "Bellini" 
In a serving glass, place layers of sliced panettone, splash with prosecco or Asti Spumante, add peaches, chocolate and whipped cream. Top with pretty sugar & almonds, if you like.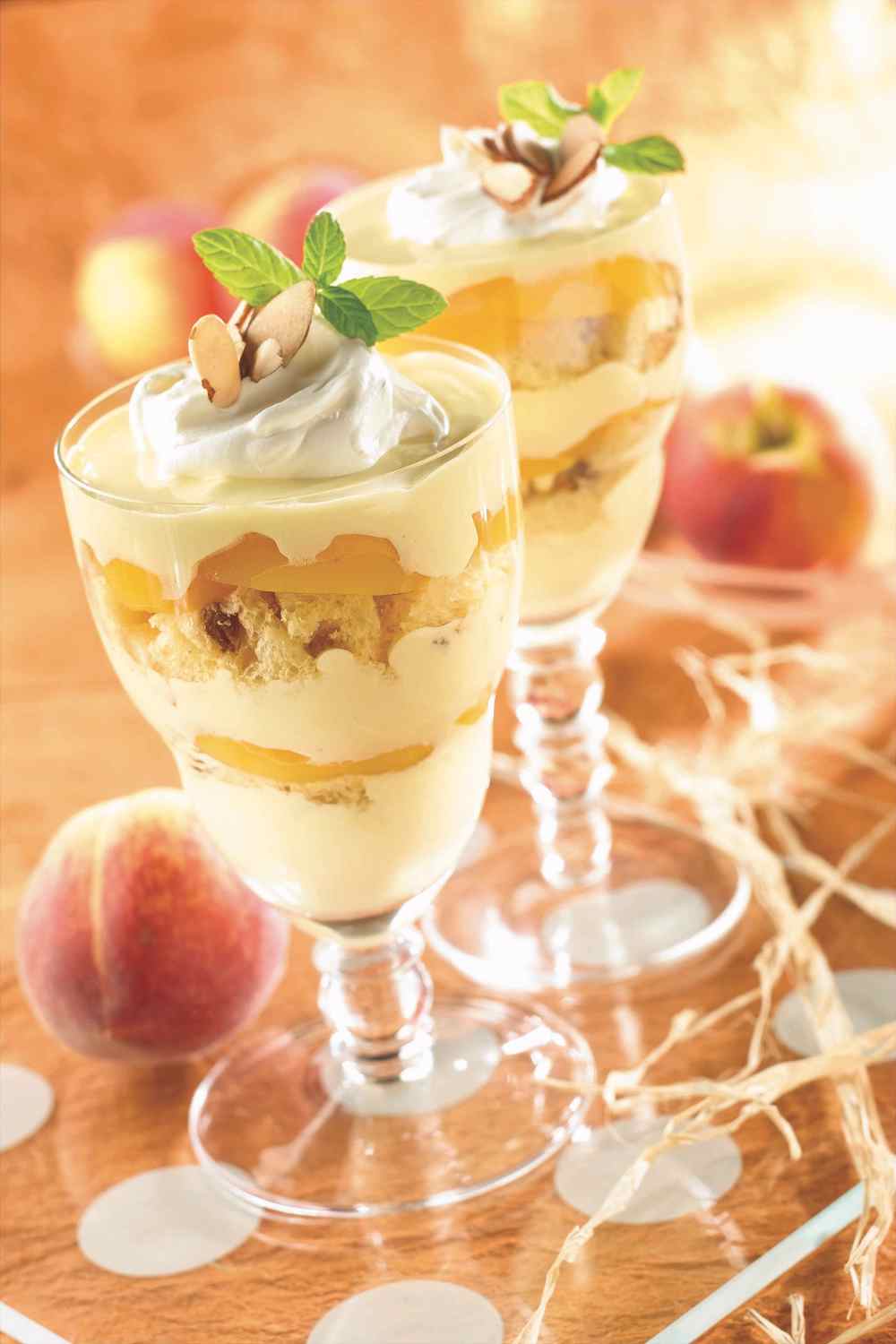 -2-Panettone Panini
Scatter chopped dark chocolate on two buttered slices of panettone and toast in a panini press. Or toast a slice of panettone, then slather with your favorite nut butter and jelly.
-3- Panettone Bread Pudding
Thickly slice panettone and dip in beaten eggs combined with cream and a bit of sugar. Spread in a buttered baking pan and bake at 350 F. until set, about 40 minutes.  Serve with berries and whipped cream, if you like.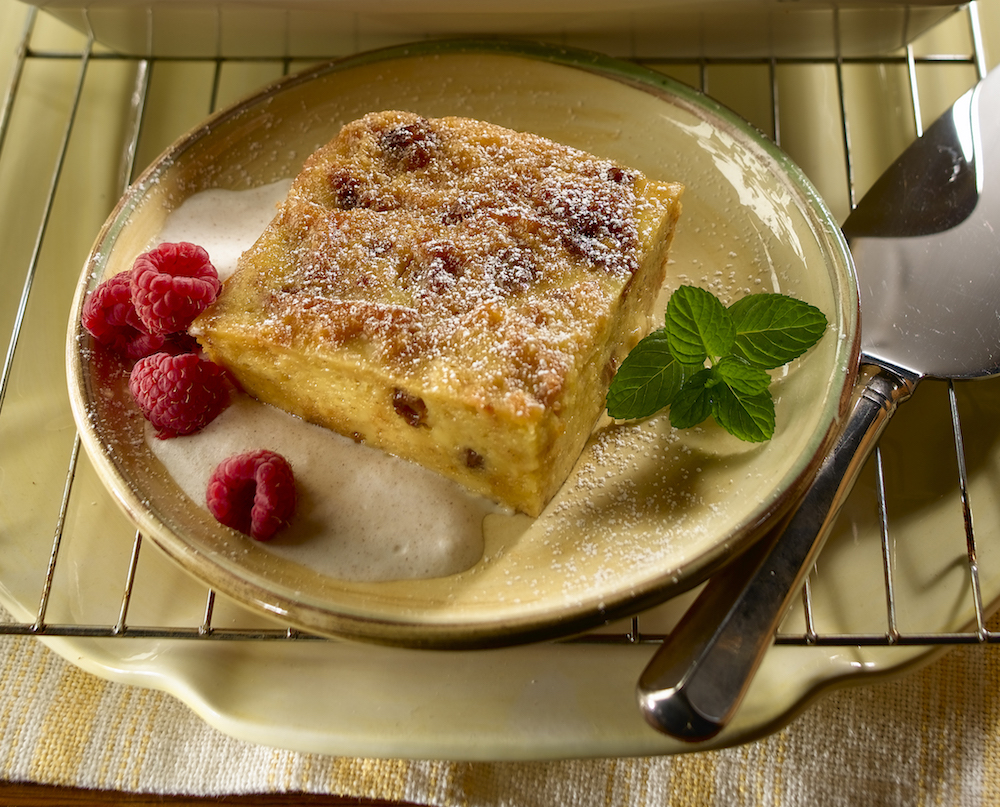 -4- Ice Cream Cake
Hollow the center of a whole panettone, fill with your favorite ice cream flavor, wrap in aluminum foil and freeze. Serve with your favorite toppings, like whipped cream, chopped nuts and candied fruit. 
-5- Caramelized Panettone
Melt butter in a skillet. Sprinkle a round slice of panettone with grappa and sugar and fry until golden.  Flip, and cook on the other side, adding more butter if dry.  Slice into quarters and serve warm.
-6- Panettone Short Cake
Slice thick rounds of panettone. Beat together ricotta, the zest of one orange and powdered sugar. Spread the ricotta mixture on a slice of panettone, top with berries. Add another slice of panettone and spread with the remaining ricotta and fresh berries. Dust with powdered sugar and more orange zest.  You can make this quick dessert with whipped cream or whipped mascarpone, instead of ricotta, if you like.