A box of pasta can cost anywhere from $1 to $7 or more per pound. Since pasta is just flour plus water, what, if anything, makes expensive pasta worth the higher prices? Is there a taste and texture difference between pasta brands? Is expensive artisanal pasta worth the price?
I traveled throughout Italy to find out. I interviewed Italian food bloggers, chefs, pasta manufacturers and home cooks. Every single Italian I spoke to emphatically believed that he or she could taste the difference. They all agree that good pasta wasn't cheap, but was well worth the price. I listened to techy explanations of the difference between teflon and bronze extrusion, the importance of  the type of grain and water used, the merits of length and types of drying techinques.
They were all convincing, but I was finally won over completely when I attended I Primi d'Italia, a festival dedicated to Italy's first course specialties: pasta, risotto and polenta. The festival is held each year in Umbria, in the historic town of Foligno, which in is completely transformed with tasting and deom stations in every piazza, courtyard and cobblestoned street as it plays host to this delightful event.
I attended a workshop on how to evaluate dried pasta led by Gennaro Espositio, a two star Michelin chef from Naples. He did a side-by-side test that highlighted the ways to tell so-so pasta from great pasta.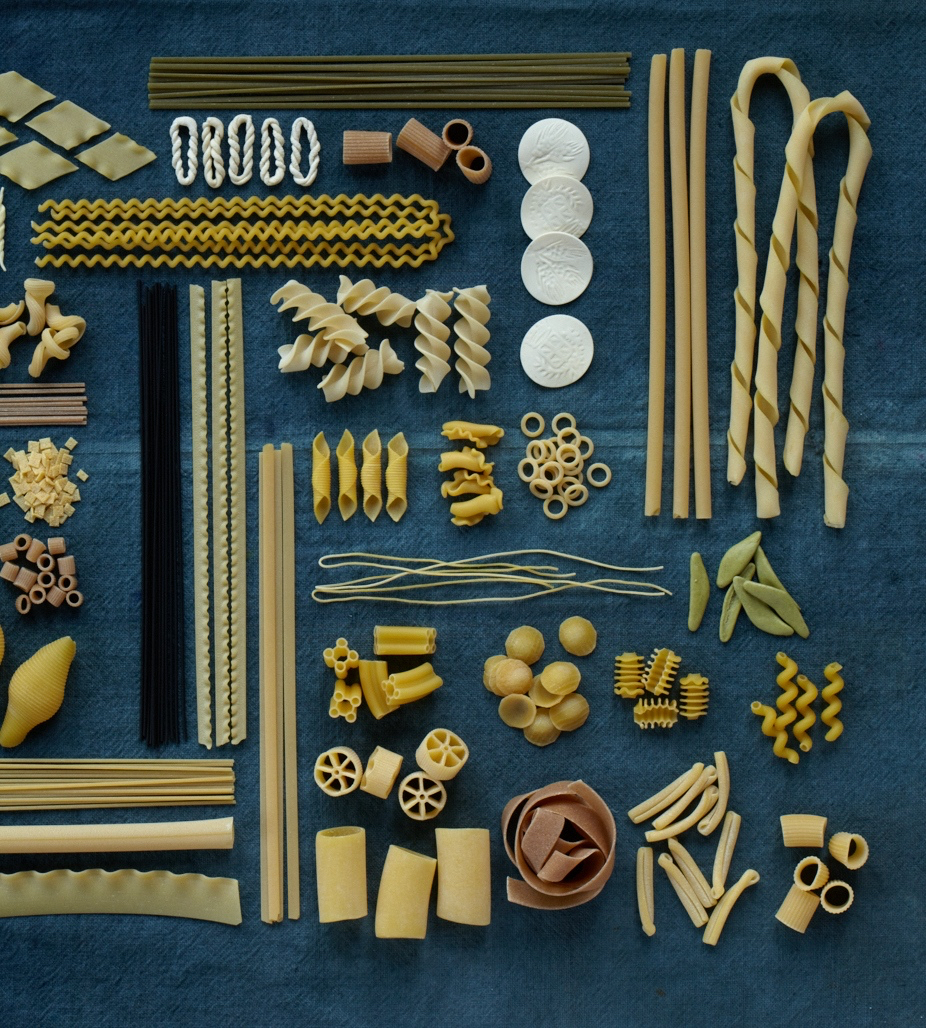 Try it yourself at home. It's easiest to see the difference using spaghetti, so select an artisan imported Italian pasta, and compare it to a bargain brand.
-1- Fill two separate pots with exactly the same amount of water and salt and bring to a boil. So that it's a blind test, ask a friend to help so you don't know which pasta is which. Have your friend put in exactly the same amount of pasta to each pot. After a minute or two stir the pastas and take a whiff of the water. Which pasta has a fresh wheat aroma?
-2- Once the pasta is al dente, drain, and test its ability to absorb sauce. Put a few strands of each into two different bowls with a little water and after several minutes note which pasta absorbed more water.  That's means it will better absorb sauce and is the better pasta.
-3- Then pinch both types of pasta between your thumb and index finger. The inferior pasta will be gummy to the touch and soft in the middle, while the better pasta stays al dente.
-4- Finally, taste each pasta plain, with no sauce. That should be enough to convince you! 
In Italy they say,  "When it comes to pasta, you can fool some people.
Even some Italians. But you can't fool a true Neapolitan." Here's the advice of Neapolitan pasta experts:
Ways to Spot Superior Pasta
When raw, it should:
1-be a pretty yellow color, like semolina flour.
2-have the fragrance of fine wheat.
3-be of uniform size and shape with no broken bits.
4-if it's long pasta, you should be able to break it in half cleanly, without little piecdes falling off here and there.
5-if it claims to be "bronze-cut," it should have a slightly rough surface, which is best for sauce adherence.
When cooked, it should:
1-taste great, even plain.
2-have a lovely aroma even as you are straining it.
3-leave the water it cooked in clear and colorless
4-adhere well to sauce. If the sauce slides off, it's a sign that the pasta was not properly dried.  The pasta maker likely rushed the drying by using too high a temperature, which causes the pasta's starch to form a sort of glaze on the pasta, making it shiny and impenetrable for sauces.
5-remain firm through to the last bite. if left in a plate without sauce it should not collapse and loose its shape.
The best way to show the quality of pasta is to make a recipe that asks more of the pasta. You can only make this luscious dome-shaped timbalo with a quality bucatini that holds it's shape after cooking so it stays al dente while it's being coiled into the baking bowl. PHOTO, note: I have step-by-step photos for the making of this dome, if you like
Bucatini Dome
Cupola di Bucatini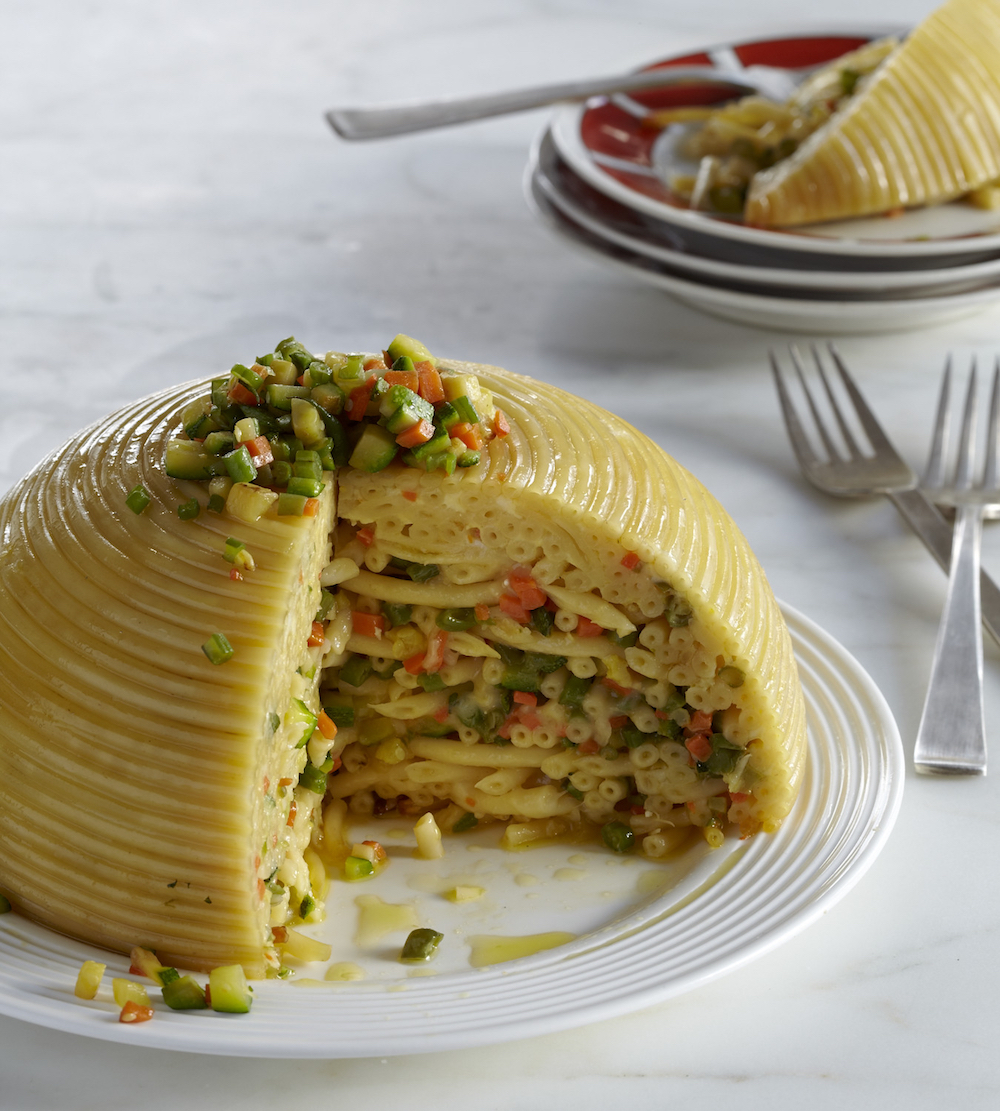 From: Pasta Modern: New & Inspired Recipes from Italy, by Francine Segan (Stewart, Tabori & Chang, 2013)
Serves 8
It's hard to top this dish for pure, show-stopping drama. This architecturally magnificent--and delicious!--dish is actually quite easy to create.
14 tablespoons butter, plus more for the pan
5 to 6 slender zucchini (about 2 pounds), minced
3 medium carrots, minced
3/4 pound haricot verts or very thin string beans, minced
1 1/4 pounds bucatini
2 eggs, beaten
1/2 cup grated pecorino cheese
Black pepper
3/4 pound deli-sliced high-quality provolone or sliced caciocavallo cheese
Preheat the oven to 350F/180 C. Very generously butter an 8 to 9-inch dome-shaped oven-safe container such as a Pyrex or metal bowl.
Heat 2 tablespoons of butter in a large frying pan and add zucchini; fry until soft. Put the zucchini into a large bowl. Using the same pan, cook the carrots and string beans in 1 tablespoon of butter over low heat, covered, until tender, adding a few drops of water, if needed. Stir into the bowl with the zucchini until well combined. Set aside 1 cup of this vegetable mixture as garnish for later.
Cook the pasta in boiling salted water for 2/3 of the package's recommended time. Drain and divide, putting 3/4 of the pasta into the large bowl of vegetables and the remaining 1/4 into a small bowl with 2 tablespoons of butter. Set aside; the small bowl, it will be used for the outer part of the dome.
Add 9 tablespoons of butter to the pasta-vegetable bowl and stir until the butter melts, then stir in the beaten eggs, pecorino cheese, and freshly grated black pepper. Using kitchen scissors, cut into the pasta mixture so it is broken up a little. Set aside.
From the plain buttered pasta, using one strand and starting in the center of the prepared domed container, twirl the pasta around itself to form a coil. Continue the coil with another strand of pasta starting where the last strand ended so it is in one continuous line; continue with additional strands until half way up the pan. Line the pasta with slices of caciocavallo cheese, pressing the cheese firmly against the pasta. Put in half of the vegetable-pasta mixture, pressing firmly into the bottom and sides of the bowl to remove any air pockets and densely pack the filling. Top with cheese slices.
Continue coiling the plain pasta around the dome to the top, adding a strand at the exact spot the last ended. Line the sides with more cheese slices and top with the remaining vegetable-pasta mixture and slices of cheese. Press the pasta down firmly with a spatula or wooden spoon. This is key to getting a nice compact dome that stays together nicely when sliced. Cut the remaining plain buttered pasta with scissors and press on top of the mixture.
Cover the bowl with aluminum foil and bake for 15 minutes, then remove the foil and bake uncovered for another 15 minutes, until golden and set. Let rest 10 minutes, then put a serving plate on top of the bowl, and invert it. Hit with a wooden spoon to help the pasta release from the pan, and, using the tip of a spoon or butter knife along the bottom edge of the bowl, begin to remove the bowl from the pasta. Serve garnished with the reserved cup of minced vegetables.