With his big hair, large hands, "overgrown" feet and a smile that would light up a room, he was hard to miss come race day. Raised in Coriano near Rimini, Marco Simoncelli, Sic to his friends, was one in a long line of two-wheeled racing pedigree from Italy. His style, demeanor and riding ability would see him forge friendships, ramp up rivalries and remain immortalised as one of the sport's greats.
From Mini Moto to 250cc
Marco's rise to the motor racing glory took the "usual" routes. Starting in Mini Moto, his quick rise to national fame saw victories and a championship junior trophy, aged just twelve. Soon to follow was a brief career in the 125cc championship, beneficial for the experience, but not for confidence. Measuring twenty centimeters taller than his average competitor, he was disadvantaged in many ways. "Too tall, too heavy, he wasn't meant to be a racer," his father, Paolo, would point out. It was the belief of Marco, and his team, that he needed to move up a category to achieve the success he craved. The 250cc bikes would compensate for Marco's cumbersome built, or so they thought.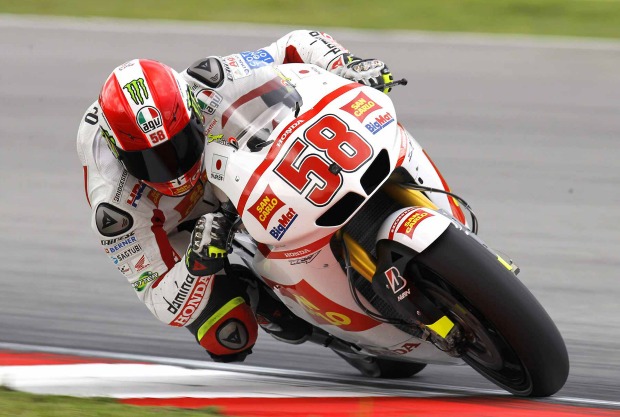 It wasn't an easy transition. Struggling to adapt, this time to the power of the motorcycle, his style of riding was also compromising his ability to maintain speed on the straights. His poor start was further compounded by the fact that his team mate, Valentino Rossi, was successfully winning in the category. It would be at La Cava circuit that Marco would find a solution to his problems, and discover a friendship with a fellow rider, helping him to overcome his problems in the category.
"I met him there [at la Cava]," recalls Valentino Rossi. "He was so young. He'd learnt from a young age to ride that motocross track, and quickly too. For four or five years we would race there, we'd have some incredible battles…...already at a young age you could see he was talented, more talented than the other guys in that series. In the end, it would always be between me and him, racing for victory."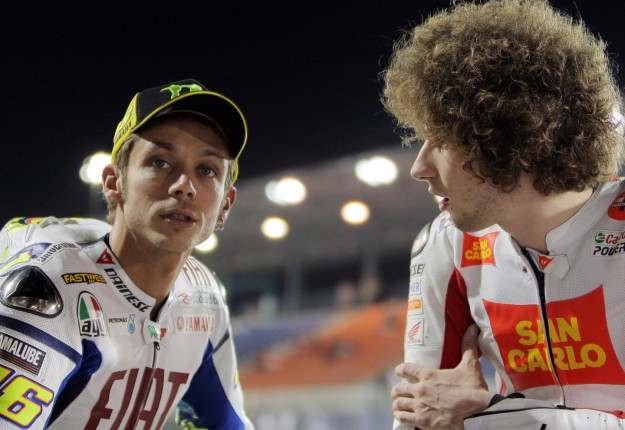 La Cava was the perfect learning ground for the young Marco. There, he understood how to overcome his issues, maximising his size to best effect, applying the throttle at crucial moments in the corner, developing a feel for riding on the limit and stimulating his competitive spirit in the process.   
It would be in Italy, the Mugello race track, that Marco would eventually unleash his true potential.
Racing for victory
Starting behind the race favourite, Alvaro Bautista, Marco had applied his craft right from the start, placing pressure on the leader, when, on lap eight, he capitalised on an uncharacteristic slip from the Spaniard, which sent him to the front.
A hectic six lap battle ensued with another Spanish rival, Hector Barbera. In a punch by counter punch bout, these riders pushed themselves to the limit; Barbera passing on the straights, Marco in the corners; a spectacle to behold of pure race craft.  But on a final lap attempted overtake, Marco vigorously defended his lead and accidentally caught Hector; a high speed crash, luckily with no consequences to the rider, but one which defined Marco's aggressive riding style. Marco won that day, sending a calling card to the paddock: he was there to win.
Further wins continued that year, his season went to the wire, a championship title within his grasp and all to play for at the Malaysian track.
A new champion is crowned
In the asphyxiating humidity of the Malaysian track, Marco had started badly. Physically struggling with the heat and a broken watering system, his bike wasn't performing to the track heat as well. His tyres were struggling to grip the race track, causing the rider to be compensated in the opening exchanges. But Marco being Marco, he quickly regained on the leaders and charging through the two riders that stood in his way, he placed his bike in a position to win the championship. Completely dehydrated, and no longer able to keep his bike upright, the chequered flag dropped. A new champion was crowned that day.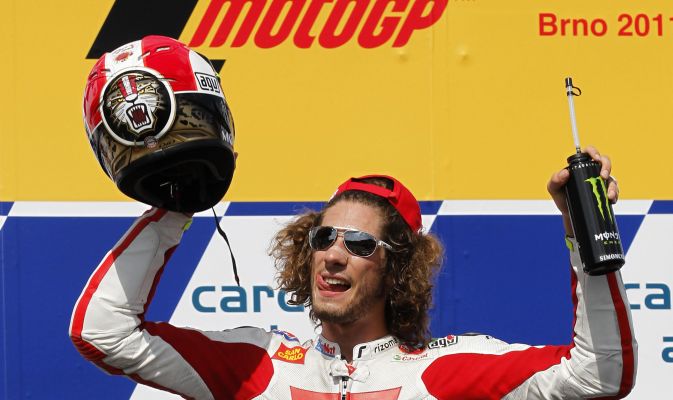 Moto GP: a big family
Fast forward two seasons and Marco was riding in the premier category of Moto GP, alongside his friend Valentino Rossi and rivals from previous championships. Much could be said of Marco in his brief time there; his team principal, Fausto Gresini was "amazed at how Marco turned a team into a family. It took him only a week, but he made sure that everyone would sit and eat together, he'd grab them out of the office on occasion, it was something special."
Marco's relationship with his father was also a special one. Paolo had given up his career to follow and support his son whilst he was racing in the junior categories. Valentino Rossi said:  "They loved each other, you could see that Marco idolised Paolo, but sometimes after races, if things went bad they'd have a strong verbal fight; it was a scene because Paolo was bigger than his son. I'd hide, just in case, but then a minute later everything was fine." While Fausto Gresini  remembered: "There was that moment before a race when Marco would have to prepare. Paolo would accompany his son and help him get ready. It was a peaceful, friendly environment, they shared special moments and it was truly wonderful to witness".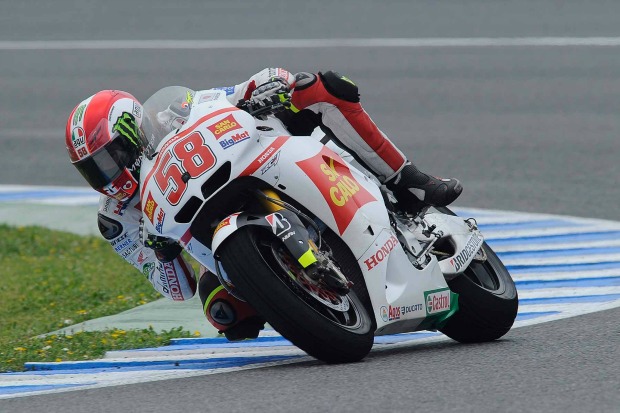 Pushing to the limits
While Marco viewed his team as a big family and everyone loved him for his joyful character and big heart, his career start in the new category was received with mixed reactions. His aggressive style of riding quickly established him as a firm fan favourite; however, his competitors were growing tiresome with some of the antics. His first season was characterised by big accidents, some that he had caused; even under the guidance of some established Italian riders, Marco was being advised to take it easy, his team were just asking him to finish the race on two wheels. His second season started better, but it wasn't without incident.
"The Spanish contingent," as they were named in the press, weren't exactly happy with Marco. "He causes too many accidents," quipped one irate Jorge Lorenzo after succumbing to a failed overtaking maneuver. "He's cost me a championship," exclaimed an upset and collar broken Dani Pedrosa. The Spanish press weren't too happy with the young man from Coriano, but "Marco was Marco," Rossi would say of his friend. "I told him to calm down a little, but that's just the way he rode, all or nothing".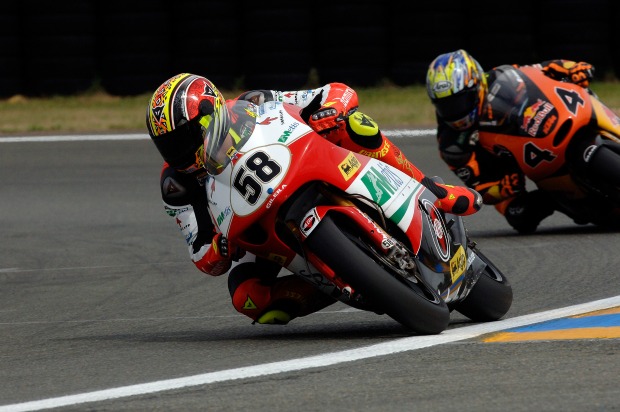 Paying respect to a champion
Marco's untimely passing in his second season was a reminder that the sport which he loved is also a highly dangerous one. A freak accident coupled with unfortunate timing sent Marco's bike veering into the race track whilst other riders were on course to go past; in a horrible twist of fate, it was his friend, Rossi that collided with Marco, causing fatal injuries.
A week later over twenty thousand fans travelled to his hometown, Coriano, in Emilia Romagna, to pay their final respects at Marco's funeral. The world of Motorsport paid homage to the young man, even conducting a minute of silence before racing across all categories. In the final race of the season, and following his father's wishes, the race paddock observed a minute of rapturous engine sounds, fireworks went off and every rider in all the categories competing performed a lap in honour of Marco. His bike was piloted by the 1993 world champion, Kevin Schwantz, just yet another indication of how much he was respected and regarded by his peers.
Just earlier this year, nearly two years since Marco's passing, Valentino Rossi dedicated his Italian GP performance to his lost friend. In a symbolic act, he re-decorated his helmet livery with the Pink Floyd song, Wish You Were Here. "Every time I hear it, I remember Marco. This was the idea. A tribute to him."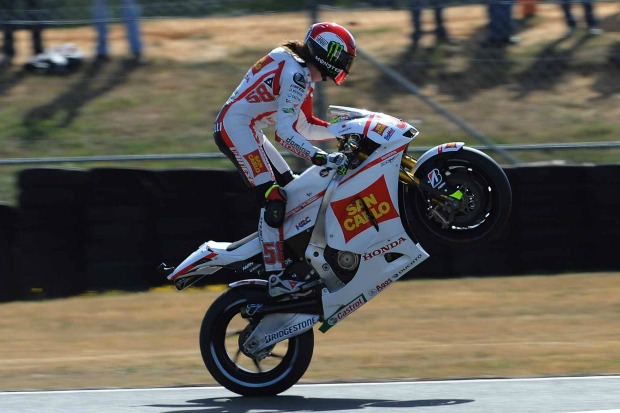 Fondazione Marco Simoncelli is a non-profit organization, established by the racer's family to honor his memory. As stated on the website, "In trying to keep alive the commitment of solidarity and care for the weakest SuperSic always demonstrated, the charity supports and promotes projects of solidarity and cooperation in favor of the disadvantaged and in situations of distress and need." To see how you can contribute, please visit: http://www.marcosimoncellifondazione.it/