One of the enduring cinematic classics set in the Eternal City, Roman Holiday is a romantic comedy starring Audrey Hepburn and Gregory Peck. Hepburn plays Princess Ann, who's in Rome on an official state visit from an unnamed European country. Restless and bored by her institutional duties, she escapes from the embassy and decides to explore the city incognito. She encounters Joe Bradley, played by Peck, an American reporter looking for a scoop. He offers to show her around town, thinking he'll impress his boss and get an exclusive story about the princess's holiday, but ends up falling for her instead. 
Released in August 1953 — 70 years ago this week — Roman Holiday was groundbreaking in several ways. The first Hollywood film shot entirely on location in Rome, it was also Audrey Hepburn's first starring role. It won 11 awards, including three Oscars. Perhaps most famously, it introduced the Vespa — a relatively new mode of transportation at the time — to American audiences. Even today, you can't walk far in the center of Rome without spotting souvenir shops hawking postcards of Princess Ann and Joe Bradley zipping around on his motorino.
In honor of the film's 70th anniversary, Annie Ojile, the founder of Scooteroma, has teamed up with Hotel de la Ville, a Rocco Forte Hotel atop the Spanish Steps, to offer a Roman Holiday-themed Vespa tour exclusively for the hotel's guests. The tour departs from the hotel and takes guests on a whirlwind tour of some of the monuments that appeared in the film. There are stops at the Pantheon, where Princess Ann and Joe Bradley sit at a sidewalk café; Piazza Venezia, where they get chased by the police while the princess is driving a Vespa; and the Trevi Fountain, where the princess walks into a hair salon and cuts her hair short so she won't be recognized.
Like Princess Ann, Annie Ojile is a sort of modern-day icon when it comes to Vespa culture in Rome. Her tour company, Scooteroma, is the city's leading Vespa tour company. Having done several of Scooteroma's tours over the years, I can attest that they're just about the most fun you can have on two wheels. On the eve of Roman Holiday's 70th anniversary, Annie and I sat down to discuss why the film and the Vespa both have such an enduring appeal.
This interview has been edited for length and clarity.
Chatting Vespas and Roman Holiday with Annie Ojile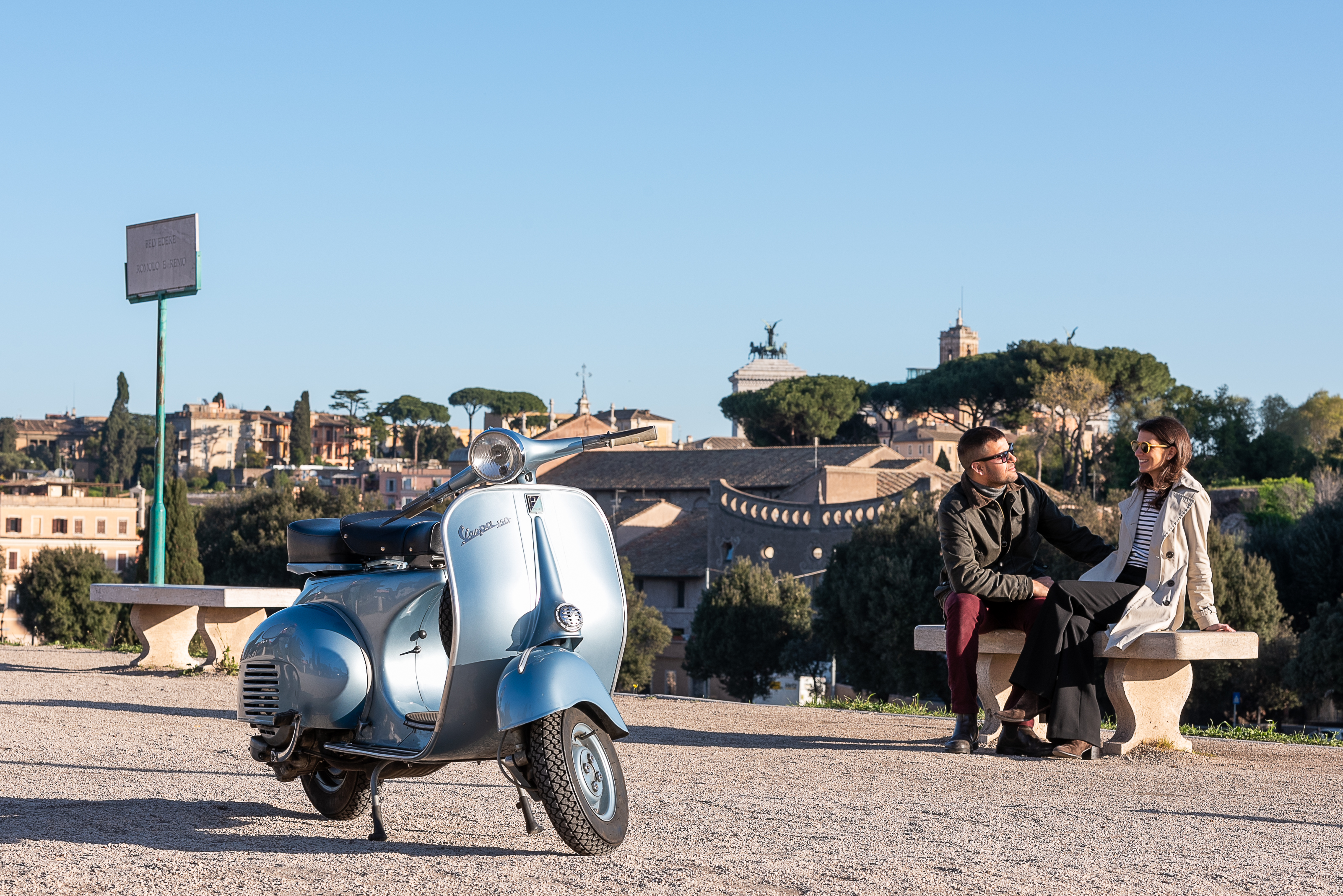 Laura Itzkowitz: So Annie, 70 years after its release, does the mythology of Roman Holiday still hold its appeal?
Annie Ojile: Absolutely. I think that Roman Holiday is in a roster of films about Rome that are iconic. For a certain generation, it's a reference point for Rome and Italy. Audrey Hepburn, Gregory Peck, [and] that classic Roman scenario that has given us the phrase "Roman holiday," which we're referring to in general.
LI: The film came out in 1953, just seven years after the Vespa was invented. Do you think that the movie helped popularize the Vespa or change its image around the world?
AO: Oh, absolutely! Roman Holiday is pretty much the reason why we do what we do now, the reason why I can have a company. The film put the Vespa on everyone's radar, certainly on the international radar. It had been around for seven years, but the film kind of solidified Vespa as an Italian icon, one of the greatest designs and inventions. And since it was synonymous with Hollywood, that film was life-changing for Vespa the brand. It was its debut, let's just say. That film has been very important for Vespa tours around the world. It's part of the history of people traveling on two wheels.

LI: What are the perks of seeing the city by Vespa rather than by any other means?
AO: You can see more in less time. It's a very stylish mode of transportation. The Vespa is the epitome of a Roman holiday. You know, the film has given us this phrase. If you talk to Italians, they refer to le vacanze romane and not just with the Vespa. It's definitely attached to the Vespa, but it's also the mood of a trip or experience in Rome, whether you're Italian or a foreigner coming to the city. It's multifaceted.
LI: Sort of like la dolce vita but before the film La Dolce Vita came out?
AO: Exactly. La Dolce Vita [also] came out post-World War II [Ed.: in 1960, seven years after Roman Holiday]. There were a lot people struggling in poverty and then we had the complete opposite of the sweet life, so that film told that specific story, but now we use that phrase for Capri, for Rome, for a mood. So it is similar to that. 
LI: What is your favorite scene or location from the film?
AO: Obviously, I like it when Audrey Hepburn is driving because I'm a female, she's a female, it's kind of girl energy, like, "I don't need you to drive, I can drive." The most iconic scene is when they're by the Colosseum. It's magical. 
LI: Do you feel a kinship with her?
AO: I love Audrey Hepburn! You see a woman on a scooter now and it's no big deal, but 70 years ago that was pretty bold. Maybe she was in some ways the first female image on a Vespa and that's important. 
LI: That brings up a good point about why the Vespa itself was so revolutionary, because this was back in the post-war era when women weren't really driving around, but the Vespa was one of the ways that transportation became democratized for women, for people of different economic backgrounds. It was easier to afford, women could drive it even if they're wearing a skirt…
AO: Exactly. And I don't know statistics and how many women really did drive Vespas back then, but whether they did or not, the fact that Audrey Hepburn was driving one and sent that image of a female in control in the driver's seat is pretty epic.
LI: And in the film it also represents freedom, right? Her character is Princess Ann, who's been in this very sheltered environment…
AO: Vespa is freedom. It's not just the destination, it's how you're getting there and how you feel. There's the freedom in that. Apart from being able to get there quicker. The freedom is also the ride, the experience of it, the journey. It's a total mood. But yeah, it did represent freedom for her because she was incognito, she got out of the embassy, she was on her own, she didn't want that life. She was escaping. 
LI: And what she found was this joyful freedom and romance, right?
AO: Yes, and anonymity. There's a lot of layers to that. We pick clients up from the center of town and it's so dense, it's oversaturated, there's so many people and then we get away from the chaos, we go outside the walls — wind in your hair, wind on your face. We go to open spaces. You couldn't get there on your own. We see in four hours what it would take you four days to see. All of that's freedom. To go where we want to go with very little effort. So as guides and drivers, we do have a lot of freedom. The freedom to change the itinerary based on the clients we meet, their personalities, what they've seen, what they haven't seen. It's very easy for us to adapt and customize any tour because it is so easy with the Vespa. Two wheels are always better than four. 
LI: For this tour, why was Hotel de la Ville the perfect partner and starting point?
AO: I think it was great because Hotel de la Ville is very classy. It is la dolce vita, more of a modern version, like Scooteroma. No one wants to be stuck in the past. We are contemporary Romans living in an ancient city. So a contemporary hotel wants to offer a contemporary spin on the classics. And they definitely have that down. Via Sistina is also very dolce vita. It's near the Spanish Steps, so it's a great starting point for the itinerary because one of the major scenes was there. It's centrally located but easy to get to some of the highlights on the itinerary, where a lot of the film happened. And having the mode of transportation be the Vespa is so on theme with the film. 
How to book
The Roman Holiday tour costs €170 for 3 hours and is available to book exclusively through the concierge at Hotel de la Ville.
You can see the rest of Scooteroma's Vespa tours here.
How to watch
For super-fans of the classic film, Paramount has released a special commemorative two-disc set for the 70th anniversary in 4K ultra-high definition. For more casual viewing, Roman Holiday can be streamed on Paramount+ or rented on Amazon Prime Video.