[Photo above: Exterior of the Bulgari store in Rome, in Via dei Condotti 10, inside Palazzo Lepri, a building dating back to the Renaissance. Credit: Bulgari Historical Archive]
Julie Burns celebrates the Italian capital's luxury status as symbolised by jewellers of distinction, Bulgari, in the company's 130th anniversary year.
Rome, of course, is renowned for many things – from the spiritual to the fashionable, from the Vatican to the Via Condotti. It is the latter's location that is synonymous the world over with luxury and style. Along with every fashionista's dream designers, there are the equally chic accessories and adornments brands. Situated on the Spanish Steps side of this shopper's heaven at number 10, Bulgari has been the jewel in the street's crown since 1905.
As the Eternal City, Rome has stood the test of time, and so, it seems, have Bulgari's exquisite treasures. It's more than coincidence that the brand's signature design somehow conjures up the essence of Rome in all its grandeur and romance. Or, as Bulgari's director of high jewellery Giampaolo Della Croce has remarked, 'It's sensual, it's three dimensional, it's feminine.' Even the trademark vivid colours and stonework evoke the city, from the distinct radiant yellow and pink gold to the rich Italian reds of spinels, garnets and hot citrines, through to sea shade sapphires, turquoise and tourmalines.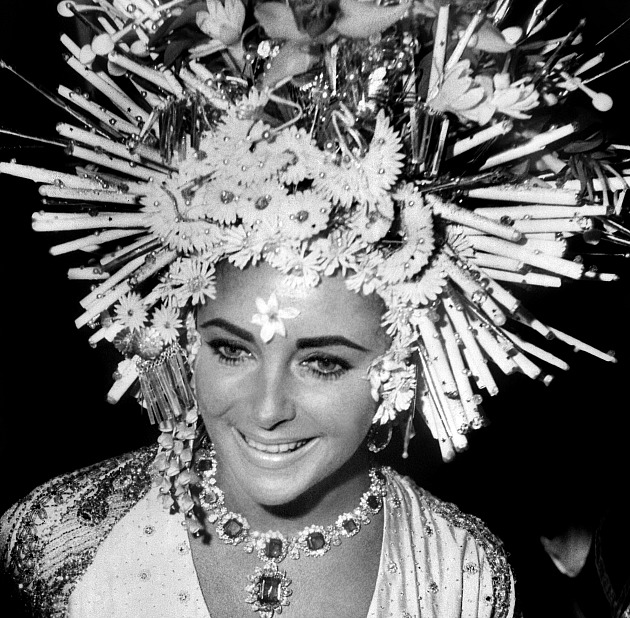 Born as a business in 1884, Bulgari had long been sparkling in its city setting. Yet from the 1950s, it was Hollywood's fateful foray into film production at nearby Cinecittà that put Italian style on the world map. When off-duty stars went shopping in and around the Spanish Steps, the cameras followed. While Audrey Hepburn gave extra flourish to Ferragamo and Ava Gardner sex appeal to Sorelle Fontana, Liz Taylor was to brilliantly illuminate the status of Bulgari. In 1963, during filming of the epic 'Cleopatra', Taylor's co-star and lover, Richard Burton, offered to buy her a gift and asked where they should go for it. Gem-loving Liz replied, 'Bulgari, of course', and the rest is history. Burton even quipped that 'the only word Liz knows in Italian is Bulgari.' Indeed in her book, 'My Love Affair with Jewelry', the diva relates 'one of the biggest advantages to working on 'Cleopatra' in Rome was Bulgari's little shop. I used to visit Gianni Bulgari in the afternoon and we'd sit… and swap stories.'
The fabulous emerald and diamond brooch purchased by Burton as an engagement gift to Liz was first in a breathtaking suite of Bulgari jewels. Despite her lifetime collection including unique pieces from Cartier, it was Burton's love-gift – with all its connotations of glamour and drama, Roman holidays and fiery romance - that is most remembered. Interestingly, the set went full circle as after the screen star's death, Bulgari bought it back for its special Heritage Collection. (In a rare showing, it can be viewed until the end of July at London's V&A museum's 'The Glamour of Italian Fashion 1945-2014' exhibition).
Over more than a century of changing style, Bulgari has graced many others. Decades earlier, influential, emancipated Hollywood stars and 'fashion plates' Mary Pickford and Kay Francis set trends by coming to Via Condotti in order to buy their then Art Deco jewels.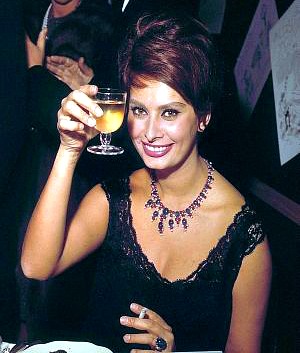 Sophia Loren to Sharon Stone, Andy Warhol to Carla Bruni, celebrities to sheikhas and the world's sophisticates have since followed suit. By the time the third generation – Nicola and Paolo Bulgari - took over, a new, contemporary design spirit grew. Mid-century collars and suites turned to swinging pendants, tassels, serpent belts, and coin necklaces; precious materials mixed with semi-precious. Like the changing world, formal gave way to a relaxed jeans-with-jewellery ethos… but with craftsmanship intact. It reflected modern woman's confidence to wear jewels, as Nicola says, 'to a picnic or a ball'.  The Bulgari house had come a long way from its humble origins.
[Photo: Sophia Loren wears a Bulgari ring and necklace with cabochon sapphires and rubies with diamonds. Credit: Olycom]
Bulgari founder and gifted silversmith Sotirios Voulgaris, left his native Greece and settled in Rome in 1881 – in the newly formed Kingdom of Italy. By 1884, and for almost 40 years, Bulgari's first shop was situated at stylish via Sistina 85, at the top of the Spanish Steps. In 1894, a second store followed on one of Rome's most prestige shopping streets, at Via Condotti 28. Despite being called 'crazy' for expanding at a time when a trio of Italian banks had gone under, by 1905, the third and largest outlet opened nearby at 10b and 10c. Between the late 1920s and 1971, it was the one and only Bulgari boutique; today it remains the company's flagship store.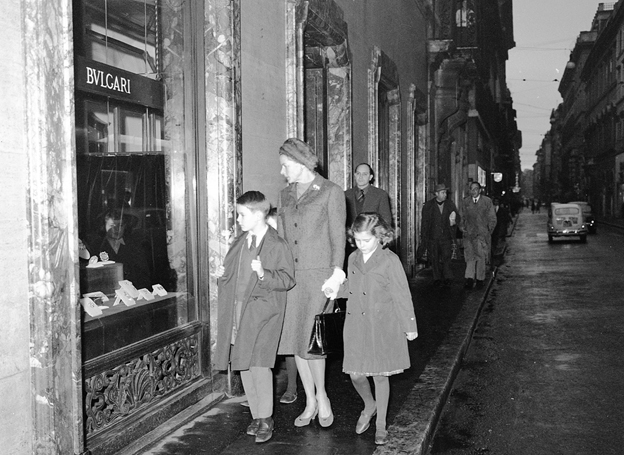 [Photo: Ingrid Bergman and sons in front of Bulgari. Credit: AnsaFoto]
Initially housed on the ground floor of Palazzo Maruscelli Lepri and Palazzo Bofill, the jewellery stores soon amounted to a collective architectural gem. From the original Art Nouveau shop sign stating 'S.BULGARI', it later became the iconic 'BVLGARI', in reflection of ancient Rome inscriptions. Following the death of Sotirios, his sons Giorgio and Costantino expanded the space to include adjacent palazzos 10 and 10a. Boldly transformed by brilliant architect Florestano Di Fausto, travertine openings, marble cornices and bronze lettering bow greatly to Roman architecture's best traditions.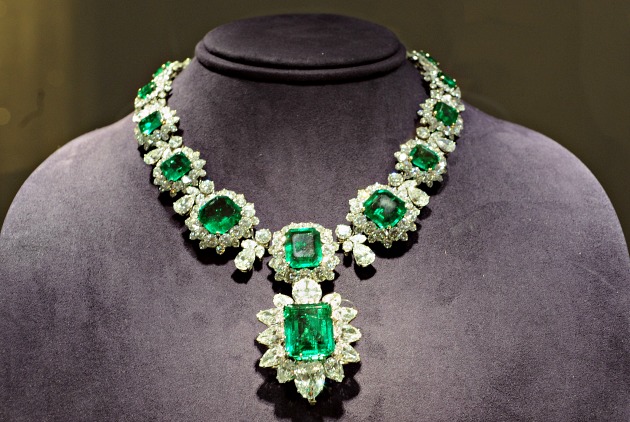 [Photo: The famous necklace given to Elizabeth Taylor by Richard Burton for their engagement in 1962 and worn by the actress on their wedding day in 1964. Taylor was then immortalized in the necklace in 1966, when she received the Oscar for best actress. It is mounted with 16 step-cut octagonal Colombian emeralds for an estimated total of 60.50 carats, each in a surround of brilliant-cut and pear-shaped diamonds.]
Today, there are 300 Bulgari stores worldwide selling watches to perfume, handbags to home décor, along with 'haute hotels' in the company portfolio. Though sold to LVMH in 2011, the Bulgari brothers – vice chairman Nicola and company chairman Paolo – still retain a stake in the conglomerate, and moreover, passion in the product. Like his grandfather Sotirios, Nicola is ardent over silver, his sibling over stonework, with both presiding over the fine jewellery-making workshop outside of Rome.
In celebrating its 130th anniversary, Via Condotti's showcase store has undergone an extensive refurb by renowned architect Peter Marino. Handsome heritage features remain: the VIP room, the gentleman's fumoir, the beautiful vestibule with Pantheon inspired floor and porphyry star similar to the coat of arms of the Chigi princes, which can be seen on many Renaissance and Baroque buildings throughout Rome, and on the Maruscelli family emblem. Marble furnishings are from Italian designers linked with Bulgari's history and Di Fausto's original style. Furniture includes designs by Albini, Borsani, Mangiarotti, Parisi, Seguso, and Ulrich, with blown glass chandeliers by Vistosi.
In tribute to the Spanish Steps – for so long a stunning backdrop to the Bulgari story – the brand is financing its first 21st century renovation.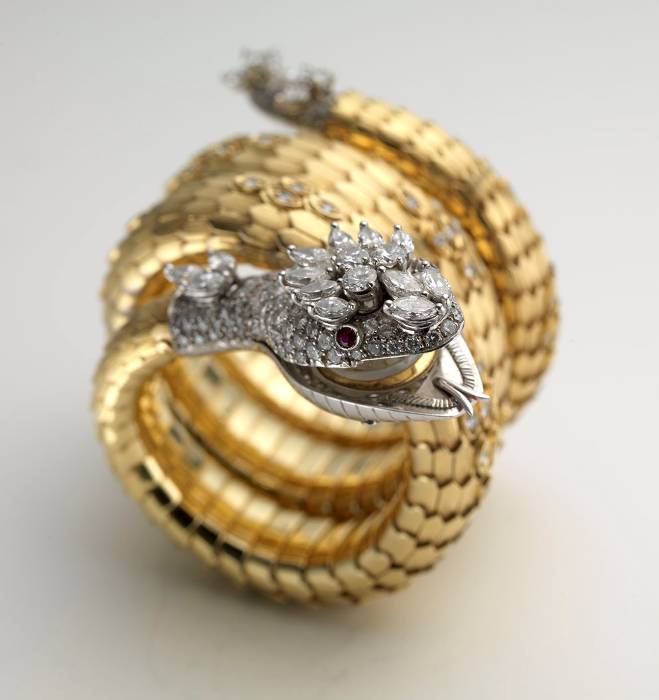 Chief Executive Officer of the Bulgari Group Jean-Christophe Babin commented, '… I am extremely proud of this agreement with the City of Rome, which will allow us to 'adopt' the Spanish Steps. They are at the heart of our history, between via Sistina – where Sotirio Bulgari first opened its doors in 1884 – and the historic store in Via Condotti. Who better than Bulgari can contribute to the renovation of such an architectural jewel in the Eternal City? For me this is just one of the many steps that Bulgari has taken towards eternity.'
[Photo: Gold bracelet-watch featuring cut diamonds with eyes of cabochon rubies and body scales with jagged contour, ca 1960]
Photos courtesy of Bulgari.